An Editorial Turn
Reviving Print and Digital Editing of Black-Authored Literary Texts
Amy E. Earhart
The digital turn has provided African American literature scholars a unique opportunity to recover and distribute Black texts and to develop a practice of re-membering of the texts of the African diasporic community. Early eBlack scholar Abdul Alkalimat's Sankofa Principle reminds us that what is forgotten might be reclaimed. From the Colored Conventions Project, The Early Caribbean Digital Archive, and the Project on the History of Writing (HBW) to the Black Press Research Collective, we are in a moment of flowering of the digitization of Black texts. We should not be surprised to see the development of such projects, because there is a long history of textual recovery in Black Studies—what Kim Gallon rightly labels the "technology of recovery" and "a scholarly tradition that seeks to restore the humanity of Black people lost and stolen through systemic global racialization."1 The centrality of recovery, however, has meant that one history of Black texts has been underrepresented—that of the history of textual production, which is explored by the broad field of textual studies and enacted by editors.2 The lack of attention to textual production means that we have not located publisher censorship, ignored the development of alternate publication communities, and downplayed authorial attempts to resist racism through textual revision. Except for a few early digital editing projects, such as Christopher Mulvey's Clotel by William Wells Brown, we still do not have a broad tradition of textual scholarship that examines how texts are transmitted; the form or forms that they took; and the influence of editors, publishers, or readers and other agents—all questions of materiality and production that may reveal crucial information about individual texts and the broader field. We have published hundreds of texts without scrutiny of their textual history, a decision that has expanded the field of study dramatically but has erased crucial textual components that sometimes alter our scholarly analysis of the text in question. If anything, the digital age has driven a further wedge between recovery and editing, as the excitement of digitization has overwhelmed long unasked questions regarding textual histories. It is this textual history, reproduced as we expanded from print to digital, that has remained understudied and created a gap in knowledge regarding the materiality of Black texts, a gap that requires a renaissance of editing of Black texts in both print and digital mediums.
Recovery, Editing, and the Black Text
Our digital age presents a moment where we might interrogate the history of Black textual recovery, so that we can better understand our engagement with Black digital texts. A central tenet in scholarship is trust in the text we are studying. To perform critical scholarship, scholars must have primary texts that are accurate and transparent about their origin and transmission. Some scholars ensure that their text is accurate through a return to a manuscript, the newspaper in which the text was published, or a first edition. For most of us, however, our primary text of study is a published text, and whether it is in print or digital form, the text has been mediated by the editor. There are a number of competing theories of editing, a field known for tense conflicts over theoretical and methodological debates.3 Editing, for the purposes of discussion in this essay, is defined as the production of "a reliable text established by accuracy, adequacy, appropriateness, consistency, and explicitness."4 Scholars choose texts of study for a variety of reasons including these qualities, but our choices are largely affected by the availability of text, whether in print or digital form.
For those of us in Black Studies, many texts are available in facsimile form in print and digital media. Print collections such as the Arno, Negro Universities, or Schomburg series and digital collections such as the Gale's Slavery and Anti-Slavery database or Alexander Street's Black Women Writers: African, African-American and Diaspora database are all based on facsimile or reprinted texts.5 The reliance on the facsimile is what David Greetham labels a "type of non-critical edition" and "one which seeks to present a faithful version of a single document, with only minimal textual involvement by the editor."6 The facsimile texts that we use, then, are copies of one particular edition of the text without editorial work undertaken to discover other editions, delineate print histories, or identify materials cut in production through the intervention of publishers. This poses a serious problem for Black authors who have often been pressured to produce less radical texts, among other such crucial histories of production. Without careful bibliographic or editorial study, we are left with a field based on facsimiles that assume a simple textual history. We know that this is not the case with Black-authored texts, which often have difficult and complicated production and transmission histories.
The emphasis on recovery has brought us reprints of huge numbers of Black texts, shifting and enriching the field and providing primary texts for study. Recovery efforts began in print and have expanded into the digital. As the civil rights movement bled into the Black Power movement, scholars and activists began to advocate for the reconsideration of Black literary texts, a movement that ultimately led to an expansion of the literary canon.7 Into this moment in the late 1960s and early 1970s stepped Arno Press, a New York-based press affiliated with the New York Times that issued, among other books, facsimiles of African-American cultural texts in a 140-volume collection titled The American Negro: His History and Literature and a 70-volume collection titled The Antislavery Crusade. Many of the texts were gathered from HBCUs and were reproduced in the now distinctive black-and-white hardcover volumes.8 Compiled by historian William Loren Katz, the volumes continue to remain central primary texts for scholars working in African American literature and history, with some volumes still the only available print publication for particular literary or historical texts. The Negro Universities Press took on a similar role of reprinting texts, including social science texts, with narratives such as Robert Moton's Finding a Way Out: An Autobiography, antislavery texts, and numerous colonization texts focused on Africa, such as Frederick Freeman's Yaradee: A Plea for Africa, in Familiar Conversations on the Subject of Slavery and Colonization. Like the Arno Press texts, the Negro Universities Press materials are reprintings of earlier texts. And like the Arno Press, the focus was on historical materials rather than literary texts.
In the 1980s, as the expansion of the canon continued, literary scholars created new series of print books that targeted specific genres of Black literature, such as the Schomburg Library of Nineteenth-Century Black Women Writers collection. With the digital turn, scholars expanded the available texts for study. Projects emerged such as Documenting the American South, the Charles Chesnutt Archive, and Harlem 1900–1940, one of the many early projects produced by the Schomburg Center for Research in Black Culture. The appearance of such texts expanded the literary and historical canon in a crucial moment in Black Studies, and without their publication we would arguably have never had an explosion of scholarship of Black history and literature.
However, the fact that many Black texts have not been edited beyond their facsimile version is a problem for scholars. Facsimiles are akin to photocopies of materials. They are an excellent means of creating huge volume of materials—a key goal of scholars working to broaden the canon—but they lack critical interventions that expose the text's production and that ensure accuracy. A primary limitation of the facsimile form is the lack of scholarly editorial intervention in the text to locate and flag errors for scholarly examination and to reveal issues of transmission, construction, and the erasure of textual materiality.9 Moreover, the supposed completeness of the facsimile actually masks missing information. This missing information is the "bibliographic code," as important to a text for scholarly analysis as the "linguistic code."10 Jerome McGann's pivotal work The Textual Condition argues for a "social text," an understanding "that texts are produced and reproduced under specific social and institutional conditions."11 His re-articulation of the text as an object that must be considered within the "material and institutional conditions" in which the text is and was produced remains especially important to scholarship that examines Black texts.12 Although the field of Black Studies has long considered the historical pulls on African American authorship, what has not been as well considered is the material production of the text itself. The lack of attention has resulted in poorly edited, at times largely inaccurate, primary texts.
Understanding the conflicting tensions of the culture wars of the 1970s and 1980s helps explain why the vast efforts exerted to recover texts did not include careful editing of Black texts. As scholars fought to expand the canon, they faced the rise of high theory, which argued, among other things, that editing was, at best, a rote, mechanical process. The rejection of editing at the same time as scholars were recovering Black texts has meant that as editing was devalued; its connection to recovery further displaced Black textual studies work. Amanda Gailey notes that "as literary scholars became interested in canon expansion—primarily seeking to include more women and minority authors in classrooms, textbooks, and scholarship—their work did not benefit as much from careful editorial and bibliographic work, leaving much foundational scholarship on newly appreciated texts undone to this day." Even more damaging was that "literary critics working on texts by canonical authors benefited, even if only silently, from bibliographies and well-researched editions often conceived prior to the New Left's shake-up of American universities, while work on women and minority authors often required textual recovery at a time when careful editorial work was unfashionable and institutionally unrewarded."13 The rejection of editorial work at the moment of increased textual recovery of Black texts has left a long-lasting legacy on our primary materials. And even though this would be problematic enough, the move from print to digital has exacerbated resistance to editing of certain texts.
Although digital humanities offers the possibility of broadening the canon and increasing access to texts, textual studies roots within the field have contributed to the view of certain texts and subjects as inferior to others. Martha Nell Smith rightly contends that digital textual studies developed in part to "offer a space free from all this messiness and a return to objective questions of representation."14 The resistance to issues of diversity has been well documented across the field by scholars including Moya Bailey, Radhika Gajjala, Kim Gallon, Alex Gil, Elizabeth Losh, Tara McPherson, Padmini Ray Murray, Daniel O'Donnell, Elika Ortega, Roopika Risam, Isabel Galina Russell, and Deb Verhoeven, who document numerous cases where issues of gender, race, class, and sexuality are seen by digital humanities practitioners as not serious, not scholarly, and not worthy of study. The forces of exclusion are twofold should one wish to pursue digital editing of Black texts. On one hand, editing is seen as a menial, mechanical task that is rarely rewarded in academia. On the other hand, Black Studies scholars interested in working in digital humanities are told that their subject matter is not worthy of study. These dual pressures have meant that few Black texts have been given the close editorial attention they deserve.
The lack of attentive editing of the primary texts that are the cornerstone of our scholarship is troubling. Scholars often make the assumption that digital texts are more unreliable than print texts, but unreliable print Black Studies texts exist to an astonishing degree. For example, the existing print edition of The New Negro drops various illustrations, which affects the way that we interpret the text.15 As George Bornstein shows, the currently available text appears to be a facsimile version, but lacks various book decorations and portraits by Winold Reiss from earlier editions; Reiss's name is also removed from the title page, and the subtitle of the book, An Interpretation, is likewise excised. Bornstein rightly notes that the removal of Reiss's images contributes to the representation of the Harlem Renaissance as a Black-only renaissance, ignoring the complicated and often problematic participation of whites that work by scholars such as George Hutchinson have begun to reclaim. The Arno and the Schomburg series are also flawed: their texts are stripped of pertinent context, a crucial element of study for Black Studies scholars.
Even the trusted Schomburg Center for Research in Black Culture series, the Schomburg Library of Nineteenth-Century Black Women Writers, is problematic; for example, the Collected Black Women's Narratives that is part of the series flattens the four very different slave narratives it includes into one volume: Nancy Prince's A Narrative of the Life and Travels of Mrs. Nancy Prince, Louisa Piquet's The Octoroon; A Tale of Southern Slave Life, The Narrative of Bethany Veney: A Slave Woman, and Susie King Taylor's Reminiscences of My Life in Camp. The grouping of distinctive stories into a homogenized collection of narratives makes rhetorical sense if you would like to emphasize that Black women's writing has been denied a place in the canon. This collection, however, makes little sense if you understand each of the four texts' production and publication histories; the materiality of the texts, such as how bindings or advertisements reflect the production of the texts; the social and cultural impacts of their publication; or the broader shape of publication of Black women's texts across the same time span of fifty years. To understand the way materiality affects a text, a scholar needs well-edited texts that do not obscure the material and textual conditions of the volume, and the Schomburg Library of Nineteenth-Century Black Women Writers volumes, although central to canon expansion, do not meet such needs.
Collected Black Women's Narratives constructs a similarity between the narratives not only thematically or authorially but also materially. It features facsimiles of a frontispiece and text for each narrative in the volume. This seemingly equal treatment, however, conceals the ways that the materiality of the texts indicates differences in authorial authority, notions of radicalness, and even differences in the gaze on the Black female body.16 Taylor's narrative in the original 1902 edition, for example, is bound in a dark-green hardcover with gold lettering and is given a shortened title that removes the reference to "coloured troops." The 1902 edition also features an army tent—creating a cover that conceals that the text is written by a Black woman, instead focusing attention on the army camp, a popular image during and after the Civil War (see Figure 3.1). This image is excluded in the Schomburg facsimile in favor of the frontispiece, which features an image of Taylor in nurse's garb, recentering the experience of the "coloured troops" with the full title, and clearly attributing authorship to Taylor, through the inclusion of her image. The use of Taylor's frontispiece suggests that the volume is very similar to that of, say, the Piquet narrative. The publication histories of the texts, however, are quite different, as suggested by the bindings of the earlier versions. Whereas Taylor's 1902 book was published with a gold-inlaid hardcover, the 1861 Piquet volume is a cheaply bound volume without a cover. The Piquet cover image centers race and, by featuring the appearance of Piquet, puts her light-skinned or even white status on display as an indictment against slavery (see Figure 3.2). Notice as well that, even though Picquet is on display for consumption, she has no authorial voice, because authorship is attributed to Rev. H. Mattison, A.M. In addition, the Piquet image allows the reader to consume or even exploit her body in the reading of the text, whereas the Taylor text's cover shifts attention away from the body. Clearly the materiality of these texts matter, and current print reproductions of the volumes do not allow scholars to "see" the important features that we might need for scholarly analysis.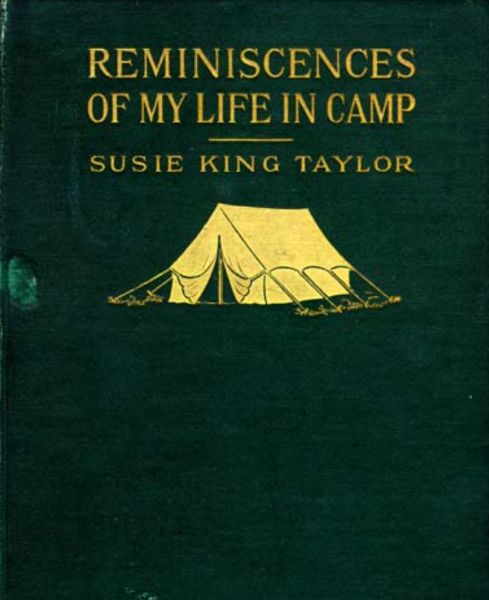 What is most interesting is that our digital versions of these texts, also facsimiles, are far more complete than our print versions. Documenting the American South, an early digital project that has a deep collection of facsimile texts, includes all four texts found in the Collected Black Women's Narratives. Although Documenting the American South is a collection of facsimiles without much editorial structure beyond some short summary information, there are advantages to the digital forms that suggest that we might reconsider how we attribute value and accuracy to print versus digital texts.17 Part of the reason why digital texts may be more accurate than print texts is that the digital allows materials to be presented more fully because it does not face the space or economic constraints of print publication. In particular, the digital format allows for extensive images in color, a feature lacking in the Schomburg and Arno series because of the high cost of printing color images.
The Collected Black Women's Narratives example also reveals fictitious assumptions that drive scholarly choices of texts for literary analysis. Despite this advantage of digital texts, there is a widespread assumption that print texts are necessarily higher quality than digital texts. This long-standing bias against digital texts is well documented. Lisa Spiro and Jane Segal present a compelling look at the way that scholars have used Americanist digital archives; their analysis reveals that, even though digital archives like the Walt Whitman Archive, Dickinson Electronic Archives, and Uncle Tom's Cabin & American Culture are crucial resources, scholars refuse to cite them because they fear "that online resources are of poorer quality" or that scholars "will be tarred as poor researchers if they do research online."18 These fears are long-standing and continue to drive scholarship, even when they are unjustified. As Wesley Raabe demonstrates, digital materials are often more accurate than print versions, citing the example of Harriet Beecher Stowe's Uncle Tom's Cabin. Raabe carefully traces the way that errors are produced and reproduced in the various editions of Stowe's work, laying particular blame on the often-cited Penguin edition edited by Ann Douglas. Raabe located thirty-nine errors in the print editions, "thirty-eight of them derived from transcription errors in either Lynn's Harvard edition or Douglas's Penguin edition."19 Each of these errors were corrected in Steven Railton's online Uncle Tom's Cabin and American Culture archive, making the digital edition of Stowe's important work far more accurate than the print editions. Raabe has continued to investigate errors and inaccuracies in print editions of Stowe's work; most recently, he coedited, with Les Harrison, a digital edition of the "Topsy" chapter of Uncle Tom's Cabin that, with their editorial corrections, challenges critical readings of the controversial character.20 As these examples make clear, scholars need to carefully examine the text that they are choosing and be aware of the limitations of the print text. We need to resist the "look" of a facsimile text that lures the reader into believing that it is "the same" as the original book. Looks are often deceiving.
The reliance on facsimiles has created other issues for Black Studies. Many of the volumes in print and digital form, including the Schomburg and Arno series, lack information on the history of the text and do not identify which particular text is being reprinted. Scholars recognize that individual copies of a text may have variants that are unique to the individual text; even the same edition of a text may have variants that occur in print. For example, David Walker's Appeal went through various printings and three editions. There has been an assumption that each of the editions is consistent, but the extant editions have not yet been analyzed to determine whether this is indeed the case. If we would collect the various extant printings, which are owned by just a few libraries, and compare the editions, it is possible that we might find differences in the printing that point to either Walker's printing or distribution approaches, long a fairly misunderstood component of the text.21 However, our current editions of the Appeal focus only on one reprinted text, rather than on multiple editions and versions, an oddity given the importance of circulation in Walker's Appeal—a text designed to be transmitted through the South, person by person, on a sort of reverse underground railroad. Without an understanding of how the text materially responded to such transmission, something that editorial work might reveal, scholars have ignored a large area of study.
David Walker's Appeal is a prime example of a central text in African American literature and history that has received no editorial attention.22 A survey of literary articles that cite Walker reveal that the majority of literary scholars are analyzing the 1965 Charles M. Wiltse edited reprint of the third edition of Walker's text, published by Hill and Wang. In 1995 a new edition of the Hill and Wang Appeal was issued, though it was hardly a new edition: its new features were only a new introduction by Sean Wilentz and, according to Wilentz, alterations of Wiltse's footnotes. The original text remains, which was printed in 1965, in which "some obvious typographical errors" were corrected.23 In other words, we have been using a fairly unreliable text of Walker's Appeal for our scholarship for nearly fifty years.24 If someone was looking for a potential digital project, a complete edition of Walker's Appeal would make an excellent candidate.
So few of our primary Black texts have been carefully edited that it is hard to know how problematic they are, but what editorial work has been done suggests that we should make careful editing a long overdue priority. Primary texts that are core texts in fields, such as those by Zora Neale Hurston, have not been edited using available manuscripts, such as Hurston's 1933 Jonah's Gourd Vine manuscript housed in the Schomburg Library, or multiple editions, including a 1938 Italian translation of Their Eyes Were Watching God. Instead, they are transcriptions from one edition or, in many cases, a facsimile reprint of a text. This means that much of our Black Studies canon is unreliable.
Martin Delaney's Blake, for example, is a particularly difficult "book" to edit, because it was never published as a book; instead Delaney left us with "two serial versions, one incomplete, the other problematic in several ways."25 Floyd Miller's 1970 Beacon Press edition, which was until McGann's 2017 Blake or the Huts of America the only in-print edition of the text, "is a very unreliable printing," because Miller did not examine both extant versions of Blake's text, instead choosing only to focus on the Anglo-African Magazine version.26 McGann's edition transparently reveals editorial decisions and corrects numerous errors found in Miller's text.
Leon Jackson bemoans the fact that "scholars of slave culture and print culture have rarely shared agendas, nor have, more broadly, African American social, cultural, and literary historians and those within the community of book historians."27 His article chronicles the problems found in various texts, including Henry Louis Gates's first print edition of Equiano's Interesting Narrative that "used as his copy text the heavily bowdlerized 1814 edition, published some seventeen years after Equiano's death and replete with what Vincent Carretta calls 'additions, transpositions, and deletions never made by Equiano himself,'" as well as Call and Response: Riverside Anthology of the African American Tradition, from which editor Patricia Liggins Hill decided to "silently excise the white-authored prefaces" from Frederick Douglass's Narrative.28 The use of error-ridden primary texts means that our analysis of the text is indeed flawed.
In addition to the failure to identify textual errors in textual production, the lack of scholarship in the exploration of textual production and transmission has limited our understanding of authors and their texts. John K. Young has created perhaps the most revealing list of textual changes that affect the current scholarship on texts, and it is well worth quoting in full:
Boni and Liveright advertised Cane (1923) as "a book about Negroes by a Negro," despite Jean Toomer's express request not to promote the book along such racial lines (Larson 25; Toomer 157). Nella Larsen agreed to switch the title of her second novel from Nig to Passing (1929) because an editor at Knopf felt the original title "might be too inflammatory for a novel by an unproven writer, while 'Passing,' and the phenomenon's connection to miscegenation, would incite interest without giving offense" (T. Davis 306–7). Richard Wright revised and deleted several scenes in Native Son (1940) depicting Bigger Thomas masturbating, as well as those showing Mary Dalton's desire for Bigger, in order to publish his first novel as a Book-of-the-Month Club main selection. Zora Neale Hurston criticized American racial policy in her autobiography, Dust Tracks on a Road (1942), noting that "President Roosevelt could extend his four freedoms to people right here in America." But she cut this passage and others like it after an editor at Lippincott wrote, "Suggest eliminating international opinions as irrelevant to autobiography" (Hemenway 287, 288, emphasis added). Toni Morrison revised the last "racially charged but figuratively coherent" word of Beloved (1987) at her editor's request ("Home" 8), and changed the title of Paradise (1998) from War to allay Knopf's marketing concerns (see Mulrine 22).29
I suspect that these instances are merely the start of a long list of textual divergences that deserve further scholarly exploration. These divergences, as also identified by McGann, Bornstein, and Jackson, indicate that some of our critical interventions are contradicted by the materiality of the text. Although we should still continue to recover materials, we have reached an age of critical stability in the canon that should allow us to attend to the editing of Black texts. Yet so many of our texts remain inaccurate and underedited, leaving Black Studies materials again second-class textual citizens.
Why, then, given all of the problems with our textual records, are we not clamoring for properly edited texts? Surely in the digital age such texts no longer need to rely on the approval of publishers, giving scholars free range for production. Part of the issue is that our understanding of properly edited texts is often field specific: theoretical shifts often leave scholars at odds with the texts that they are studying. For example, New Historicism created a moment in which literary scholars were focused on materiality, rather than just meaning, whereas historians instead looked for meaning-making across the text. History and literature studies require different sorts of editing to make disciplinary textual issues transparent, with claims by editors from each field of the superiority of their approach.30 Thomas Tanselle's denunciation of historical editing in "The Editing of Historical Documents" is perhaps the most forceful critique. Tanselle, a literary editor, famously berated historians for their editing techniques and their lack of concern "with questions of copy text and textual variants," instead desecrating the text through silent modernizations.31 Historians, in turn, have long criticized the focus on authorial intent, a practice of certain groups of literary editors.
Although much could be made of the complicated traditions of history and literary editing, for the purposes of this chapter the important point is that disciplinary affiliations affect editing approaches. A survey of the recovery efforts of Black texts reveals that the majority of such work has been done by historians. As a result, some primary texts have limited usefulness for those working within literary studies. For literary scholars, the most useful primary texts are those that reflect the evolving transmission of the text, reveal publication histories of texts, and allow the user to understand the materiality of the text. Editing that removes crucial components of a text for study or obscures historical, social, or material markers that literary scholars might engage may make it more difficult for them to answer the questions of interest to literary studies. Hence, scholars in literary studies, such as myself, are working with texts designed for other purposes.
The lack of attention to Black texts is also structural. George Hutchinson, John K. Young, and Martha Nell Smith argue that most textual studies scholars have been white academics who have little knowledge of Black texts. A similar charge is levied against digital humanities, which has not adequately addressed its problematic resistance to issues of race and gender and that has not made the digitization of African American literary texts a priority. We might imagine that this issue has begun to shift, but that doesn't appear to be true. The Norton Critical Edition series is the best known of all "critical" editions. While most editors would not view the series as critically edited due to their lack of attention to textual variants, transmission, and print history, and the texts would not win the MLA Committee on Scholarly Editions' (CSE) seal of approval, they are the most well-known "edition" series designed for pedagogical use. The Norton catalog in Fall 2017 listed 261 Norton Critical Editions of which 14 were written by Black authors of the diaspora, including Chinua Achebe, Things Fall Apart; Wole Soyinka, Death and the King's Horseman; Harriet Jacobs, Incidents in the Life of a Slave Girl; Frederick Douglass, Narrative of the Life of Frederick Douglass; and W. E. B. Du Bois, The Souls of Black Folk. The most recent text included was Solomon Northup's Twelve Years a Slave, clearly a move designed to capitalize on the popularity of the movie. The Library of America shows a similar lack of diversity: only 17 of its 301 volumes focus on writing by Black authors. Of the sixty-three extensively edited editions in the Library of America that have received the MLA Committee on Scholarly Editions' seal of approval, only one text is written by an African American author—Frederick Douglass. The representation of Black texts in both the CSE-approved editions and the reading editions is disheartening. Phillis Wheatley is not included. Nor is Zora Neale Hurston included in the Norton Critical Edition series, even though, according to the Open Syllabus Explorer, Their Eyes Were Watching God is the seventy-first most frequently taught text, far ahead of Kate Chopin's The Awakening (at 224) or Herman Melville's Moby Dick (at 102), both of which have Norton Critical Editions. Although the economics of book publishing has driven the decline in the market for editions, this same economic model does not apply to Black edited texts targeted to the undergraduate classroom, such as Their Eyes Were Watching God. The lack of carefully edited materials, especially those within a catalog for teaching, such as the Norton Critical Edition series, suggests that the texts are not important, moving against the recovery work we have been working on for years.
Textual Futures
For a brief moment we believed that the ability to publish texts digitally would jumpstart a revolution in publication, but like print publication, the digital has not resolved issues of time and expense. As Ken Price writes, "Free stuff comes from somewhere, and it is rarely, if ever, free to produce."32 It is crucial to realize that editing, whether print or digital, is a time-consuming and expensive process and one that is not often rewarded by academic systems. At the same time, digital editing affords a certain freedom. Many publishers today see print editions as economically infeasible and refuse to publish editions that, though important to scholars, will not sell widely. Independent digital editions, particularly of lesser known figures, are able to fill that gap. Ultimately, however, editing confers a particular weight to a text, and the lack of consistent editing of at least the core texts in Black literary studies suggests that such texts are, once again, relegated to second-class status. When we look at the history of textual editing, we can see that the most valued texts are the ones that have been given the most critical editing attention. The editing of Shakespeare both in print and online has been well established, as has the editing of figures from Whitman to Dickinson. Why, for example, is there not an open-access Frederick Douglass digital archive? Why do we not have a robust Zora Neale Hurston digital project? Is there a Harriett Jacobs digital text? This problem, one that has transferred from the print to the digital, has largely been hidden by other concerns in digital humanities and the larger fields that have seemed to have decided that certain literary canons are already complete.
In addition, we are also faced with the degradation of early digital humanities projects. I have written extensively on the disappearance of important Black texts from the web, as many early works of recovery have, once again, been lost. Here I highlight the loss of the digital edition of the March 1925 issue of Survey Graphic, which in some ways launched the Harlem Renaissance. The 1995 digital project was titled Harlem: Mecca of the New Negro: A Hypermedia Edition of the March 1925 Survey Graphic Harlem Number and was from the Etext Center, University of Virginia; it was created by Matthew Kirschenbaum and Catherine Tousignant. The digital edition of the magazine edition produced by Kirschenbaum and Tousignant is superior to the currently available print facsimile version of the text, because it includes editorial commentary and attends to textual variants, based on Kirschenbaum and Tousignant's examination of the original copy of the journal held at Alderman Library at the University of Virginia. The digital edition is also shaped by its use of standards that preserve the text, at the time of production SGML and high quality TIFF scans archived at the University of Virginia. The editors located several variants between the original journal and the easily available print facsimile version, an added emphasis to Langston Hughes's "Song" and some transposed pages; these variants led the editors to note, "It seems likely that the March 1925 Survey Graphic saw at least two printings, with this error and the page order corrected in the second." Although such a finding might seem inconsequential, the careful examination of the original version tells us something important about the distribution of the text that we could not be aware of if we used only the facsimile, and this information might affect the scholarly narrative about the development of the Harlem Renaissance movement.
Regardless of the quality of the edition, the digital Survey Graphic teeters on the brink of disappearance. The editors of the text followed all the correct steps for digital preservation. They built the project at a well-established humanities computing center, the Etext Center. At the time of production, they used state-of-the-art standards to preserve the text: Standard Generalized Markup Language (SGML) and high-quality Tagged Information File Format (TIFF) scans archived at the University of Virginia. They even went so far as to obtain a WorldCat entry for their work, effectively entering their edition permanently into one of the largest union catalogs in the world. Despite all of their efforts, the project, along with others, did not survive the shuttering of the Etext Center, leaving it to exist only on the Internet Archive. The loss of early high-quality edited projects in a field like African American literature, where we are already struggling to properly recover the breadth of textual production, is distressing.
We need both print and digital forms of editing, and we need both print and digital mediums. We should resist the limitations found in print, instead grounding digital texts in the long history of Black literary recovery, creating texts that are open data sets for those interested in data mining and visualization. As we move forward, we need to examine not only the print text's materiality but also the digital construction of our produced texts. Projects like The Project on the History of Black Writing, which examines the digital metadata structures currently in use, such as the Text Encoding Initiative and Extensible Markup Language (TEI/XML), and offers new forms of metadata appropriate for Black Studies projects allow us to see the continuity in production from print to digital.33 This project is modeling additional entries for the TEI/XML header that are of interest to scholars of African American literature, such as press type, presence of music, geolocation, and the vernacular, with the hope that adding such metadata will better represent crucial issues of the literature. Instead of seeing the print and digital as divergent traditions, we might view them as collaborative forms that might be matched with particular goals of our scholarly work.
Perhaps the central issue in the lack of well-edited Black texts has to do with the field itself. When a field is effectively fighting to survive and to show its worth, careful editing of small numbers of texts is not a priority. Threats to Black texts' survival went well beyond canon exclusion, as they were caught in a cycle of exclusion perpetuated through bibliographical scholarship.34 Black Studies' response was to flood the market with reprinted texts, to show the world the breadth and depth of the canon. Yet some Black texts are still excluded from our current canons. To continue to center recovery, we should address the lack of coverage of Black texts in print teaching and reading editions, such as the exclusion of Zora Neale Hurston's work from the Norton Critical Edition series. We should move our fight for inclusion into the digital environment, which might better allow us to address concerns of textual production of central texts such as The Autobiography of Malcolm X—which, because of the messy understanding of its authorship, would benefit from a more fluid space in which its textual production might be represented. We must find ways to preserve older digital projects.
In large part, the reliance on the simple reproduction of Black texts is a resistance to external manipulations of the text. By reproducing large volumes of Black texts, the canon is quickly constructed, and there appears to be no censorship or interference in the text. Hutchinson and Young argue that a central concern with editing of Black texts is "a concern about the co-optation and domestication of Black radicalism and Black literature."35 When framed this way, it becomes apparent why many of us have turned to facsimiles as the form of text reproduction, which might seem to resist the intervention that editing might impose, the intervention that attaches problematic containment of Black text. The refusal to edit, then, becomes a form of resistance. However, we now have a long history of textual recovery and have made great strides in canon expansion. It is time to rethink how editing might also become resistance, how we might use editing to free a text, rather than coopt a text. For editors of Black texts, digital editing may provide a mechanism to reveal and undo embedded histories of exploitation found within publishing systems, whether from publishers' censorship, bibliographic exclusion, or archival resistance.
We also need to have a broader conversation about what we, as a collection of scholars, are missing when we use primary texts that have errors or exclude important textual transmission information. Those working in African American literature and Black Studies have a long scholarly tradition of exploring the impact of cultural and historical trends on textual production. As other chapters in this volume reveal, centering and reinvigorating the study of the digital Black Atlantic is part of an ongoing process that is often messy, as Sonya Donaldson and Angel Nieves demonstrate, and decidedly activist—as is Janneken Smucker's engagement with a new generation of scholars through student inquiry—and it is central to connecting the past to the future. We must now turn that same critical inquiry to the material production and the transmission of the text, looking for examples like the long list of issues that Young compiles in the extract quoted earlier. Such inquiry will enrich our field, deepen our understanding of the texts that we study, and provide a more complete representation of the way that Black authors responded to publishing structures that resisted their work. We do need an editorial renaissance—an editorial renaissance that recognizes the systemic issues that have affected the production of Black texts both historically and contemporarily. Arthur Schomburg charges that "the American Negro must remake his past in order to make his future," and to remake the past we need recovery and editing to work hand in hand—not just to reproduce but also to remake, to consider how to retell the complex history of Black texts.36
Bibliography
Andrews, William L. "Editing 'Minority' Texts." In The Margins of the Text, edited by David Greetham, 45–55. Ann Arbor: University of Michigan Press, 1997.
Barthelemy, Anthony G. "Introduction." In Collected Black Women's Narratives, xxix–xlvii. Schomburg Library of Nineteenth-Century Black Women's Writers. Oxford: Oxford University Press, 1988.
Bornstein, George. "Facsimiles and their Limits: The New Edition of Yeats's 'The Winding Stair' and Other Poems." Textual Cultures: Text, Contexts, Interpretation 6, no. 2 (2011): 92–102.
Bornstein, George. "Textual Scholarship and Diversity: Which Needs Affirmative Action More? Presidential Address." Textual Cultures 3, no. 1 (2008): 65–76.
Delany, Martin R., and Jerome McGann. Blake or, "The Huts of America": A Corrected Edition. Cambridge, Mass.: Harvard University Press, 2017.
Earhart, Amy E. Traces of the Old, Uses of the New: The Emergence of Digital Literary Studies. Ann Arbor: University of Michigan Press, 2015.
Gailey, Amanda. Proofs of Genius: Collected Editions from the American Revolution to the Digital Age. Ann Arbor: University of Michigan Press, 2015.
Gallon, Kim. "Making a Case for the Black Digital Humanities." In Debates in the Digital Humanities 2016, edited by Matthew K. Gold and Lauren F. Klein, 42–49. Minneapolis: University of Minnesota Press, 2016.
Greetham, David C. Textual Scholarship: An Introduction. New York: Garland, 1994.
Harper, Frances E. W. Minnie's Sacrifice, Sowing and Reaping, Trial and Triumph: Three Rediscovered Novels. Boston: Beacon, 1994.
Hume, Robert. "The Aims and 'Uses' of Textual Studies." Papers of the Bibliographical Society of America 99, no. 2 (2005): 197–230.
Hutchinson, George, and John K. Young. "Introduction." In Publishing Blackness: Textual Constructions of Race since 1850, edited by George Hutchinson and John K. Young, 1–17. Ann Arbor: University of Michigan Press, 2013.
Jackson, Leon. "The Talking Book and the Talking Book Historian: African American Cultures of Print—The State of the Discipline." Book History 13 (2010): 251–308.
McGann, Jerome. The Textual Condition. Princeton: Princeton University Press, 1991.
McGann, Jerome. "What Is Critical Editing?" Text 5 (1991): 15–29.
Price, Kenneth. "Dollars and Sense in Collaborative Digital Scholarship: The Example of the Walt Whitman Hypertext Archive." Documentary Editing 23, no. 2 (June 2001): 29–33, 43.
Raabe, Wesley. "Harriet Beecher Stowe's Uncle Tom's Cabin: A Case Study in Textual Transmission." In The American Literature Scholar in the Digital Age, edited by Amy E. Earhart and Andrew Jewell, 63–83. Ann Arbor: University of Michigan Press, 2010.
Raabe, Wesley, and Les Harrison. "A Selection from Uncle Tom's Cabin: A Digital Critical Edition: 'Topsy.'" Scholarly Editing 33 (2012).
Schomburg, Arthur A. "The Negro Digs up His Past." Survey Graphic 670–72 (1925).
Smith, Martha Nell. "The Human Touch: Software of the Highest Order: Revisiting Editing as Interpretation." Textual Cultures 2, no. 1 (2007): 1–15.
Spiro, Lisa, and Jane Segal. "Scholars' Usage of Digital Archives in American Literature." In The American Literature Scholar in the Digital Age, 101–24. Ann Arbor: University of Michigan Press, 2011.
Tanselle, G. Thomas. "The Editing of Historical Documents." Studies in Bibliography 31 (1978): 1–56.
Walker, David. David Walker's Appeal to the Coloured Citizens of the World, edited by Peter P. Hinks. University Park: Pennsylvania State University Press, 2000.
Walker, Sean. David Walker's Appeal in Four Articles, edited by Sean Wilentz. New York: Hill and Wang, 1995.
Young, John K. Black Writers, White Publishers: Marketplace Politics in Twentieth-Century African American Literature. Jackson: University Press of Mississippi, 2006.