The Sankofa Principle
From the Drum to the Digital
Abdul Alkalimat
As we live in the whirlwind of racist oppression, there is no more important task than to find a way to affirm our very humanity, which racism most viciously attacks. We constantly realize the wisdom of what that great African revolutionary Amilcar Cabral instructed us to do: always "return to the source."1 The people, our people, create the ontological and epistemological basis for who we are and what we can know about ourselves.
This chapter sets forth a framework for our thinking, arguing that a historical perspective is foundational and necessary at all times. This is especially true at times like now when we are experiencing a crisis: the resurgence of racist terror symbolized by the U.S. president saying good things about a fascist march in Virginia and then calling on Black people to respect Robert E. Lee, who fought to defend slavery. We need clarity about history and who have been our friends and who have been our enemies. I call the framework that we need the "Sankofa Principle," and by applying it, we can link the drum—a technology foundational to Black culture—with the emerging transformational power of digital technology.
Digital technological tools are considered in this chapter both as parts of the problem and of the solution. They disrupt the organization of the economy and end the mass demand for labor that has been a stabilizing factor for Black people. These tools, however, can also be used to facilitate new forms of agency that can drive cultural development and social justice activism. This activism can make use of the archival capacity of the digital and transform the utility of memory.
This chapter summarizes lessons learned from twenty years of work building a body of knowledge called eBlack Studies. eBlack Studies is the transformation of Black Studies by digital technology, which adds a virtual level of analysis and discourse to research, professional organizations, and pedagogy. Rethinking the implications of digital technology is a necessary task as we face a revolutionary transformation of all of society and, most certainly, of the institutions of higher education. We have to recognize the need to change; we also have to understand that the more things change, the more they remain the same in some respects. This is a dialectical approach to change, which is at the heart of how we understand history—always combining the new and the old, what we have known with what we are just beginning to know. And we have to agree to use both science and art, both reason and emotion, and both sides of our brains to be truly and fully human.
This is not a neutral undertaking. Black people remain very much exploited and oppressed. So Black Studies must always remain true to its origins, linking itself to the struggle of Black people to be free, to this society's struggle to move beyond its history of negation to a historical stage of affirmation. eBlack Studies is part of a new stage of scholarship, and it can be a new arm of the Black liberation movement. The use of digital technology in eBlack Studies can liberate the archives and make manifest memory that is otherwise stored as inert material for limited scholarly use.
Black Studies has gone through three historical stages of development: as a social movement, as an academic profession, and as a knowledge network. These are not absolutely sequential stages, but rather overlapping modalities of how we operate, how we do what we do. Every organizational manifestation of the Black liberation movement has always had an educational component, which has been based in community institutions like churches and libraries. The best twentieth-century example is Black History Month, established by Carter G. Woodson in 1926. There were also the Garvey United Negro Improvement Association (UNIA), the work of Noble Drew Ali and his Moorish Science Temple, the Mississippi Summer Project Freedom Schools in the 1960s, and the many manifestations of the Left from the Communist Party to the Black Panther Party to various forms of a Peoples College—community-based educational programs.2
When Black Studies was vaulted into mainstream educational institutions by the radicalized Black student movement in the 1960s, a new academic profession was born. Since then, there have been at least three generations of Black intellectuals socialized into the academic mainstream in its various manifestations, from community colleges to PhD institutions, including the most elite private schools. The first generation was the warrior generation that fought institutional racism to create academic space. The second generation struggled to open up tenure and sustainability. The third generation is now establishing a renaissance of published scholarship.3
The work of this third generation is being transformed in several ways by new digital tools and the opportunities that they open up. Internet connectivity is being used to relink campus activities with community institutions and activists; the web is a treasure trove of information and facilitates communication with ease and fluidity. Digital tools save time, costs, and storage space in carrying out research. Management of archival files activates memory of all aspects of academic work, making retrieval and recall nearly instantaneous and thus more useful in a program of research and teaching.
As members of an academic profession, we left our community to face the internal review process for hiring and promotion to tenure and to engage in peer-reviewed publishing, in exchange for the professional perks of job security, a solid middle-class salary, international travel, and status. Information technology is now providing a way for us to reconnect: digital tools can facilitate crossing the feudal moat that separates the campus from the community. We are only a click away if we are willing to lower the virtual drawbridge and follow the path of open source information and the creative commons that unite us with the free culture movement.4 In fact, doing so makes achievement of the tasks begun by W. E. B. Du Bois and others easier in many ways.
As we reconnect, we are reminded of the terror that our community faces. Nothing should ever make us forget that we are members of a community under attack. The men and women being killed are part of our family. They are our humanity and must be respected and protected. We do not yet know all their names, but for most of us, there is the name of a Black person murdered in our very own town or county that we know very well. Many of these names have become hashtag memorials that people use to remember Black people who were murdered, as a form of digital activism against violence, oppression, and injustice. We are part of this moment when Black people's struggle is being born again as a new generation of activists is emerging in the community and on campus. If #BlackLivesMatter, this should nowhere be more important than in Black Studies. Given our focus on the digital, we have to be concerned with the glaring inequality of the digital divide. African Americans do not lag behind in cell phone use but are far from reaching equity in the effective use of other digital tools.5
Let us also remember that Black Studies is not exactly a safe space. Neoliberalism brings the market framework to all of our institutions. There is a pervasive commodification of academic institutions through which everything from faculty salaries to student fees is determined by market forces. This means that our students have become customers, while faculty serve as salespersons of institutionalized knowledge. Corporatized knowledge is force-fed into our consciousness via mass media and the ever-present digital monopolies of Google, Microsoft, and Apple.6
So, in the end, we will have to raise the level of our game and understand that the struggle must be waged in cyberspace. It is the new arena not only where we are being attacked and marginalized but also where we have new possibilities for various forms of Black unity. Once again, it is both the worst of times and the best of times.
The Sankofa Principle Today
All of this is why we need the Sankofa Principle. Sankofa is a word in the Twi language of the people who live in Ghana. Its literal meaning is "go back and fetch it," referring to knowledge that one needs. Every elder is a manifestation of this Sankofa principle because people value their memory as a vital source of knowledge and wisdom.7 There is no more important principle in Black intellectual history than the Sankofa Principle. African American intellectual history in all disciplines follows it, especially in the writing of autobiographies. The history of our people and of each of us has been at the center of the intellectual production of each successive generation. The Sankofa Principle attains its highest level of relevance in the age of eBlack Studies, when archiving files has become a norm for academic scholarship. Going to a website such as BrotherMalcolm.net for information on Malcolm X is more accessible than having to travel to where the actual materials are located.
At the same time, the promotion and tenure process at many universities does not place value on the creation of digital scholarship. Of course, knowledge comes in many forms—from oral history, to written texts, and now to digital media. The information we seek and need has to be validated in its many forms without privileging one and disregarding or devaluing the rest. Respecting all forms of knowledge is about the humanity of our people and their history. All these forms of knowledge are simultaneously operational today and can be represented in digital media forms.
Let us consider the historical polarity between the drum in traditional society and digital tools today. Both are code-generating machines made by human beings in many diverse forms, shapes, sizes, and colors; both are usually operated by human hands; and both are the basis for a type of literacy in communicating and performing cultural activities. These similarities suggest that there are sustainable features of human culture and that the past links to our present.
There are also important differences between the drum and digital tools. We made our drums from natural materials such as wood and animal skins. We embraced an organic relationship to nature out of necessity and our use of sustainable cultural practices. In contrast, digital tools are built on industrial production augmented by major advances in the use of electricity, the mining of metals from Africa (like coltan from the Congo, which is necessary for cell phone production), and the exploitation of labor in China (like the 1.4 million workers at Foxconn, which manufactures all the Apple products). Drums are specific to a cultural context in form and sound: to hear a drum was to hear a specific people's cultural production. Computers represent a new standardization of global culture: basically, the same machines are being used all over the world. The drum is local, and now the digital is global. And, most important of all for culture and knowledge, the drum is heard when played and has to be played over and over again, whereas the digital is instantaneous in ways that far exceed what the traditional drum can do and has the simultaneous capacity to be archived and stored in some kind of memory facility for replication when called on.
Technological advances in capturing text, voice, and visual action have continued over the years and are still ongoing. At each stage Black people have had to adapt to new conditions. At times, in the community and on the campus, Black people have had access to and control of aspects of the technology, but in many instances these technologies have been in others' hands and been used against Black people in a negative way. Thus, both the humanity of Black people and our negation persist in the archives of these technologies. Nothing demonstrates this more than the reruns of old movies on television that remind us of all of the negative portrayals of Black people and, at times, some positive ones. Once online, past truths and lies are both resuscitated, whether in YouTube or Project Gutenberg; digital technology can make the memory of our past universally accessible. Figure 1.1 shows the kinds of technologies used in each historical stage of the African American experience. It makes the point that political advances are connected with technological advances.
| | | | | |
| --- | --- | --- | --- | --- |
| Historical Periods | | Communications Innovations | | Examples |
| Africa | | Drum, speech and song, writing and numbers | | Chaka Zulu, Queen Nzinga, Kimathi |
| Slavery | | Secret codes, quilts, newspapers | | Nat Turner, Frederick Douglass, Harriet Tubman, Sojourner Truth |
| Rural tenancy | | Radio, telegram | | Ida B. Wells, W. E. B. Du Bois |
| Industrial urban | | Television | | Martin Luther King Jr., Malcolm X, Ella Baker, Fannie Lou Hamer |
| Information society | | Fax, computers, internet, social media (past, present, and future) | | Million Marches, Black Radical Congress, Black Lives Matter |
The Sankofa Principle is a fundamental feature of how we think to live, to affirm our humanity. We apply it not only to honor our elders and ancestors but also because their wisdom is wealth that our young need to survive and prosper. In their very early years, Black children are part of the promise of humanity that all children represent. But they are also subject to the biological and psychological warfare being waged against Black people through the legal factory food and the illegal drug industries. And they are taught to be inferior by a system that conspires to negate our humanity. This sets the agenda we must address in our scholarship and activism in today's information-revolutionary period. As a founder of Black Studies, this has been a driving force in my thinking that has led to the development of eBlack Studies. At the end of the 1960s and the end of our great social movements, our revolutionary gains were stalled and in many instances reversed. However, the information technology revolution opened new vistas and rekindled the possibility of social revolution. I was born again and became energized with new possibilities. We had a new playing field and new tools within our reach; we took hold of digital tools and turned Black Studies into eBlack Studies.
Technology is wedded to ideology. When people create something, they are imposing their orientation on the world through their invention. An example of this is how computer designers gave what has become a commonplace model the name of "master and slave." Here is Wikipedia's definition of that model:
Master/slave is a model of communication where one device or process has unidirectional control over one or more other devices. In some systems a master is selected from a group of eligible devices, with the other devices acting in the role of slaves. . . . The master/slave configuration is basically used for load sharing purposes when two identical motors connected to two different drives are coupled to a common load.8
One drive is defined as the master and is configured for running in the speed-control mode, whereas the other defined as the slave is configured for running in torque-control mode.
So, we must enter the digital game with our own set of assumptions that can serve as our own orientation without falling prey to this kind of historical reference that functions to negate us. In fact, our values reflect the universal possibility of the digital age, just the way that the Freedom movement has always proclaimed the maximum possibility of democracy in this country. Applying the Sankofa Principle to our Freedom movement, I am proposing three fundamental values for eBlack Studies:
1.

Cyberdemocracy:

This value is essential to enable us to link with our entire community. As academics we live and work in resource-rich institutions and must always find ways to share resources with those in our community most in need of digital tools and the skills to use them.

2.

Collective intelligence:

Contrary to racist thinking, we know that all Black people think and have a rational capacity to develop ideas about how they view themselves and the society. Our digital tools make it possible to consider and include every voice in our analysis, opening up our data collection and research strategies to affirm this inclusiveness.

3.

Information freedom:

Privatization and commodification of all culture and information are the main principles of neoliberalism, and we must oppose them at every manifestation and fight for culture and information to be free for all to share.
The D7 Research Method for eBlack Studies
Now we turn to method. I designed the "D7 Research Method" for eBlack Studies (see Figure 1.2). This is a revision of what is generally called the scientific method, but with the addition of two components: D3 Digitization and D7 Difference. When data is not born digital, it has to be digitized in the third step, so one can proceed to D4 Discovery. And D7 poses the questions, "So what?" and "What difference does the research make?"
| | | |
| --- | --- | --- |
| D1. Definition | | Defining the problem, summing up the relevant literature, formulating the research question and/or hypothesis |
| D2. Data | | Operationalizing the variables, drawing a population sample, collecting data regarding the variables |
| D3. Digitization | | Inputting, scanning, otherwise putting the data on a computer, organizing in a useful way |
| D4. Discovery | | Analyzing the data to test the hypothesis or answer the research question |
| D5. Design | | Laying out the data and analysis in text, tables, and figures to convey the findings to various audiences |
| D6. Dissemination | | Sharing the findings with various audiences as widely and effectively as possible |
| D7. Difference | | Using the research to make a difference in your research community or the larger world |
In the first step, D1 Definition, one identifies a problem to address and then asks, "What specific research question will the research seek to answer?" The Sankofa Principle requires us to first investigate this research question by engaging in an intensive review of the literature. The Black librarian is an invaluable collaborator at this step. The library is the most universal memory institution in society; not only do books and print media circulate as part of contemporary information dissemination but the library also has a reference section of documents that are secure and maintained to provide the memory of history, culture, and scientific knowledge. Although all library collections do not serve to maintain the memory of knowledge about the Black experience, Black people themselves have documented this memory, so it is possible to recover it in a library. The librarian as a professional is key to preserving the memory of a society. And Black librarians are key for preserving the memory of the Black experience.
As Figure 1.3 indicates, there is more than a century of research to rely on. These decades of research on African Americans are available through bibliographical mapping of Black intellectual history, made possible by scholars who provided that comprehensive bibliographical tracking. Pre-eminent scholars in this regard include Monroe Work, Arturo Schomburg, Dorothy Porter, and Jean Hudson. I want to single out the book Holders of Doctorates among American Negroes.9 It is a detailed directory of all PhD and MA holders from 1876 to 1943 with data on their work. My own work in bibliographic tracking included a comprehensive listing of books and articles that was published quarterly in Afro-Scholar from 1983 to 1992. It is now freely available online.10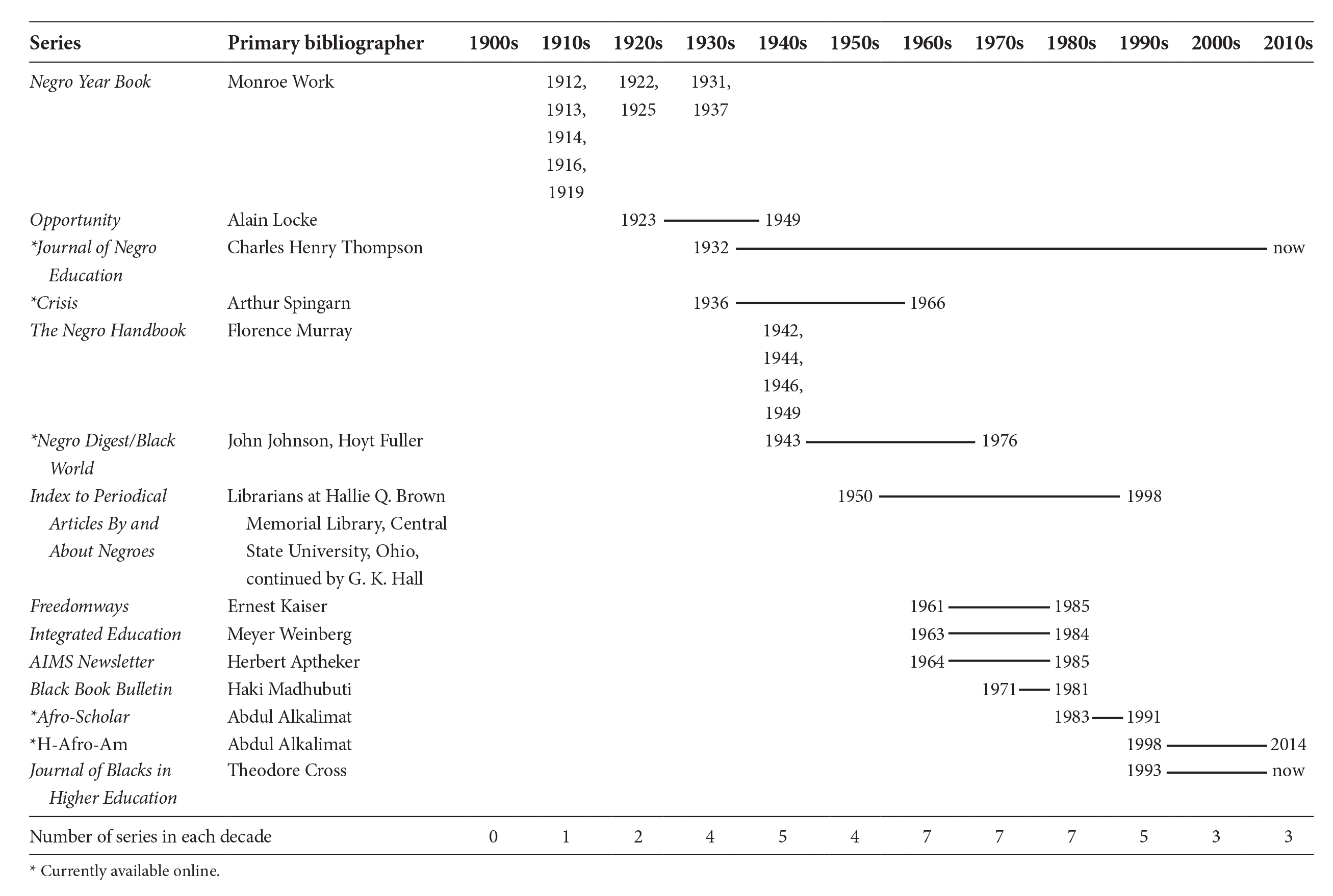 The main point here is to locate our research in the multigenerational production of knowledge, never failing to consult our history because important information is always there. Each field of scholarship has a history; each major research question also has a history that usually has been taken up by several disciplines. All research either confirms what is known, challenges and replaces what has been known, or adds something entirely new. These are the only three results from all scholarship, but we cannot know which will be produced by our research until we have conducted a historical review of the literature.
D2, Data collection, gathers the information needed to answer a research question. It is important in all cases that we think of our population of people as not only objects for our analysis but also as thinking subjects who can always contribute to the design and implementation of research, as well as to the analysis. Now some data is born digital, and it requires its own methodology. For instance, I used born-digital data to make the first comprehensive survey of Black Studies academic units. My first attempt was in the 1990s when many academic units did not have a web presence; today, having a web presence is a norm, and it has the value of being self-reported data. In 2013 I found that 76 percent of 1,777 U.S. colleges and universities had Black Studies in some form: 20 percent had established formal Black Studies units, and 56 percent had changed the curriculum of their existing units to include Black Studies courses. Since this survey the annual obituary notices for Black Studies on the campus in the New York Times and the Chronicle of Higher Education have stopped, but, of course, not the attacks.
The next step, D3 Digitization—building our data and analysis in digital form—is a new feature of eBlack Studies research. One of its main benefits is that it enables us to embrace research as a collective activity bridging time and space. For us as individuals, this means that our research is with us whenever we have our laptops at hand. Those who use larger datasets will need network connectivity to that data. But more than this, we have the possibility to develop what might be called a Black Studies Collaboratory, a "center without walls, in which the nation's researchers can perform their research without regard to physical location, interacting with colleagues, accessing instrumentation, sharing data and computational resources, [and] accessing information in digital libraries."11
Digitization takes three forms: (1) digitization of discourse (the virtual community of scholars and activists), (2) digitization of scholarship (secondary data), and (3) digitization of experience (primary data). The digitization of discourse has been done in at least two main ways: (1) aggregating voices that are already online, creating a virtual community, and (2) building an intentional community based on shared interests. One example of the latter was H-Afro-Am, which I discuss later. The digitization of scholarship is taking new forms that provide new functionality: enhancing data collection and creating comprehensive datasets on each major topic being studied. Examples include a dataset that attempts to document every slave ship of the transatlantic trade, a dataset for every African American novel, and the many sites digitizing key works, from the Project Gutenberg ebooks to the Gilder Lehrman Center's online document collection on slavery at Yale University.12 These datasets add unprecedented memory that is accessible to scholars and, in many cases, the general public.
A major advance in the digitization of scholarship is the dSpace software developed at MIT in 2002. This is an open-source tool for archiving scholarship that has been adopted by more than one thousand institutions, including Deep Blue at the University of Michigan, IDEALS at the University of Illinois, and the Purdue University Research Repository. The National Science Foundation subsequently proposed that this type of archiving be formally instituted as national policy, emphasizing the "growing realization that intermediate data may be of use to other researchers."13 The crisis facing Black Studies is that the neoliberal paradigm of commodifying research has become so pervasive that little Black Studies scholarship has been posted in these free-access archives. Most historically Black colleges and universities (HBCUs) do not use repositories like dSpace and therefore are being excluded from cyberspace archives. There is a crisis of budget to maintain library collections and to support curriculum without the resources to train or hire new digitally skilled staff. In fact, this absence goes even deeper: most Black Studies scholars and departments also ignore institutional archives in all too many cases.
One of the developments in the digitization of scholarship is the collective works project. There are now volumes of collected works on or by Frederick Douglass, Booker T. Washington, Marcus Garvey, and Martin Luther King Jr.14 These volumes are hard-copy commodity products in the main, although the University of Illinois did make the Booker T. Washington volumes available online for free for some time. I have begun making the material by and about Malcolm X available to the public without any barriers of institutional affiliation or cost (http://brothermalcolm.net). The Shabazz family owns his works, but in a much greater historical sense they belong to all of us. For years I have advocated a political solution to this issue of individuals having a financial interest in personal archives of great public importance. In matters of intellectual property, we need a policy whereby, just as with eminent domain for real estate, the government can take property in the public interest and adequately compensate the owner. Without such a policy, in a fundamental sense we are commodifying our history, and that is not a good prospect.
The most exciting aspect of digitization is its ability to preserve experience, especially that of everyday life, in the here and now and at any other historical time frame. Black Studies teachers have made digitization of everyday experience part of classroom pedagogy. Using digital tools, we turn the classroom from a site of intellectual consumption via our syllabi, reading lists, and lectures into a site of intellectual production in the digital age. The main tool we emphasize is the smart cellphone that can handle text, audio, video, and photographs. Based on data collected through students' phones, we work with them to build websites that target, for example, all of the churches or all of the hair care institutions in a local community.
In working on these classroom projects, we found that the archives were full of material, but it was not within easy reach of the community—or scholars, for that matter. There is a great deal of campus research on the local community that has never been shared with the community. Meanwhile the community has been uploading its own material regarding the family, the church, the neighborhood, and many other aspects of social life onto social media platforms. At the University of Illinois, I helped build a website—a digital library really—called eBlack CU (Champaign-Urbana) that contains 10 days of video/audio, 50,000 pages of text, and 1,000 photographs; it boasts 58,000 users to date (http://eblackcu.net/portal/). One side note: in the process we found a local woman who had uploaded nine thousand community photos to Facebook in one year, which made her what we called a "Facebook archivist"—doing a lot with a little.15
D4, Discovery, is the stage is which one answers the key research question by analyzing the data. The text of the research report is strongest when it is argued back into the context—the review of the literature created when defining the research question. As mentioned, there are three basic types of findings: affirming what is known from previous research, contesting or resynthesizing what has been recorded in the research literature, or addressing a new question that has not yet been investigated. In digital humanities we have great opportunities to raise new research questions but only after their novelty has been validated by an exhaustive review of the literature. This ensures that our work is special and makes a contribution. There is nothing special about our work unless we can prove it is novel.
D5, Design, speaks to the need for every presentation to make contact with its particular audience. For scholars, this means committing to making multiple iterations of your work based on listening to the comments of reviewers and having a thick skin to avoid being discouraged. The best way to maintain that energy to keep revising your work is have, as your first audience, some colleagues close to you who support you and whom you trust. We cannot afford to work in isolation. It also means presenting works-in-progress at conference sessions, not only to get suggestions for revision but also to make contact with possible venues for publication. The main target for scholarly articles is a journal. The Black community can be reached through the mass media—radio, TV via cable channels, and the internet, especially Facebook and sharing within networks. Here, our language is key. We must accept the challenge of speaking in plain language, remembering what people said when Malcolm X spoke: "Make it plain brother, make it plain."
D6, Dissemination, recognizes that findings do not speak for themselves; they have to be presented in a comprehensible form to whomever is the target audience. And the audience matters. For eBlack Studies, it includes Black Studies scholars, the Black community, and the broader global network of scholars in digital humanities. Digital dissemination includes video, audio, and graphics of all kinds, so we have a great opportunity to be creative in maximizing who we can speak to: we are motivated to increase the reach of our work both out of our desire for academic excellence and as the historical necessity of social responsibility. In a 1977 conference it was my good fortune to invent the slogan that became the mission statement of the National Council for Black Studies: "Academic Excellence and Social Responsibility."
Finally, D7, Difference, means that we have to make sure we do not get caught in the self-serving process of seeking approval from academic gatekeepers and ignoring the change we need to foster on so many levels. Research is about finding out what is real and true, and as we continue to do this over time, we change ourselves and then stand on this knowledge that we know so well. In sharing our work with our colleagues, we also seek to change research in general. Research on Black people always has some policy implications for the United States and indeed other parts of the world. This is our responsibility—academic excellence and social responsibility together.
But a word of caution: do not expect one research paper to change the world. It is our task to design research programs, a process involving the development of many specific research projects, amassing large quantities of data, and critiques of alternative explanations before we can have a serious impact and make a difference.
eBlack Studies in Practice
This section presents some suggestions for putting eBlack Studies into practice. It first presents an example of the digitization of discourse that was, at the same time, a research method for many of us and a discourse community in the field of Black Studies. I edited the listserv, H-Afro-Am, from 1998 to 2014, seventeen years of building a community in which members shared in conversation every weekday. Over those seventeen years there were more than 21,000 messages covering more than 12,000 topics. Readers were diverse, and so were the writers. Close to one in five of the topics (18 percent) generated two or more messages—that is, a thread or conversation. Two percent of all topics yielded ten or more messages. The longest thread was sixty-nine messages on the topic of "passing."
H-Afro-Am demonstrated that Black Studies was an area deserving of a digitally based discourse community that could operate on a global level. National conferences that enable face-to-face meetings once a year are important, but this listserv was an everyday service to many more people than could ever attend any Black Studies conference. H-Afro-Am was part of H-Net, a service organization based at Michigan State University that hosts virtual communities for academic fields of study run by volunteer academics. From its start in 1992 until 2014, the listservs used the simple and yet effective tool of e-mail. H-Net then made what I consider to be the mistake of fixing what was not broken: hiring consultants to migrate all the discussions from the listservs to a Drupal content management system. Participation in the H-Net "discussions," as they were called, then greatly declined. The new technology was too complicated for almost everyone. An important lesson learned from this experience is that we have to safeguard our platforms. In Sankofa terms, freedom of the press is exercised by those who own the presses.
Of course, the final step in digital humanities, as in all genres of research, is storing information for later retrieval in a memory institution or memory infrastructure. My strong advice for all scholars is to store your work in both hard-copy and digital form. Venerable institutions like the Library of Congress, the Moorland Spingarn Archive at Howard University, and the Schomburg Center in New York City have been and will continue to store hard-copy materials. But it is important to look for digital storage offered by dSpace and similar repositories on campus, as well as the more inclusive Internet Archive founded by Brewster Kahle in 1996 that now contains 20 petabytes of data, 370 million websites, and 273 billion pages. In 2005, I created a proposal for a web portal, BRAIN: Black Research Archive on the Internet.16 I wanted to demonstrate how such a virtual institution could be developed as part of eBlack Studies. It is critical that we activate the memory institutions so that our work is preserved for generations to come. We are indeed ancient to their future.
eBlack Studies needs to have a strong relationship to the Black liberation movement. The connection between Black Studies and the community can be redefined by using an approach to social phenomena called social informatics. My research program is in a subarea of this new field called community informatics, which explores how the community is facing the digital age. It is especially concerned with the historical, spatial, and organic communities that have defined human society up to the present time; in other words, the neighborhoods we all grew up in.
We know the Black community faces a relative digital divide, not in the use of cellphones and texting, but in the full use of computers. How do we intervene at this historical moment to deal with this fundamental issue of social inequality in the information society? Kate Williams has theorized the "informatics moment" as the critical instance of social interaction when we help each other get over some digital divide.17 Noah Lenstra extended this concept to what he calls the informatics lifecycle.18 Such interactions can take place in public libraries and in computer labs in churches and community centers; they can redefine libraries and these other spaces as places to reestablish human connections in the information society.
The general model I propose for our research programs involves cyberpower as our major dependent variable; their goal is explain how Black people obtain Black power to affect and change their lives using digital tools in the information society. Our research programs need to recruit community members as colleagues in the research we call community informatics. An example of the impact of cyberpower in Black Studies is the model I developed during my tenure as founding head of the Black Studies program at the University of Toledo in the 1990s. In each of five major areas we transformed our procedures to embrace digital technology. This included recruiting teachers from the African diaspora to teach our students via distance-learning digital technology. After I left the University of Toledo, my colleagues there extended distance learning to faculty based in Zimbabwe and South Africa as well. This Toledo model demonstrated the first stage of making the transition from Black Studies to eBlack Studies (see Figure 1.4).
One final warning is that theorizing the information society is not about realizing heaven on earth. We live in a bit of hell; this is not a time to be naïve about the kind of society we live in. All of the major digital companies that provide the virtual environments in which we volunteer to share our information cooperate directly with the surveillance agencies of the state. There is no such thing as privacy anymore. This is another instance when we need the Sankofa Principle. After all, we have endured slavery and slave-like conditions that match and exceed what people mean by fascism. We have our history to learn from: "We should reach back and gather the best of what our past has to teach us so that we can achieve our full potential as we move forward. Whatever we have lost, forgotten, foregone, or been stripped of can be reclaimed, revived, preserved, and perpetuated."19
| | | | | | | |
| --- | --- | --- | --- | --- | --- | --- |
| | | Black Studies | | eBlack Studies | | The Toledo Experience |
| Professional discourse | | Conference (face-to-face discussion) | | Listserv discussions | | H-Afro-Am |
| Curriculum development | | Classroom-based campus courses | | Distance learning | | Joint project with University of Ghana |
| Research productivity | | Hard-copy publications | | Research websites | | Malcolm X: A Research Site |
| Public policy | | Consulting and internships | | Advocacy websites and petitions | | 1998 Black Radical Congress |
| Community service | | Volunteering in the community | | Building a virtual community | | Toledo Black Church web project |
Bibliography
Alkalimat, Abdul. "eBlack: A Twenty-First Century Challenge." Souls: A Critical Journal of Black Politics, Culture, and Society 2, no. 3 (2000): 69–76.
Alkalimat, Abdul, Ronald William Bailey, Sam Byndom, Desiree McMillion, LaTasha Nesbitt, Kate Williams, and Brian Zelip. African American Studies 2013: A National Web-Based Survey. Urbana: University of Illinois Department of African American Studies, 2013.
Biondi, Martha. The Black Revolution on Campus. Berkeley: University of California Press, 2012.
Cabral, Amílcar. Return to the Source: Selected Speeches. New York: Monthly Review Press, 1974.
Dagbovie, Pero Gaglo. The Early Black History Movement, Carter G. Woodson and Lorenzo Johnston Greene. Urbana: University of Illinois Press, 2007.
Douglass, Frederick, and John W. Blassingame. The Frederick Douglass Papers, series 1, Vol. 1. New Haven: Yale University Press, 1979.
Garvey, Marcus, and Robert Hill. The Marcus Garvey and Universal Negro Improvement Association Papers, Vol. I. Berkeley: University of California Press, 1983.
Greene, Harvey Washington. Holders of Doctorates among American Negroes: An Educational and Social Study of Negroes Who Have Earned Doctoral Degrees in Course, 1876–1943. Boston: Meador Publishing, 1946.
Kayira, Jean. "(Re)creating Spaces for uMunthu: Postcolonial Theory and Environmental Education in Southern Africa." Environmental Education Research 21, no. 1 (2015): 106–28.
King, Martin Luther, Clayborne Carson, Ralph Luker, and Penny A. Russell. Called to Serve, January 1929–June 1951. Vol. I of The Papers of Martin Luther King, Jr., edited by Clayborne Carson. Berkeley: University of California Press, 1992.
Lenstra, Noah, and Abdul Alkalimat. "eBlack Studies as Digital Community Archives: A Proof of Concept Study in Champaign-Urbana, Illinois." Fire!!!: The Multimedia Journal of Black Studies 1, no. 2 (2012): 151–84.
Lessig, Lawrence. Free Culture: How Big Media Uses Technology and the Law to Lock down Culture and Control Creativity. New York: Penguin Press, 2004.
National Science Board. Long-Lived Digital Data Collections: Enabling Research and Education in the 21st Century. Washington, DC: National Science Foundation, 2005.
O'Neil, Cathy. Weapons of Math Destruction: How Big Data Increases Inequality and Threatens Democracy. New York: Crown, 2016.
Rojas, Fabio. From Black Power to Black Studies: How a Radical Social Movement Became an Academic Discipline. Baltimore: Johns Hopkins University Press, 2010.
Tedla, Elleni. Sankofa: African Thought and Education. New York: Peter Lang, 1996.
Washington, Booker T., and Louis Harlan. The Autobiographical Writings. Vol. 1 of Booker T. Washington Papers. Urbana: University of Illinois Press, 1972.
Williams, Kate. "Rethinking Digital Divide Research: Datasets and Theoretical Frameworks." In Main Fronts of Information Science and Information Management: Forum on Information Science and Information Management, edited by Chen Jianlong, Shen Jing, Zhou Qingshan, and Chen Wenguang, 109–27. Peking: Peking University Press, 2011.
Wulf, W. A. "The National Collaboratory—A White Paper." Appendix A in Towards a National Collaboratory: Report of an Invitational Workshop at the Rockefeller University, March 17–18, 1989, edited by J. Lederberg and K. Uncapher. Washington, DC: National Science Foundation, Directorate for Computer and Information Science Engineering, 1989.