Domestic Disturbances
Precarity, Agency, Data
Beth Coleman
Data and Agency
My position in this chapter is to frame an understanding of how networks both located and disseminated affect change around a social issue. My interest is in reading against the grain of a flat, closed "dataset" of black subjects in relation to racialized violence and toward a complex, heterogeneous dataset that speaks to the mechanisms of marginality and the possibilities of finding public voice. Toward this end, my method is to read across heterogeneous data, between the located and the distributed, in order to better understand the effects of networked media in the hands of activists for social change.
Necessarily, I use the data archive as an "ocular proof," the desired and always failed proof positive of an event, of the thing itself. The argument for an ocular proof, as Othello demonstrates, offers the noisiness of "proof" in its complexity and self-divergence. It is also an argument that posits data as both witness and action. Each case study addresses a different mode of a data public—the broadcast of information to a distributed network. In the case of the anti-racism protests and the spooky presence of its counterprotest on the Colgate campus, it is an instance of small data narratives. With #BLM (Black Lives Matter), I address the issue of big data as deracinated from its context and the critical value of suturing place and utterance in the figure of "shadow data." The third site of exploration is Diamond Reynolds's real-time broadcast as bearing witness to the shooting of Philando Castile as a modality of complex data.
The networked data points I discuss are beyond the 2011 Gladwell-Shirky debate of networked versus "armchair" activism. I look at instances of networked media technologies as constitutional elements in the disclosure of risk, violence, and the activation of resistance. I focus primarily on the emergence and activity of the U.S.-based movement Black Lives Matter. In looking at these events, I am interested in a theory of data as the experiential, an X-reality of networked information as a real-time component of geolocated phenomena. Along these lines, philosopher Judith Butler describes a generative relation between data and society: "If the people are constituted through a complex interplay of performance, image, acoustics, and all the various technologies engaged in those productions, then 'media' is not just reporting who the people claim to be, but media has entered into the very definition of the people. It is the stuff of self-constitution, the site of hegemonic struggle over who 'we' are." In the formation of "self-constitution," Butler articulates a socio-techno subject, one reflected and self-fashioned (witness and action) of the event of mediation. One finds at the root of most demonstrations, manifestations from the Latin, a vertiginous merger of precarity and persistence. This is a state of precarity that wrestles with control of public appearance (self-constitution via mediation) and the constitution of self-image that involves escaping normative paradigms. Whether the framework is gender norming, racial taxonomies, economic stratification, or other modes of a societal ordering of things, I locate a relation between this articulation of the precarious and a fugitive state as points of subversion, the exploitation of the trap door (Coleman, "Race as Technology," "Unmoored Beauty"; Harney and Moten). In this case, I focus on a relationship between activist assumption of networked social media and located civic protest. In the examples I discuss, I look at various instances of self-constitution via mediation as an effort in resituating precarious positionalities toward a civic agency.
In terms of the civic activism at hand, here is a basic rule of engagement I trace: it is the subjects most at risk who literally put their bodies in the street, who manifest a public space and public image of resistance. In putting one's body on the line, exhibiting its value and its freedom in the demonstration itself, one enacts, by the embodied form of gathering, a claim to the political. It is a historical claim to citizenship inscribed as the right to appearance in public (Arendt). Of course, as it has been demonstrated, the right to appear is unevenly distributed. Eleanor Saitta, data privacy specialist, points to the different degrees of risks of public appearance (including social media and other networked platforms) for those in immanent risk, such as battered spouses, sex workers, trans women of color, and others in the cross-hairs of gender, race, class, and marginality.
A primary goal of the inquiry is to work meaningfully between big and small data to produce knowledge of a domain of inquiry—in this case, the conditions and possibilities of civic engagement. My methods follow information scholar Christine Borgman's insight that "having the right data is usually better than having more data; little data can be just as valuable as big data" (Big Data). For one to situate the "right" data is to understand data as emergent from "an ecology of people, practices, technologies, [and] institutions" that constitutes its value (Borgman; Kitchin, Lauriault, and McArdle). I add to this argument that such a heterogeneous ecosystem also reflects the image of a public to itself. The right to appear (Butler)—as a citizen, as part of a civic public—is related to a right to the civic.
Within this framework of a right to the civic, I present a partial timeline of names, locations, and dates of black people killed by police or in police custody from the inception and over the development of the Black Lives Matter movement:
February 2012, Trayvon Martin, Sanford, Florida

July 2013, "#Blacklivesmatter" Twitter hashtag created (Garza, Cullors, and Tometi)

July 2014, Eric Garner, Staten Island, New York

November 2014, Tamir Rice, Cleveland, Ohio

April 2015, Walter Scott, North Charleston, South Carolina

August 2014, Michael Brown, Ferguson, Missouri

July 2015, Sandra Bland, Waller County, Texas

June 2016, Alton Sterling, Baton Rouge, Louisiana

July 2016, Philando Castile, St. Anthony, Minnesota
In this timeline, I point to the Brown incident as a public-awareness threshold marker of the primary issues raised by Black Lives Matter, namely, the historic and complex conditions that speak to the continued overpolicing of black neighborhoods with the concomitant results of high rates of incarceration and high rates of death at the hands of the police (I discuss the statistical meaning of "high rates" in a later section of the chapter). In the case of Michael Brown, an eighteen-year-old, unarmed black man, shot during the course of arrest for theft in Ferguson, Missouri, on April 9, 2014, the spectacular and incendiary video images captured by people living in the town and posted to social media captivated a broad network of viewers, creating the first large-scale networked distribution of #MikeBrown, #BLM, and #Ferguson with general attention to the issue of policing black communities.
Unlike some of the later police shootings of which there are real-time recordings, the Mike Brown video meme did not present his shooting but rather the belabored and dehumanizing treatment of Brown's body left in the street for a six-hour interval before being removed from the scene of death. These visual data have been popularly interpreted as an emblem of a deeply racist and classist system that produces its programmed outcome of black subjugation, as journalists and scholars have suggested in looking at the local history of Ferguson itself. In regard to the culture of Ferguson, Black Lives Matter makes the argument that Brown's death represents the overindexed exposure of black communities to policing (surveillance, stop and search, etc.) supported by over forty years of legislation since the Nixon administration's original "war on drugs" (Alexander). The punitive policing of poor black neighborhoods is a matter of record. But the understanding of that fact is a question of view and temporality.
On the other side of interpretation, one finds credible scholars and pundits who make the argument that even if they appeared disturbing, the conditions under which Michael Brown was shot, killed, and held in police custody represented standard and prudent police activity (U.S. Department of Justice). In order to better understand these divergent views on the same incident, the cultural and statistical context of the #BLM movement and the claims that it makes, I suggest that we must look at the movement in regard to the broader American society in relation to intersectional histories of race class, technology, and state policy (Crenshaw). With the Michael Brown incident, I make the distinction between public opinion, activist persuasion, and the circumscription of legal interpretation and state policy governing the police. I discuss the need for the Black Lives Matter activism as well as the complexity of communication and action that it exists within. If one looks for traditional civil rights movement markers, such as organizing against segregation as the legal manifestation of a Jim Crow society, one finds nothing to push against—there is nothing solid to organize against. Rather, Black Lives Matter works against deracinated shadow data and spooky apprehension of affective context to make visible the questions of social contract, civic inclusion, and justice. Along these lines, in the case of the police shootings discussed here, a person is not being shot for "being black" per se but rather for appearing threatening, resisting arrest, or other "disruptive" behavior. None of these stimuli of police attention are named as racial in policy; nonetheless, they are rendered racial in practice.
Historically speaking, in thinking about the claims of the Black Lives Matter movement, I recognize the immediate demand to stop police violence against poor and working-class black people. I also would like to signal the complexity of that demand as it is embedded in the historic development of racialized economic inequality in the United States and the ongoing permutations of a Jim Crow policy (separation of population, limited access to education and other societal resources, and so on). Within this construct, the particular procedures of policing as representative of the state often allow for a discrepancy between what the police (and the legal system) see as a "good arrest" or appropriate use of violence and what the subdued (or dead) citizen and civic community (social media and word-on-the-street) understand as targeted harassment.
Toward this end, I execute a first-level analysis of civic activism and its modes of networked media output (data) as tools of collective organization. In order for society to better comprehend the acceleration of media "self-constitution," one must make legible and legitimate the forms of self-defense and self-representation in which people engage in the face of state power and societal bias. The second order of work this chapter performs is to direct attention to the legalistic and statistical discussion of how Black Lives Matters signifies beyond public sentiment and in relation to a more "scientific" analysis, as if this analysis were itself outside of the societal context addressed. Toward this end, I attend to three case studies of data publics that demonstrate a dynamism of networked information distributed across media platforms. In this context, the term "data publics" describes the cross section between historical civic data, such as census, crime, and traffic, and the arrival of emergent technologies and practices such as social, mobile, and peerproduced data that present a growing networked public resource.
Yik Yak: Small Data Narrative
In 2013, news media such as the podcast "Reply All" and the Huffington Post began reporting stories on the abuse of the social media application Yik Yak on college campuses (Reply All). Yik Yak supports a rich media discussion within a five-mile radius, allowing users to post anonymously, vote posts up or down, and have the posts disappear over time. In comparison with a social media platform such as Twitter, which is neither location based nor time dependent, Yik Yak is temporal and geolocated, presuming in its design a community of users in physical proximity to each other. It is exactly in the advent of physical proximity as the basis of networked informational exchanges that the conflict, facilitated by Yik Yak, arose: often the language students used on Yik Yak was anonymous, racist, and misogynist (Donovan). In the case of Colgate College, the clash between online utterances and face-to-face experiences came to a head around the actions of a group organized by students of color on the majority white campus, the Association of Critical Collegians, and the directed assaults on one of its organizers, junior Melissa Mendez. As the student-organized support group grew in visibility on the campus, there was an analogous rise in anonymous "Yaks" targeting the student activists as well as expressing racist vitriol (Figure 21.1). The language escalated to violent threats against Mendez and others to the point that the Colgate administration was forced to take action to protect the students at risk and attempt to identify the perpetrators of the hate speech (Figure 21.2).
The Colgate Yik Yak affair illuminates a generative relation between data and society, revealing a virtuous (or in this case, vicious) circle between the located and the distributed. The value of the social media feed to the activists—the mode by which they instrumentalized the ad hominem attacks—was to capture the transient posts as screen grabs and use them as proof of their allegations of a racist climate. The Yik Yak posts represent a body of small data: local, low in number, and temporary. Student activists captured them in an effort to make substantive (legible) the spooky presence of racism. In effect, utterances on social media platforms perform as utterances in a place partly because social media constitute an actual place in society—a data public as I allege above—and also as a function of the geolocational affordance of that particular application. The design ontology (and the popular uptake) of Yik Yak is based on the premise that networked speech can and does perform a located function. Largely because of the possibility of anonymity, such utterances worked rhetorically like sniper strikes: one knows the general direction from which the shots have been issued if not the name and rank of the shooter. Once the media had been captured, it was possible to develop a forensic around the posters and their support network. In other words, the sublimated racism that the student activists intuited in their environment they were able to capture as digital artifacts, transforming a haunting presence into a materialized one. The Yik Yak posts offered an ocular proof as such that confirmed the students' sense of racialized aggression.
In her discussion of Black Freedom and the history of race and violence in the United States, historian Keeanga-Yamahtta Taylor points out the systemic issue of treating political economy as unrelated to American racial problems. "In the 1990s, the social consequences of austerity budgets have effectively made police storm troopers for gentrification. A long list of quality of life legal offenses make it a crime to be poor or 'criminalize public displays of poverty,'" giving the example of William Bratton's New York Police Department implementation of the CompStat database and stop-and-search procedures under Mayor Giuliani (Taylor). What one finds is a recipe for riot cities: under the direction of the Johnson administration in 1967, the National Advisory Commission on Civil Disorders—known as the Kerner commission—identified the three primary grievances in black communities as police brutality, unemployment, and substandard housing (Taylor). The connection of such policy to a phenomenon such as Yik Yak is an effect of Yik Yak's decontextualized racism: treating political economy as unrelated to American racial problems. Such a separation is implicit in the comments made by students on Yik Yak laying the blame for legacies of imperialism that include practices of colonialism and slavery at the feet of their peers—the young students of color. Taylor goes on to state the necessity of student groups and civil rights activists historically to make visible a resistance to corrupted systems that have grown invisible as they have grown normative: "Ideas are fluid, but it usually takes political action to set them in motion and stasis for the retreat to set in" (Taylor). In the case of the Association of Critical Collegians, they were able to arm themselves with the small data of their context to force a change of state from entropy to activity around the issues of social life (and social justice) at the college. The students captured a type of shadow data—the substrata exchange of information that participates in the constitution of context—and render it an ocular testimony.
#BlackLivesMatter: Big Data Narrative
In a different sense, I locate "shadow data" in the work of Black Lives Matters activism as one of the powerful connecting threads between networked and located phenomena. I move from the platform of Yik Yak, as a locative application, to that of Twitter, the microblogging platform that allows for a public broadcast, but without necessarily being tethered to geolocation. The shift in social media platforms as activist tools also speaks to a shift in scale and intensity. Yet, some of the same themes persist: the valuation of black and other people of color in the broader culture and the use of social media to make visible the "shadow data" that often haunt the lives of a black underclass in the form of penalties, harassment, and ultimately in the case of Michael Brown and others, death. In the hands of Black Lives Matter activists (some starting simply as citizens reporting directly to the public what they say are unjust police practices), network broadcast moved the Michael Brown case from a lethal interaction between civilian and police to one that had a public stage on which issues of racialized policing practices, excess of violence, and the persistent harassment of civil subjects based on race and poverty were broadcast.
Clearly, social media, in this case Twitter, are a productive tool for bringing attention to a matter that might never have surfaced, that is, would have been the unremarked (and thus somehow rendered unremarkable) death of a young black man at the hands of local police. The Black Lives Matter use of social media made visible, and made a case for, a review of police behavior in black communities as symptomatic of a persistent devaluation of black life. This is a claim distinct from a general call for less violent outcomes in police interactions with civilians. It is a call to action to address what is understood and historically documented as the systemic overpolicing of black neighborhoods with the outcome of higher incarceration and death rates than those of other U.S. populations. I return at the end of this section to discuss in greater detail the differences between an experiential sense and a data-driven substantiation of "higher death rates." But first, I would like to move through the #BLM activist use of social media.
In the 2016 white paper "Beyond the Hashtags: #FERGUSON, #BLACKLIVESMATTER, and Online Media," authors Deen Freelon, Charlton Mcilwain, and Meredith Clark offer the first substantial scholarly analysis of the Black Lives Matter social media data. In the white paper, they reach the following conclusion: social media posts by activists were essential in spreading Michael Brown's story nationally. They write, "Protesters and their supporters were generally able to circulate their own narratives on Twitter without relying on mainstream news outlets" (Freelon, Mcilwain, and Clark) They express the primary goals of the social media among the activists they interviewed as education, "amplification of marginalized voices," and police reform. Additionally, they suggest the Black Lives Matter social network data as an "apt test case for the idea that social media uniquely benefits oppressed populations" (Freelon, Mcilwain, and Clark). To this last point, I reference the body of literature on Young Black Twitter (YBT) that addresses the disproportionally high presence of black youth on social media such as Twitter and the short-video platform Vine (Brock; Sharma); this statistical reference contextualizes the proposition that social media may represent a public, powerful, and alternative venue to traditional media sources. In making this argument, it is difficult to discern whether networked media represent possible alternative communication network for all; or whether groups with a political drive, such as the black, progressive Black Lives Matter or the white conservative Alt-Right, is particularly persuasive in its social media use. They both represent radicalized voices that increasingly circulate beyond their domain of local or internal discourse. But, despite the Unite the Right discourse regarding the endangered status of whiteness (particularly American white men), I would argue that their effective leveraging of social media as an alternative news outlet does not represent an "oppressed population." They do, though, represent a site of controversy as we as a society witness the transformation of what heretofore had been the most privileged societal position (if there is a correcting for class and ethnic location) with tangible historic endowments such as legal enfranchisement, opportunity to own property, and the pursuit of happiness available to free persons. It is the slippage in that privilege that appears to be the source of rage. Not, as is the case with Black Lives Matter, the protest against continued (and continuous) devaluation of black life as American norm.
My analysis of #BLM data focuses on three key sets as described by Freelon and coauthors: the Black Lives Matter hyperlink network; #BLM tweets per day; and tweets containing #BLM.
Figure 21.3, "#BLM hyperlink network," graphs the network relations between the Black Lives Matter website and the increasing number of hyperlinks to the site. The story the data tell is a movement from margin to center in terms of the public and media discussion of the issues of Black Lives Matter and the profile of the official organization website as a trusted reference. For example, one of the closest high-profile media connections is the U.K. publication The Guardian, with the liberal political blog site slate.com and the less known feministwire.com as other nodes in the close proximity network. The data only reflect frequency of reference (represented as proximity) but not temporal links. In other words, one cannot read in this set of data when The Guardian first linked to BlackLivesMatter.com or a group like the Alt-Right breitbart.com, although with less frequent links to the site, first connected. The value of reading frequency of connection as well as temporality of connection would simply allow for a richer data story on how third-party media moved Black Lives Matter and BlackLivesMatter.com to the referential center of the social and news media conversation.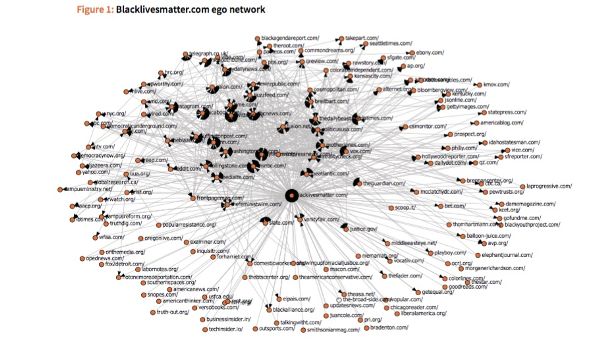 YBT outlets such as thefader.com, getequal.org, colorlines.com, and blackalliance.com are also represented in the chart as part of the network. In these comparatively weaker ties, one can see black news media essentially following the mainstream media on reporting Black Lives Matter. One cannot see in this chart the momentum of the YBT social media network and affiliated demographics (activist, left, social justice) as the aggregated group of participants who made #BLM and associated hashtags trend across social media, creating the network context in which news media began to link to #BLM and BlackLivesMatter.com. This activist work of making public the issues of Black Lives Matter appears in the second graph (Figure 21.4) of the white paper and describes the work of hundreds to millions of Twitter posts in the dynamic system by which Black Lives Matter developed into a national movement and international conversation.
In Figure 21.4, "#BLM Tweets per day," one can locate two important aspects of an activist network with located and distributed aspects. First, as with most internet memes, attention to police violence on Twitter is episodic. The tweets-per-day graph shows that comparatively few people were engaged with the issue prior to Michael Brown's killing on August 9, 2014. The attention spike started with this event and extends to the end of the month to include the Ferguson protests. The shift in scale of networked attention is significant. From August 9 to August 31, one sees close to two million hashtag citations (tweets and retweets) of Black Lives Matter. Indeed this was one of several hashtags circulating on the topic that include #Ferguson and #MikeBrown, making it representative of only a percentage of overall activity on the topic. Between November 24 and December 2, 2014, one finds the #BLM trend approaching 3.5 million individual citations around the nonindictment of officers Darren Wilson (of Ferguson) and Daniel Pantaleo, who was brought to trial over the 2014 death of Eric Garner in New York City.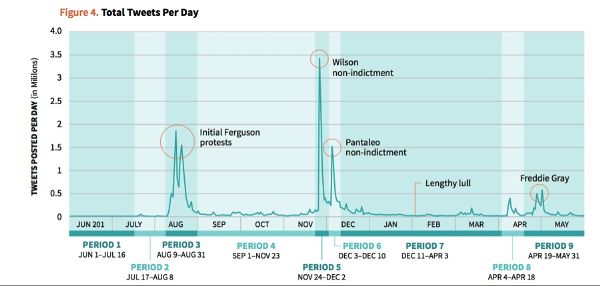 I speculate that the pattern of growth and circulation represents the development of a public consciousness of the issue and increasing activist work. As I have suggested, the August network established the meme at a societally impactful scale (as demonstrated by Figure 21.3 in the frequency and importance of media outlets reporting the story). Based on that theory, the subsequent escalation of the meme three months later reflects the twin phenomena of familiarity and outrage at the results of the juridical process. In other words, #BLM was established around the death of Michael Brown and then used as a tool for online protest with the acquittal of Officer Darren Wilson, who shot and killed Brown.
The second point of information I read in the tweets-per-day graph is the shadow data that reveal the ongoing work of activism around and beyond the internet meme metabolism: Figure 21.4 suggests that police violence only sporadically becomes a mainstream issue on Twitter. When major events occur, such as nonindictments, clashes between protestors and police, or the posting of explosive video, the conversation surges very quickly but tapers off after a few days. The data of Figure 21.4 also reveal a steady, low-volume conversation among those closely following the issue that falls outside of the methodological framework of the white paper. In this sense, that there are large-scale data in relation to Black Lives Matter is the condition of the white paper, its motivation for the analysis; the viability of data is constrained by the condition of high volume as indicative of societal importance. Based on this condition, Freelon, Mcilwain, and Clark's critical data framework is effectively a positivist one, marking the networked phenomenon but rendering the low-volume conversation statistically irrelevant; there is no capacity to address small data as such.
In a counter-reading of the graph, I am suggesting that there is also a mode of shadow data—information that does not appear as significant on the graph but may be inferred with significance based on a combination of online and located activist engagement. By interpreting positive and shadow data along these lines, one can argue that they mark the temporality of an internet meme (political or not) as well as the ongoing work on the ground by activists. The strong-tie/weak-tie pattern of normative social exchange (Granovetter) and the particular risks of an activist network (Bonilla and Rosa; Gladwell; Gladwell and Shirky; Gruzd and Wellman; Tufekci). The low risk (weak tie) work of tweeting or retweeting, of engaging social media on a topic, in relation to scaffolded development of strong-tie networks represents the difficult work of activist infrastructure to create the condition of an issue evolving from one of marginal and local importance to mass movement of social change.
The construction of this scaffold changes depending on time, issue, constituents, and media tools. The organizing of the 1960s civil rights movement does not look the same as the Idle No More movement commenced in 2012. Accordingly, the value of social media activity can be seen only in relation to located activist work. In my assessment, one finds a symbiotic relationship toward publicness and persuasion on an issue, where one does not and cannot replace the other. Based on this framework, despite the fact that it essentially does not appear in the conventional data, I mark the shadow of this persistent activist work in the subsequent spike in Twitter activity around the organized days of protest in reaction to the acquittal of police officers on trial for the deaths of Brown and Garner.
In addition to looking at the data on activist networks of Black Lives Matter, I am interested in data that underlie Black Lives Matter claims of racially based social injustice as perpetrated by the U.S. legal system and its application by law enforcement. To this point, I address the 2016 analysis by economist Roland Fryer of three distinct datasets that address race and death at the hands of the police. Two are public data comprising records of city and federal programs that include Stop, Question, and Frisk program, New York City (Stop and Frisk), and the national citizen report Police-Public Contact Survey (PPCS). For the third dataset, data are culled from qualitative event summaries of officers firing their weapons at civilians from three cities in Texas, six counties in Florida, and Los Angeles County. The report derives its final dataset from a random sample of reports from the Houston Police Department arrest codes that represent a higher probability of justified use of lethal force (e.g., attempted murder of an officer, aggravated assault of an officer, resisting arrest, etc.). From the perspective of this paper, the purpose of engaging these data and their analysis is to frame a baseline context in which to talk about the scale and impact of police use of force and how that might further contextualize the events around Black Lives Matter.
In the working paper "An Empirical Analysis of Racial Differences in Police Use of Force," Fryer finds that blacks and Hispanics experience 50 percent more nonlethal use of force in encounters with police than whites. More provocatively, he concludes that in cases of more extreme use of force, in particular officer-involved shootings, the study found no marked racial difference between whites and minorities in the raw data of correcting for contextual factors (Fryer). Factoring for controls and unknowns—such as bias in reporting good behavior with the Houston police—Fryer argues that his data in the case of lethal uses of force by police officers are representative: the report finds "in the raw data . . . blacks are 23.8 percent less likely to be shot at by police relative to whites. Hispanics are 8.5 percent less likely" (Fryer, 5). Concluding, he finds "no evidence of racial discrimination in officer involved shootings" (Fryer, 5). With the publication of the working paper, there was media conversation among news groups and internet pundits that the basic claim of Black Lives Matter—that blacks are disproportionately targeted and killed by police—was not substantiated by the data (Bui and Cox; Kweku; Mac Donald; Phelps). I am suggesting that this narrow view of the data, simply looking at the analysis of the Houston dataset, does not sufficiently contextualize and cross-reference other significant data in moving toward a viable interpretation of the Fryer findings.
Blacks constitute 12.3 percent of the U.S. population and Hispanics 12.5 percent (Carroll). For blacks and Hispanics to represent 56 percent of deaths at the hands of the police points to what historians and statisticians report in the overpolicing of poor black communities, as discussed above. The fact that the ratio of black to white deaths as the result of police action is so high speaks to a much larger percentage of the black population being implicated in suspect behavior. If the study does not report explicit racial bias in police actions on the scene in situ, it also does not address the ratio of black to white police exposure. In the cases of Garner and Brown, as reported by the press and noted in the Fryer study, neither suspect possessed weapons, nor did either suspect, depending on perspective, exhibit threatening behavior.
Barnard College statistician Rajiv Sethi suggests that one might parse the data to better understand if lethal force is being brought to bear against the most violent constituencies of the broader white population while police force (lethal or not) is being brought against poor black communities in general ("Fallacy of Composition"). He points to a more broadly contextual implication that the controversy around the narrow assessment of more white deaths by police shooting overshadows any reference to the data that blacks and Hispanics are far more likely to be engaged by police and continue to represent more than half of police killings, even though they are much smaller percentages of the population. In effect, the systemic relationship between minority populations and police becomes a type of shadow data, reabsorbed as the daily norm. As discussed in the Fryer paper, the Stop and Frisk and PPCS reports represent local and national data clearly marking that blacks and Hispanics are statistically more likely to be stopped by police and violently apprehended. As Sethi points out, in reading across the heterogeneous datasets, it is not possible to assess the quality or kind of people being apprehended: in the much larger white population do the police meet the most violent suspects with lethal force? Conversely, in the smaller black population, are there broader police exposure and force applied to a general population, that is, not the most violent? This speculative analysis of what shadow data might expose to better understand how different groups are policed supports the claims of Black Lives Matter in regard to the disproportionate police violence in black communities.
Fryer's finding that at the point of contact in a shooting police officers in general do not act in a racist manner is good news; it does not, though, undermine the larger issues at hand in relation to the policing of black communities (one need only look at black incarceration rates in relation to U.S. drug legislation since the 1970s to begin to unwind that thread). If media pundits must see greater numbers of black deaths to be convinced of the societal problem of how poor blacks are unjustly treated in the construct of judicial policy and its application by the police, then I call this view blindered at the very least. The spooky bias that blacks are constitutionally more violent than other groups seems to haunt the data in terms of what is taken up by the media in its interpretation. Based on Fryer's data and other contextualizing materials, such historical, legal, and sociological analysis as presented in the earlier sections of the paper, I am suggesting that the Black Lives Matter claim of disproportionate and aggressive police presence in low-income black communities is borne out across qualitative and quantitative analysis. It seems improbable to suggest there is no ground for the Black Lives Matter movement unless the claims are based exclusively on black deaths in the hands of the police and not a larger systemic view of violence, poverty, and a legacy of racism in these communities.
Although I do not address the issue of violence within black communities as a concomitant factor in the police presence and actions in these communities, I argue for a complex system in which police use of force and lethal force is overrepresented in comparison with the broader population. In other words, the commonsense grounds of the Black Lives Matter movement, based in the collective experience of black and Hispanic Americans, are reflected in the data. If one looks at the polarization between the view of law enforcement and the local citizen perspective on the deaths of people such as Michael Garner (unarmed young black men killed at the point of arrest), I find two different systems of understanding. Procedurally, the Garner arrest fell within normative police practices, even if it was ugly and poorly handled (Moskos). From the point of view of citizens with a lifetime of exposure to overpolicing, the death of Garner and others represent an ongoing and intersectional devaluing of black life. In other words, even if the death of Garner was technically legal, it was not right, and the work of Black Lives Matter is to move the societal conversation forward with real outcomes in not only practices of policing communities most at risk but also addressing the systemic issues that aggregate within these communities. My purpose in putting together heterogeneous data and modes of analysis is to offer a picture of an activist movement that allows for complexity and messiness in its articulation and reception—its societal relay—to facilitate an understanding of the situation from the located experience of those at the front lines (communities and police) and the broader cultural context that shape opportunities for change. With this combination of calling for a clear message in the context of a complex situation, I conclude with a final analysis of an example of complex data in the form of media narrative.
Diamond Reynolds: Complex Data
The third case study examines a new event in the networked data stream around social justice issues raised by Black Lives Matter: the Twitter conversation following the deaths of two black men at the hands of police and the shootings of police officers in Dallas, Texas, and Baton Rouge, Louisiana. This time period, July 5–July 17, 2016, had the hashtags of #BlackLivesMatter, #AllLivesMatter, and #BlueLivesMatter used more often than any other time since the hashtags began appearing on Twitter in July 2013 (Anderson and Hitlin). Additionally, the tone of the online conversation around #BlackLivesMatter shifted, following the attacks on law enforcement. The outcome of this shift was a rise in tweets criticizing the Black Lives Matter movement and a reduction of shared tweets supporting the movement (Freelon, Mcilwain, and Clark). The rise in critical tweets was especially notable after the killing of police officers in Dallas. Although one sees an increase in social media use around these deaths, I focus for the moment on the phenomenon of Diamond Reynolds's real-time streaming of the shooting (and subsequent death) of her boyfriend, Philando Castile (see Figure 21.5). Even as the Twitter stream around the movement became more diverse, discordant, and complex with the killings of police officers as well as additional deaths of black men, my analysis addresses the diverse, discordant, and complex data of Reynolds's transmission.
The significance of her Facebook live video stream speaks to an additional layer of networked view and participation in the event. The nine-minute video catalogs not only Castile bleeding to death in the car but the sound of the police officer screaming in an apparent frenzy followed by the brutal treatment of Reynolds herself by the police. She is handcuffed and taken into custody while her young child observes from the car. The transcript of the event outlines the multiple direct address of the live stream: to Castile, to her audience/friends on Facebook, and to the police officer:
[TO CASTILE] Stay with me. [TO CAMERA] We got pulled over for a busted taillight in the back . . .

[COP SCREAMING IN THE BACKGROUND] I told him not to reach for it. I told him to get his hands out.

[TO COP] You told him to get his I.D., sir, his driver's license.
The footage has been characterized by news media as "raw," and it certainly appears to be unstaged. But it would be a mistake not to recognize the technical ability and mental fortitude of Reynolds in her presence of mind to make the transmission (Losh). In this sense, it has been widely accepted as "unfiltered" and "true" by a networked audience, and was included in the trial of Jeronimo Yanez, the officer who shot Castile (acquitted). I point to comments made on the Reynolds video and the black social media around #BLM by hosts of the podcast The Friend Zone, whom I cite as representative of YBT sentiment: "Let's be thankful for the activists out there getting the right information to us in real time—videos so we see what is happening versus what the media says is happening. Which we had no idea before social media how much shit they have probably manipulated our entire lives. And now you see it" (The Friend Zone). Their point is Reynolds provided a counterpublic with the shadow data of her broadcast, in contrast with the public position of the state, which was silence in advance of Yanez's trial (at the time of the shooting, President Barack Obama and Minnesota governor Mark Dayton made public comments. But neither spoke on behalf of the St. Paul Police Department). Without the broadcast of events, Castile's death might have slipped away from the public eye as an unremarkable part of the status quo. It is the notion of ocular proof—one sees the event in the direct address of real-time (or even as the after effect of "real time")—that offers a complex narrative about the interrelational aspects of data, data context, and analysis.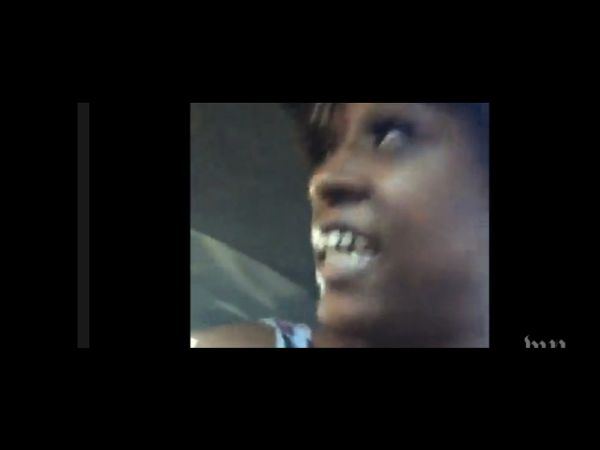 Conclusion: Precarity
The tragedy of Othello rests not with the protagonist's blackness but, rather, with Othello's maniacal need for positivist proof: his demand for ocular proof of his wife's infidelity. It is this materialization, the data of a deed as such, that the villain of the tragedy, Iago, exploits toward the tragic outcome. And yet, I use this figuration in its inverted state: when haunted by the spooky affect and effect of a threatening, racialized environment, whether that of a liberal arts college or a midwestern town, the occupants become activists, marshalling material proof in relation to their own narratives of events: they exhibit a freedom of "self-constitution" from a position of precarity that expands a power of everyday expression. In my use of the concept "shadow data," I frame a wrangling between states of visibility and legibility of "data." Such data serve as counterpublics, where activists make public sites of injustice that could be obscured in the quotidian practice of habit. This is a societal habit of mind that too often configures working class and black as a somewhat ghostly position rendered visible once the subject is dead. In subjecting Michael Brown's body to be laid in state as such on the public pavement, exposed to the elements and the gaze of all, catalyzed the sense of injustice and indignity visited on Brown and by extension the community. Unwittingly or not, the police used terroristic tactics of the historic lynch mob in leaving the (often mutilated) body of a black man on display to signal the subjection of black people. Beyond the right not to be killed, the millennial activism of networked publics and counterpublics continues a long-standing claim of a civic and social justice, a claim beyond bare life for the right to live freely, which in many senses is the right to be a citizen (Agamben). In presenting three modes of critical data analysis, small data, big data, and complex data, this investigation offers a view of activist precarity and persistence and the leveraging of informational networks toward the expression of self-constitution and collective action as visible subjects.
Bibliography
Anderson, Monica, and Paul Hitlin. "Social Media Conversations about Race: How Social Media Users See, Share and Discuss Race and the Rise of Hashtags like #BlackLivesMatter." Pew Research Center, August 15, 2016. http://www.pewinternet.org/2016/08/15/social-media-conversations-about-race/.
Agamben, Giorgio. Homo Sacer. Stanford, Calif.: Stanford University Press, 1998. 
Alexander, Michelle. The New Jim Crow: Mass Incarceration in the Age of Colorblindness. New York: New Press, 2010.
Arendt, Hannah. The Human Condition. Chicago: University of Chicago Press, 1998.
Association of Critical Collegians. https://colgateacc.tumblr.com/.
Bertini, Enrico, and Moritz Stefaner. "Data Ethics and Privacy with Eleanor Saitta." Data Stories (podcast) 74, May 18, 2016.
Bonilla, Yarimar, and Jonathan Rosa. "#Ferguson: Digital Protest, Hashtag Ethnography, and the Racial Politics of Social Media in the United States." American Ethnologist 42, no. 1 (February 2015): 4–17.
Borgman, Christine L. Big Data, Little Data, No Data: Scholarship in the Networked World. Cambridge, Mass.: MIT Press, 2015.
Brock, André. "From the Blackhand Side: Twitter as a Cultural Conversation." Journal of Broadcasting & Electronic Media 56, no. 4 (2012): 529–49.
Bui, Quoctrung, and Amanda Cox. "Surprising New Evidence Shows Bias in Police Use of Force but Not in Shootings." New York Times, July 11, 2016.
Butler, Judith. Notes toward a Performative Theory of Assembly. Cambridge, Mass.: Harvard University Press, 2016.
Carroll, Joseph. "Public Overestimates U.S. Black and Hispanic Populations." Gallup. http://www.gallup.com/poll/4435/public-overestimates-us-black-hispanic-populations.aspx.
Coleman, Beth. "Race as Technology." Camera Obscura: Feminism, Culture, and Media Studies 24, no. 1 70 (2009): 177–207.
Coleman, Beth. "Unmoored Beauty." In Blubber, edited by Ellen Gallagher, 177–207. New York: Gagosian Gallery, 2001 (2009).
Crenshaw, Kimberlé. "Mapping the Margins: Intersectionality, Identity Politics, and Violence against Women of Color." Stanford Law Review 43: 1241–99.
Donovan, Joan. Interview with author, November 2016.
Freelon, Deen, Charlton Mcilwain, and Meredith Clark. "Beyond the Hashtags: #FERGUSON, #BLACKLIVESMATTER, and Online Media." White paper, Center for Media and Social Impact, American University, 2016.
The Friend Zone (podcast). SoundCloud. https://soundcloud.com/thefriendzonepodcast.
Fryer, Roland. "An Empirical Analysis of Racial Differences in Police Use of Force." Working Paper 22399, National Bureau of Economic Research. www.Nber.Org/Papers/W22399.
Garza, Alicia. "A Herstory of the #BlackLivesMatter Movement." The Feminist Wire. http://www.thefeministwire.com/2014/10/blacklivesmatter-2/.
Gladwell, Malcolm. "Small Change: Why the Revolution Will Not Be Tweeted." New Yorker, October 4, 2010.
Gladwell, Malcolm, and Clay Shirky. "From Innovation to Revolution." Foreign Affairs, March–April 2011.
Granovetter, Mark S. "The Strength of Weak Ties." American Journal of Sociology 78, no. 6 (March 1973): 1360–80.
Gruzd, Anatoliy, and Barry Wellman. "Networked Influence in Social Media." American Behavioral Scientist 58, no. 10 (2014): 1251–59. https://doi.org/10.1177/0002764214527087.
Harney, Stefano, and Fred Moten. The Undercommons: Fugitive Planning & Black Study. New York: Minor Compositions, 2013.
Kitchin, Rob, Tracey P. Lauriault, and Gavin McArdle, eds. Data and the City. London: Routledge, 2017.
Kweku, Ezekiel. "Why It's So Hard to Measure Racial Bias in Police Shootings: What a Headline-Grabbing Study Misses when It Comes to Use of Lethal Force." MTV News, July 12, 2016.
Losh, Elizabeth. "Beyond the Techno-Missionary Narrative: Digital Literacy and Necropolitics." In Handbook of Writing, Literacies and Education in Digital Culture, edited by Kathy A. Mills, Amy Stornaiuolo, Anna Smith, and Jessica Zacher Pandya, 76–87. New York: Routledge, 2017.
Mac Donald, Heather. "The Myths of Black Lives Matter: The Movement Has Won Over Hillary Clinton and Bernie Sanders. But What If Its Claims Are Fiction?" Wall Street Journal, February 11, 2016.
Moskos, Peter. "DOJ on Michael Brown Shooting: Justified." Cop in the Hood, March 6, 2015. http://www.copinthehood.com/2015/03/doj-on-michael-brown-shooting-justified.html.
Phelps, Michelle. "Yes, There Is Racial 'Bias' in Police Shootings." Scatterplot, July 11, 2016. https://scatter.wordpress.com/2016/07/11/yes-there-is-racial-bias-in-police-shootings/.
Reply All. "The Writing on the Wall." Gimlet, January 14, 2015. https://gimletmedia.com/episode/9-yik-yak/.
Sethi, Rajiv. "A Fallacy of Composition." Rajiv Sethi (blog), July 21, 2016. http://rajivsethi.blogspot.ca/.
Sharma, Sanjay. "Black Twitter? Racial Hashtags, Networks and Contagion." New Formations 78 (2013): 46–64.
Taylor, Keeanga-Yamahtta. From #BlackLivesMatter to Black Freedom. Princeton, N.J.: Princeton University Press, 2016.
Tufekci, Zeynep. "Engineering the Public: Big Data, Surveillance and Computational Politics." First Monday 19, no. 7 (July 2014).
U.S. Department of Justice. "Department of Justice Report Regarding the Criminal Investigation into the Shooting Death of Michael Brown by Ferguson, Missouri Police Officer Darren Wilson." Memorandum, March 4, 2015, 1–86.