Remaking History
Lesbian Feminist Historical Methods in the Digital Humanities
Michelle Schwartz and Constance Crompton
Writing of her experience in the early 1990s, sociologist Becki Ross points to "generational chauvinism" that reduced radical lesbians of the 1970s to stereotypes, leaving her peers to assume that the previous generation was "shrill and humourless." The history Ross says her generation did know "comically reduced [lesbian feminists] to excessive flannel, vigilantly practiced downward mobility . . . strict vegetarianism, and syrupy, sentimentalized fiction."[1] There had been a similar generational rift between lesbian feminists and the women of the bar scene that preceded them, "compounded by often outright rejection of what little was known, [which] rendered impossible the building of bridges to bind and fortify 'old' and 'new' generations."[2] Thankfully, there is room for digital humanities scholars, sociologists, historians, and ethnographers to help bridge these intergenerational gaps. Moreover, we can engage with the historiography of the women who have come before us to aid us as we work toward greater intergenerational understanding. In this chapter we explore how history-making practices of radical and lesbian feminists offer a model of cultural history preservation and transmission for those of us who create digital resources.
Drawing on the historiographic practices of Jeanette Howard Foster in the 1950s, Barbara Grier in the 1960s, Lillian Faderman in the 1980s, and Dell Richards in 1990, we argue that the accumulation of data and the rhetorical structuring of those data (in these examples often as a list, a much ignored data format) serve as important acts of lesbian self-definition, self-definition that resists the erasure of women's history by mainstream culture and the definition of the lesbian self in relation to men. This listing, or amassing of data, situates lesbian researchers as the heirs of the history that they create. This ordering of data in self-definitional work, even in the face of the increased attention, or even surveillance, that it might bring, is an important corrective to lesbian histories that are often framed as an afterthought in gay men's histories, or worse, are ignored altogether.
We then turn to what contemporary digital humanities scholars can learn from radical lesbian and feminist archiving and publishing as a means to preserve and disseminate lesbian history. While this history-making situates researchers and their sisters in relation to lost history, there is something in the perpetual reinvigoration and revisiting of these lists and projects, often started anew every decade, which leads us to ask about the lack of cultural transmission between lesbian generations. With concerns about Ross's "generational chauvinism" in mind, we turn to the Lesbian and Gay Liberation in Canada (LGLC) project to investigate how data formats and digital archiving processes can bridge the intergenerational gap, concluding with an outline of the stakes of this recovery work in the context of the digital humanities for those of us interested in promoting social justice and undermining patriarchy.
Digital humanities has not always been a field engaged in these debates, and yet it offers the digital tools to engage in lesbian history-making and dissemination, built on the DIY ethos of radical and lesbian feminists, discussed below. What we strive for in our development of the LGLC project is to meet Miriam Posner's call for a radical new digital humanities, one that not only shifts the foci of projects away from the mainstream to the marginalized, but also develops ways of representing people's lives in data "as they have been experienced, not as they have been captured and advanced by businesses and governments."[3]
In keeping with Posner's approach, we have tried to engage with the material on its own terms, thinking with and through the practices by which radical women engaged in self-definition, which, as we work with material that encompasses ever greater spans of time, larger spaces, and extended communities, has become increasingly challenging. As a result, the project is grounded by a rather broad definition of lesbian, drawn from the Lesbian Herstory Archives (LHA). The LHA, which was founded by a Gay Academic Union consciousness-raising group in 1972, seeks to record and tell the stories of almost all women, including "women who have lived their lives as lesbians, to transgendered women living as lesbians, to married women who remember the one affair they had, to lesbian sex workers, to lesbian mothers of lesbian daughters."[4] The familial reference to lesbian mothers of lesbian daughters may be productively taken up as the appropriate intergenerational approach to archival material, one that Kate Eichhorn points out is not meant to be confined by straight cisgendered familial roles, but rather by queer familial roles that can engage in productive disagreement complemented by "fierce protectiveness."[5]
An uncritically celebratory approach to this particular history is, however, neither possible nor desirable. As Roxanne Stamer has pointed out, "with the continued emergence of 1970s feminist archives, feminist historians need to ask how they might receive them and whether they might do so such that they do not iterate [the 1970s call to rediscover or uncover lesbian history's] assumptions of sameness across time."[6] This particular warning, which we take up in the final section of the chapter, written in the year after the last Michigan Womyn's Festival, is pressing, especially as we think through 1970s radical feminism's exclusion of trans*[7] women and the insufficient work that was and is done by white feminists to address personal and institutional racism.[8]
This chapter covers lesbian listing, publishing, and archiving events in the century that followed 1917, when Jeanette Howard Foster began the list that would become the book Sex Variant Women in Literature, and so there is room for considerable slippage in historical terms as cultural context changes. We use the term "lesbian feminist" to refer to women who identified as lesbian and feminist as two separate identities in the first half of the twentieth century. In the late 1960s "lesbian feminist" came to refer to women who identified with Ti-Grace Atkinson's aphorism "Feminism is the theory, lesbianism is the practice." This made lesbian feminist discourse from the late 1960s to the 1980s, which cast lesbianism as a political choice, quite different from the biologically determinant "born that way" rhetoric of the 1990s and 2000s. Akin to "woman-identified women," lesbian feminists of the 1970s were on the whole less militant than "radical feminists," although, we should note, there is some slippage between those two terms and their use is neither geographically nor temporally uniform. Broadly, then, we use "radical feminist" to refer to separatist women who either developed spaces that excluded men or opted out of patriarchal culture altogether by seeking self-sufficiency in women-only communes, collectives, and womyn's lands. While most of the chapter that follows addresses the community and history-building work of lesbians in the middle decades of the twentieth century, to whom the contemporary valence and concerns of queer politics were unavailable, it will conclude with a discussion of the resurrection of sound radical feminist approaches that can productively inform digital humanities practice in a way that avoids the troubling exclusion of trans* women.
We are guided by the way lesbian feminist historians of the past have reclaimed the forgotten or erased history of women's lives, and how they have thought about and represented sexuality and gender through the centuries in order to build a lesbian identity for the present. Being in control of one's own history is of real political import. As Ellen Lewin points out in the introduction to her book Inventing Lesbian Cultures in America, one of the great achievements of the twentieth century's lesbian feminist movement was to wrest control of the word "lesbian" from Western psychiatry and redefine it as more than an illness, creating in its place an identity that transcended pathology.[9] Crucial to the formation of this new lesbian identity was the construction of a lesbian culture and history, for without that history there could be no movement, no sense of "collective meaning."[10] As Lillian Faderman put it, "the possibility of a life as a lesbian had to be socially constructed in order for women to be able to choose such a life."[11]
The importance of this process to the lesbian feminists of the time cannot be overstated. In 1980, Adrienne Rich described being denied access to "any knowledge of a tradition, a continuity, a social underpinning" for lesbianism as nothing short of a "means of keeping heterosexuality compulsory for women."[12] These constructions of the past were, for Lewin, "a vital aspect of how lesbians imagine the present, whether they believe the present to be continuous with or disruptive of that past."[13] Standing between lesbian feminists and this sense of identity was a page left blank by centuries of cultural omission. In her essay "It Is the Lesbian in Us," Adrienne Rich points out how heavily we as a culture rely on the books in our libraries to teach us how to live and tell us what is possible. However, in literature and in history, relationships between women went unnamed, undepicted, omitted, censored, and "misnamed as something else." She cites Virginia Woolf's description of those blank pages as "that vast chamber where nobody has been," or in Emily Dickinson's words: "My Classics veiled their faces."[14] Rich describes her own "pursuit of a flickering, often disguised reality" in the literature of the past as "a sense of desiring oneself; above all, of choosing oneself."[15] In addition to recovering and improving the visibility of activists' work, we are interested in engaging lesbian historiographic methods, especially the enumeration, naming, cataloging, listing, and self-publishing that women undertook in the 1960s and 1970s in order to help keep omission, misnaming, and censorship from hindering intergenerational understanding and knowledge transmission.
Lesbian Historiography
Through the twentieth century, lesbian feminists pursued Adrienne Rich's flickering, disguised reality, and painstakingly worked to reconstruct and self-publish lesbian history. This revivification of lesbian history and culture used the same social history methods that women's history scholars would use to reconstruct a historical past in which women had not been erased.[16] In 1917, Jeanette Howard Foster began the process of "authenticating by accumulation" (a phrase that Alisa Klinger has used to describe the creation of multicultural lesbian anthologies).[17] As a member of the student council at Rockford University in Illinois, she was called upon to "discipline two other female students in a 'morals case.'"[18] Not entirely sure what a 'morals case' even referred to, she began a process of research into same-sex attraction among women that quickly transcended its original purpose. Foster began to construct a list, the beginning of a bibliography of references to romantic relationships between women in literature and poetry, a bibliography that she worked on for almost forty years. Throughout her time as a professor at Drexel University, as a researcher working with Alfred Kinsey on his study Sexual Behavior in the Human Female, and as a librarian at the University of Kansas, Jeanette Howard Foster worked with her partner Hazel Tolliver to "track down and translate historic references to lesbian love."[19] Her book, Sex Variant Women in Literature, subtitled "A Historical and Quantitative Survey," begins with Sappho in the sixth century BCE and ends, almost four hundred pages and 2,600 years later, with Patricia Highsmith's The Price of Salt.[20]
In 1954, having already been disappointed when a university press revoked an agreement to publish her book because the new editor was "afraid to honor the commitment" and knowing she would be ignored by the traditional publishing industry, Foster paid Vantage Press to print her groundbreaking bibliography.[21] She sent a copy to the editor of The Ladder, the print arm of the lesbian organization Daughters of Bilitis.[22] In May of 1957, Marion Zimmer Bradley reviewed Sex Variant Women in Literature for the The Ladder, proclaiming, "To the collector of Lesbian literature the work is invaluable, listing as it does every major work and many minor ones."[23]
In 1956, a twenty-three-year-old lesbian with a similar passion for compiling lists befriended Jeanette Howard Foster. Barbara Grier, a bibliophile who went on to write fifteen years' worth of lesbian literature reviews for the Lesbiana column of The Ladder, began working with Marion Zimmer Bradley to compile "The Checklist," a "hand-typed, mimeographed bibliography" of lesbian content in literature.[24] First published in 1960, "The Checklist" was revised and supplemented several times before taking its final form as The Lesbian in Literature in 1967.[25] The first edition listed three thousand books, and each subsequent edition, enhanced by the contributions of many collaborators, added many more. Entries were coded to indicate the presence of major and minor "lesbian characters and/or action" or "repressed lesbianism or characters who can be so interpreted" and the "quality of the Lesbian material in the work in question."[26] The list was comprehensive, extending well beyond outright lesbian content to include everything from the "sex disguise" employed by Edmund Spenser in The Fairie Queene in 1590, the memoir of an Episcopalian bishop who had ordained an out lesbian into the priesthood, "mildly pertinent" work by Anaïs Nin, and The Fur Person, "a cat book, about a remarkable cat that belongs to an obvious Lesbian couple."[27]
It was not just Barbara Grier and her many collaborators and Ladder readers who took inspiration and solace in Foster's monumental bibliography. In 1962, a closeted graduate student named Lillian Faderman came across Sex Variant Women in Literature while perusing the shelves of the English Reading Room at the University of California, Los Angeles, looking for books by E. M. Forster. In her introduction to Joanne Passett's biography of Jeanette Howard Foster, Faderman describes furtively returning again and again to the book in the stacks, hiding its binding in the pages of another book, and reading it chapter by chapter until she had devoured the whole bibliography. She later described Foster as her model for "how one could do serious scholarship about lesbian subject matter."[28] It was, she said "the inspiration of that book that made me begin in 1976 the study that would eventually be published in 1981 as Surpassing the Love of Men."[29] Thus was birthed an entire genre of lesbian history writing, written by women delving into obscure archives and mouldy books to carefully compile volumes listing every previously ignored or forgotten instances of friendly spinsters who kept odd company, Boston marriages, romantic friendships, cross-dressers, mannish inverts, female husbands, hermaphrodites, and more.
In our consideration of this genre of lesbian historiography, we would like to pause over Lesbian Lists: A Look at Lesbian Culture, History, and Personalities (1990), by Dell Richards. The book is a creative take on the lesbian feminist historiographic tradition. Quite literally a book of lists, Lesbian Lists is even more heterogeneous than Grier's bibliography. Richards offers her readers lists, such as "11,000 and More Sworn Virgins," "13 Uppity Women Who Were Called Lesbians—But Who Probably Weren't," "7 Lesbians Whose Poems Appear in the Norton Anthology of Poetry, First Edition," and "5 Works [of Fiction] with Natalie Barney as a Character." Many of Richards's lists are tongue-in-cheek—the text is far from scholarly—but the lists aside, we are particularly interested in the historiographic methodological musings contained in a few lines in Richards's introduction.[30]
In the introduction to Lesbian Lists, Richards weighs the question of whom to list in the book and whom to leave out. She elucidates the difficulty she had reading historical accounts and working out a methodology for whom to include. Should the book list "women who are sexually attracted to other women or women who became lesbians through feminism? Or should [she] use a much broader definition, one which includes the romantic friends movement? . . . Should [she] include spinsters?" (emphasis added).[31] As the title of the "13 Uppity Women" list attests, she cast her net wide. Richards did not focus solely on "women who are sexually attracted to other women or women who became lesbians through feminism" but rather opted for inclusivity, as, "17 Romantic Friends," "5 Lesbians Who Married Gay Men," and "15 Spinsters Who Need to Be Researched" attest. Through lists, the book is striving to create a history for lesbianism, and by privileging a variety of relationships, lets contemporary women consider what it meant to be a lesbian in the past, and to take heart in what women accomplished (which is plenty, the lists tell us, with accounts of doctors and writers, nuns and rulers, mathematicians and social reformers).
The introduction also includes the idea that women might come to be lesbian through divine political revelation. Speaking of her own experience in the 1970s, Richards says, "For me, becoming a lesbian was a conscious political decision, the logical extension of feminism."[32] What is most interesting here is that Richards's typology, of a lesbian born of nature and one of politics, no longer holds sway in contemporary culture. There are still many women who might say that they came to be lesbian through politics, but their experience is not part of national or popular discourse. However, Richards's account of her experience and motives is worth capturing, contextualizing, and sharing. Her self-declaration, her self-definition, is in danger of being lost if we forget the many ways of being a lesbian even as recent as the 1970s. It is precisely this sort of information that the LGLC project seeks to share across generations. Even if there are very few young women today who would now say that their sexuality is the result of a political choice, in engaging with 1970s lesbian feminism, we seek to make it clear that this once was, and could again be, a condition of possibility for women. With the loss of the idea that lesbianism has and can be a political choice might come a diminished power to imagine and build a future that offers equitable possibilities, and a diminished language to talk about self-determination and self-definition, and to respond to contemporary political realities that, like those of the 1970s, might persist or might be short-lived.
Richards (and others like her who have written in the lesbian historiographical tradition that owes so much to Foster, Grier, and Faderman) is building a history, a community that stretches back over a thousand years, and that even from that thousand-year vantage point reaches forward to embrace her. And yet, Richards is also using history to imagine the future, a future that is different from the present and the past, which includes "women who became lesbians through feminism."
Lesbian Lists concludes with a call to research. One of the final lists is entitled "Cities with Lesbian Archives."[33] Echoing Foster's bibliographic call to lesbians to recognize themselves in the pages of particular books, Richards incites her readers to research, to find out more, to read unread texts. The result of this archival work could be more histories which women could embody, positioning themselves in history, or publish, sharing that history with others.
The lesbian list as a community-building and visibility-promoting strategy has been taken up in a contemporary digital context, and in many cases has, with the growing mainstream acceptance of the LGBT community, been coopted by major media corporations looking to cash in on the format. Some of these new lesbian lists work within the listicle format popularized by BuzzFeed and Gawker Media, aggregating content from elsewhere on the web and using clickbait titles to maximize page views in order to appeal to advertisers. For example, AfterEllen's "The AfterEllen.com Les/Bi List!" of the top fifty "out female celebrities" points to the political importance of visibility ("Back when AfterEllen.com was founded in 2002," the site points out "our slogan was 'Because Visibility Matters.' Indeed, the idea that lesbian and bisexual women need to be visible, both to ourselves and to the wider culture. . . . Only by being visible to family, friends and the world do we overcome the stereotypes and bigotry used to justify discrimination against the GLBT community") while also setting up the list to span eighteen pages, maximizing the number of pageviews to ensure sustainable ad revenue. It is important to note that in 2011, when "The AfterEllen.com Les/Bi List!" was published, AfterEllen was a subsidiary of Logo TV, the lesbian- and gay-themed television channel owned by Viacom.[34]
Keeping more in line with the original ethos of the lesbian lists, the independently owned Autostraddle, a website for "lesbian, bisexual and queer women (cis and trans)" has demonstrated a deep and abiding fondness for traditional lesbian history-making, going so far as to take Del Richards's list "20 Turn-of-the-Century 'Ways to Tell' if a Girl Would Become Gay or if a Woman Was a Lesbian—According to the Medical Journals of the Day" and spinning it into "15 Ways to Spot a Lesbian According to Some Really Old Medical Journals," illustrated with tongue-in-cheek photos of lesbian celebrities as well as members of the Autostraddle staff and their girlfriends.[35] In their post on the "Top 10 Most Sexually Prolific Lesbians and Bisexuals of Old Hollywood," Autostraddle creates an "Old Hollywood Edition" of "The Chart," the L Word's network graph of lesbian relationships.[36] Following in the steps of Foster, Grier, and Richards, albeit in a somewhat less academically rigorous manner, "The Chart: Old Hollywood Edition" favors inclusion over all else, collating information from a collection of books and from the internet to map out the same-sex relationships of famous female entertainers, some of them, like Marlene Dietrich, who lived openly gay or bisexual lives, and others, like Barbara Stanwyck, who were either "deeply closeted" or perhaps just the subject of rumor and innuendo. "A lot of this information could be false, but it is also possibly true!" writes Riese, the author of the piece, before offering readers an alternative reality Hollywood, one in which Katharine Hepburn's most well-known relationship is the sixty years she spent with Laura Harding, rather than her tumultuous affair with Spencer Tracy.[37] In the creation of "The Chart: Old Hollywood Edition," the editors of Autostraddle have positioned themselves within the long tradition of lesbian list-based history-making, seeking to fill Woolf's "vast chamber where nobody has been."
In the final section of this chapter we offer the LGLC project as a case study showcasing how lesbian list-making practices can intersect with the digital humanities. To do so, the project takes up the listing and bibliographic historiographic strategies, as well as network graph representation strategies found in Autostraddle's chart. We apply measures for inclusion and definition that let us capture historical contingency, uncertainty, and conflict in the archival record, and by allowing our code to make these measures visible to those of our readers who want to see how assertions about history are made in a digital humanities context.
Lesbian Publishing and Archiving
For lesbian feminists, the importance of controlling the means of printing and circulating lesbian histories and lesbian literature went hand in hand with the importance of creating lists and literature—since "the lesbian, without a literature, is without life."[38] Women like Barbara Grier wanted to ensure that they would never have to rely on the biases of the mainstream publishing industry to print the works that were crucial to their self-knowledge. Thus began a "paper lesbian" renaissance that ran from guerrilla printing operations using "liberated" office supplies and workplace typewriters to the establishment of full-scale lesbian feminist publishing companies.[39] And so it followed that Barbara Grier, having taken on the task of maintaining Jeanette Howard Foster's legacy, contributed addenda to Sex Variant Women in Literature in new editions. The first was published in 1975 by Diana Press, a "women's print shop and feminist publishing house" begun by Coletta Reid and Casey Czarnik.[40] The second addenda was published in 1985 by Naiad Press, a lesbian feminist publishing company cofounded by Barbara Grier, Anyda Marchant, Donna McBride, and Muriel Crawford.[41] Lesbian Lists: A Look at Lesbian Culture, History, and Personalities would not have existed without the feminist-focused gay press. It was published in 1990 by Alyson Publications, a press that published work of interest to both gay men and lesbians, which at the time was still owned and run by its founder Sasha Alyson. In Canada and the United States, gay periodicals like The Body Politic (Toronto), Le Berdache (Montreal), GO Info (Ottawa), The Gaezette (Atlantic Canada), Christopher Street (New York), and Tangents (Los Angeles) were joined by presses, such as The Feminist Press (New York), Press Gang (Vancouver), Innana (Toronto), Arsenal Pulp Press (Vancouver), and Women's Press (Toronto). Some of these publishing companies, such as The Feminist Press and Press Gang, had an explicit mission to publish women writers and recover out-of-print work by women.
As Rich reminds us, libraries and archives are full of the material that teaches us how to live and what is possible. Deborah Edel and Joan Nestle, two of the founders of New York's Lesbian Herstory Archives (LHA), included in Dell Richards's list of "Cities with Lesbian Archives," took up the important work of circulating books and archival materials within lesbian communities. They spent the 1970s bringing items from their collection to underground events held at women's festivals, university campuses, and gay churches and synagogues, with the historiographic goal of turning "shame into a sense of cherished history" and changing "the meaning of history to include every woman who had the courage to touch another woman, whether for a night or a lifetime." Joan Nestle described the aim of this show-and-tell of archival artefacts, later converted into a slideshow, as changing "deprivation into cultural plenitude."[42] The legacy of Jeanette Howard Foster, Barbara Grier, and the paper lesbians has been exactly that, with the work of the scholars that followed, including Lillian Faderman, Elizabeth Lapovsky Kennedy, Madeline D. Davis, Martha Vicinus, Emma Donoghue, and Cameron Duder, among many others, bringing Adrienne Rich's "flickering, often disguised reality" back into the light, turning deprivation into bounty.
With the expansion of scholarly digital editions and hypermedia archives in the 1990s came the great hope that the web would become a space of light and bounty, providing a place to disseminate primary source material and scholarship by and about marginalized historical persons. Unfortunately, as Amy Earhart noted in the first Debates volume, many of the earliest digital resources dedicated to marginalized subjects have disappeared from the web. As we attempt to list, archive, publish, and share via the web, we can learn from the data gathering, publishing, and archiving strategies of the lesbian feminist community. Each of the groups of women that took up the aggregation, framing, and preservation of knowledge did so in a necessarily DIY fashion: the LHA could not trust that universities and government archives would be interested in lesbian materials, just as Jeanette Howard Foster could not rely on commercial publishers to help disseminate her bibliography.
The policies of the LHA were an inspiration to the LGLC project, as we thought through best practices for lesbian feminist history-making, and how to work within the constraints of the contemporary academic system. The LHA summarizes their principles as inclusive, noninstitutional, and committed to living history. They declare, "All Lesbian women must have access to the Archives" regardless of race or class, or academic, political, or sexual credentials. They say as well that the archives will be housed in the community, not on an academic campus closed to many women, funded by the community, and that the community should "share in the work of the Archives." Archival skills "shall be taught, one generation of Lesbians to another, breaking the elitism of traditional archives" and the "Archives will never be sold nor will its contents be divided." Perhaps the most distinctive principle of the LHA, setting it apart from traditional academic archives, is this one: "The Archives shall be involved in the political struggles of all Lesbians."[43]
This egalitarian and collectivist ethos has set the LHA apart from traditional archives and scholarship from the very beginning. The second issue of their newsletter, published in 1976, contains calls for women to send in any contacts they might have with lesbian separatist communities, information on the summer home of Romaine Brooks and Natalie Clifford-Barney, references to "Histoire de la secte anandryne" from 1778, and missing issues of Lesbian Tide. It asks for German speakers to translate issues of Lesbenpresse and women willing to tape lesbian "speakers, musical events, conferences, and radio shows." It also contains a "Bibliography of Bibliographies," listing just four titles as being "By Lesbians About Lesbians"—Foster, Grier, Marie Kuda's Women Loving Women, An Annotated Bibliography published by Womanpress in 1975, and a four-page section of one issue of Amazon Quarterly—and implores readers, "It is clear that careful searching is still required to find references to Lesbians in all works, including those published by Feminists. . . . Bibliographies just on Lesbian culture desperately need to be done."[44]
On their donation page, the LHA includes the rather broad definition included above, urging almost all women to consider donating material to the archive. In this way, "our history will more accurately reflect the range of lives we have led rather than reducing us to a stereotype or to a few 'famous' women" (emphasis added). Instructions follow for "Creating Your Special Collection," leading potential donors through the steps of arranging and describing an archival collection, from using acid-free folders to labeling photos with soft pencil. They ask women to create timelines and add descriptive information about the personal significance of artefacts. They urge women who plan on bequeathing their papers to the LHA in their wills to use a lawyer to ensure that malicious relatives will be unable to "lose or destroy your papers." Finally, they say, "Offering your collection to the Lesbian Herstory Archives is offering a reflection of yourself to your community. Lesbians and others who seek to know us by exploring your life are eager to read your words, know your thoughts, and view your images. Placing your collection in the Archives is a courageous and generous act. Thanks to you and others who have offered collections to the Archives, lesbian herstory will live as a life-giving force for generations to come. We thank you for your generosity, in memory of the voices we have lost."[45] Radical history spaces like the LHA not only preserve and make visible the histories of marginalized groups but also serve as catalysts for political change. The LHA, which is a separatist space in a radical sense, invites trans* lesbians to donate their papers, and by extension, their voices to the archive. They encourage responsible, yet DIY, archiving in a way that promotes intergenerational learning. Above all, they focus on collectivity, with the goal of breaking down stereotypes by representing a wide variety of lesbian lives, rather than those of just a few famous women.
The appeal of this approach has lasted, evident not just in the continued existence of the LHA but also in the growth of new organizations that shared their mission. In their first newsletter in 1975, the LHA declared its "commitment to rediscovering our past, controlling our present, and speaking to our future. We seek to preserve for the future all expressions of our identity." In 2012, Autostraddle profiled the LHA in their Herstory column. Vanessa, the post's author, found parallels between the two organizations' community-based, community-funded missions, concluding "both projects want to give women a chance to say, 'This is who I am because I say so,' as opposed to allowing outside sources tell us who we should be. Both projects offer constant affirmation that you exist, I exist, we exist."[46]
Past Methods for Contemporary Digital Humanities Scholarship
The question of best practice when it comes to creating lesbian history that will promote the intergenerational understanding that Ross calls for is not without controversy, especially when it comes to questions of privacy or evolving identities. It is not sufficient for us to assert that synthesizing and publishing online information that is available in the archives and in back issues of queer periodicals is somehow politically neutral because the information is already publicly available. The LGLC project does make Canada's gay liberation history more visible than it would be if the project's content stayed in print archives only. While the project does not out any activists who were not out in the 1960s and 1970s, in using radical feminist historiography of the type taken up by Foster, Grier, Faderman, and Richards, it does increase activist visibility with the goal of encouraging the intergenerational understanding that Ross notes is missing. Rather than flattening data into binaries to fit existing data models and international standards, we strive to represent uncertainty, historical contingency, conflict, variation, instability, and multidimensionality. The stakes are high: in an age where we recognize the right to be forgotten, we must also weigh the danger to both feminism and queer politics of hiding our history, forcing each new generation to start anew, with only the haziest stereotypes about previous generations to draw on for strength, or worse, to look on with derision, against the threat of confrontation, doxing, or violence to named activists. The best way forward is not always clear, but the LGLC project continues to chronicle events covered in the queer archival record, rather than risk losing that history to current debates or stereotypes.
The data aggregation and circulation work of lesbian feminists in the twentieth century has much to teach us as we embark on individual research projects, engage with one another through disciplinary channels, and shape the broader political landscape: twentieth-century lesbian feminist work gives us tools to imagine an equitable future that recognizes the nuanced and historically contingent forces that shape our own project, LGLC, and the community that shapes the Text Encoding Initiative, whose XML markup language, TEI, underpins the project (and some of whose senior male members have taken explicit action to include women, discussed below).[47] Moreover, midcentury lesbian feminist aggregating, publishing, and archiving offer insights into how to thoughtfully reengage radical feminist politics, which have revived in North American cities in the last decade, and to understand and encourage the antioppression turn in the digital humanities in a way that moves beyond stereotypes.
The politics of the gay liberation movement were quite different from mainstream queer politics today. Gay liberationists were interested in a radical break with a culture that permitted institutional, financial, legal, and physical violence against gay people. Contemporary gay rights activism, with its focus on legal rights and marriage, is more invested in integration, and in some cases even assimilation, than liberation activism was. We hope, through the project, to make visible the historically specific struggle and politics of gay liberation, which, while relatively recent, are in danger of being lost, as though the political interests of contemporary gay people are the same as they were in the mid-twentieth century. Therefore, one of the central goals of the LGLC project is to create a publicly accessible online resource about the events and the politics of the gay liberation movement. The other, which we will turn to shortly, is to train students in the digital methods (formalizing, versioning, querying) that complement the work and data formats (listing, archiving, publishing) in which activists of the mid-twentieth century trained themselves.[48]
As we were starting our project, we were as eager to learn about the technological underpinnings of the projects that we admired as we were keen to know about the theoretical precepts that underpinned them. Despite critiques that the digital humanities is, as a discipline, undertheorized or overmethodologized, we had a hard time finding the methodological lists we needed: the lists of tasks and tech in each project's workflow (this task has been made easier in the intervening years by Miriam Posner's excellent "How Did They Make That?" blog posts, now part of the DHCommons Journal).[49] It is in this spirit, and the LHA's which has been so inspirational to us, that we offer the tech stack, mentorship, data formats, and circumstances that have made our project, Lesbian and Gay Liberation in Canada, a TEI and database-driven chronology of the gay liberation movement in Canada, possible.
The project is based on the two-volume work Lesbian and Gay Liberation in Canada: A Selected Annotated Chronology by our collaborator, the head of Book and Serials Acquisitions at the University of Toronto Libraries, Donald McLeod. Don's two-volume work lists events of the gay liberation movement, from the formation of the first homophile associations in 1964 to the start of the AIDS crisis in 1981. Don compiled these lists of poetry readings, legislative changes, murders, arrests, book launches, and celebrations by hand, reading through the holdings of several archives. In keeping with DIY radical publishing practices, practices that are invested in sharing lost histories at any cost, Don paid for the publication of the first volume of Lesbian and Gay Liberation in Canada, recovering publication expenses over the course of a decade by selling the book through gay bookstores in Canada and the United States. The chronology had its genesis in 1984, when McLeod was working on an AIDS bibliography, another resource created to share information and increase visibility. As early as the 1990s, he noticed that many young researchers had a hazy sense of what had happened during the gay liberation movement. In response he undertook the chronology, a list of events, which is in many ways a DIY project to preserve and disseminate information about the gay liberation movement in Canada.
Don has retained the rights to the chronology, and much to our good fortune, gave us permission to digitize and publish the text online. The digitization process was, at the very beginning, rather DIY. We started encoding an optical-character-recognition-produced version of the chronology in TEI in 2011, armed with a Dropbox account, two Oxygen Editor licenses, and excellent workflow advice (and welcome mentorship) from Julia Flanders, director of Women Writers Online, and Lorraine Janzen Kooistra, co-director of the Ryerson Centre for Digital Humanities. We did not know what we would do with the TEI-encoded text beyond vaguely publish it to the web, but we knew that we would never regret having a formalized and computationally tractable encoded version of the text.
Since then we have officially partnered with Don, as well as with Susan Brown, director of the Canadian Writing Research Collaboratory, and Elise Chenier, director of the Archives of Lesbian Oral Testimony, to produce a digital edition of the text. Thanks to the good graces of the University of British Columbia's Faculty of Creative and Critical Studies, its Work Study Program, Ryerson University's Literatures of Modernity program, WestGrid, Compute Canada and The Social Science and Humanities Research Council of Canada, we have trained thirteen students to date: Sarah Lane, Stephanie Martin, Anderson Tuinguay, Ewan Matthews, Pascale Dangoisse (archival research), Jessica Bonney, Rebecca Desjarlais, Candice Lipski, Cole Mash, Seamus Riordan-Short, Raymon Sandhu, Caitlin Voth, Travis White (TEI encoding, XSLT transformations, database design, interface design, project management), and Nadine Boulay (archival research, survey design). We use extensible stylesheet transformations (XSLT) to move our TEI-encoded and comma-separated text into a graph database, Neo4j, with a JavaScript front end for structured and plain text search. Our development server, a Linux box running CentOS, is hosted by Compute Canada. We use Redmine, a project management platform hosted by the University of British Columbia, for project management and documentation; OwnCloud, hosted by Compute Canada and WestGrid, for document sharing; and GitHub for code sharing and versioning. While a tech list of this sort would have been daunting to us as we were starting out, we offer it here in the spirit of How Did They Build That's DIY ethos. Even though we now use a range of technologies, we learned to use them as the project grew: the text, a working understanding of TEI, two copies of the Oxygen XML Editor software, and a Dropbox account were enough for us to start the project. Just as the women who published The Ladder learned to be publishers and distributors in order to share their community-building magazine, we learned along with our research assistants as we moved toward online publication.
In the world of DIY publishing, the list was a simple format to construct, print, and circulate. While learning to develop graph and relational databases is easier every year, for creators, they remain less accessible formats than lists. There is room too to reexamine and rekindle older debates about the relationship between database and narrative, in context of lists and networks. We work in an age that may further substantiate N. Katherine Hayles's assertion that databases and narratives are symbionts, separate species with particular ordering logic and habits that can support one another.[50] Graph databases have transformed the commercial sectors, including sectors like social media that commodify users, but what they will mean for humanities scholarship remains unexamined to date.
The list seems to be a particularly significant format, and certainly not one without consequence in the digital humanities. As Ed Folsom points out, databases are antinarrative, inasmuch as narratives are in favor of chronology.[51] This poses a particular problem for database-driven chronologies such as ours. Although we can rearrange our data by city, activist, or organization, is the narrative of liberation history lost when we leave the chronology behind? There is, of course, an inherent order in any database, no matter how well that database lends itself to reordering content.[52] That said, early work on the relationship between database and narrative considered relational databases, not the graph databases. Graph databases, such as Neo4j, are used by the LGLC and other projects to order their data, in a way that privileges networks (and the narratives they foreground) over tables. The early 2010s boom in graph databases invites further reflection on the narrative structures encouraged by the inherent ordering, and often ready extensibility, of graph, rather than relational, databases. There might, we would like to suggest, be a new type of symbiosis between narrative and network-based representation of chronological events.
Digital circulation has also radically transformed publishing scholarly and commercial publishing in the last twenty years. Federal funding agencies in Canada and the United Kingdom have mandated open access publication (a system not without flaws, both in terms of the price of publication and the cost to small presses and publishers). This move by funding agencies postdates the web-based resource development of many digital humanities scholars, who have long worked to make their content freely accessible online. This mode of distribution, like the modes taken up by feminist DIY publishers, pushes back against the models of scarcity and ownership that have characterized traditional scholarship.[53] While many projects must put their work behind a paywall in order to ensure the revenue that will keep the work online, we suspect that the move to open scholarship will prove to be the key to preservation. Digital work can be preserved by being "too distributed to fail." In our case, the LGLC data are backed up on WestGrid servers at Simon Fraser University, are served from Quebec, will be aggregated with data from other projects as part of the University of Alberta's Canadian Writing and Research Collaboratory, and will be housed in the University of British Columbia Library's institutional repository, Circle. This distribution helps assure us that the project and its voices will not be lost if any one host goes down. However, each of these hosts is costly to maintain, and the Canadian university system does not yet have a holistic plan to maintain the important cultural heritage represented by open digital scholarship.
The project is coming of age at a momentous time in the history of the digital humanities. In the last ten years there has been a significant change in both the size and the diversity of the digital humanities, and with those changes come the challenges of confronting racism, colonialism, sexism, and trans- and homophobia, for the sake of the health and equity of the discipline. While separatism of the types pioneered by women in the 1970s and 1980s is always an option, these confrontations need not undermine DH, but could be generative, as some have been, as we will see, in the case of the TEI (although we recognize the very real and reasonable desire of many women and people of color who have had toxic experiences in the field, to opt of out DH altogether). Critical race and feminist practices have demonstrated that critical mass undermines sexism and racism. For radical feminists, gathering with other women and normalizing women-only gatherings provided spaces to unlearn sexism. For liberal feminists, working toward equal representation in positions of power (i.e., gender equality in houses of parliament, university programs, and boards of governors) was a way to undermine tokenism, to recognize that women are as diverse in their opinions, aptitudes, and politics as men, and to normalize women in positions of leadership. At the risk of dating this chapter, we would like to point to recent successful moves to undermine the systemic sexism by including women. If a full radical feminist opt-out of the digital humanities is undesirable (and we are not saying that it is undesirable for all; separate spaces are always an option), building allegiances with men and masculine people who recognize that sexism, a system that oppresses women and feminine people by valuing men, culturally coded masculinity, and masculine perspectives over women and culturally coded femininity and feminine perspectives, is an excellent option.
Equity requires that those of us who do not wish to opt out remain proactive. Equity cannot be achieved simply by permitting admittance to those who have traditionally been excluded. Equity involves recognizing the long-term effects of systemic oppression and refusing the normalized advantages that systematic oppression offers. The digital humanities as a discipline, and the TEI community in particular, has made some gains in this area.[54] For example, in 2013, rather than falling back on the argument that the TEI's use of ISO standard 5218 for sex (which offers only four values for sex: male, female, not applicable, and unknown) was simply a neutral standard, unchangeable within the context of the TEI because it was imported from an external standard, the TEI technical council and board revised TEI values for sex to include those from ISO 5218 (for backward compatibility) and locally defined values.[55] Melissa Terras initiated the official call for change via a request through the TEI's Sourceforge ticketing system, and garnered support both in person and through online community engagement (see Figures 9.1 and 9.2). The change was not without controversy, which played out both publicly and in the TEI board of directors and technical council. The change has expanded the utility of the TEI and its ability to faithfully represent human diversity.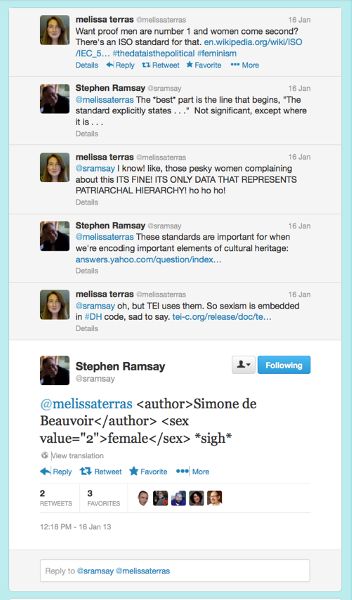 The TEI community has made other gains as well. Following Deb Verhoeven's impassioned call at DH2015, reproduced in part in this volume, for the men of the discipline to "find someone who doesn't look and sound like you and mentor them, encourage them, and invite them into your role" and take a step back from leadership, there was considerable expansion of ongoing private and public discussion about sexism in the field, further revealing significant veins of hostility and disdain for equity.[56] There were, however, a number of men on the TEI technical council and board who worked to recruit qualified women from a variety of backgrounds to serve on these important bodies. One even took Deb Verhoeven's request at face value, and stepped off the council to leave room for the many qualified women to serve. These actions resulted in the most gender-balanced and largest slate of people running for the council and board in years. In an age when stagnation of governing bodies and small slates can be a canary in the coal mine, it remains to be seen if this will be a continuing trend and a promising sign of the TEI's health and equitable representation of its users. For decades there have been women qualified to sit on the TEI council and board—it took the invitations to run, and the explanation that these invitations were motivated by feminist methods (recognizing that women do not participate in DH on a level playing field, and if they are in a position to run for the council or board, they are in that position despite the added burden put on them by sexism), to get equity on the council. Equity is proactive, not passive, and can flourish with the support of those who recognize that they benefit from oppressive systems of power, and rather than responding with hurt at being asked to decenter their subject position, recognize that the digital humanities will be a better field if they refuse to benefit from the systemic oppression of others.
The response of radical feminists of the 1970s to a society that was intransigent in its exclusion and oppression of women was not to call for equal representation. Radical feminism was, and is, predicated on creating separate space for women, and on opting out of sexist institutions that have shown by past policies, actions, and silences that they do not have women's diverse interests, even at the basic level of freedom from institutional, legal, and physical violence, at heart. As a movement, radical feminism represented the first feminist wave to define women in relationship to one another, rather than in opposition to men. Radical feminism, with its focus on woman-identified women, is, as New York's Radicalesbians put it, not about relationships with men: thinking of lesbianism as an alternative to heterosexuality "is still giving primacy to men . . . because relating more completely to women occurs as a negative reaction to men."[57] In short, radical feminism and lesbian separatism were the manifestation of the notion "that the identity we have to develop [will be] with reference to ourselves, and not in relation to men."[58] This refusal to define oneself in relation to the dominant other is particularly radical, as it also refuses cooptation by a dominant position. Just as antiracist studies can slip into being about white people (leading at an institutional level to the creation of critical race professorships filled by white people and funded grants for critical white studies, which while individual white scholars and projects may be admirable, in the aggregate reproduce the white-centric work of universities, rather than the shift away from the mainstream that Miriam Posner has called for), so too can feminism as represented in the media, in classrooms, or even in our disciplinary meetings be coopted so that it becomes about men. Radical feminism with its woman-identification serves as a reminder that women's lives, politics, and work needn't be defined through their relationship to men. In contemporary culture, that is a radical notion indeed. There are, of course, those of us who are not going to opt out of the mainstream and move to womyn's lands, those of us who are going to stay behind to share the history of those who opted for radical separatism, which is to say the total refusal to participate in a system that oppresses them. We can engage in recovery projects and in training the new generation of people either who will opt out of the systems that oppress them or who might work within those systems to build separatist spaces or to normalize women's refusal to reinscribe men's centrality by defining themselves in relation to men.
Although analogies are dangerous, as they invite politically divisive comparisons of incommensurate oppressions, there are important insights offered by critical race studies that we would like to introduce here to help guide our discussion before we turn to the worrying trend of trans* exclusion that has accompanied the revival of radical feminist politics. There has been backlash against the creation of separate space by oppressed people for oppressed people, wrongly likening these separate spaces to institutionally and legally enforced racial segregation or "old boys clubs." This analogy is felonious, since the broader ethos that supported racial segregation and the exclusion of women, racism and sexism was designed to define people of color and women at the expense of people of color and women. It is perfectly reasonable for members of oppressed groups to seek space together that exclude people who benefit from systems of oppression (e.g., gatherings organized to support people of color that exclude white people or queer spaces that exclude straight people). This exclusion of white people, or men, or straight people is not part of a centuries-long, institutionally and legally supported exploitation, othering, and oppression of white people, or men, or straight people. While it is possible, of course, for people of color to exclude, dislike, or actively be unkind to white people, it is impossible to be truly racist toward white people, if we understand racism to be a historically specific system of white supremacy designed to benefit white people at the expense of others. So-called reverse racism is a logical impossibility, as there is no systemic, institutional, historically grounded, global movement to benefit from classifying and oppressing white people. These insights that come from critical race theory are particularly germane in our contemporary DH moment, as they help explain both the value and utility separate space, equity statements, and the good work of the people who have continued to work for the broader DH community while actively stepping back from key positions to make room for members of historically marginalized groups (as the TEI technical council members have done). For those of us who belong to dominant groups and who have felt excluded because we are white, the critical consciousness offered by this historically and institutionally grounded way of thinking about how our whiteness has been constructed and the privilege it offers can mend any hurt that we may feel about being excluded. Just as the women-identified women's exclusion of men is not about men, the exclusion of white people from spaces designed for and by people of color is not about white people. For those of us who have been born into a dominant position, this can be radical and shocking indeed: for almost the first time in history, it is not about us.[59]
Radical feminists and gay liberationists of the 1970s demonstrated what radical opting out of the system might mean by refusing to participate in or stay closeted in an oppressive system in the hope of reward. Indeed it is the hope of benefiting from oppression that often motivates support for oppressive systems, even by those who they are designed to exploit (in the case of some early homophile groups, like the Daughters of Bilitis, the hope was only for the reward of a quiet life, one free from harassment and threat). There has, in recent years, been a resurgent interest in radical feminist and gay liberation history, evident in the reissuing of texts such as This Bridge Called My Back (2015), to Radical Feminism: A Documentary Reader (2000), to new studies such as Radical Feminism: Feminist Activism in Movement (2015) and popular press accounts such as The A to Z of the Lesbian Liberation Movement: Still the Rage (2003). Happily there is a history for these new radical feminists to turn to—a better-documented history, supported by easier circulated information, than the ones available to the women listed above. We are glad to see these humanities and social science–based opportunities for intergenerational knowledge transfer, and for the institutional support for the Lesbian and Gay Liberation in Canada project. There is, to our minds, however, a worrying strain within this return to radical feminism. With this return has come trans* exclusionary radical feminism, characterized by the purposeful exclusion of trans* women. Excluding trans* women from women's groups is not a case of women excluding people that sexism is designed to benefit. Transitioning is a radical leave-taking of systems of oppression that offer (although seldom deliver) rewards for the quiescence of people at whose expense it is maintained. Trans* women do not benefit from the systemic oppression of women. While some earlier strains of radical feminism did exclude trans* women (although as the separatist Lesbian Herstory Archives demonstrates, this exclusion was far from ubiquitous), radical feminist history offers insight into how to confront systemic oppression in a way that decenters dominant positions, one that we would hope contemporary radical feminists would not perpetuate in their engagement with trans* men and women.
In 1991, Lillian Faderman joked about the evolving definition of lesbianism, saying that the "criterion for identifying oneself as a lesbian has come to resemble the liberal criterion for identifying oneself as a Jew: you are one only if you consider yourself one."[60] The scope of early lesbian feminist bibliographers and archivists when cataloguing the past was equally broad. Similarly, we aim for our work with the Lesbian and Gay Liberation in Canada project to be as all-encompassing. We have been building a prosopography, or collective biography list, of everyone mentioned in the text, including information, when possible, on people's identities and affiliations (a research activity we share with other contributors to this volume. Kooistra and Hedley's engaging argument for using the term "personography" to describe people both in the singular and in aggregate is a welcome critical addition to feminist-informed digital humanities practice). In doing so, we seek to follow Faderman's criterion for being a Jew—"you are one only if you consider yourself one." Rather than placing people into categories, we allow them to self-define. After all, Radclyffe Hall, one of the most famous "lesbian authors" and a figure in our prosopography list, did not identify as a lesbian, but as a "congenital invert" and, as Leslie Feinberg noted in Stone Butch Blues, often went by the name John. People, as Feinberg says, defy easy classification.[61] And so our prosopography leaves space for people to define themselves as "radical lesbian feminist" or "faggot" or "queer" and to define what those terms mean to them. We hope to capture those identities that only existed at a certain time or a certain place and to not conflate what it meant to be a "radical lesbian feminist" in 1971 with what a "lesbian" is now. Like Dell Richards and her lists of sworn virgins, spinsters, romantic friends, and uppity women who probably weren't lesbians, we strive for our list to be inclusive and, in doing so, borrow Dell Richards's historiographic practices that create a history that reaches forward to embrace lived experience beyond that history.
We have much to learn from lesbian feminist history, data collection, and knowledge circulation, but in reengaging with lesbian feminist methods and politics, we need to err on the side of generosity, inclusivity, and productivity. In our work on the LGLC project, we aim to build a project that captures the temporally specific iterations of identity and allows people to define themselves. We also want to leave room for new critical consciousness and change. There is room to reengage with lesbian feminist methodologies in the digital humanities and in the culture at large in a way that does not police the boundaries of identity, but rather strives to construct resources that are fully accessible.
Notes
Bibliography
"The AfterEllen.com Les/Bi List!" Accessed August 7, 2016. http://www.afterellen.com/people/85676-the-afterellencom-lesbi-list.
Crenshaw, Kimberlé, Neil Gotanda, Gary Peller, and Kendall Thomas, eds. Critical Race Theory: The Key Writings that Formed the Movement. New York: New Press, 1995.
Dave, Paresh. "AfterEllen.com Acquired by Evolve Media from Viacom." Los Angeles Times, October 7, 2014. http://www.latimes.com/business/technology/la-fi-tn-afterellen-evolve-viacom-lesbian-website-20141007-story.html.
"Donating Material: Special Collections." Accessed January 28, 2016. http://www.lesbianherstoryarchives.org/supmater2.html.
Earhart, Amy. "Recovering the Recovered Text: Diversity, Canon Building, and Digital Studies." University of Kansas IDRH, October 9, 2012. https://youtu.be/7ui9PIjDreo.
Eichhorn, Kate. The Archival Turn in Feminism: Outrage in Order. Philadelphia: Temple University Press, 2013.
Faderman, Lillian. Introduction to Sex Variant Woman: The Life of Jeannette Howard Foster by Joanne Ellen Passet. Cambridge, Mass.: Da Capo, 2008.
Faderman, Lillian. Odd Girls and Twilight Lovers: A History of Lesbian Life in Twentieth-Century America. New York: Penguin, 1992.
Fausto-Sterling, Anne. Dueling Dualisms in Sexing the Body: Gender Politics and the Construction of Sexuality. New York: Basic Books, 2000.
Feinberg, Leslie. Stone Butch Blues: A Novel. Ithaca, N.Y.: Firebrand Books, 1993.
"Finding Aid for the Diana Press Records, 1970–1994 (Collection 2135)." Online Archives of California. Accessed January 28, 2016. http://www.oac.cdlib.org/findaid/ark:/13030/c8tq62h1/.
Flanders, Julia, Syd Bauman, and Sarah Connell. "Text Encoding." In Doing Digital Humanities: Practice, Training, Research, edited by Constance Crompton, Richard J. Lane, and Ray Siemens, 104–22. New York: Routledge, 2017.
Folsom, Ed. "Database as Genre: The Epic Transformation of Archives." PMLA 122, no. 5 (October 2007): 1571–79. http://www.jstor.org/stable/25501803.
Foster, Jeannette H. Sex Variant Women in Literature. Tallahassee, Fla.: Naiad Press, 1985.
Gallo, Marcia M. Different Daughters: A History of the Daughters of Bilitis and the Rise of the Lesbian Rights Movement. New York: Carroll & Graf, 2006.
Gates, Henry Louis, and Abby Wolf, eds. The Henry Louis Gates Jr. Reader. New York: BasicCivitas Books, 2012.
Hayles, N. Katherine. "Narrative and Database: Natural Symbionts." PMLA 122, no. 5 (October 2007): 1603–08. http://www.jstor.org/stable/25501808.
"History of the Lesbian in Literature: The Lesbian in Literature, 1967–1981." Accessed January 28, 2016. http://www.outhistory.org/exhibits/show/lesbian-in-literature/history.
"How Did They Make That?" DHCommons Journal 1, no. 1 (2015). http://dhcommons.org/journal/issue-1.
International Organization for Standardization. "ISO/IEC 5218:2004—Information Technology—Codes for the Representation of Human Sexes." Accessed January 17, 2016. http://www.iso.org/iso/catalogue_detail.htm?csnumber=36266.
Johnson, Jill. Lesbian Nation: The Feminist Solution. New York: Simon and Schuster, 1973.
Klinger, Alisa. "Writing Civil Rights: The Political Aspirations of Lesbian Activist-Writers." In Inventing Lesbian Cultures in America, edited by Ellen Lewin, 62–82. Boston, Mass.: Beacon Press, 1996.
Lamb, Yvonne Shinhoster. "Anyda Marchant; Author, Publisher." Washington Post, February 7, 2006. http://www.washingtonpost.com/wp-dyn/content/article/2006/02/06/AR2006020601658.html.
"The Lesbian Herstory Archives: A Constant Affirmation That You Exist." Autostraddle, June 19, 2012. http://www.autostraddle.com/the-lesbian-herstory-archives-a-constant-affirmation-that-you-exist-139931/.
"The Lesbian Herstory Archives: Donating Material; Special Collections." Lesbian Herstory Archives. Accessed January 28, 2016. http://www.lesbianherstoryarchives.org/supmater2.html.
"The Lesbian Herstory Archives: History and Mission." Lesbian Herstory Archives. Accessed January 28, 2016. http://www.lesbianherstoryarchives.org/history.html.
"The Lesbian Herstory Archives: Newsletters." Lesbian Herstory Archives. Accessed January 28, 2016. http://www.lesbianherstoryarchives.org/newsl70.html.
"The Lesbian Herstory Archives: Support the Archives." Lesbian Herstory Archives. Accessed January 28, 2016. http://www.lesbianherstoryarchives.org/supmater2.html.
Lewin, Ellen. Inventing Lesbian Cultures in America. Boston, Mass.: Beacon, 1996.
Manovich, Lev. The Language of New Media. Cambridge, Mass.: MIT Press, 2001.
Passet, Joanne Ellen. Sex Variant Woman: The Life of Jeannette Howard Foster. Cambridge, Mass.: Da Capo, 2008.
Posner, Miriam. "How Did They Make That?" Miriam Posner's Blog, August 29, 2013. http://miriamposner.com/blog/how-did-they-make-that/.
Posner, Miriam. "What's Next: The Radical, Unrealized Potential of Digital Humanities." Miriam Posner's Blog, July 27, 2015. http://miriamposner.com/blog/whats-next-the-radical-unrealized-potential-of-digital-humanities/.
Radicalesbians. The Woman-Identified Woman. 1970. Duke University Libraries Digital Collections. Accessed January 16, 2016. http://library.duke.edu/digitalcollections/wlmpc_wlmms01011/.
Rich, Adrienne. "Compulsory Heterosexuality and Lesbian Existence (1980)." Journal of Women's History 15, no. 3 (2003): 11–48. doi:10.1353/jowh.2003.0079.
Rich, Adrienne. "It Is the Lesbian in Us . . ." In Come Out Fighting: A Century of Essential Writing on Gay and Lesbian Liberation, edited by Chris Bull, 142–43. New York: Thunder's Mouth Press/Nation Books, 2001.
Richards, Dell. Lesbian Lists: A Look at Lesbian Culture, History, and Personalities. Boston: Alyson Publications, 1990.
Riese. "15 Ways to Spot a Lesbian According to Some Really Old Medical Journals." Autostraddle. Accessed August 8, 2016. http://www.autostraddle.com/15-ways-to-spot-a-lesbian-according-to-some-really-old-medical-journals-139954/.
Riese. "Top 10 Most Sexually Prolific Lesbians and Bisexuals of Old Hollywood." Autostraddle. Accessed August 7, 2016. http://www.autostraddle.com/10-old-hollywood-stars-who-enjoyed-scissoring-343227/.
Ross, Becki. The House That Jill Built: A Lesbian Nation in Formation. Toronto: University of Toronto Press, 1995.
Samer, Roxanne. "Revising 'Re-vision': Documenting 1970s Feminisms and the Queer Potentiality of Digital Feminist Archives." Ada: A Journal of Gender, New Media & Technology 5 (2014). doi:10.7264/N3FF3QMC.
Sedgwick, Eve Kosofsky. The Epistemology of the Closet. Berkeley: University of California Press, 1990.
Text Encoding Initiative. "Projects Using the TEI." Text Encoding Initiative. http://www.tei-c.org/Activities/Projects/.
Text Encoding Initiative. "TEI Council Meetings." Text Encoding Initiative. http://www.tei-c.org/Activities/Council/Meetings/.
Text Encoding Initiative. "TEI Guidelines." Text Encoding Initiative. http://www.tei-c.org/release/doc/tei-p5-doc/en/html/index.html.
Text Encoding Initiative. "TEI: History." Text Encoding Initiative. http://www.tei-c.org/About/history.xml.
Thompson, David. "Katharine Hepburn." The Guardian, July 1, 2003. https://www.theguardian.com/news/2003/jul/01/guardianobituaries.film.
Verhoeven, Deborah. Has Anyone Seen a Woman? July 2, 2015. Speakola. http://speakola.com/ideas/deb-verhoeven-has-anyone-seen-a-woman-2015.
"What Is Autostraddle?" Accessed August 8, 2016. Autostraddle. http://www.autostraddle.com/about/.