Project | Process | Product
Feminist Digital Subjectivity in a Shifting Scholarly Field
Kathryn Holland and Susan Brown
How do scholars bring feminist digital and print resources together to create compelling online literary histories? How do feminist projects in digital humanities change over time? We respond to these questions by focusing our discussion on the DH initiative with which we are involved, the Orlando Project.[1] We begin with a look back at the late 1920s, when Virginia Woolf considered new ways of representing women's identities and places in culture via different genres of writing. Shortly after she gave the "Women and Fiction" lectures at Cambridge University that would grow into A Room of One's Own, she wrote in her diary about what would come next: "I want fun. I want fantasy. . . . I want to write a history, say, of Newnham [College] or the womans [sic] movement, in the same vein" (Woolf, Diary). She then wrote her novel Orlando: A Biography (1928), which brings together history and fantasy in fiction. The creative pursuits of its title character, manifest especially in Orlando's long poem The Oak Tree, are at the heart of Woolf's narrative about how perspectives on gender, literature, and the individual subject in culture change across historical periods.
The Orlando Project's founding team chose the title of Woolf's "rollicking, future-embracing" novel as the namesake of the research project and its central product, the born-digital, interactive textbase of original scholarship called Orlando: Women's Writing in the British Isles from the Beginnings to the Present (Brown, Clements, and Grundy, Orlando, Cambridge University Press online, 2006–2018). As explorations of writing by women and its conditions of possibility, both are inspired by Woolf's narrative about gender and literature. The digital Orlando provides interpretations of women authors' nuanced lives and writing in the material and cultural conditions of their times, and it documents attitudes toward such authors and their work that emerged across historical periods. The project and textbase also are strikingly different from Woolf's fiction. The Orlando Project's ongoing work is collaborative, involving many authors rather than one. Conceived by Patricia Clements, Isobel Grundy, and Susan Brown, it has brought together scholars, students, and technical personnel whose interests often include but are not limited to feminist literary history. Since the project began more than twenty years ago, more than 140 team members have contributed to the textbase, ensuring that it is not dominated by a single scholarly perspective. A collection of encoded prose entries about individual authors with varied search options in its interface, its materials can be configured according to each user's choices. It comprises a complex of narratives concerned with topics in literary and cultural history that pushes against notions of siloed authors and discrete movements and periods.
The textbase discusses authors and writing both in and far from canonical centers, with an infrastructure that ensures figures and texts are positioned in relation to each other, in and beyond their respective milieus. Users can conduct searches via authors' names and read individual entries. But they will find more provocative information about intimate and larger-scale shifts and continuities in literary history—and gain a stronger sense of the textbase's interlinked content and dynamic configuration—when they conduct topic searches that provide users with sets of excerpts from entries throughout the textbase. Entries are complemented by a chronology of events, which conveys more information about historical periods, and a bibliography of primary and secondary sources cited by contributors, which situates our work in an expansive body of feminist scholarship and constantly points users to writing that extends outside of the textbase. Content changes regularly, with twice-annual additions and revisions. By mid-2018 Orlando contained more than 8.5 million words and more than 1,300 entries about authors from 612 BCE onward, chronicled more than 30,000 events, and engaged with more than 25,000 sources. It is designed to stimulate understandings of the particularities and larger recurring issues in women's writing while it supports its users' own readings of primary literary and historical texts and their production of new studies.
Our project's logo, an oak tree, pays homage to The Oak Tree written by Woolf's 1928 protagonist and to the digital medium that facilitates the creation of other forms of writing. It gestures particularly at the branching shapes of custom markup schemas, designed by the team at the project's outset, which generate the textbase's content and flexible form.[2] When contributors create entries, they simultaneously write in prose and mark up their prose using the project's semantic tagsets, the expansive, nested set of information categories, or tags, that represent our feminist priorities. The markup schema for writing about authors' lives includes tags for cultural formation, education, occupations, and intimate relationships, among others. The schema for encoding writing about authors' bodies of work includes tags for production, textual features, and reception, with subcategories about such issues as manuscript history, genres, and recognition. Orlando's markup guides contributors' approaches to literary history as they produce entries and, also crucially, enables users' searches for sets of excerpts drawn from across the textbase and their navigation from one entry to another. It is the markup that makes the textbase a distinctive resource. Without a beginning, end, or center with peripheries, it is nonteleological in providing unpredictable, manifold pathways into and through entries. It "makes possible a new, reader-centred model of literary history that does not present a single, linear story: it is formed of thousands of multiply linked and dynamic portions of text which can be navigated, retrieved, and reordered in myriad ways" according to each user's choices (Brown, Clements, and Grundy, "Scholarly Introduction").
In this essay we discuss the Orlando Project and textbase to consider the challenges facing large, long-standing feminist initiatives in DH. We engage with recent observations that are giving momentum to new conversations in the field. Jacqueline Wernimont and Katherine D. Harris have asserted, "It does not seem to us that there has been a sustained inquiry into the evolving relationships between feminist theory and DH work" ("Feminisms and DH"). Roopika Risam has identified "the pressing need to expand the purview of digital humanities scholarship to explore gender through intersectional lenses that include sexuality, race, class, and national context" ("Introduction"). Their apt statements—along with articles in the two journal issues Wernimont and Risam edited and introduced—follow Jamie "Skye" Bianco's argument about the necessity of advancing explicit and wide-reaching feminist work in DH, where she cites Luce Irigaray and Audre Lorde, among others. Bianco writes, "This is not a moment to abdicate the political, social, cultural, and philosophical, but rather one for an open discussion of their inclusion in the ethology and methods of the digital humanities" (Bianco). An analysis of the work of the Orlando Project conveys some of the diversity within the genealogy of DH and the ways in which established processes and texts transform over time. We focus on the Orlando Project's markup as a system of principles closely related to poststructuralist feminist theory, then turn to the pedagogical practices undertaken by the collaborative team that yield the textbase and less tangible intellectual products, which support and inform new literary-historical processes beyond the team.
Finally, we examine the interplay between the Orlando Project's established and new activities, the latter of which we call Orlando 2.0. One of our central concerns in Orlando 2.0, the development of its semantic web ontology poses challenges for the effective representation of varied, changing, even contradictory vocabularies and concepts with contemporary computational systems at the same time that the ontology represents an exciting move toward providing greater access to its knowledge base via a large set of linked open data derived from the textbase's markup. The broadening of the project's contributor base, supported by the use of a new in-browser text markup editor, requires altered approaches to training, peer review, and attribution but offers meaningful opportunities for the inclusion of more diverse scholarly perspectives and alternative sustainability models as the project and the field of DH continue to change.
Markup and Theory
The project's markup is informed by theory written in prose, and at the same time, it communicates with theory. Here, we argue that Orlando's custom markup schemas embody a digital feminist theory. With tagsets for each type of textbase document (Life, Writing, Events), the schemas instantiate the principles that shape interpretations and guide practices in the creation of the textbase (Orlando Project schemas). The two principal tagsets, for Life and Writing, represent the heterogeneity and nuances of women's identities, texts, and related activities. Before contributors produce entries, they learn about how the tagsets prioritize discussions of topics in literary and cultural history, such as education and travel in Life and manuscript history and influences in Writing. Team members then work with the tagsets as they simultaneously write and encode. In total, the tagsets contain 205 tags, 114 attributes, and 635 attribute values. Many tags have their own attributes (which act like adjectives, modifying and making more precise the meaning of the tag) or subtags, which allow project members to encode their prose with greater specificity; members of the team can also write with additional precision by using attribute values. This markup is a guide for the work of contributors, turning their attention to key issues in feminist literary history; it is a conduit by which established approaches to gender, literature, and culture are represented in new, born-digital writing; when users conduct tag searches and click on hyperlinks, they make the markup a tool for navigating the published textbase. Our identification of Orlando's markup with feminist theory aligns with Stephen Ramsey and Geoffrey Rockwell's observations about "the communicative power of the instrumental." They argue that one way "to think of digital artifacts as theories would be to think of them as hermeneutical instruments through which we can interpret other phenomena" (Ramsey and Rockwell). Wielded by the project's research team and its users, the markup conveys a feminist theory of subjectivity in which women's identities and writing are understood to be multiple, substantial, historically and materially contingent, and at times unknown or incongruous with the concepts and language of our time. It demonstrates how theory fosters new forms of critical interpretation and new digital artifacts.
The history of Orlando's text encoding is part of two larger histories: those of digital markup and the integration of feminist theory in literary studies. Its markup was created in the mid-1990s, before the production of textbase entries began, by a team of more than twenty literary researchers with guidance from leading digital humanities scholar Susan Hockey and colleagues such as Julia Flanders and Allen Renear, then with the Women Writers Project at Brown University. It is part of the explosion of interdisciplinary understandings and uses of hierarchical data structures that was stimulated by the first stages of work on the Text Encoding Initiative (TEI) and foundational scholarship in this area, initially on such issues as descriptive markup and the Ordered Hierarchy of Content Objects in scholarly text processing (Coombes, Renear, and DeRose; DeRose et al.). Lou Burnard has observed that markup systems reflect the priorities and research agendas of their creators and users, and identifies one of the most critical functions of markup as its ability to map "a (human) interpretation of the text into a set of codes on which computer processing can be performed." He concentrates on how markup sustains texts' accessibility and stimulates new discussions of them, claiming that it is "nothing less than the vehicle by which the scholarly tradition is to be maintained." Whereas Burnard discusses the implications of encoding formal features of digitized texts, the Orlando Project produced semantic markup for original, born-digital scholarship. But Burnard's argument that "markup theory is . . . at the heart of the humanistic tradition, rather than an incidental technology or an irrelevant appendage to it" ("On the Hermeneutic Implications") is relevant to this project's work. Team members drew from and in certain respects contested the prevailing conception of markup at this time through its insistence on the value of a highly interpretive, politically invested form of knowledge representation as a means of addressing women writers' varied, intersectional lives, their texts, and their related contributions to artistic and social movements (see Butler et al., for example). The creation and use of the CulturalFormation tag exemplify the project's feminist focus. The tag allows contributors to consider and represent the ways that women writers are distinctive and part of social groups, with perspectives and work shaped by their positions in relation to numerous historically constituted identity categories: to encode information about authors' lives, the tag contains such subtags as Sexuality, RaceAndEthnicity, and PoliticalAffiliation. Contributors use whatever combination of Cultural-Formation options is relevant to each author entry, but all entries must contain a discussion of the author's identity using at least one. When users conduct searches via these tags, the system retrieves excerpts from entries containing them, which in turn illuminate the points of contact and difference among authors of varied communities, places, and times. The Orlando schemas enable humanities (if not necessarily humanistic) inquiry in a digital environment by serving as a lens for articulating literary history. Its creators suggest this via one of their metaphors in an early article about the project, published when the markup was complete and textbase entry production was underway. "We want computers to help us to bring together and into focus the complex relationships that inform literary history" (Brown and Clements). Along with other initiatives active from the early phases of DH onward, such as the Women Writers Project, Orlando makes feminist principles and methods central to text encoding.
The creation and use of semantic markup in Orlando are connected to the work of feminist theorists developed outside of digital studies. Its editors link the collaborative project and textbase's structure and content to words on pages, including Susan Stanford Friedman's discussion of the complementary "post-structuralist critique of narrative history and the activist imperative towards creating stories that shape the possibilities from which futures are forged. Orlando takes up her invitation to feminists to engage in 'a dialogic, not monologic, project of writing feminist histories—in the plural'" (Brown, Clements, and Grundy, "Scholarly Introduction"). The production of Orlando's markup was informed by team members' knowledge of successive issues in literary and cultural history, and the textbase contains not only quotations from and citations of its specific primary and secondary sources in author entries but also an implicit intertextual relationship with the work of feminist theorists. Designed to be employed by varied project members who create all entries and appeal to diverse users when they explore the textbase, it positions women as creative agents at the center of literary history and attends to the shifting perspectives on their lives and works. Orlando's markup responds to and advances writing by such thinkers as Luce Irigaray. It extends Irigaray's assertions in "This Sex Which Is Not One" about the plurality within individual women—"We are luminous. Neither one nor two"—and the necessity of understanding that "women do not constitute, strictly speaking, a class, and their dispersion among several classes makes their political struggle complex, their demands sometimes contradictory" (This Sex Which Is Not One). Contrasts are also clear. Irigaray argues that "we haven't been taught, nor allowed, to express multiplicity. To do that would be to speak improperly." Women in society serve as "a medium of exchange, with very little profit to them" (This Sex Which Is Not One). The project's markup addresses pervasive gender inequalities and recognizes the complex significance and visibility of women writers' work in varied locations and historical periods. A juxtaposition of the tagsets with Irigaray's writing begins to suggest the influence of feminist theories of subjectivity on digital studies and intertexts between print and born-digital writing. Orlando's editors explain, "Markup systems can operate as a culmination of, rather than a departure from, recent theoretically and politically informed work in the humanities" (Brown, Clements, and Grundy, "Scholarly Introduction").
The Life and Writing tagsets, with tags that contain attributes and attribute values, enable feminist interpretations of authors' lives, writing, and participation in cultural movements. Two examples suggest this. First, the inclusion of the IntimateRelationships tag in the Life tagset is a statement about the dynamics between identity terms and the lived experiences that affirm and/or contradict them. It creates space for representations of authors' encounters and experiences that can complement issues explored in another Life tag we discuss above, CulturalFormation, where authors' intersectional identities are considered along lines that include sexuality and ethnicity, with attributes to capture information about such issues as current alternative terms for particular categories and whether authors self-defined with them. The IntimateRelationships tag also attends to experiences that are not effectively illuminated by either Sexuality or other Life tags, Family and FriendsAssociates. Its tag attribute Erotic and attribute values EroticYes, EroticNo, and EroticPossibly convey a spectrum of emotional, physical, and intellectual aspects of lived intimacy. IntimateRelationships can be included multiple times in a single entry, or not at all. It can capture aspects of subjects' activities and communities that involve companionship, romance, queerness, chastity, sapphism, domesticity, and separation, as well as discussions of how they resist or complicate such terms. It also can be used to identify contested accounts of intimacy, the lack of intimacy, the absence of information, or incommensurability between sexual identities and intimacies. IntimateRelationships thus conceptualizes personal, historical experiences as diverse, contextualized, open to numerous definitions or no specific definition whatsoever.
Second, the TextualFeatures tag contains the Genre tag with GenreName attribute. The Genre tag and its GenreName attribute are part of the Writing tagset, whose schema is more nuanced and less hierarchical than the Life schema, reflecting the project's attention to simultaneous, overlapping issues in the production, textual features, and reception of authors' works within literary history (Brown, Clements, and Grundy, "Scholarly Introduction"). Designed to foster understandings of how women are always already involved in the development of varied kinds of writing, the GenreName attribute has a list of 246 attribute values that each represent one type of text. These include the bildungsroman, cabaret, commonplace book, computer program, dedication, dream vision, haiku, novel, ode, sensation novel, treatise, and villanelle. The attribute values for GenreName can be used multiple times in any entry to discuss how authors accept and/or transform the conventions of a genre in a number of their individual texts or bodies of work. Multiple tags and their attributes also can be used to encode the discussion of a single text. Evidence, speculation, or controversy about a genre's development can be addressed there and in GenreIssue, a tag designed to capture significant discussions around Genre. The Genre tag's attribute, GenreName, comprises a picklist of attribute values that assert the heterogeneity of texts in literary history. Its use enables interpretations of the presence and significance of types of writing traditionally dominated by women, of the contributions of women to genres whose best-known authors are male, and of the ways all genres change over time because of the work of authors and communities. It also stimulates discussions by scholars who question, for instance, whether its categories conform to male-centered literary and cultural histories (Masters). Though the two tags differ in their flexibility and complexity, IntimateRelationships and Genre are both part of the conceptual core of Orlando that drives the creation of author entries and the ways that users engage with them.
Through Orlando's interface, markup is visible to not only the project's researchers but also its users. A user can explore the tags in the textbase and its paratexts. They can inspire searches that begin on the textbase's homepage, with support from the tutorial for our Tag Search options; they can be seen in all entries if a user clicks the Show Markup and Show Tag Context buttons at the top of any screen; and they are described with illustrated examples from the Life and Writing tagsets in the textbase's documentation and on the project's public website. Users can read sets of excerpts from entries and/or move from one entry to another using the Tag Search option, and in this way they can explore how any tag and its attributes have informed the content of entries. A search for content about intertextual connections among the writing of Radclyffe Hall and others, for example, will yield discussions of the points of contact between the modernist author's fiction and writing by authors in the textbase, including the contemporary poet Jackie Kay. As Figure 22.1 indicates, a user who conducts this search will find a prose excerpt from Kay's entry, detailing the link between her early 1990s poetry and Hall, alongside other results from entries across the textbase. They also have the option of using the screen's Show Markup and Show Tag Context buttons to view the prose in its tagging framework and focus on the interplay between the prose, their chosen tag, and its attributes and attribute values (see Figure 22.2). They can read the markup, use it to move through the textbase in ways that suit their needs, and debate its value in the textbase and its potential to inform the development of feminist literary history. Explorations of Orlando's markup depend on users' understanding of XML; our specific tagging system; and search capabilities of the textbase's interface, which requires users to invest time in reading, at minimum, the textbase's Scholarly Introduction. Reviews of the textbase and informal user feedback continue to challenge us to make Orlando's markup legible to interested audiences who can then leverage it for their in-depth engagement with the textbase. The place of semantic tagging in Orlando indicates how DH projects can create, disseminate, and foster debates in feminist theory and literary history, while it raises questions about the visibility of markup for diverse users.
Orlando's tagsets at once reify and engage with feminist theory, first communicated in printed prose, to produce discussions and interpretations of literary history. Those discussions and interpretations happened initially in the prepublication work of our collaborative team; now they are performed by both the team that continues to update and revise the textbase and the users who forge their own rhizomatic paths by moving through it at will. The schemas, themselves digital texts, offer a system of feminist principles containing component parts that together guide the practices of textbase entry creation and exploration. They shape the Orlando Project team's understanding and organization of the materials they discover in their research and synthesize in the creation of entries. It challenges the textbase's users to set their paths through literary history via its principles. As Alan Galey and Stan Ruecker have suggested in their work on the processes by which prototypes are made and used, "the digital humanities will surely benefit from recognizing the diversity of forms which theories and critical arguments may take." There also is significant value in highlighting digital objects' "intricate and dynamic" elements that are less visible or familiar than other parts of those objects (Galey and Ruecker). Orlando's markup, which is constantly in dialogue with the more prominent and easily intelligible prose of the textbase entries, indicates how theory can be used in digital environments. It suggests how analog forms of feminist theory are generative of digital ones, which operate differently in the dialogical space of encoded textuality which has its own representational specificities.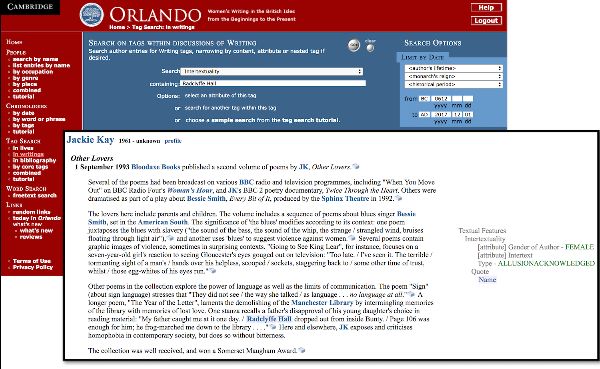 Pedagogy in Collaboration
The Orlando Project's ongoing work includes the collaborative feminist practice in which the team uses its markup to create the scholarly prose of the textbase. Pedagogy is one of its central foci. At an early stage, its editors observed, "In an important sense, [students] are the project" (Brown and Clements). Project members take feminist perspectives to both the cultures they write about and the one in which they work: "We understand gender as cutting across every element of our project, from the time past we are constructing together to the time present in which we are working together to construct it" (Brown and Clements). Their activities are driven by the idea that feminist researchers "need to be not just consumers of technology, but producers of technological tools that suit our aims and methodologies" (Brown, Clements, and Grundy, "Sorting Things In," original emphasis) and the understanding that such production is best achieved by the team, including student members who learn as they employ such tools. The markup is a tool for the creation of new and revised entries, which users explore in the published textbase and connect to their own studies, digital or analog. But before that stage, the markup enriches project members' knowledge of the critical decisions required for the development of literary scholarship as well as the collaborative models for such work.
The Orlando Project's student members are research assistants who work together and with scholars and technical experts on multiple parts of the textbase: primarily the encoded entries, events chronology, and bibliographical database. Since its beginnings, the project has employed seven postdoctoral fellows and approximately 120 graduate and senior undergraduate students based in humanities disciplines at the University of Alberta and University of Guelph. The number of student participants has fluctuated, depending on the project's needs, and has ranged between approximately five and fourteen in any given academic year; they are employed for a minimum of six hours per week for one academic term, though many student participants work twelve hours per week and remain on the team for one or more years. Junior members are taught by and write with senior scholars on the team, who specialize in feminist literary history of several periods, and with a systems analyst and programmer, metadata coordinators, and textbase managers. Their work includes learning about the project's tagging system during their training period, viewing and assessing it when they check entries produced by others, and activating it when they write entries themselves and support newer members of the team.
The project's collaborations bring people of different generations and disciplines together to learn about and create feminist DH scholarship. They comprise a multidirectional apprenticeship model, where participants expand their intellectual interests and skills during and well after their studies. They are in some ways similar to pedagogical models in other environments. Carolyn Shrewsbury sees feminist pedagogy concerned with "community, empowerment, and leadership" in the nondigital classroom and draws on Audre Lorde's arguments about the value of difference: "the sharing of intellectual discovery . . . 'forms a bridge between sharers which can be the basis of understanding much of what is not shared between them'" (Lorde, Sister Outsider, qtd. in Shrewsbury). Empowering differences also drive collaborations in digital contexts. Moya Bailey's study of social media activism by trans women of color is based on her work with her subjects. In her discussion of feminist standards in collaborative digital research, Bailey advises researchers to ask the following questions, among others: "How does everyone benefit from the research? . . . What tools or methods encourage multidirectional collaboration?" ("#transform(ing)"). For Bailey, consent and visibility are crucial elements of collaboration in public fields. Orlando's practices differ slightly from Bailey's, because the project focuses on student learning in academic research settings. Aspects of our work are hierarchical: the textbase's editors determine which authors have entries, but they are open to suggestions based on students' interests; editors review all completed entries before publication, but they also accept revisions to their own work made by students. Though we have begun to work with external contributors, which enables us to strengthen the textbase by drawing on the expertise of more diverse scholars and students, most of the team is based at two Canadian universities. Nonetheless, the team's practices suggest how feminist collaborations can thrive and yield long-term benefits when students make deliberate, sustained contributions to digital scholarship, with compensation and credit for the work they undertake with teachers and mentors to produce resources used by their peers and the public.
The project's workflow is designed around the training and mentorship of students. By being involved in textbase entry production at several stages, students contribute to a digital literary history that prioritizes considerations of gender with the use of "intersectional lenses that include sexuality, race, class, and national context" (Risam, "Introduction"). They acquire the kind of literacy that Tara McPherson identifies as vital to DH. By gaining experience in "systemic modes of thinking that can understand relation and honor complexity, even while valuing precision and specificity," research assistants who contribute to the textbase are able to "engage technology . . . as a productive and generative space that is always emergent and never fully determined" ("Why"). They are participants in an intellectual community based in physical and digital environments, with exchanges happening in real time and asynchronously in the project's online workspace and, crucially, the offices and labs used by project members on both campuses. New project members begin their work during in-person training sessions led by senior scholars with frequent contributions from technical personnel and established student members, where they learn about the questions and goals that continue to animate the project, the features of the custom markup and XML editor used with it, the existing textbase, and the processes and sources with which new textbase entries are created. Their learning continues in and outside of shared work times, as they progress from checking newly written author entries and adding bibliographic entries for publication in Orlando's biannual updates, to the more challenging work of researching, writing, and encoding new entries that suit their interests and may overlap with texts and movements they explore in their own programs. They see the custom markup in use by others, work with it in their entry writing, and sharpen their fellow students' knowledge of it as they gain expertise.
As the textbase grows and other Orlando products develop, students' roles in collaborations are transformative, always emergent. So, too, are the long-term effects of their activities. In her study of early phases of DH scholarship, Amy Earhart observes the disappearance of small-scale, often DIY recovery projects that produced digital texts to counter the effects of canonical sources and perspectives in humanities disciplines, but whose work has been lost because of declining support ("Can Information Be Unfettered?"). The Orlando Project's relative stability has multiple effects on its student participants and users. First, it preserves the textbase contributions of earlier cohorts, which continue to be used by other research assistants and students who encounter them in their courses or library-based research. Students who use the textbase itself not only discuss entries in their own papers but also see a model in which their peers produce writing with experts in their fields for publication by a university press. Second, the project's continuity enables interested research assistants to take on roles that are flexible and evolve over time. For example, one student member joined the Orlando Project as a research assistant when she was an MA student at Guelph and rejoined it as a postdoctoral fellow after completing her PhD at Alberta; a student at Alberta began his work as a research assistant during his MA studies and then became Textflow Manager when he completed his program. Postdoctoral and student members of the team have published articles, edited collections, delivered presentations, and led workshops based on their contributions to the project—working individually and in groups (see, for example, Binhammer and Wood). Team members also leverage the project's sustained training and collaborative opportunities as they gain expertise and power in the academy, publishing, and industry, among other fields. All of these activities advance participants' own intellectual and professional lives and reinforce the project's feminist principles by ensuring that the project has diverse public faces rather than being represented by a single person or generation or discipline.
DH scholars have repeatedly attended to the importance of attribution and compensation of labor in the development of feminist scholarship. Moya Bailey observes the necessity of "find[ing] meaningful ways to compensate [her collaborative] group for their work and time" and "creating more opportunities that challenge the ways that researchers have traditionally compensated and shared in the benefits that come from doing research" ("#transform(ing)"). The contributions of the Orlando Project's team are recognized in varied ways. Members' names and descriptions of their activities are listed on the project's public website and the Credits and Acknowledgements page of the textbase site; the collaborative processes that make Orlando are discussed in the same places. As individuals move forward with their professional lives in and outside of the academy, they use a shared method for describing their roles and writing on CVs and résumés. Student participation is discussed in lectures and published articles by senior and junior members; student members receive financial support when they travel to present papers and posters about the project. Their labor is acknowledged financially through different resources available during the project's several stages to date. Since the beginning of the project the employment of its students, postdoctoral fellows, and technical personnel has been funded by internal and external grants, in-kind support, and publication revenue. The textbase is published by Cambridge University Press, and royalties from subscriptions, with sliding scale rates for individuals and institutions, are fed entirely back into the project, a very different model from open-access, especially crowdsourced, sites that might be built on contributed, unpaid labor.[3] Thus although the Orlando Project's impact, particularly beyond but also within academia, has undoubtedly been limited by the subscription wall, numerous factors pushed the project toward publication with a commercial press. There are pros and cons to this: Orlando has less control over how it is marketed and published (although responsible for technical updates on its bespoke delivery system) but avoids the need to maintain a publication platform or, as with some self-published projects, to administer subscriptions. This also means less direct knowledge of who subscribes to Orlando: the project does not receive lists of subscribers. However, at certain moments when institutional support seemed to falter, the formal publishing agreement between university and publisher has served as a buffer against hasty decisions, and the revenue, although complemented by other sources, provides a cushion against cuts. Meanwhile, we have also pushed toward openness, starting soon after initial publication with exposing the overview screens of all entries and making the entire project open in celebration of Women's History Month each March, during which time usage predictably jumps dramatically, since many institutions and individuals cannot afford subscriptions. More recently, with experiments in linked data and Orlando 2.0, the project continues to work toward greater openness.
This distribution model and the funding connected to it provide resources for the advancement of feminist pedagogy in collaborative scholarship. In her reflections on feminist ethics and politics in data visualization projects, Catherine D'Ignazio points to the value of identifying such initiatives' funders, data-collectors, and the conditions that make their visualizations possible. This approach "reference[s] the material economy behind the data," including the costs and processes that make digital resources available. It thereby fosters understandings of "not just 'what the data says' but [also of] how the data connects to real bodies, systems and structures of power in the wider world" ("Feminist Data Visualization"). The plan from the outset had been to publish with an academic press, and the delivery system work was funded by a combination of a generous advance from Cambridge University Press and funds from the University of Alberta, which was very pleased to commercialize a product of humanities research. Moreover, contributors to the project were convinced that given the unusual nature of the textbase, it was important to credibility to go through a peer-review process, and indeed, such credibility remains important to contributors as we move to broaden our contributor base. The paid research opportunities and visibility of students' participation in the Orlando Project demonstrate the importance of team members' work and show how the published textbase connects to the group of individuals who produce it and the culture to which it belongs. Royalties and grants make these opportunities for training and collaboration possible at the same time that they contribute to the sustainability of existing digital scholarship. Orlando's type of publication, behind a paywall, limits most of the textbase to individual subscribers, members of institutions that subscribe, trial users, and users who access it for free during Women's History Month. The subscription model, however, strongly supports Orlando's accessibility by enabling the long-term survival, maintenance, and expansion of the textbase in ways that benefit the student team members who contribute to it and the users who explore it. This model also inspires us to conduct experiments that will enable greater openness.
Phases of Feminist Digital Scholarship
Large, institutional projects are inevitably shaped by challenges for their continued legitimacy and sustainability. The project's twenty-year lifespan to date can be divided into three distinct phases with a fourth just launching now. A brief overview of those periods can be seen in Figure 22.3.
The initial, grant-funded period of the Orlando Project brought the project legitimacy, as one of the earliest humanities projects to be funded under the Social Sciences and Humanities Research Council of Canada's (SSHRC's) newly established Major Collaborative Research Initiatives Program. This grant for an explicitly feminist project crucially enabled the establishment of a large and predominantly female team of researchers, postdoctoral fellows, a "project librarian" whose role later morphed into metadata coordinator, an average of six to eight graduate research assistants, a technical staff member from the research computing unit, and an administrator. This funding gave the project space to figure out an approach to doing literary history with computers, from the lengthy process of designing our document type definitions (DTDs) to building a back-end production system that would ensure that no one could edit the same materials simultaneously, apply workflow stamps associated with documents, and run various reports to help us clean up the materials. Although the project was not successful in renewing this major grant when the project took longer than anticipated due to the complexity of the technical work, SSHRC also funded individual research grants to each of the project editors that assisted substantially with the completion of the project, which has also since completion received several follow-up grants related to the technical side of the project. Although team members felt that a turn away from feminism was in part responsible for lack of further major funding, the initial major grant and pattern of semiregular support for related initiatives reflect SSHRC's positive track record in funding explicitly feminist scholarship. As with the Canada Research Chairs program, in which increased awards to female and feminist researchers came only after significant critique and lobbying, this pattern reflects significant service by senior women academics.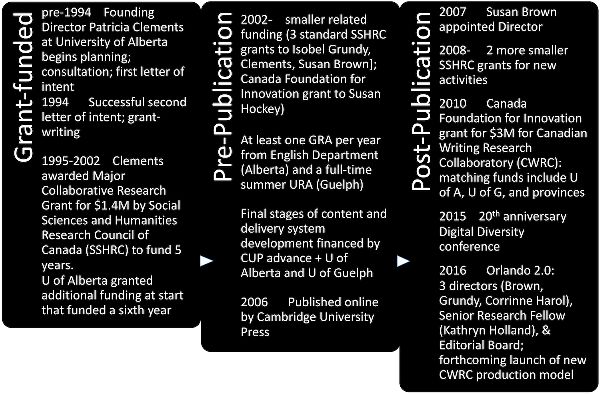 It is noteworthy that there was not a single penny in the initial Orlando Project budget for programming to build a publication interface. We were confident, in those heady early days in which SGML was arriving on the web, that within five years there would be an off-the-shelf solution; indeed, with Electronic Book Technologies' DynaText/DynaWeb, which the team used for some time, and which was seeing uptake by other scholarly projects, it seemed certain that the available software would become both more sophisticated and easier to use (Burrows). However, this was not the case, so while the project's research productivity continued to increase, it became increasingly clear that it would need to find significant unanticipated funds to produce a bespoke delivery system. Once the initial grant funding was exhausted, we were able to sustain activities through a combination of very generous support in the form of continuing research assistant positions from the Department of English at the Universities of Alberta and Guelph and smaller grants; however, this funding was dedicated in large part to the completion of the textbase content, not the front end for web delivery. The delivery system involved not only styling the content but creating a complex search system that could really leverage the project's markup, without which its intellectual innovation would have been unreadable.
Postpublication, founding director and grant holder Patricia Clements was succeeded by Susan Brown. Core textbase research activities have been sustained by the Universities of Alberta and Guelph, which perceive the high pedagogical value of the experience students gain on the project, and revenues from Cambridge. Continued research and writing to expand the textbase settled down to a regular rhythm with a new cohort of research assistants gaining experience of collaborative research and writing annually, and research grants supporting experimental work in visualization and other technical experimentation, activities in dialogic relationship to the textbase and its aims. These range from the development of various experimental tools and interfaces (experiments with the Mandala browser, a Degrees of Separation prototype, and the OVis and HuViz network visualization prototypes) that allows us to explore Orlando content in new environments with affordances that are more in keeping with feminist priorities than are many conventional data visualization practices (D'Ignazio). We are also designing a linked data ontology for representing intersectional identities.
Orlando's data have been incorporated into the work of other projects such as the Women Writers Project, directed by Julia Flanders and now at Northeastern University, and Michelle Levy's Women's Print History Project, 1750–1830, at Simon Fraser University. In such contexts, Orlando's data literally operate differently, within other technological and representational systems, for different ends. Within the Women Writers Project's authoritative collection of textual editions produced using the Text Encoding Initiative (TEI), Orlando's data were sought as secondary or background information on authors. Within this context, much is gained in the linkages to the texts themselves, but something is lost too. The project's bespoke semantic markup and the interface that foregrounds it are replaced by a more general semantic encoding framework, so the intimate relationship between the coproduced markup and the readable text is lost, as are the connections to other writers in the textbase. Likewise, Orlando's bibliographic data within the Print History project will be enriched and differently inflected by a print culture approach, but the shift to a database model means that the texts are divorced from their original semantic and discursive contexts. As indicated, in both these cases, the data were provided directly to the partner projects and then manipulated by them into the state in which they needed them. The synergies glimpsed through these small collaborations intensified the yen for more sustained interlinking and interoperability with complementary projects, which we had been exploring on and off since the turn of the century, including through the short-lived Naming and Other Metadata for Electronic Networking initiative that aimed to interlink a number of projects, and an attempt at a generic application programming interface that proved to be anything but. The project's foray into linked data is aimed to make a body of Orlando data more generally accessible for experimentation and reuse in a range of formats while respecting the terms of the agreement with Cambridge.
Charged with finding modes of sustaining the project, and given the lack of funding streams for sustaining active research projects, Brown turned to infrastructure funding to rebuild the crumbling back-end production system and to respond to the desire of other researchers, particularly in the Canadian literary studies community, for resources similar to Orlando. The Canadian Writing Research Collaboratory (CWRC) project received funding from the Canada Foundation for Innovation, the country's funder of scientific research infrastructure, to extend and update the Orlando Project production system into a more generic platform for digital literary studies. The collaboratory will in turn enable broader participation by the scholarly community in the Orlando Project, substantially changing its mode of production.
The Canadian Writing Research Collaboratory project adopts a sustainability model whose viability remains to be tested, but one whose principles are arguably more consistent with a feminist research ethos than an implicitly competitive model. Drawing on and attempting to implement in its infrastructural design a model of "socialized scholarship" (Brown, "Socialized Scholarship"), it makes the project's sustainability a shared need of a number of DH projects. Resources for sustaining and improving it will, within this model, benefit and assist in sustaining other, often less well-resourced, research projects. These will retain their distinctive project home pages and identities within CWRC (and highly customized interfaces, if feasible) and can scale up or down, be active or fallow, as necessary depending on the circumstances and resources of the project members. Tying the Orlando Project into other projects through a linked open data strategy for interoperability, a shared commitment to pursuing best practices in the creation of digital scholarship, and a common(s) platform pave the way for new relations of production, consumption, and sustainability. These new relations will retain the individual project identities (and support of individual scholarly endeavors) that still ground systems of academic credit, rewards, and resourcing and attempt to move digital scholarship in the humanities beyond silos and solo research. Compromises to such an endeavor include investments of time, constraints flowing from shared data models and standards, and a range of limitations associated with using more generic open-source systems. However, because this infrastructure is an extension of Orlando's structure and builds on its practices, while enabling a wider range materials and types of scholarship, we hope to have been able to mitigate some of those disadvantages.
It is noteworthy that the Orlando Project's relatively long life has proceeded (not without periods of uncertainty) independently of either a faculty-run digital humanities center or a library's digital scholarship center, given that these are generally deemed the best means of ensuring the sustainability of digital projects (Lewis et al.; Lippincott and Goldenberg-Hart; Maron and Pickle). It has benefited at key points from particular conditions and particular decisions. Patricia Clements, founding director, had experience in devising creative institutional solutions. The team members were vividly aware of the wider humanities culture to which they belong. It seems quite clear that the project was unlikely to have fared as well embedded in either a digital scholarship center within a library or within a DH center, given that in either scenario it would constantly have been vying for limited resources with other, newer, projects (Brown, "Community Curation Strategies"). A collaborative platform creates a situation in which sustainability ceases to be a zero-sum game, resources for one project that wants to extend affordances can benefit other projects, and all projects will be buoyed by a rising tide of sustainability.
Orlando 2.0
As the project's activities and its relationships with other initiatives change, so, too, do its collaborative structure and output. Orlando 2.0, the newest phase of the project announced at the twentieth-anniversary celebrations at the Digital Diversity conference in 2015, requires new approaches to training, peer-review, and attribution and offers exciting possibilities. The CWRC platform will house Orlando and make its Canadian content (a small portion of the whole) openly available as part of its experiments with interlinking and interoperability.
The CWRC platform will allow the project to shift from in-house training and drafting of entries to call on the wider community of scholars on women's writing to help add new entries and keep existing content current. It links and offers within a single web environment the tools needed to draft, revise, or update Orlando entries, and allows us to track contributions and the state of entries in progress. There will be considerable challenges in this new phase. For instance, although the tools are accessible, the learning curve will still be quite steep given the complexity of the tagging, and we will not have the benefit of face-to-face training. However, we have evidence both from reviews and informal feedback that the scholarly community is eager to collaborate to sustain and improve Orlando. To accommodate this shift and a new community of users, in addition to developing tools for collaboration, we are working to minimize gruntwork, to allow contributors to focus on the intellectual effort. So we are developing a tool for automatically recognizing and tagging entities such as names, places, organizations, and literary titles that will reduce repetitive markup and allow for quality control. We also recognize the need to credit not only collaborative contributions to individual entries but also work across numerous entries to improve the whole. The two visualizations shown in Figure 22.4 represent two types of contribution, leveraging the tags that track contributions to entries. They are produced by a prototype of a Credit Visualization (CV) tool that will be built into the CWRC environment, and are a direct legacy of the Orlando Project's commitment to finding innovative methods to further transparent collaborative models for digital scholarly production.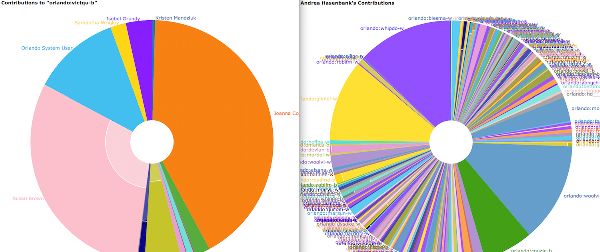 As mentioned above, the project is also embracing open data, in large part because we think it provides a means of representing the project's feminist understanding of literary history while interacting with other representations and conceptions of the world. In our case, this means releasing, for free use with attribution, a large set of prosopographical information about women's writing derived from Orlando's semantic encoding, along with a tool to explore it. In exploring the utility of this strategy and the kind of inquiry it can support, we have extracted hundreds of thousands of such triples from the Orlando textbase that we will be releasing as an open dataset (Brown and Simpson, "From XML to RDF"). This large set of triples, or subject-verb-object statements, plus an associated ontology that governs the relationships between entities, represents an exciting move toward providing broader access to the Orlando Project's knowledge base and a new phase in the project's exploration of the potential of computational work for feminist inquiry. CWRC interlinking between diverse projects relies on a Linked Open Data strategy that is based on uniquely defining entities (whether these are people, organizations, literary works, places, or items in the CWRC repository) and connecting them to each other with simple subject-verb-object statements, or triples.[4]
Ontologies in many ways capture the tension between being and becoming, monumentality and provisionality, that we are investigating. Although invoked in a social science context as providing a basis for situated feminist inquiry (Stanley and Wise), in humanities disciplines such as philosophy and literary studies, the term "ontology" smacks of the gender essentialism that feminist initiatives such as the Orlando Project have sought to dismantle, and seems on its face to suggest a decontextualized and ahistorical conceptualization of female "being." Yet it is on the knife-edge between these two epistemological frameworks that the Orlando Project has always balanced, both insistently identifying particular historical subjects as female and insisting on the situatedness of gendered roles and behavior. The ontology, which grows out of the markup developed for and embedded in the textbase, is being written out of a recognition of the significant challenges involved in representing the complex subjectivities, such as that of the composite writer Michael Field (Brown and Simpson, "Curious Identity"), that a feminist literary history seeks to analyze and represent. An ontology necessarily departs from a markup-oriented mode of knowledge representation (Brown et al., "Between Markup and Delivery") and moves into the uneasy space of engaging with ontologies that may not be commensurate with the Orlando Project. For instance, what are the implications of linking to other ontologies with different methods of handling diverse aspects of subjectivity, whether the language-neutral but certainly not culturally neutral ISO/IEC 5218 codes for the representation of human sexes (values: 0 = not known; 1 = male; 2 = female; 9 = not applicable), or to the Muninn Ontology for personal appearance such as skin color that is in some ways incommensurate with but related to Orlando's method of tagging race or ethnicity (Warren)?
While still in a state of becoming at this early stage, it is clear that an Orlando ontology would ideally never be fully formed, but able to remain dynamic, in a state of flux. Particularly once the contributor base and likely also the types of contributions broaden, differences will inevitably arise in how to represent the knowledge of the project effectively. Although dynamic ontologies still represent significant challenges technically, their potential seems to offer greater fluidity and ability to accommodate difference than standard markup structures. That said, the particular focus on the representation of sex, gender, sexuality, and other identity categories included in Orlando's CulturalFormation tagset, and the extent to which we refused to adopt fixed vocabularies for those categories, will pose significant challenges for creating machine-processable and interoperable representations of complex historical subjects even within a Linked Open Data (LOD) environment. We've come to the conclusion that it will be key not only to make the ontology available but to expose it and provide means of exploring it, ideally in conjunction with the data themselves, so that scholars using it can understand the extent to which their experience of the materials is shaped by the ontology. There also looms the very large question of whether the extreme granularity of semantic web data risks falling into the "lenticular" logic coined by Tara McPherson ("Why") by analogy with the visual technology that allows you to see one part of a picture from one angle and another from another angle, but never the two simultaneously despite their conjoined materiality. McPherson sees such logic as crucial to the management of race and other identity categories in postwar culture and as implemented by most contemporary computational systems. Certainly much of our experimentation to date with LOD has ended up using quads rather than triples so that we can track provenance information crucial to attribution and to linking from abstractions or visualizations to the original of the text so that that specific and local are not lost. We are investigating the extent to which feminist principles are in tension with LOD.
The Orlando textbase has been categorized variously: as an archive by Wernimont ("Whence Feminism?"), a database by Masters ("Women's Ways"), and as a textbase by its founders: "while Orlando resembles a standard alphabetical reference work in electronic form, its structured text means that its material is systematically interrelated and can be probed, traversed, and grouped" in ways that foreground "myriad links among authors, their historical moments, they pasts and their futures" (Brown, Clements, and Grundy, "Scholarly Introduction"). It is also still regularly mistaken as an archive of primary texts, reflecting the extent to which the history of the field has a lock on our conception of what scholarly resources can be and do. But as Woolf proclaimed in her Orlando, regarding the fulfillment of all forms of human curiosity and desire, "may there be more forms, and stranger" (Orlando). Others responding to the textbase have moved beyond academic genres to liken it to Judy Chicago's art installation The Dinner Party (Fraiman) or a Choose Your Own Adventure novel (Hickman). We hope to have demonstrated that our Orlando, which set out to do literary history, is not one, in several senses. It is literary history that went astray in becoming digital and in so doing becoming something other than what we typically understand by the term "literary history." It does not look, act, or read like a literary history because its narrative is not one, but many, whether we are talking about the multiple paths that a reader may take through the text; the petits récits (Liu) or multiple narratives provided by the entries, which make what Alison Booth terms a collective biography, and place the individual in tension with and relationship to the collective (How to Make It); or the continuous dialogue between the text and the tags that structure it. It shows us feminist theory, lost in amaze at digital media's still unplumbed potential for representing diversity and complexity in the past. As it enters its next phase, the Orlando Project continues to reach out, a challenge in this still siloed digital ecosystem, in hopes of enabling new forms of collaborative process that will allow us to aggregate, link, explore, and read across the wealth of materials produced by the collectivity of feminist digital scholars.
Notes
Bibliography
Bailey, Moya. "#transform(ing) DH Writing and Research: An Autoethnography of Digital Humanities and Feminist Ethics." Digital Humanities Quarterly 9, no. 2 (Spring 2015). Accessed November 5, 2015. www.digitalhumanities.org/dhq/vol/9/2/000209/000209.html.
Bianco, Jamie "Skye." "This Digital Humanities Which Is Not One." In Debates in the Digital Humanities, edited by Matthew K. Gold, 96–112. Minneapolis: University of Minnesota Press, 2012.
Binhammer, Katherine, and Jeanne Wood, eds. Women and Literary History: "For There She Was." Newark: University of Delaware Press, 2003.
Booth, Alison. Collective Biographies of Women. University of Virginia. http://womensbios.lib.virginia.edu.
Booth, Alison. How to Make It as a Woman: Collective Biographical History from Victoria to the Present. Chicago: University of Chicago Press, 2004.
Brown, Susan. "Community Curation Strategies: Orlando 2.0 and the Canadian Writing Research Collaboratory." Modern Languages Association Convention, Austin, Tex., January 7–10, 2016.
Brown, Susan. "Socialized Scholarship: It Starts with Us." English Studies in Canada 36, no. 4 (December 2010): 9–12.
Brown, Susan, and Patricia Clements. "Tag Team: Computing, Collaborators, and the History of Women's Writing in the British Isles." TEXT Technology 8, no.1 (1998): 37–52.
Brown, Susan, Patricia Clements, Renée Elio, and Isobel Grundy. "Between Markup and Delivery; or Tomorrow's Electronic Text Today." In Mind Technologies: Humanities Computing and the Canadian Academic Community, edited by Ray Siemens and David Moorman, xxxiii–xlii. Calgary: University of Calgary Press, 2006.
Brown, Susan, Patricia Clements, and Isobel Grundy. "'The Most Unaccountable of Machinery': The Orlando Project Produces a Textbase of One's Own." In Interdisciplinary / Multidisciplinary Woolf: Selected Papers from the Twenty-Second Annual International Conference on Virginia Woolf, edited by Ann Martin and Kathryn Holland, 209–24. Clemson, S.C.: Clemson University Press, 2013.
Brown, Susan, Patricia Clements, and Isobel Grundy. Orlando: Women's Writing in the British Isles from the Beginnings to the Present. Cambridge: Cambridge University Press online, 2006–2017. orlando.cambridge.org.
Brown, Susan, Patricia Clements, and Isobel Grundy. "Scholarly Introduction." Orlando: Women's Writing in the British Isles from the Beginnings to the Present. 2006. orlando.cambridge.org.
Brown, Susan, Patricia Clements, and Isobel Grundy. "Sorting Things In: Feminist Knowledge Representation and Changing Modes of Scholarly Production." Women's Studies International Forum 29 (2006): 317–25.
Brown, Susan, Patricia Clements, Isobel Grundy, Stan Ruecker, Jeffery Antoniuk, and Sharon Balazs. "Published Yet Never Done: The Tension between Projection and Completion in Digital Humanities Research." Digital Humanities Quarterly 3, no. 2 (Spring 2009). Accessed 29 January 2016. http://www.digitalhumanities.org/dhq/vol/3/2/000040/000040.html.
Brown, Susan, Jana Smith Elford, Michael Bauer, Jennifer Berberich, and Jonathan Cable. "'Elevating Influence': Victorian Literary History by Graphs." Victorian Institute Journal Digital Annex 38 (2010). Accessed January 29, 2016. http://www.nines.org/exhibits/Elevating_Influence.
Brown, Susan, and John Simpson. "The Curious Identity of Michael Field and Its Implications for Humanities Research with the Semantic Web." Proceedings of the Big Data 2013, Big Data and the Humanities Workshop, Santa Clara, Calif., October 8, 2013.
Brown, Susan, and John Simpson. "From XML to RDF in the Orlando Project." International Conference on Computing and Culture, Kyoto, Japan, September 16–18, 2013.
Burnard, Lou. "On the Hermeneutic Implications of Text Encoding." In New Media and the Humanities: Research and Applications, edited by Domenico Fiormonte and Jonathan Usher, 31–38. Oxford: Humanities Computing Unit, 2001.
Burrows, Toby. "Using DynaWeb to Deliver Large Full-Text Databases in the Humanities." Computers and Texts 13: 15–17.
Butler, Terry, Sue Fisher, Greg Coulombe, Patricia Clements, Isobel Grundy, Susan Brown, Jeanne Wood, and Rebecca Cameron. "Can a Team Tag Consistently? Experiences on the Orlando Project." Markup Languages: Theory and Practice 2, no. 2 (Summer 2000): 111–25.
Canada's Early Women Writers. Simon Fraser University. http://content.lib.sfu.ca/cdm/landingpage/collection/ceww.
Canadian Writing Research Collaboratory. cwrc.ca.
Canadian Writing Research Collaboratory CWRC ontology. https://github.com/cwrc/ontology.
Cohen, D. J., and Tom Scheinfeldt. Hacking the Academy: New Approaches to Scholarship and Teaching from Digital Humanities. Ann Arbor: University of Michigan Press, 2013.
Coombes, James H., Allan H. Renear, and Stephen J. DeRose. "Markup Systems and the Future of Scholarly Text Processing." Communications of the ACM 30, no. 11 (1987): 933–47.
DeRose, Stephen J., David G. Durand, Elli Mylonas, and Allen H. Renear. "What Is Text, Really?" Journal of Computing in Higher Education 1, no. 2 (Winter 1990): 3–26.
D'Ignazio, Catherine. "What Would a Feminist Data Visualization Look Like?" MIT Center for Civic Media, December 20, 2015. Accessed January 29, 2016. https://civic.mit.edu/feminist-data-visualization.
Earhart, Amy. "Can Information Be Unfettered? Race and the New Digital Humanities Canon." In Debates in the Digital Humanities, edited by Matthew K. Gold, 309–18. Minneapolis: University of Minnesota Press, 2012.
Fraiman, Susan. "In Search of Our Mothers' Gardens—With Help from a New Digital Resource for Literary Scholars." Modern Philology 106, no. 1 (August 2008): 142–48. https://doi.org/10.1086/597254.
Galey, Alan, and Stan Ruecker. "How a Prototype Argues." Literary and Linguistic Computing 25, no. 4 (2010): 405–24.
Hickman, Miranda. Review of Orlando. Tulsa Studies in Women's Literature 27, no. 1 (2008): 180–86.
Irigaray, Luce. This Sex Which Is Not One. Translated by Catherine Porter. Ithaca, N.Y.: Cornell University Press, 1985.
Leuner, Kirstyn. "Markup Languages." In Johns Hopkins Guide to Digital Media, edited by Lori Emerson, Ben Robertson, and Marie-Laure Ryan, 324–25. Baltimore, Md.: Johns Hopkins University Press, 2014.
Levy, Michelle. "Women's Print History Project: 1750–1830." Accessed November 3, 2016. https://michellenancylevy.wordpress.com/research/womens-print-history-project-1750-1830/.
Lewis, Vivian, Lisa Spiro, Xuemao Wang, and Jon E. Cawthorne. Building Expertise to Support Digital Scholarship: A Global Perspective. Washington, D.C.: Council on Library and Information Resources, 2015.
Lippincott, Joan K., and Diane Goldenberg-Hart. "Digital Scholarship Centers: Trends and Good Practice." CNI Workshop Report. Coalition for Networked Information. https://www.cni.org/wp-content/uploads/2014/11/CNI-Digitial-Schol.-Centers-report-2014.web_.pdf.
Liu, Alan. The Laws of Cool: Knowledge Work and the Culture of Information. Chicago: University of Chicago Press, 2004.
Lorde, Audre. Sister Outsider: Essays and Speeches. Trumansburg, N.Y.: Crossing, 1984.
Maron, Nancy L., and Sarah Pickle. "Sustaining the Digital Humanities: Host Institution Support beyond the Start-Up Period." Ithaka. http://www.sr.ithaka.org/publications/sustaining-the-digital-humanities/.
Masters, Christine. "Women's Ways of Structuring Data." Ada: A Journal of Gender, New Media, and Technology 8 (2015). Accessed January 29, 2016. https://adanewmedia.org/2015/11/issue8-masters/.
McPherson, Tara. "Why Are the Digital Humanities So White? or Thinking the Histories of Race and Computation." In Debates in the Digital Humanities, edited by Matthew K. Gold, 139–61. Minneapolis: University of Minnesota Press, 2012.
Orlando Project. University of Alberta and University of Guelph. www.ualberta.ca/orlando.
Orlando Project schemas. GitHub. https://github.com/cwrc/CWRC-Schema/tree/master/schemas.
Ramsey, Stephen, and Geoffrey Rockwell. "Developing Things: Notes toward an Epistemology of Building in the Digital Humanities." In Debates in the Digital Humanities, edited by Matthew K. Gold, 75–84. Minneapolis: University of Minnesota Press, 2012.
Risam, Roopika. "Introduction: Gender, Globalization and the Digital." Ada: A Journal of Gender, New Media, and Technology 8 (2015). Accessed January 27, 2016. https://adanewmedia.org/2015/11/issue8-risam/.
Shrewsbury, Carolyn M. "What Is Feminist Pedagogy?" Women's Studies Quarterly 15, no. 3/4 (Fall–Winter 1987): 6–14.
Stanley, Liz, and Sue Wise. Breaking Out Again: Feminist Ontology and Epistemology. 2nd ed. London: Routledge, 1993. Print.
Terras, Melissa. "Crowdsourcing in the Digital Humanities." In A New Companion to the Digital Humanities, 2nd ed., edited by Susan Schreibman, Ray Siemens, and John Unsworth, 421–38. Oxford: Wiley Blackwell.
Warren, Robert, and Adriel Dean-Hall. "Appearances Ontology Specification—0.1." http://rdf.muninn-project.org/ontologies/appearances.html.
Wernimont, Jacqueline. "Introduction: Feminisms and DH." Digital Humanities Quarterly 9, no. 2 (Spring 2015). Accessed November 1, 2015. http://digitalhumanities.org/dhq/vol/9/2/000217/000217.html.
Wernimont, Jacqueline. "Whence Feminism? Assessing Feminist Literary Interventions in Digital Archives." Digital Humanities Quarterly 7, no. 1 (Winter 2013). Accessed March 8, 2015. http://www.digitalhumanities.org/dhq/vol/7/1/000156/000156.html.
Women Writers Project. Northeastern University. http://www.wwp.northeastern.edu.
Women's Print History Project, 1750–1830. Simon Fraser University. https://michellenancylevy.wordpress.com/research/womens-print-history-project-1750-1830/.
Woolf, Virginia. The Diary of Virginia Woolf: Volume 3, 1925–1930. Edited by Anne Olivier Bell and Andrew McNeillie. New York: Harcourt, Brace, 1980.
Woolf, Virginia. Orlando: A Biography. New York: Harcourt, 2001.