Accounting and Accountability
Feminist Grant Administration and Coalitional Fair Finance
Danielle Cole, Izetta Autumn Mobley, Jacqueline Wernimont, Moya Bailey, T. L. Cowan, and Veronica Paredes
Yea, I can't do this anymore if the money isn't more efficient. This is the uncomfortable reality. I am poor. I make $25k a year at most for 2 adults while I'm disabled and my roommate is looking for work but is struggling in a racist police state to find work with a record.
This $750 was a month of rent that was spoken for. When taking the job, I did so with the idea that id have the money no later than 2 weeks after completing the work. I cannot afford to do any work that doesn't pay in a timely way. I have already borrowed $300 from my mother who is borrowing money from her mother and told her I'd be able to pay her back last week. Maybe that was irresponsible. But I work jobs where I get cash in hand or get paid no more than two weeks later for services rendered. So I literally am too broke to be doing this shit. Like, I'm checking my mailbox every day for this shit and I'm still sending paperwork? That's not ok at all. Especially when we are talking about ethics and work and research.
I would also suggest not to invite any other poor black femmes until they can resolve this issue and make payment quicker and more effective.
—Danielle Cole
Increasingly, grants targeted toward digital scholarship, pedagogy, and inquiry favor projects that demonstrate a commitment to building connections between scholars and "the community." The Digital Media and Learning (DML) grant we were awarded called for projects that "can enhance learning opportunities but privacy and safety must be protected, affective connected learning environments require systems, tools, and policies that foster trust for networks of learners of all ages as well as for parents, mentors, and educators" (HASTAC). However, the granting structures rarely account for accountability to "the community," especially in the ways that the finances of the grants are administered. We have encountered multiple barriers to successful coproduction and engagement. In this short chapter, we discuss the challenges of trying to do antiracist, coalitional feminist work in the context of nonfeminist institutional structures: specifically, structures governed by fiscal, rather than feminist, logics. While work of scholars like Christine Borgman, Patrik Svensson, Tanya Clement, and Lynne Siemens, among others, have considered existing and future infrastructures for collaborative digital scholarship, few have taken us through the full life-cycle of a grant project that involves nonacademic partners as well.
Digital production–based scholarship work requires collaboration for many reasons. Since there are so many different kinds of skills required to produce most digital work, scholars often collaborate with developers, designers, software engineers, writers, artists, and other content-producers and community partners working outside the university environment who produce critical intellectual work in order to make work that is interesting and responds to the needs of our political and intellectual worlds. Similarly, feminist scholarship has long histories of collaborating across different skill sets, social and economic locations, and backgrounds in coalition- and affinity-oriented research, creation, and activism. Our current focus on contemporary digital feminist scholarship finds so many of us working collaboratively, and funding these collaborations through grants that are administered through various structures of academic and governmental financial accounting. When we are awarded grants, it is never the case that the money simply gets deposited into our bank accounts for us to spend as we see fit.
Rather, when we are awarded a grant, the money is generally entrusted to an institutional oversight structure, usually administered by nonfaculty staff within the university or college. The university or college becomes accountable to the grant-issuing organization for the legal distribution of funds. The grant holder must continually prove the legality of spending through the provision of receipts, invoices, tax information, and so on. Grant holders are expected to be accountable to the grant-administering structure, but often that accountability flows in only one direction. The onus of responsibility falls completely to the research team to demonstrate good faith with respect to the terms of the grant. Grant holders are required to provide evidence of legal spending by producing the required paper trail so that if the grant is ever audited, everyone's ass, especially the ass of the institutional accounting department, is well covered.
How Many People Does It Take to Pay a Collaborator?
As part of the Digital Media and Learning Competition–funded project, first known as Addressing Anti-feminist Violence Online and later as the Center for Solutions to Online Violence (CSOV), we worked with several individuals and groups to produce content to be shared online. The CSOV is "a virtual hub for a distributed community working to address the myriad forms of violence women and femmes experience in digital spaces. . . . We seek to ensure that women and femmes who participate in our connected culture do not have to trade physical and psychological security for access to digital resources and communities" (CSOV).
We set up a communication chain that ran across two large institutional infrastructures (Arizona State University [ASU] and University of California, Irvine [UCI]), through our grant team of six and to social media content producers, artists, and activists. We had nearly twenty different individuals or groups that we paid for content creation and production, and the people involved in getting those people paid included three members of the project team at three different institutions, ten different staff members at ASU, two staff members at DML, and two people at UCI. That means that for any one payment, as many as seventeen people might be involved along the way. That is an infrastructural nightmare just waiting to happen.
The CSOV created and collected materials to serve four stakeholder groups: (1) survivors of online violence, (2) educators, (3) journalists, and (4) people interested in "doing better" in relation to their own roles in perpetuating online violence and harm. One of the unique features of this work was a series of materials that outlined online research ethics and proposed responsible uses of social media content in research, teaching, and journalism. This included the "Power and Respect" handout, which featured the "Respect Wheel" and the "Power and Control Wheel"; together, these two illustrations delineate what enacting digital violence looks like and what practicing digital respect entails. They were designed by a subset of our team called The Alchemists, including Bianca Laureno, I'Nasah Crockett, Maegan Ortiz, Jessica Marie Johnson, Sydette Harry, Izetta Autumn Mobley, and Danielle Cole. Designer Liz Andrade illustrated their original design into powerful graphics. Moya Bailey and T.L. Cowan created "Research Ethics for Social Media in the Classroom" guidelines, and we held a series of online kitchen-table workshops on research ethics which we then compiled into a Research Ethics, Social Media and Accountability video series with workshop facilitators Alexandrina Agloro, micha cárdenas, Dorothy Kim, Joss Greene, Izetta Autumn Mobley, and Veronica Paredes. We also published a series of blog essays, Journalism, Social Media and Ethics, by Jamie Nesbitt Golden and Monique Judge, and Mikki Kendall's graphic novel Paths, which is geared toward a young-adult readership learning about respectful and disrespectful social media practices, image circulation, and privacy. CSOV student interns Sarah Goodman and Raquelle Potts worked with Wernimont to collect and organize hundreds of key terms with definitions, resources, and site-specific tools.
Throughout the process of this project, the people involved worked to talk about and be attentive to the realities of money. We wanted to be mindful of those in the project who have less access to money, who would be vulnerable to delays because they are not employed full time and getting a livable wage on a regular basis. A foundational premise of this project was to interrupt the imperialist, entitled, extractive norms of "community-based" research and to produce reciprocal benefits among all members of the research team (Bailey, "All the Digital Humanists," "#transform(ing)DH"; Moreton-Robinson; Smith). Collectively, we tried to build a collaborative framework structured by accountability across people of very different incomes and emphasizing moving resources into the hands of the folks who were often not paid for their work in creating and sustaining womanist, Black feminist, trans, Latinx, queer, and antiviolence culture and politics online.
It is important to note that all of us involved in this project understand ourselves to be womanists and feminists. As such, we believe that our relationship to the privileges that come with being connected with academia requires a critical relationship to these institutions. However, the degrees to which we are comfortable and even able to present these critiques are varied. We did agree that we wanted to direct as much of this money toward the communities most affected, those being women and femmes of color. It is well documented that Black and Latinx women make substantially less than white wage-earning men. More than that, research shows that Black and Latinx families amass considerably less wealth than white families (AAUW; SPLC; Temple and Tucker). Nevertheless, our collective agreement, however well intentioned, was not enough to mitigate the power structures of both the academic industrial complex (AIC) and the grant industrial complex (GIC). We were (and still are) working inside institutions and bureaucracies that do not necessarily share our commitments.
This reality caused harm to those who were waiting for money for basic living needs. It also created harm for some of our administrative colleagues who were working hard to ensure that we could advance this project but who themselves were subject to legal and institutional barriers and even ridicule (some of our business staff were laughed at for advocating on behalf of grant budget–approved payments) by those with more authority or power. While the project and our team were committed to preventing harm, we found that negative affect and precarity ran through our entire network. We do not want our experience to dissuade anyone from doing important work. We do, however, want people to be aware. We have some hard-won insights about the upper- and middle-class fiscal temporalities that set university and other institutional accounting policies, as well as how to keep money on the table and keep it moving in the direction you want it to be moving. Universities are not set up to pay money to people who don't already have money.
Money is important. For folks who have never been poor, who have never had bad credit or no access to credit, no access to family financial backup, or other middle- and upper-class experiences of money, this might be difficult to keep in mind. Sums of money like $50, $250, $750, or $1,000 have a larger impact on quality of life for people who are poor or low income, as many graduate students, artists, activists, community organizers, adjunct faculty, and other paid collaborators are. While some folks in our collaborative group are professors and experience the stipends they get for giving talks, or doing additional collaborations, as "extra" money on top of an adequate and regular salary, many folks who are getting paid by grants experience this money as necessary for living expenses like rent, food, childcare, and paying the bills. It means that people are relying on you and the infrastructure at your institution to get paid as soon as possible. It means that while a fully salaried faculty grant holder might file the paperwork as part of a busy workday and not think about it again, the person who is getting paid is checking their mailbox every day hoping that the check will come. One way to be accountable for this difference is for the financial liaison and/or grant holder to set calendar reminders to check in with the progress of check processing or to ask that you be sent a notice when the check goes out. Set a notification for yourself around the time that the check is supposed to be issued and follow up with the accounts payable office if you have not received a "check sent" notification. Working across class differences is a massive challenge for feminist coalitional projects. Financial accountability at the level of economic fairness and expediency is a feminist issue. Sure, a grant holder's final report to the granting agency requires an awardee to be accountable about who got paid and for what. But feminist accountability needs to attend to how fast people got paid and if they got paid fairly for the often extra time that is required for feminist collaboration—all the emails to follow up on a project, all the energy it takes to keep responding well after a project was supposed to be over. Professors' salaries vary and particularly, for those of us who are women, queer, people of color, and in nonscience disciplines, our salaries are even smaller than faculty salaries on average. Additionally, many of us live on a nine-month pay schedule, which means we are working on a tight budget in the summer months. Even though we had considered ways to bypass the bureaucratic structures of our institutions and pay people directly (thus taking on the wait to be reimbursed ourselves), we were unable to do so because of our own financial limitations. This process reminds us that even with the relative privilege of a salaried professorship, capitalism is still limiting our ability to do what is fair and right.
A grant application is a fantastical document. It asks applicants to imagine a fully funded future, to enter a rhapsodic dream about what can be done with all of that "support." It is unwieldy; it asks applicants to predict budgets before they know what funding might be available. Grant applicants produce a mystical kind of contract that binds applicants into a materially real engagement. When we dream up a plan for funding to support collaborative community-based scholarship, it is necessary to at first see only possibility: The things we could do with $100,000.00! But through bureaucracy, that $100,000 is quickly whittled away when you try to give people the compensation that their hard work and experience deserve. The trick is figuring out how to do the work of administering grants in a way that anticipates and sees through the cloaked fiscal logics of the corporate university, which prioritize accountability to the accounting department above all else, and navigate these accounting structures in order to build and sustain projects that are accountable to our communities, coalitions, and networks. Because the requirements of these accounting systems often change during the course of a grant and because the material realities of the people relying on the grant funds as livelihood are often urgent, grant holders often find that they are not able to perform the magic of making it all work all of the time.
Grants operate by business and fiscal logics that are often not easily reconciled with the social justice framework that many feminist grant holders try to use when engaged in the work of collaborative digital scholarship and activism. Grant applications ask us to know in advance how every penny will be spent. They do not account for process-centered collaborative research in which projects change based on new information, new experiences, and the always shifting needs or knowledge of the collaborative research community. Upper- and middle-class fiscal temporalities of academia come from a place of privilege, in that they assume that conditions will remain consistent and predictable rather than when you are working with marginalized communities and people who are often in situations where life is not as predictable or consistent.
While we were talking about money and making money as an issue within our group, we still ended up in multiple situations where the payment of this money was delayed for weeks or months due to institutional barriers—regulations that meant we could not make out payments in people's court-ordered, documented new legal names because the IRS records did not match, new sets of forms being introduced partway through our grant cycle, and/or proliferating forms to be filled out for onetime payments—creating crisis situations, as in the epigraph to this chapter by Danielle Cole, for the folks who were counting on this money for rent, food, and other necessary life-sustaining materials.
The administrative slog required other women, specifically, women of color, to labor—often putting in inordinate hours—to complete the work of payment to marginalized contributors. The structural positioning of women of color within the corporate neoliberal university produced an enhanced oppressive dynamic, in which often disempowered women of color in administrative positions were responsible for addressing system failures that prevented other marginalized women of color from being compensated. Patricia Hill Collins's matrix of oppression is a useful framework under which to think about digital and economic marginalization of women of color. This leads us to inquire as to what such power dynamics tell us about the structure of disenfranchisement. Certainly it suggests that structures of oppression are deeply embedded. Thus, feminist scholars doing community digital humanities work must think about undoing the very system in place to sustain the work, in order to do the work ethically and without doing further harm to those marginalized members who are laboring to produce knowledge: What are the currencies of academia, and how are those qualitatively different (and perhaps unusable) to those producing knowledge at the margins?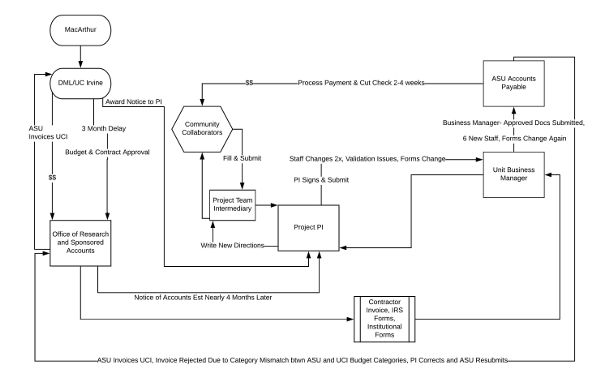 As Figure 4.1 shows, the network of grant administrative labor includes the grant holder(s), the granting agency and all the people who make the granting and administrative decisions, the IRS, each collaborator who needs to get paid and all of the people in their worlds who rely on that payment, every business manager, accounts payable staff, and other administrators who process the paperwork, and the universities or colleges that are paid to administer grants on behalf of the granting agency. This network is connected through communication systems (primarily email messages and file attachments) that are often unreliable, unsecure, and prone to generate misunderstanding. For example, sensitive personal data like social security numbers, birth dates, and mailing addresses could be lost or accidentally circulated to incorrect recipients. The number of people in the process can lead to misunderstandings, including when the forms will be completed and when payment can be expected.
Here we offer some ideas about how to do community-based work in ways that attend to both the accounting and the accountability of grant administration informed by feminist coalitional praxis and process:
1.

Consult previous grant holders with insider knowledge of the specific grant to which you are applying.

Reach out to previous grant holders that have been

funded by this organization. What are the previous grant holders' experiences of the administrative aspects of the grant? How smoothly or quickly did the money flow? What is the reporting structure like? Do previous grant holders have any advice for the best way to administer one of these grants? Do they have any advice for the best way to pay collaborators with the funds from this grant? Evaluate, with yourself and your team, the likelihood that this grant will help you reach your goals of collaboration and coalition. If it seems unlikely, do not apply for the grant.

2.

Talk with the administrative and accounting staff at your institution who will be handling the money.

Set up a meeting with the person in charge of faculty research grants and reimbursements in your department. Remember that administrative staff members are answerable to accounting structures and that they get in trouble if your paperwork is incomplete or inaccurate. Find out how many levels of oversight the paperwork will need to go through before checks will be issued. Ask what grant paperwork usually gets returned so that you may anticipate these setbacks. Be aware of the conventions that affect spending categories at your home institution and use those consistently in your budget. Find out the most efficient way to file receipts, to bundle grant transactions. You can also ask this trusted staff member the following: Which kinds of expenses are the easiest to process, or the most challenging? What can you do within the structure of the grant, and throughout its duration, to ensure that checks will be issued and sent out as quickly as possible? What is the average timeline you can anticipate? What are the shared best practices? And what are the most frequently encountered challenges? Ask if it will be possible to create a petty cash account for the grant in order to have more direct and quick use of the funds. Finally, be considerate in your interactions with this colleague throughout and document your communications when submitting paperwork.

3.

Meet with colleagues at your university or institution who have administered grants in your department or institution.

Talk with senior faculty and other funded researchers in your department or affiliated groups to find out if they have suggestions about how to navigate the financial accounting system at your home institution. What are the problems that other faculty have encountered in getting their grant monies processed and research collaborators paid? What have been successful strategies for getting checks issued for stipends and reimbursements quickly? What timeline do other faculty report from date of sending in paperwork to date of checks being issued? Find out what to do when paperwork gets delayed and how to track the paperwork through the process.

4.

Create a research team that reflects the womanist and feminist values of your project.

When you are imagining your grant-leadership team, remember that this team needs to include folks who are doing the community-based work

that your grant seeks to fund as well as folks across the different kinds of economic realities that will be involved in the project. This includes graduate students, since grad students often have a very clear sense of the systemic blockages in the administering institution. Have as many people as possible look over your grant's budget before you submit it.

5.

Identify a member of your team to be the financial liaison for the grant.

Rather than the principal investigator of the grant taking on the research leadership as well as the accounting leadership, include a second person from the administering institution who will handle all of the money. Make sure this person has a good relationship with the financial officers who will be processing payment requests. Ideally, this is a paid position budgeted within the grant itself. Be aware that within the lifespan of a grant, forms and procedures for getting people paid may (or are likely to) change. The grant's financial liaison or project manager should check in with the departmental financial officers to make sure everything is still up-to-date and that you are giving your paid collaborators the correct paperwork to fill out. Ideally you can pre-fill some of the fields (such as university department) or highlight which fields need completion for folks filling out the forms. Keep in mind that lots of people do not have printers at home, so if your university requires an original signature, this may pose a problem and you might want to mail hard copies of the forms. If you are paying people whom you are bringing to campus, set aside some time during the visit to let folks fill out the paperwork while on site.

6.

Be realistic about the disbursement of grant money and get people paid on time!

It is often not clear when a grant is being drafted exactly who the paid collaborators will be. If possible, have detailed conversations about what payment is fair for the work of the project, and discuss how the payments will be made. When an invitation is made to a collaborator who will be paid for work on the grant, make sure to indicate the outside (longest) timeframe within which the payment will be made after the work is complete. Make this clear

in the initial invitation.

In most universities, unless you are able to ask for funds in advance, it usually takes

eight weeks

to go from submitting paperwork to a departmental financial officer to the check actually arriving in the mailbox of the paid collaborator. Some university payment systems track the process for you, and so payment updates can be sent to paid collaborators, but this is a rare case. Usually, once you have sent the paperwork off, it becomes difficult to trace, and it is only after eight weeks, when the check has not arrived in your collaborator's mailbox, that you realize there is a problem. Find out if there is a way to track the progress of the payment, and make a note in your calendar to do this throughout the process. This can be part of the terms of reference for the grant's financial liaison or project manager (who, ideally, is not the PI [principal investigator]).

7.

Develop a plan for dealing with confidential and sensitive information.

Sending confidential information like social security numbers over email can be a dodgy business. You can offer to get that information over the phone, or you can set up a secure or encrypted document transfer through Dropbox or a payroll anonymizer. Keep in mind that for lots of people, filing forms is stressful. A "straightforward" relationship to finances, names, and economic transactions is a privilege enjoyed by very few folks. Form-filling stress and complicated relationships with economic transactions are often generated by personal histories of poverty and racialized financial surveillance and criminalization. Sometimes it is because you are undocumented or because of a precarious labor status in the country you are working in, that is, international students and other workers, or because your name registered with the governmental tax agency is not the same name that you use in everyday life. These are all factors that impact the network of grant administration. As the grant holder is the intermediary between people getting paid and the people processing the payments, it is the grant holder's job to work across the network, and to build understanding between these nodes. For example, if a paid collaborator's name is different from that person's tax name, you can make this transaction less complicated by asking the collaborator for a letter that confirms the collaborator's tax name. When a grant holder provides this documentation to the administrative staff, the grant holder/PI can have that conversation without requiring the collaborator to defend themselves against the accounting structures that are always on the lookout for "fraud." When you are already precarious, you are more likely to be accused of trying to rip off the system.

A grant holder's job is to make this system work for paid collaborators.
Creative Networks and Feminist Finances
Rather than discourage you from applying for grants, what we want to leave you with is that community partnerships are worth the work required to produce equitable relationships. Community partnerships are a central part of the work we do. The AIC and GIC make this process exceedingly difficult but not insurmountable. You can hack the system. If you work with a team, start early, and get creative. We know that even with all of this planning the institution will still try thwart your efforts. In those cases, it is important to communicate honestly with your collaborators. But beyond learning to navigate the rigid system as it exists, we are reenergized and reminded of the need for completely different systems.
A particularly troublesome dynamic is that there are a myriad of gatekeepers, including ourselves, between communities and the resources they need. Given the chart in Figure 4.1, our task is to clear the way between our collaborators and the resources they need. Additionally, we must design research projects in such a way that the outcomes are mutually beneficial for all parties involved. Our efforts require new relationships with granting organizations that do not require the massive administrative red tape that keeps people outside the AIC from the compensation they earn.
Beyond reforming the system that exists, our experience highlights the need for a complete reimagining of funding structures. What would it mean for granters to trust collaborators and communities with money up front? What would it mean for money to move differently, going directly from the funders to the collaborators and skipping the university bureaucracy altogether? Current tips and answers to frequently asked questions focus on the federal regulations, like the nondiscrimination and federal drug-free workplace guidelines offered by the National Endowment for the Humanities. Similarly, foundations tend to offer guidelines only on fiduciary responsibility, which is not the same as responsibility to a community and/or collaborators. Such information underlines the bureaucratic operations and their relative nonengagement with the realities of communities without other stable financial support.
The ground game for community partnerships is fundamentally different from that of large institutions. We hope that our experience and our closing thoughts can be the beginning of a conversation with funding agencies and a seed for what we hope you might look for in your future partnerships.
Bibliography
American Association of University Women (AAUW). "The Simple Truth about the Gender Pay Gap." n.d. https://www.aauw.org/research/the-simple-truth-about-the-gender-pay-gap/.
Bailey, Moya. "#transform(ing)DH Writing and Research: An Autoethnography of Digital Humanities and Feminist Ethics." Digital Humanities Quarterly 9, no. 2 (2015). http://www.digitalhumanities.org/dhq/vol/9/2/000209/000209.html.
Bailey, Moya Z. "All the Digital Humanists Are White, All the Nerds Are Men, but Some of Us Are Brave." Journal of Digital Humanities 1, no. 1 (2011). http://journalofdigitalhumanities.org/1-1/all-the-digital-humanists-are-white-all-the-nerds-are-men-but-some-of-us-are-brave-by-moya-z-bailey/.
Borgman, Christine L. Scholarship in the Digital Age: Information, Infrastructure, and the Internet. Cambridge, Mass.: MIT Press, 2007.
Center for Solutions to Online Violence (CSOV). FemTechNet.org. http://femtechnet.org/csov/.
Clement, Tanya L. "An Information Science Question in DH Feminism" Digital Humanities Quarterly 9, no. 2 (2015). http://digitalhumanities.org:8081/dhq/vol/9/2/000186/000186.html.
Collins, Patricia Hill. "Black Feminist Thought in the Matrix of Domination." In Black Feminist Thought: Knowledge, Consciousness, and the Politics of Empowerment, 221–38. Boston: Unwin Hyman, 1990.
Earhart, Amy, and Andrew Jewell, eds. The American Literature Scholar in the Digital Age. Ann Arbor: University of Michigan Press, 2011.
"Grant Management: Individuals." National Endowment for the Humanities. https://www.neh.gov/grants/manage/individuals#all-awards.
HASTAC. "Trust Challenge—Building Trust in Connected Learning Environments: DML 5." HASTAC, 2015. https://www.hastac.org/trust-challenge-building-trust-connected-learning-environments-dml-5.
"Managing Grant Funds." Mellon Foundation. https://mellon.org/grants/grantmaking-policies-and-guidelines/grantmaking-policies/managing-grant-funds/.
Moreton-Robinson, Aileen. The White Possessive: Property, Power, and Indigenous Sovereignty. Minneapolis: University of Minnesota Press, 2015.
Siemens, Lynne. "'It's a Team If You Use "Reply All"': An Exploration of Research Teams in Digital Humanities Environments." Literary and Linguistic Computing 24, no. 2 (June 1, 2009): 225–33.
Smith, Linda Tuhiwai. Decolonizing Methodologies: Research and Indigenous Peoples. 2nd ed. London: Zed Books, 2012.
Southern Poverty Law Center (SPLC). "Injustice on Our Plates." Southern Poverty Law Center, n.d. Accessed December 4, 2017. https://www.splcenter.org/20101107/injustice-our-plates.
Svensson, Patrik. "From Optical Fiber to Conceptual Cyberinfrastructure." Digital Humanities Quarterly 5, no. 1 (2011). http://www.digitalhumanities.org/dhq/vol/5/1/000090/000090.html.
Temple, Brandie, and Jasmine Tucker. "Equal Pay for Black Women." National Women's Law Center (blog), July 27, 2017. https://nwlc.org/resources/equal-pay-for-black-women/.
Zeller-Berkman, Sarah. "Building Connected Credentials: What We Learned from Trusting Each Other and Youth Voice." HASTAC (blog), September 30, 2016. Accessed December 4, 2017. https://www.hastac.org/blogs/sarah-zeller-berkman/2016/09/30/building-connected-credentials-what-we-learned-trusting-each.