Placeable: A Social Practice for Place-Based Learning and Co-Design Paradigms
Aaron D. Knochel and Amy Papaelias
As a four-year residential public university located in New Paltz, New York (a small college town in the Hudson Valley), SUNY New Paltz prides itself as a welcoming and inclusive community. With many academic programs rooted in social justice and political activism as well as student organizations committed to promoting cultural diversity, students and faculty openly engage in complex dialogue regarding issues of race, gender, ability, and identity politics. As Art Department faculty, we built curriculum in conversation with intersectional identities and initiated through a design process that augments the campus geography as a social space. We used intersectionality to highlight how sociological systems of oppression are interdependent and create "intersections" representative of multiple forms of discrimination (Knudsen 62). Intersectional constructs of society posit complex navigations of an entangled social and political life. We felt compelled as faculty to engage students in exploring concepts of intersectionality through their art and design work as a strategy to spark dialogue and respect difference within our campus community. In this chapter, we present the construction of a "placeable" curriculum (see Figure 34.1) that explores intersectionality through place-based knowledge and creates dynamic but fleeting social provocations for mobile computing.
Our case study reviews recent curriculum developed through collaborations between the two of us: Knochel, a faculty member in Art Education, and Papaelias, a faculty member in Graphic Design. This case study demonstrates how social practice interfaces with design strategies for interactive media. In this context, social practice is derived from contemporary performative art and design work that is engaged within a community context. We refer to our curricular conception as "placeable," or a place-based approach to education particular to art and design. Place-based education is an extension of eco-humanist traditions of the late twentieth century that sought to align issues of sustainability and civic engagement (Ball and Lai 262). It emphasizes community resources, ecological thinking, and active citizenry (Sobel 2004). Placeable is a derivative curricular approach that focuses on three core constructs: seeking place-based knowledge to incorporate community assets that are relevant to the arts and humanities, using connective mobile making to allow for on-site rich media production, and employing co-design strategies to engage in critical intervention. Placeable activates interaction design, qualitative research methods, and community asset mapping to intersect humanities inquiry with making practices. In this sense, mobile making is less a practice of crafting tactile objects and more a practice of designing experiences through digital materials: design involving geolocation technologies, mobile interfaces, and visual systems, for instance. Our case study is not about digital products. It focuses on a curricular approach to engender critical making as a co-designed social practice. In what follows, we develop a backdrop by reviewing work from 2014, explore placeable's three core constructs as principles of a curricular approach, and then present two examples of student work from 2015. We offer insights into the complexities of social practice and higher education, not in a predetermined curricular structure, but as co-design paradigms within the pedagogical spaces of the university classroom and campus that position art and design in the broader context of making.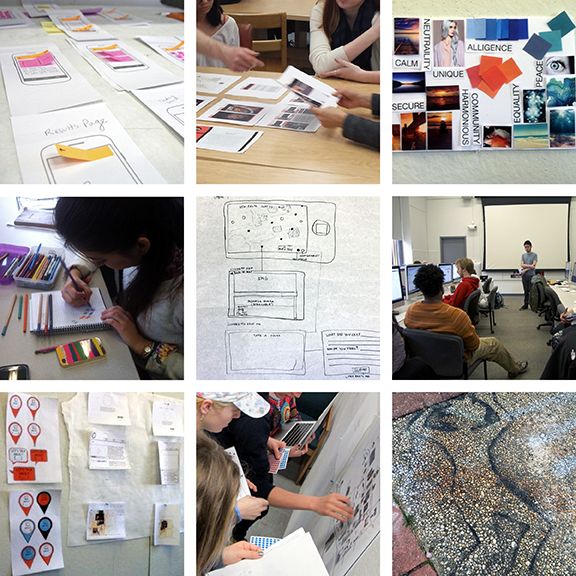 Finding Our Place:
Let's Talk About . . .
Project from Spring 2014
In 2013 and 2014, two heinous acts of racist tagging within campus buildings provoked the campus community to respond with a one-day symposium called Let's Talk About It, which brought together over 300 students, faculty, and staff (Newman 2013). Inspired by the symposium, in spring 2014 undergraduate students enrolled in Art Education and Graphic Design courses developed a website and digital map that documents historical and current events surrounding race and cultural and social identity on campus.[1] The art education course, Learning in Digital Visual Culture, is a 300-level lecture course that explores the historical, cultural, and social implications of using technologies as both learning opportunities and artistic media. Critical thinking occurs in this context when "students have greater opportunities to discover, interrogate, and analyze the links that exist between the object of their study and the broader social world that informs their object of study" (Taylor 2). The graphic design course, Interaction Design, is a 400-level design studio that focuses on user-centered design practices for screen-based environments through project-based instruction. Over six weeks, two groups of students worked separately, developing content and interfaces in the following activities.
Developing Content
Sixteen art education students began collecting data related to the central question, "How can place-based knowledge inspire dialogue on issues of race and identity on the SUNY New Paltz campus?" Our place-based pedagogy engaged students by "teaching the local . . . paying close attention to local students' interests and by examining texts, artifacts, and performances of local cultural production" (Ball and Lai 261–62). As a practice that engages social contexts and politics, art education connects experiences in making art to local cultures and activities (Darts 6–12). As a method to access local cultural production, we examined student organizations as access points to understanding diversity on our campus. While initially focused on race, issues of diversity and identity intersected with issues of sexuality, gender, culture, and social interests. We used a participatory asset mapping methodology[2] to gather information about student organizations via participation in events, member interviews, and photography. In this initial phase, students noticed that our approach occluded historical events from our investigation, and so data gathering expanded to include historical and recent events. Additionally, students proposed a range of art interventions involving public performance and community engagement relating to our central research question. Conducted in small groups, our data gathering was then brought into collaborative mapping sessions where students physically mapped historical, recent, and interventionist events onto a printed map with colored stickers. Once the physical map was created, we charted pins onto a Google map using the multimedia (e.g., digital images, website links, videos, and sound files) that was collected.
Interface Design Process
Eight students in the Interaction Design course engaged in a user-centered design approach to develop the project's information architecture and visual components through iterative and reflective design processes (Mao et al. 105–9). Students built the information architecture — the underlying structure for how users move through the website — through wireframing, paper prototyping, user personas, and storytelling. Wireframing allows quick iterations on structure and flow to ensure the site is organized and easily navigable. Paper prototyping involves the construction of a paper model of the site to perform quick user testing. Students wrote personas of fictional users and how they might engage with the site. Storytelling and personas keep users at the forefront of the students' processes. Meanwhile, the visual components — the graphical user interface (icons and visual identity as well as color and typography) — inform the content in meaningful ways. Creating an appropriate visual language, one that honors the content and provides an engaging experience, is paramount to the design process (Bringhurst 2012). Students began by developing mood boards: layouts created with images, text, color swatches, and textures that represent an emotion or feeling of the overall visual direction. Mood boards are a common method of exploring early visual approaches within a design, communicating the overall tone and visual direction without focusing on the specifics of information architecture. A semiotic analysis of icon and layout designs examined common symbols used to signify controls (e.g., "play," "exit," or "wifi" icons) as well as how visual trends (e.g., flat versus skeuomorphic design) impact user experience. Digital prototyping combined the visual elements with the site's information architecture to refine a functioning prototype.
User feedback sessions focused on the prototype brought together students, faculty, and staff from Sociology and Black Studies. Participants' anonymous feedback and discussions from the feedback sessions were incorporated into the final functional website. These interactions between students and potential users of the site produced lively conversations about not only the interface and user experience but also the project's use of the term "diversity." Session participants wondered about the potential of the project to affect race relations on campus and lead to greater dialogue. Important considerations were raised, including expanding user contributions, ongoing content moderation, and the challenge of deployment within a mobile context.
In reflecting on this initial project, important modifications needed to be implemented. First, we needed a more concerted logistical effort to create time and space for collaboration. We co-designed the curriculum, but the limited opportunities for our students to work together hampered the overall results. As faculty, we perceive shared dispositions of co-design practice between education and design. These dispositions place a high value on the contributions of users, students, and audiences to the realization of outcomes and the relevance of making. However, art education and design students perceive their contributions from disciplinary positions. Ultimately, then, our goal was to encourage students to experiment within a transdisciplinary environment where no one lays claim to full authorship. Second, conceptualization of the central inquiry needed more input from design teams to propel more nuanced research, methods, and implementation. A more fully realized negotiation of the affordances of mobility and computing may impact how interaction and user experience are conceived and place-based learning is realized within a community. Third, our initial catalyst event focused on dialogues about race, but our project evolved to capture a more diverse array of identity positions reflecting the realities of intersectional discrimination. Our students began with race as an entry point to our community dilemma. However, during our asset mapping activities, issues of gender, sexuality, ability, and socioeconomic status populated our mapping in ways that extended dialogue beyond race as the only marker or identity. In future work we opened our investigations to this full range of intersectional identities to broaden the possibilities of placeable projects.
Taking a Position: Three Core Constructs for Placeable Curriculum
After iterations in 2013 and 2014, we formed three core constructs that guide placeable as both a curricular approach and critical design methodology. They are:
Seeking Place-Based Learning to Incorporate Community Assets That Are Relevant to the Arts and Humanities
The potential for accessing local cultural producers and community involvement is important to place-based learning initiatives in the arts and humanities. Our particular interest is in how mobile computing can involve community members in socially engaged exchanges. Mobile computing may also engage learners in research beyond the institutional classroom and create a rich data corpus for co-design practice.
Our approach to the intersection of design education and place-based learning involves currents of critical practice associated with three distinct fields: critical pedagogies in visual culture (Tavin 197–213), critical design (Dunne and Raby), and critical geography (Bauer and Engel-Di Mauro 2008). Historically, antecedents may be found in Guy Debord and the Situationist International's use of psychogeography for a "study of the precise laws and specific effects of the geographical environment, whether consciously organized or not, on the emotions and behavior of individuals" (Debord 23). Moving beyond the Situationist performative practice of navigating an unfolding geography and human psyche, we are intrigued by the layers of virtual and physical embodiment afforded by a range of "volunteered" geographic information (Goodchild 2007). We use mobile computing as an interface with place. It augments and articulates social relation with place to form situated knowledge that is both social and technological (Elwood 2008). Importantly, this interface is significant for design practice, as it values data and visual phenomena. As art and design educators, our orientation is grounded in making visual culture, and through the placeable curriculum this aesthetic practice is layered with power dynamics of the seen and unseen (placed or unplaced). Longitude and latitude are coordinates of finite possibility, but placeable advances a critical reflexivity in the arts and humanities that is mindful of power, place, and community assets.
Making Connective Mobile Interfaces That Allow for OnSite Rich Media Production
Mobile making may integrate place-based assets into projects and increase student participation and engagement. Examples such as ARIS, an augmented reality gaming platform, demonstrate this growing potential. Whereas ARIS relies on game-based approaches, placeable focuses on cultural phenomena to enhance on-site experiences and invite participation through rich media production. Placeable invests in making mobile interfaces within a specific community context.
Media theorists have been critical of the cultural biases and limitations of programmable objects such as videogames (Bogost 2007) and image editing software (Manovich 2013). We share this critical position with respect to mobile infrastructures. In this context, making requires an ability to navigate larger ecosystems of hardware and software that come with a range of attachments and determinations. Mobile applications especially shape how a specific group may access a project in a particular place. Access depends on the parameters and contextual needs of communities as well as technologies. Within the continuum of art education's role in critically investigating the creation of objects and contexts for those objects, we believe that art students should develop practices of critical digital making (Knochel and Patton 2015) that traverse both the visual culture of mobility and the procedural rhetoric (Bogost 2) of operating systems.
Employing Co-Design Strategies to Engage in Critical Intervention
Critical interventionist art and design practices that engage with communities through co-design strategies inform our development of environments. Placeable situates mobile technology as a site for investigating and engaging complex social issues.
Interventionist art and design practices activate political and social issues beyond the walls of the gallery or museum. The 2004-05 Massachusetts Museum of Contemporary Art exhibition, The Interventionists: Art in the Social Sphere, surveyed the interventionist practices of artists and collectives working in the late-twentieth and early-twenty-first centuries. These artists and collectives distinguished themselves from earlier political art movements through their "relatively lighthearted mixture of subversion and humor and [their] favoring of the dialogic over the declamatory" (Demos 228). We introduced our students to several interventionist collectives and artworks, including Thomas Hirschhorn's The Gramsci Monument (2013), Lisa Orta's Refuge Wear City Interventions (1993–98), Michael Rakowitz's paraSITE (1998), and Natalie Jereminjenko's Environmental Health Clinic. These examples inspired them as they brainstormed ways to situate issues of campus culture, intersectional identities, and social dynamics within their projects.
Generally, art and design students are accustomed to working independently toward refined design deliverables or a resolved artwork; they are less familiar with collaborative and co-design strategies. In the context of placeable, co-design strategies:
• provide political and social capital for stakeholders to have a voice in the design process;

• break down barriers of designer/user, creator/audience, maker/thinker, and student/teacher; and

• commit to collaboration as a process of refinement, revision, and reflection.
To this end, the project introduces students to thinking beyond disciplinary boundaries and toward critical making. We subscribe to Ratto's (2011) definition of critical making as "an act of shared construction, joint conversation, and reflection" (253). Placeable and the resulting work are less concerned with building refined, functional solutions than with a collaborative process of research, iterative prototyping, and discussion that functions as "a site for enhancing and extending conceptual understandings of critical sociotechnical issues" (254). We bring together design and art education students to explore these sociotechnical issues.
Our Place, Your Space: A Proof of Concept in Mobile Media and Intersectional Identities
Building upon lessons learned from work in 2014 — namely, to give more attention to the affordances of mobile computing, meaningful collaborations, and open inquiry into a wider array of subject positions that constitute intersectional identities — we focused our spring 2015 project, with two entirely new groups of students, on designing a proof of concept rather than a functioning application. Considering our time constraints, we committed early on to the ideation of projects over more robust prototyping. During a five-week period, our classes met bi-weekly for 90 minutes, and we ensured our class meetings overlapped. Divided into small groups, students collaboratively explored issues surrounding mobile media, identity narratives, and critical interventions in place-based learning environments. During class discussions, we presented students with projects, artists, and designers divided into distinct but related categories: Creative Mapping, History and Heritage, Art and Design Tactics, Games and Augmented Realities, Current Events, and Storytelling. These resources helped to cultivate student work. Our exploratory focus generated ideas, provoked investigations of possible platforms or technical capacities, and employed design methodologies such as wireframing, mood boarding, and interface prototyping to make student thinking visible. Students developed a co-design research process by collaboratively devising their central inquiry, gathering data, developing a proposal and prototype, and providing possibilities for implementation. The deliverables of the project included a public presentation about the group's process and research, a visual interface prototype, and a short promotional video or one-page website explaining the purpose and ambitions of the application.
We also asked students to make collaborative structures that would inform their decisions and allow them to share the burden of the unknown. Team roles, including project manager, user experience designer, content producer, and research director, were clearly defined at the beginning of the project, allowing each student to own specific tasks while still being responsible to teammates for all components of the project. By articulating team roles, we tried to formulate collaboration as a learned skill: a set of performances that can be catalyzed, nurtured, and contested within boundaries that build accountability. As Papaelias often remarked in class, "Life is a group project."
In addition to small group collaboration, we established three formats for feedback and development: peer review, mentor critiques, and interdisciplinary faculty critiques. Critiques are long-established pedagogical tools in the art and design making process, and our students are very familiar with them. Peer review happened informally as well as during critiques, with feedback provided on draft presentations and promotional media. Mentor critiques happened in almost every class session, as we spent time meeting with groups, reviewing project progress, and tracking time-management components. These mentoring sessions were vital in challenging students to engage with intersectionality as a critical framework for our focus on place and community. Certain students questioned the efficacy of mobile applications in having an impact on discrimination. The ubiquity of apps provided a rationale for potentially affecting discrimination (Grant 2014), but the question of relevancy was positioned as a design challenge. Interdisciplinary faculty critiques invited faculty and staff from English, Computer Science, Psychology, Instructional Technology, and the Sojourner Truth Library to provide thoughtful suggestions to students on in-progress work. As reflexive actions occurring regularly within the iterative process of making, critiques supported students' work to increase rigor and enable persistence in the refinement of their ideas, the synthesis of data, and the capacity to incorporate important conceptual aspects into the project outcomes. This style of group focus and constructive feedback is common to critiques in the creative process and would benefit making in disciplines beyond the arts. We therefore advocate for its use in the humanities.
In total, eight groups worked on proposals exploring difference through intersectional subjectivity using mobile affordances ranging from specialized social media platforms to mapping social and cultural geographies. The following is a summary of two projects from spring 2015 that balance placeable's three core constructs and capture the breadth of student interests and investigations.
Case 1: Mobility Map
Summary: a campus navigation app intended to help locate accessible routes and identify trouble spots in buildings and walkways
In Mobility Map, campus terrain is a site for engaging issues of accessibility. Students proposed a mobile application that allows users to identify accessible routes and mark inaccessible spots on the campus map in order to arrive at their destination on time. Users can pinpoint places on campus where they found inaccessible buildings or classrooms and post personal stories and tips to the community. Inspired by previous coursework in disability studies, the group's research process included gathering building attributes related to campus accessibility. The students created a visual survey of main stairways, doors, and building access points, visually documenting situations that present access issues. Students also developed a survey that posed general questions about accessibility on campus. While the survey was not distributed due to time constraints, the process of survey design led the group to communicate with our local disability resource center and begin to learn about the ethical involvement of human subjects in qualitative research. The process also helped the group to produce content for the final proof of concept.
Students used InVision, a digital prototyping tool for rapidly generating functioning prototypes of mobile and web applications. With an interactive digital prototype, the group was able to test basic functionality around campus on mobile devices. This process led them to identify interface design problems that would have been difficult to discover without an interactive prototype. For example, some buttons needed to be resized to accommodate different hand sizes, colors needed to be aligned with recommendations from the Americans with Disabilities Act (ADA), and the legibility of instructions and other text needed to be increased for reading while en route to a destination.
With Mobility Map, students engaged in a co-design practice within the context of a place-based project and leveraged community assets such as campus maps, course schedules, surveys, discussions with the campus disability resource center, and photo-documentation of campus walkways to design a concept for a mobile application that seeks to increase accessibility on campus. Their conceptualization not only facilitated an active community mapping of the campus but also afforded users with opportunities to critically intervene in how community members with a range of mobilities traverse it.[3]
Case 2: Tag It
Summary: a social media app that encourages dialogue on street art and vandalism within the local community
Tag It explores issues regarding public art, acts of vandalism, and community action through critical interventionist art practices. The students began their concept as a way to map and discuss racist acts of vandalism on campus. As their conversations and explorations into interventionist art practices expanded, they became interested in the applications of user-generated media for engaging the local community in place-based discussions about the tenuous position of graffiti and street art. The students were specifically interested in what and who determine whether something is street art or vandalism.
Tag It creates dialogue about public art and the subjective nature of labels such as "street art," "vandalism," and "graffiti." When users are in the local community and encounter a public work they want to share or discuss, they can "tag" it with geospatial and descriptive metadata (a geotag and hashtag, respectively). When another user comes upon a tag, they will receive a mobile device notification allowing them to view and comment on the public work. Tag It creates a geo-cached dialogue that is activated in context and expands conversation about the visual culture that fills our shared environment. Critical interventionist practices that rely on public discourse informed the group's development process. User testing uncovered how gray areas surround dichotomies of art and vandalism in public spaces. As the group further refined their concept, the interface design needed to reflect the complexity of these polarizing definitions and incorporate a place for debate about these topics.
Place Making: Speculative Design and Mobility
Placeable exists on a continuum between ideas and designed interactive spaces. In some instances, the process is akin to speculative design: using a design process to imagine the interface of objects, environments, and social entities (DiSalvo 2012). In spring 2015, we strategically underemphasized technical implementation to focus on engaging inquiry: enhancing concepts around critical intervention and mobility over a functioning project. We learned that speculative design is powerful even when it stops short of a working product. Within the constraints of undergraduate education, not worrying about whether a prototype works allows for a stronger emphasis on inquiry, co-design frameworks, and community-based design. Implementation may come later.
And implementation may never end. Since these projects were completed, the tumultuous discourse of intersectional identities that populate university campuses has only become more prevalent. As placeable projects find new expressions in curriculum and proof of concept explorations, we continue to locate tensions for critical practice in art and design learning. Intersectionality, interaction design processes, and interventionist art practices inform our collaborative pedagogy. Under the three core constructs — seeking place, making mobile interfaces, and employing co-design — our recommendations may transfer to a broader set of disciplines that explore the performances of mobile computing as they relate to conceptions of space and politics. Co-design is part of making a curriculum, interface, or archive of historical documents. Well-developed hierarchies of teacher/student and designer/user persist within our home disciplines of art education and graphic design. Questioning these power structures could have broader implications for design and making. As a practice across disciplines, placeable offers evidence of how approaches to social understanding in the arts and design can benefit collaborative strategies in the humanities and beyond.
Notes
2. See Burns, Paul, and Paz.
3. Mobility Map became the senior project for one of the group's graphic design students, who further pursued the design and development of a functioning application.
Bibliography
ARIS. http://arisgames.org.
Ball, Eric L., and Alice Lai. "Place-based Pedagogy for the Arts and Humanities." Pedagogy 6, no. 3 (2006): 261–87.
Bauer, Harald, and Salvatore Engel-Di Mauro. Critical Geographies: A Collection of Readings. Kelowna, Canada: Praxis, 2008.
Bogost, Ian. Persuasive Games: The Expressive Power of Videogames. Cambridge, Mass.: MIT Press, 2007.
Bringhurst, Robert. The Elements of Typographic Style. Seattle, Wash.: Hartley & Marks, 2012.
Burns, Janice C., Dagmar Pudrzynska Paul, and Silvia R. Paz. Participatory Asset Mapping: A Community Research Lab Toolkit. Los Angeles: Advancement Project and Healthy City, 2011. http://communityscience.com/knowledge4equity/AssetMappingToolkit.pdf.
Darts, David. "Art Education for a Change: Contemporary Issues and the Visual Arts." Art Education 59, no. 5 (2006): 6–12.
Debord, Guy. "Introduction to a Critique of Urban Geography." In Critical Geographies: A Collection of Readings, ed. Harald Bauer and Salvatore Engel-Di Mauro, 23–28. Kelowna, Canada: Praxis, 2008. Originally published in Situationist International Anthology, translated by Ken Knabb. Berkeley, Calif.: Bureau of Public Secrets, 2006.
Demos, T. J. "'The Interventionists: Art in the Social Sphere'; Mass MOCA." Artforum International 43, no. 3 (2004): 228.
DiSalvo, Carl. "Spectacles and Tropes: Speculative Design and Contemporary Food Cultures." The Fibreculture Journal 20 (2012): 109–22.
Dunne, Anthony, and Fiona Raby. "Critical Design FAQ." www.dunneandraby.co.uk/content/bydandr/13/0.
Elwood, Sarah. "Volunteered Geographic Information: Future Research Directions Motivated by Critical, Participatory, and Feminist GIS." GeoJournal 72 (2008): 173–83.
Goodchild, Michael F. "Citizens as Sensors: The World of Volunteered Geography." GeoJournal 69, no. 4 (2007): 211–21.
Grant, Nichole. "The Anitracism App: Methodological Reflections for Theory and Practice." Critical Literacy: Theories and Practices 8, no. 1 (2014): 20–32.
Hirschhorn, Thomas. The Gramsci Monument. Bronx, N.Y.: Forest Houses, 2013.
The Interventionists: Art in the Social Sphere. North Adams, Mass.: Massachusetts Museum of Contemporary Art, 2004–05.
Jereminjenko, Natalie. Environmental Health Clinic. New York: New York University. http://www.environmentalhealthclinic.net/
Knochel, Aaron D., and Amy Papaelias. Placeable. http://www.placeable.org/.
Knochel, Aaron D., and Ryan Patton. "If Art Education Then Critical Digital Making: Computational Thinking and Creative Code." Studies in Art Education 57, no. 1 (2015): 21–38.
Knudsen, Susanne V. "Intersectionality: A Theoretical Inspiration in the Analysis of Minority Cultures and Identities in Textbooks." In Caught in the Web or Lost in the Textbook? ed. Eric Bruillard, Bente Aamotsbakken, Susanne V. Knudsen, and Mike Horsley, 61–76. Caen, France: IARTEM, 2006.
Manovich, Lev. Software Takes Command. New York: Bloomsbury, 2013.
Mao, Ji-Ye, Karel Vrendenburg, Paul W. Smith, and Tom Carey. "The State of User-Centered Design Practice," Communications of the ACM 48, no. 3 (2005): 105–9.
Newman, Jennifer. "'Let's Talk About It' Event Addresses Campus Issues." The New Paltz Oracle. November 21, 2013. http://oracle.newpaltz.edu/lets-talk-about-it-event-addresses-campus-issues.
Orta, Lisa. Refuge Wear City Interventions. 1993–98. https://www.studio-orta.com/en/artworks/serie/1/Refuge-Wear
Rakowitz, Michael. paraSITE. 1998. http://www.michaelrakowitz.com/parasite/
Ratto, Matt. "Critical Making: Conceptual and Material Studies in Technology and Social Life." The Information Society 27, no. 4 (2011): 252–60.
Ridge, Mia, Don Lafreniere, and Scott Nesbit. "Creating Deep Maps and Spatial Narratives through Design." International Journal of Humanities and Arts Computing 7, no. 1–2 (2013): 176–89.
Sobel, David. Place-based Education: Connecting Classrooms and Communities. Great Barrington, Mass.: Orion Society, 2004.
Tavin, Kevin. "Wrestling with Angels, Searching for Ghosts: Towards a Critical Pedagogy of Visual Culture." Studies in Art Education 44, no. 3 (2003): 197–213.
Taylor, Pamela. "Critical Thinking in and through Interactive Computer Hypertext and Art Education." Innovate: Journal of Online Education 2, no. 3 (2006): 1–7.