Feminist Hackerspaces: Hacking Culture, Not Devices (the zine!)
Amy Burek, Emily Alden Foster, Sarah Fox, and Daniela K. Rosner
This chapter includes edited contents of a zine that was inspired by and sourced from research originally published in "Hacking Culture, Not Devices: Access and Recognition in Feminist Hackerspaces," by Sarah Fox, Rachel Rose Ulgado, and Daniela K. Rosner of the Human Centered Design and Engineering Department at the University of Washington. Illustrations in the original publication are by Emily Alden Foster. Editing and layout of the original publication are by Amy Burek.
A chance encounter between Burek (a hackerspace member) and Fox at a local short-run publication festival led to collaboration on a zine — a self-published magazine typically made with a photocopier — that knit together content from the published paper with local histories of feminist print production. Reprinted here (with adaptations to accommodate a book's format), the zine is an effort to circulate scholarship and continue conversations from the field.
In putting this zine together (see Figure 25.1), we wish to open a dialogue about the culture being made in and around feminist hackerspaces. Our research has started to reveal important connections between the work being done within these spaces and larger developments in corporate technology cultures. Members have reframed a concern for women's access to technical industries as one of recognizing technical work already there, destabilizing the unmarked categories of technical labor. Our hope is that this zine can help spur a wider discussion of the practices and criticisms that are happening in these spaces. In doing so, we recognize that there is no solid view of what it means to be a hacker or a feminist. We instead wish to highlight the multiple views and practices, including technical work and feminist activism, that can take place under the auspices of the hackerspace.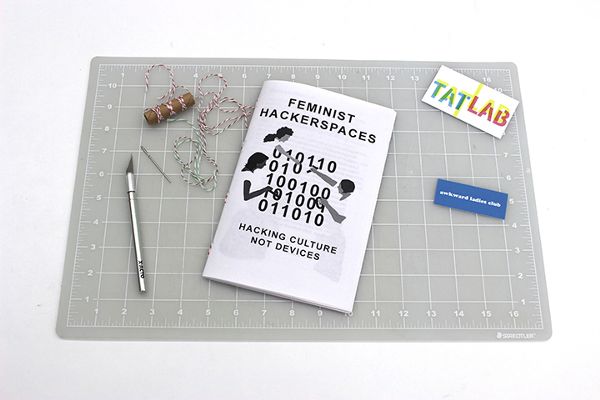 What Is a Hackerspace?
Hackerspaces are collectively run workspaces that act as places for people to socialize and collaborate on projects. These spaces are often run by a community of people who share common interests or hobbies, such as hardware hacking, programming, DIY science, and making. Hackerspaces have resources, like communal computers, electronics prototyping tools and components, 3-D printers, and laser cutters, allowing members to experiment and create. Knowledge is also shared between members in the form of workshops, skillshares, lectures, and casual social events. According to scholars of technology and human-computer interaction, while these spaces can enable grassroots entrepreneurism and technical innovation, they often remain tied to particular people (often white, male, and college-educated) and ideas of what counts as technical work.
What Are Feminist Hackerspaces?
The women developing feminist hackerspaces have described their aims to support women's creative and professional pursuits. They hope to provide a place for those who identify as women and those who support feminism to gather, share ideas, be creative, and network professionally. Although they all differ in their implementations, these spaces share a core tenet that women and other marginalized people should be welcomed to perform technical practice without being subjected to discrimination or abuse.
Inspired by the opening of the mother-oriented Mothership Hackermoms (Berkeley, California), organizers of Seattle Attic formed the first feminist hackerspace in Washington in 2012. Following suit after fruitful conversations at Adacamp 2013 (a conference for women in open technology), organizers in San Francisco established Double Union, and Flux was opened later that year in Portland, Oregon.[1]
As in many hacker communities, members of feminist hackerspaces tend to engage in activities associated with traditional ideas of "hacking" — technical practices such as electronics prototyping and programming. In women-oriented and feminist spaces, a significant amount of time tends to be dedicated to learning other creative and practical techniques, such as writing, fiber arts, visual arts, and fermenting and canning foods.
Professional networking can also be a part of feminist hackerspace communities; however, not all members self-identify as "hackers" or work in technical industries. Some of the spaces observed actively recruit members outside of the tech industry in an effort to diversify their membership and the skills valued.
Why Do Members Find Feminist Spaces Necessary?
Early feminist hackerspaces have focused on the need for places of safety and shared values. In the words of one organizer, "As a woman in technology, it's like, I'm already part of a like a 10, 20 percent group so it doesn't really take a lot to turn me off. So I think like I'm just more sensitive to like things like the space sucking and being dark and gloomy."
Women who have spent time in typical hackerspaces have reported discomfort and vulnerability. (See Figure 25.2.) Stories of harassment that have occurred in these spaces have circulated widely within female and feminist tech circles:
[A woman] was working on something and this kid next to her was like bragging to her about how he had gotten a woman online to show him her breasts by threatening to hurt a kid. And she was like "What is going on here? Why are you telling me this?" And she looked at the guy who runs the space and pays the rent here and was like "Are you going to do anything about this?" And then, like, he didn't.
Membership
Most feminist hackerspaces vet potential new members through nomination and/or voting processes. At some spaces, in-person meetings during an open house are required before membership decisions are made. In addition to sharing feminist ideals in line with a hackerspace's mission, members are expected to act respectfully toward each other regardless of their background or level of technical skill. Applications are also a chance to emphasize the expectation that new members will agree to the same fundamental rules and possess similar values.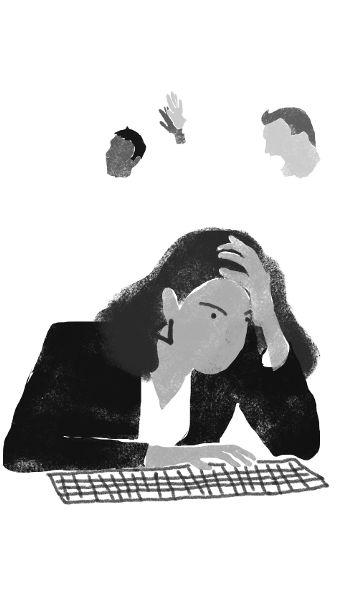 Access
Members set the boundaries of who can access their space. At least one feminist hackerspace chooses not to disclose their address online. New visitors to such a space would require the guidance of a current member to find it. A space in Oakland chose a location somewhat removed from transit to and from San Francisco in order to better serve its immediate, local community. Many spaces set rules for who can attend certain events (e.g., members-only, members and guests, or open to the general public).
Codes of Conduct
One organizational aspect that all feminist hackerspaces share is a clear code of conduct. Why are such guidelines necessary for a communal space? Codes of conduct provide safeguards against harassment and allow those in marginalized communities to feel supported. The goal is to allow open conversation about shared values concerning topics such as gender, identity, inequality, and inclusion without having to justify or "explain" viewpoints when faced with situations of abuse. As Sophie Toupin, a feminist scholar and member of a feminist hackerspace in Montreal, explains, "When feminist and anti-oppression politics are not explicitly part of the ethos of a space whether virtual or physical, the burden of education will often be placed upon the people who are living these oppressions."[2] Reading through a code of conduct before joining or entering a space allows new or prospective members to ensure that a space aligns with their personal values. It also allows new members to join spaces feeling confident that they will be treated ethically.
What Are the Spaces Like?
Walking into a feminist hackerspace, you might find large, sturdy worktables and couches or other comfortable furniture. Members may be using laptops, working together on shared pieces of equipment, or reading books and zines from a space's library. As described by one space member, the goal is to have "a space where you can come into your own but also watch other people learn and grow." A space of comfort that supports cooperation is key!
Hackerspace Inventories
Hackerspaces pool resources to purchase tools and equipment for members to share and use for personal projects. Here are some of the tools you might find at a feminist hackerspace (see Figure 25.3):
• 3-D printers

• Laser cutters, vinyl cutters, and wood cutters

• Raspberry Pi and other electronics

• Soldering irons

• Sewing machines

• Bookmaking tools

• Screenprinting supplies

• Dremels and other power tools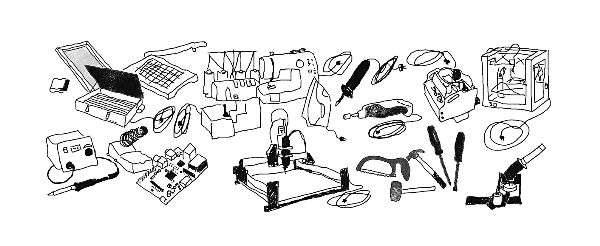 Hacking Is Fun
Many of the activities happening at feminist hackerspaces can be quite similar to those happening at other hackerspaces around the world. In addition to working together to learn how to use shared equipment such as 3-D printers and computer-operated cutting tools, workshops on topics such as these can be found on the calendars of feminist hackerspaces:
• Circuit building

• Wikipedia editing

• App development

• Programming skill share
Most spaces hold both private events and workshops open to the public or guests of members. Whether an event is closed or open usually depends on the activity (such as working on the space's own app or wiki) and the comfort level of the host and/or the participants. Some events may specify whether or not men are allowed to attend.
Hacking Is Crafting
Perhaps like non-feminist spaces, hacking includes technical work like circuit-building workshops, video game jams, Wikipedia editing, app development, and programming skillshares. Hacking also expands to include crafting, making, and political and identity work. This merging of hackerspace activities with traditionally feminized forms of craft-based practices destabilizes dominant categories of technical work to recognize the technical practices that are already taking place. Below are some examples of craftwork that happen in feminist hackerspaces (see Figure 25.4):
• Writing workshops

• Fermenting and canning foods

• Sewing instruction

• Candle making

• Figure drawing

• Stamp carving
Hacking as an Identity
The word "hacking" can suggest many things: rebellion, technical prowess, problem solving, or engaging in engineering activities as an amateur rather than as a professional. If you have seen the 1995 techno-classic film Hackers, you know that hacking can also refer to the practice of breaking into computers or stealing data for noble or nefarious purposes. The term can also be used to suggest a certain amount of technical skill, as one member noted: "I think the term can kind of really be pretentious, you're just working on your iOS app all day . . ."
Since feminist spaces expand hacking to include crafting, making, and political and identity work, hacking becomes more than just tinkering with electronics — it is also an opportunity to look inward for means to build and maintain a sense of purpose. Feminist hackerspaces have become sites for members to gather and discuss workplace issues, personal identities, and goals through workshops on topics such as impostor syndrome or "failure clubs." The forms of sharing and innovation that occur here might go underappreciated in contexts outside of the feminist hackerspace.
The Problems with "Hacking" and "Making"
Like the word "feminist," the terms "hacker" and "maker" may not properly represent people of color and economically disadvantaged groups who have been excluded or are unable to take advantage of popular DIY movements.
Founder of LOLspace, a people-of-color–led hackerspace in Oakland, Jen Mai Wu, explains:
[Hacking is] like a rebranding of stuff that has been going on for a long time [ . . . ] You make your jams, whatever. You grow your own food. Now people are doing that, and they're kind of like boutique, expensive stuff [ . . . ] I noticed that a lot of the people who were benefitting from the maker movement who kind of were able to liberate themselves from the job that they didn't like and were able to do something like take a hobby and turn it into something they really loved.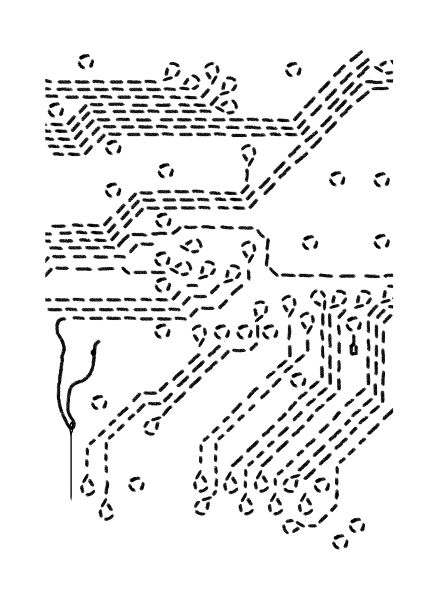 Some spaces have moved away from the term "hacker" (particularly in space names) due to its associations with (white and Asian) masculinist tech culture in an effort to promote inclusion.
What Makes These Spaces Feminist?
Labeling a space as feminist allows members to share a language and a set of ideals. It is also a mechanism to keep out people with fundamentally different worldviews. One interviewee and space organizer notes:
You'll keep away a lot of people you don't want. It creates a very explicit filter, which will push people away, which will be very nice.
What Is Intersectional Feminism?
With its own political and historical context, the term "feminist" has the potential to deter some people whom spaces wish to include. A president of one feminist hackerspace described her concern about the use of the word:
Where I hesitate around calling it a feminist hackerspace is a feminist has a lot of nice white lady baggage around it . . . So we try to make it clear with the rest of the way that we put ourselves forward that that's not [what] we're going for.
Many spaces emphasize the importance of intersectional feminism. In fact, all of the spaces observed called themselves intersectional either on their websites or in interviews. Coming out of critical race theory, intersectional feminism acknowledges that many factors influence social prejudice and injustice, and these factors interact with each other. Oppression varies in degree and intensity depending on factors such as race, class, gender, ability, and sexual orientation.[3]
The term "intersectional feminist" is used by groups to distance themselves from past feminist movements that were less concerned with issues facing women who were non-white, or who possessed varying degrees of ability or economic access (just to name a few). The use of the term is indicative of an interest in having memberships that are diverse and inclusive by considering difference, privilege, and injustice.
The Future of Feminist Hackerspaces
The membership base of many feminist hackerspaces remains mostly white, mostly college-educated, and mostly middle class. As members work toward becoming more racially, ethnically, and socioeconomically diverse, they must acknowledge the legacies of marginalization within feminist activism that result in such a lack of diversity.
The number of feminist hackerspaces continues to grow in the United States (e.g., Hacker Gals in Kalamazoo, Michigan, and Spanning Tree in Washington, D.C., both formed in 2014). Feminist and women's groups have also expanded within traditional hackerspaces (e.g., Miss Baltazar's Laboratory in Vienna, Austria, and Anarchafeminist Hackerhive in San Francisco are some of the earliest examples).
If you can't find a group that fits your needs, you can always start your own! For more about how, you can read about feminist hackerspace design patterns[4] on the Geek feminism wiki or Liz Henry's article about the process of founding Double Union.[5]
Where Are Feminist and Women's Hackerspaces (in the United States)?
• Mothership Hackermoms, Berkeley, California

[6]

Membership open to mothers of every gender.

"We give mothers of every gender the time and space to explore DIY craft and design, hacker/maker culture, community workshops, entrepreneurship, and all manner of creative expression — with on-site childcare. Our HackerSprouts program teaches children the creative process through educational childcare and STEAM-based workshops. HackerMoms creates families that build together."

• Double Union, San Francisco, California

[7]

Membership open to women (trans, cis, queer, straight, and not-fitting-into-those-labels/other).

"Our mission is to create a community workshop where women can work on projects in a comfortable, welcoming environment."

• Seattle Attic, Seattle, Washington

[8]

Membership open to all women, cis and trans.

"We are a feminist, woman-centered, trans- and queer-inclusive space for tinkerers, makers, crafters, and hackers of all genders. Our goal is to offer a safe, non-intimidating environment, tools, and a supportive, friendly community to help feminist makers and hackers learn and build."
Through material and discursive engagement, members of these spaces contest widely understood forms of hacking and technology development. By reframing activities rarely associated with technical work (e.g., weaving and identity workshops), they open up hacking to a wider set of individuals and make room for practices that do not sit neatly within wider corporate or popular hobbyist technology cultures.
Notes