"I Don't Know All the Circuitry"
Jentery Sayers
Well, I don't know all the circuitry, but I can do first aid," said artist Laurie Anderson in October 1981. She was responding to Rob La Frenais, who asked her a few questions about hardware (in La Frenais 140). By 1981, Anderson had worked extensively with technologies as art forms. In 1977, she built a tape bow violin with Bob Bielecki. Substituting magnetic tape for horsehair and a tape head for a bridge, she bowed audio, distorting it by playing canned sounds forward and backward across a range of speeds (Collins 50). Her approach transformed a recording and playback technology into a creative expression, and her style resonated with turntable experiments by Kool Herc, Grand Wizzard Theodore, and Grandmaster Flash. Later, just before her interview with La Frenais, Anderson also released the popular single, "O Superman" (1981), a minimalist composition driven by a harmonizer and vocoder. She used the vocoder to synthesize her voice and the harmonizer to loop the syllable "ha" throughout the eight-minute track. Combining these two technologies, she performed alone yet polyvocally, as a chorus of one.
Today, Anderson is widely recognized for her innovative media systems; hence the modest irony of "I can do first aid." Despite her expansive familiarity with technologies, she makes no claims to understand them all the way down. She starts in the middle, experiments, and anticipates inevitable moments of surprise.[1] "If I'm on tour and a machine breaks down," she said, "I have to know something about that machine so I can fix it" (in La Frenais 139). For Anderson, technology becomes extremely alienating if you cannot repair it.[2] Of course, there is an artist's spin here. Anderson keeps the machine running—keeps it breathing "ha ha ha ha"—but is reluctant to identify as a technician. While she resists delegating significant choices to technologies, professing to know all the circuitry risks a certain purism. She worries, too, about programming her performances for push-button delivery across settings, even if some prerecorded components repeat in a loop: "ha ha ha ha . . ."[3] Anderson lets technologies run in the background, and she does not. Her systems are neither fully automated nor devoid of hiccups, demonstrating how what we might call matter—machine, instrument, circuitry, hardware, vocoder, harmonizer, tape, bow—we might also call a negotiation, always in the making.
Anderson's treatment of technologies as negotiations is palpable when we account for the context of "O Superman." The song and its title are a commentary on Operation Eagle Claw (April 1980), when U.S. Armed Forces attempted to release staff from the U.S. embassy in Tehran. In November 1979, the embassy was occupied by the Muslim Student Followers of the Imam's Line, a group who wanted to prevent the United States from restoring Shah Mohammad Reza Pahlavi to his throne (Rieffer-Flanagan 149). In 2016, Anderson said the following to music critic Dave Simpson:
In 1979, Iranian students stormed the US embassy in Tehran. America went blazing in with helicopters to get the hostages out. But it backfired majorly. A helicopter and a plane crashed in the desert. We were left with dead bodies, a pile of burning debris and the hostages nowhere to be seen. So I thought I'd write a song about all that and the failure of technology (in Simpson).
Here, failure is not simply a technical matter. Technology also fails when exerted as a force: in this instance, the jingoist aggression of the United States blazing to rescue its own, with its own, from others. "Here come the planes," sings Anderson. "They're American planes. Made in America." Such force is symbolic, represented by aircraft and eagle's claws. It is real, leaving behind dead bodies and debris. And it is affective; in "O Superman," it is an embrace that feels more like toxicity than care. Anderson said, "The lyrics are a one-sided conversation" (in Simpson), and they conclude with, "So hold me, Mom, in your long arms, your petrochemical arms, your military arms, in your electronic arms." With this closing gesture, she highlights how U.S. aggression is personified, gendered, and maternalized to code patriarchal force as protection, or to make a one-way conversation feel as if someone loving is listening. "I can do first aid" thus assumes a new valence: "O Superman" intervenes in the failure of force with creative critique. Instead of reducing technologies to their technical particulars, vulgar symbolism, or instrumental effects, Anderson shows how entwined technologies are with lives and living — with matters of aid and shared concern.[4]
For a series such as Debates in the Digital Humanities (of which this volume is a part), Anderson's art and commentary are important because they remind us that technologies are not "withdrawn" from interactions even if they are frequently fetishized as noumenal objects outside phenomena.[5] To say, "I can do first aid," is to underscore our entanglement with circuitry.[6] And to say, "I don't know all the circuitry," at least implies the impossibility of such knowledge. That is, we can reject the autonomy or privacy of technologies without supposing we know them completely. Although we may understand how something works, we may not apprehend how or under what conditions it was made.[7] It and interactions with it will change across settings, and together they will influence matters of perception and epistemology over time. Still, knowledge of circuitry is often conflated with (superheroic) command over people, situations, and things. In present-day "maker" cultures, consider the ubiquity of remarks such as "getting under the hood" or "knowing the nuts and bolts," which tend to fuse logic with mastery, control with masculinity, engineering with rationality, and programming with revealing.[8] This volume works against these norms and assumptions.
The Conceptual Matter of This Volume
As a negotiation, technology is about desire and power first and foremost,[9] even when we play, tinker, experiment, or make.[10] Like the archives we study, technologies are never neutral or transparent. They, too, are replete with hiccups and ambiguities. Yet these indeterminacies are active, not inert, in the making of things.[11] They are features of a given system or infrastructure, and they are material as well. They are what, throughout this introduction, I call conceptual matter, and — most relevant to the aims of this volume — they comprise the core of creative and critical responsibility: what may not be obvious or visible to some but demands reference and communication. In that October 1981 interview with La Frenais, Anderson said, "My work is about what happens when you pick up the phone and try to get through" (139).[12] From this position, technology is but an attempt at communication, brimming with chance mediation and filters, or rife with indeterminacies most likely ignored in the interests of time, efficiency, or scope. Putting two points in touch may also require a patch or fix, and Anderson is deeply aware of how much labor such maintenance demands.[13]
For example, in 1989 she released "The Dream Before," dedicated to Walter Benjamin. The song's second half is drawn almost verbatim from Benjamin's ninth thesis "On the Concept of History" (1940). The angel of history is blown backward into the future by a storm called progress, with a pile of debris growing before him.[14] His impulse is to return and mend — to "make whole what has been smashed" into catastrophe (Benjamin 392).[15] But the parts will never be made whole. History, or the work of history, will never be complete. The circuitry of the past will never be known all the way down, and its context will never be fully recovered from the stuff at hand.[16] In both "The Dream Before" and the ninth thesis, there is nevertheless a desire to arrest the fragments of history from the predictable trajectories of "once upon a time" tales to examine them fastidiously against their inscription in narratives of progress.[17] Perhaps ironically, stewarding materials into the present — transmitting a thesis from 1940 through a phone call in 1981, for instance — is the closest we may come to such an arrest, even if some context is lost in the recontextualization. Although tangible materials may outlast the ephemerality of lived reality, they still address us and require constant care — restoration, remediation, reformatting, upgrading, and migration — to persist.[18] During these rather quotidian processes, they enter into new relations over and over again. Put this way, interpretation with and through technologies may be closer to maintenance or "remaking" than romantic invention, individual genius, or even critical distance.[19] Not only does it happen in the middle, with influence from the interpreter; at its most persuasive, it also refuses to impose a chain of events on what came before it or what may come after. Compelling interpretations thus sustain conversations with collections of materials against prescription or push-button delivery, letting those materials surprise us without controlling them or isolating them from interaction.
True, this approach to interpretation and technology may be too elliptical for many digital humanities practitioners, especially those who are deeply invested in making things "on the ground" or "where the rubber meets the road." It does not sound as epic as innovation, as grand as big data, as impactful as disruption, or as concrete as tool-building, either. However, it may most accurately describe both our everyday engagements with technologies and the physical reality of our materials: not made from scratch but in media res; not transparent platforms but patchworks of memory and practice. From third-party dependencies and plug-ins to emulations and repurposed hardware, starting in the middle is not some abstract idea cooked up by critics and artists on high. Negotiation and maintenance constitute the conceptual matter that makes up making.
In fact, conceptual matter weaves together the chapters collected here. It represents the inability to unmoor materials from how we interpret materials. It is what Karen Barad (2007) calls an "apparatus" that entwines subjects with objects (19–20, 114–115), or what McKenzie Wark (2015) calls a "realist media theory" that "engag[es] closely with practices and their particular points of view" (158). In this case, it is not about broken worlds, ideal worlds, or the withdrawn worlds of objects.[20] It is about the desire for continuity and persistence amidst storms of progress and states of constant change: the circuitry of values and patterns, perhaps difficult to perceive or apprehend, that converts fragments into a narrative, or parts into a whole.
Conceptual matter may be considered an "invisible" space between parts: a "gap" that may invite a patch. "I have to know something about that machine so I can fix it," said Anderson (in La Frenais 139). However, conceptual matter is more accurately described as a boundary-making process (e.g., between old and new, broken and repaired, or this and that).[21] Like the activity of blank spaces in Stéphane Mallarmé's Throw of the Dice Will Never Abolish Chance (1897), conceptual matter is a gerund: designing, shaping, sculpting, stitching, or inscribing lines. Although it may feel abstract, it is quite material and no doubt embodied. Although it strikes us as a noun, it is ultimately about dynamics. It is, for instance, the apparatus of exploded view diagrams, which visualize how components relate and form a whole.[22] Before I proceed, allow me to elaborate for a moment.
Dating back to at least the fourteenth century, exploded view diagrams are documentations of how we start in the middle. They are consulted during processes of assembly: putting together IKEA furniture or a LEGO set, for example. They are also consulted during moments of maintenance, when we do not know the circuitry but need to keep the machine running. Instances abound in disciplines such as engineering and architecture, but here is an example (Figure I.1), illustrated by artist Danielle Morgan.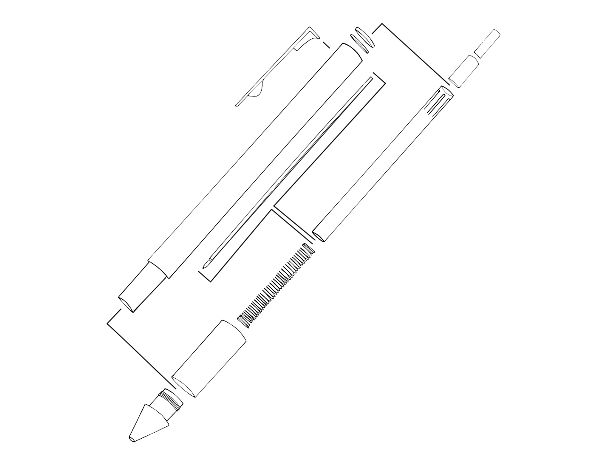 One problem with exploded view diagrams is that they are usually premised on "kit-of-parts" construction, where — much like the storm of progress — an ideal form prescribes the assembly of "discrete components that function as modular parts within a coherent system" (Perner-Wilson 6). In her critique of this approach, Hannah Perner-Wilson (2011) adds, "These parts have been optimized for speed, efficiency, and repeatability of assembly" (6).[23] They are creativity in a box: prescribed workflows and prefabbed systems disseminated for uniform use. What is needed, then, are opportunities to re-signify the conceptual matter of assembly and maintenance as an indeterminacy, not a given. This way, both assembly and maintenance are interpretive practices or negotiations instead of how-to scripts. Along these lines, consider an exploded view from the arts.
In a gallery, Cornelia Parker's Cold Dark Matter: An Exploded View (1991) suspends the contents of a mundane garden shed blown up by the British Army. Audiences may examine the surface details of the fire-damaged fragments, including charred pieces of the shed's frame as well as the warped tools, toys, and other quotidian objects around it.[24] Yet the conceptual matter of Parker's work is far more suggestive, as it holds the fragments in suspended animation. Distinctions between exterior and interior are replaced by a hovering constellation of pieces, as spaces point to spectral moments in a past event, now arrested in time in a gallery.[25] How did the shed explode? With what sort of force? After it all occurred, why were the pieces arranged this way? Rather than confirming the cause or meaning of Parker's installation, these questions encourage the indeterminacies, and the exploded view becomes a time-stamped collection of ambiguous relations, not a diagram of how the system or form got this way. Many chapters in this volume engage how to make things with such ambiguities in mind, or how to convey scholarship (across software, hardware, interfaces, installations, and essays) as conceptual matter for ongoing change and intervention.
Yet, while the "dark matter" in Parker's title refers simultaneously to fire-damaged fragments and the conceptual matter across them, it carries different meanings elsewhere. In Dark Matters: On the Surveillance of Blackness, Simone Browne (2015) notes that dark matter is a theoretical or conceptual term usually articulated in a "planetary sense": "its distribution cannot be measured; its properties cannot be determined; and so it remains undetectable" (9). But dark matter is also a way to approach race (9). Browne refers to the work of Howard Winant (2012), who observes that "race remains dark matter, the invisible substance that in many ways structures the universe of modernity" (Winant 605). She then responds to Winant's observation with, "invisible to whom? If [dark matter / race] is often invisible, then how is it sensed, experienced, and lived? Is it really invisible, or is it rather unseen and unperceived by many?" (9). In the context of today's technologies, for example, race and dark matter structure supply chains, as children of color in the Democratic Republic of the Congo mine for cobalt, which is a core element of lithium-ion batteries used to power mobile phones (Amnesty 4–6, 28–31). This labor is willfully ignored or "unseen" by consumers around the world, even though it supports countless routine communications.
Echoing Browne's terminology, such ignorance is enabled by "prototypical whiteness" (26, 92, 113–14), which "sees whiteness, or lightness, as privileged in enrollment, measurement, and recognition processes, and . . . is reliant upon dark matter for its own meaning" (162). Prototypical whiteness may manifest technically in infrastructure (e.g., how computer vision algorithms for face detection validate whiteness in relation to blackness),[26] but also in how technologies are interpreted and embedded in contexts, with whiteness as the default setting for cultural reproduction. Across technical and cultural materials — through machines, actions, and ideologies — prototypical whiteness is complicit with structural racism. It profoundly shapes interpretation, and it operates as the basis upon which most technologies are sourced and maintained. From this perspective, not knowing all the circuitry reflects white privilege and supremacy: for instance, the habitual act of ignoring how dark matter is entangled with the elements of everyday devices;[27] of not considering the differences between who gets to make, who must mine, or who has to care; of not seeing labor in the exploded view; of saying "all lives matter" to dismiss the lived realities of racism entwined with our technologies. In the epilogue of her book, Browne underscores the subversive potential of how "dark matter troubles algorithms" and surveillance technologies (163). Following her research, humanities projects could unlearn and deprogram prototypical whiteness by transforming praxis as an apparatus — by changing the language, habits, relations, technologies, infrastructures, and spaces for making. Instead of focusing such changes on white guilt, which may only further white supremacy, practitioners could yield the floor to the social justice, decolonization, and intersectional methodologies at work in the circuits of collectives such as #TransformDH, AbTeC, FemTechNet, and HASTAC as well as projects like Diaspora Hypertext (by Jessica Marie Johnson), not to mention various chapters in this volume.
Such interventions are increasingly important, as the creative and critical methods of Browne, Parker, Benjamin, and Anderson are not common in the maker cultures or makerspaces of our present moment. In this sense, the conceptual matter of the following chapters does not align with, say, Chris Anderson's Makers (2012) or Mark Hatch's The Maker Movement Manifesto (2014).[28] This volume not only critiques the normative assumptions and effects of popular maker cultures — usually white, cisgender, straight, male, and able-bodied — but also conveys different histories and paradigms of making, including those associated with the arts, writing, design, fashion, history, libraries, museums, cultural studies, archaeology, experimental media, feminism, and activism, none of which especially concerns the evangelist entrepreneurialism of Anderson and Hatch. One result of these critiques and alternatives is some healthy skepticism about how maker cultures manifest both on and off academic campuses. Another is research demonstrating how making is or can be critical: how, for instance, it may examine questions of labor, justice, ethics, and participation. And yet another is an emphasis on social relations against the reduction of technologies and culture to technical matters. A significant portion of this work stresses the spaces and interfaces for material experimentation, including makerspaces and projects that do not adhere to the maker norm. Across the chapters, there is also a pervasive sense that not knowing all the circuitry may actually spark persuasive interventions from the periphery, altering people's expectations of making in and beyond the humanities. We see, for instance, creative and critical research involving circuit bending, tinkering, prototyping, and participatory design, each of which relies on trial-and-error experimentation and multiple forms of feedback. When these approaches are combined with more established methods in the humanities (e.g., deconstruction, historiography, bibliography, translation, and fieldwork), the results produce evocative interactions with the indeterminacies and conceptual matters that humanists tend to study.
While not all of the authors in this volume agree on a definition of "making" (or even care much for the term), and although the methods and domains shift from chapter to chapter, each contribution shares a tendency toward speculation or unlearning rather than proving or "wrangling" things with technologies. If technology is a negotiation, then it is also inquiry for these authors. Even when the chapters get technical, they are most invested in the granularity of interpretation. But perhaps most important, the research presented here exhibits an intricate awareness of how making and scholarship start in the middle. With each chapter, we witness partial knowledge and situated relations with materials,[29] the sort of approach that keeps conversations going against the hubris of mastery and the force of progress. We also witness how conceptual matter — or the inability to unmoor materials from how we interpret materials — demarcates this from that and thus puts them into relation. "It's all a matter of where we place the cut," writes Barad (348). Below are six such demarcations of potential interest to readers of this volume.
Demarcations in This Volume
In the following pages, we see boundaries drawn and cuts made with the logic of visibility — between what is seen or superficial and what is unseen or hidden: "front end" and "back end," containers and processors, content and metadata, interfaces and source code. Even if these components are fused and networked together in messy ways, they are usually parsed for reasons of intelligibility and tangibility. Yet many chapters in this volume are interested precisely in the mess and what it tells us about the epistemologies and phenomenologies of material experimentation. Within the context of experimentation, we also see distinctions between communities of practice: artists, architects, designers, content experts, writers, editors, librarians, curators, teachers, programmers, developers, managers, and so on. In reality, people tend to perform multiple identities within these communities, or — as many of the following chapters show — they collaborate across them. Still, lines are repeatedly drawn in and beyond the academy, with a bias toward individual qualifications and experience over collective expertise.
Such lines manifest, too, as demarcations between disciplines: the arts, humanities, social sciences, engineering, and sciences, for example. While this volume represents work from each discipline as well as non-/para-academic work (often with transdisciplinary and trans-sector concerns in mind), most of its contributors occupy a specific discipline or occupation with particular expectations anchored in recognizable practices and points of view. Here, how work counts, or how it is validated, depends in part on the cuts made between media or formats: from software, hardware, installations, interfaces, data, film, audio, images, and paper to PDF, DOCX, XML, MP3, HTML, TXT, JPG, OBJ, STL, PY, JS, and 16mm. In the following chapters, materials are expressed across this list; nonetheless, the legibility of a given project frequently depends on community preferences for specific media and formats. Of course, legibility is intricately linked to audience. How and for whom is work communicated? In what context? Through which definitions of community or public? As these chapters suggest, research involving technologies almost always speaks to multiple audiences, with shifts in modes and means depending on settings and expectations. Who or what matters will shift, too, as material experimentation heightens practitioner awareness of the entanglements between circuitry and meaning.
Finally, this volume is replete with boundaries drawn by labor: between thinking and doing, hacking and yacking, writing and building, scholarship and service, creating and critiquing, breaking and repairing, innovation and maintenance, and making and not making. Such boundaries mark how and where value is attributed and accrued. They also correspond with ideologies and environments for who gets to make, who can maintain, and who must source. As readers may expect, each of the following chapters complicates these boundaries while pointing to why and whether they should exist. In the last instance, I believe this work — from the labor point of view — is most pressing for both digital humanities and "making" at the moment. Such work examines the circuits and conditions we may not fully apprehend but with which we are no doubt complicit. They also give us much-needed conceptual matter for action, and I encourage other digital humanities practitioners to read them carefully and respond where possible.
Outline of This Volume
I arranged this volume's 38 chapters into five sections. The sections include original essays, several pieces republished with revisions, and a number of "project snapshots": one-page chapters about particular projects to prompt further study and dialogue about making and experimental methods in the humanities. The differences between the sections and chapters matter, and the contributions are most engaging when read collectively, as a series of negotiations with shared terms and problems.
The first section, "Making and the Humanities," addresses foundational issues about how boundaries are drawn between thinking and doing (Klein) as well as how creative work manifests in humanities contexts, and vice versa (Staley). Entwined with these issues are key matters of literacy (Endres), or how much making, writing, building, coding, digitizing, and fabricating intersect despite common cuts between them. Equally important to this section are the embodied acts of translation and framing we perform in our research and how those acts are imbricated with maintenance across technical and non-technical work (Sneha). The projects featured in this first section also represent compelling collaborations between artists, humanists, and designers (Rajko et al.), where acts of making are collective (not individuated) and give us a tangible sense of how cultural criticism is enacted through experiments with circuits and interfaces (Burgess).
"Made by Whom? For Whom?" is the second section, which stresses what is routinely taken for granted in popular maker cultures: who is working, for whom, and under what assumptions about labor and power. Here we have questions about how collaboration and agency are articulated across ranks in the academy (Jenstad and Takeda), together with inquiries into how the academy is made and reproduced, often through affective labor that parses scholarship from service (Shirazi). Service and scholarship are interwoven even further when we consider how digital materials are maintained post-production (Gardner et al.), not to mention how research environments are built, with what resources, and through which dependencies (Smithies). Of course, we must also ask how "makers" get defined in the first place (Hunter et al.; O'Gorman), and in what relation to normalcy and ability (Hendren). Projects in this section parody popular maker cultures (Hertz) as they expose the long-standing alliance of technologies with force and surveillance (Burtch and Rosenthal). Ultimately, this section resists celebratory or romantic models of making to instead examine how technologies — as negotiations — correspond with agency and vulnerability.
Next, "Making as Inquiry" stresses making as an action, which involves developing, prototyping, testing, and sharing conceptual matter. Central to such inquiry is the communicability of experimental research as both process and product to audiences other than academics (Resch et al.), how we might prototype across print and electronic materials (Hancock et al.), and how hacking and reverse engineering technologies (Boeva et al.; Teboul) immerse us in indeterminacies against kit-of-parts construction. In this section, we see numerous creative/critical approaches to technologies, both new and old. Curation becomes a creative act (Bernardi and Dimmock), circuit bending becomes a technique for interface and console design (Belojevic), poems become 3-D models (Tucker et al.), and poetry readings become disembodied audio and then re-embodied performances (Flamenco et al.). Each of these inquiries stewards materials across settings and contexts and prompts us to consider how matter and mediation influence our conversations with the past (Garfinkel). While we can get carried away by the wow factor of gadgets, this section reminds us to pause and, if only in vain, try to arrest the fragments of history against the predictability of positivism.
The fourth section, "Making Spaces and Interfaces," shares several perspectives on how what appears ephemeral or immaterial is framed and designed. It also stresses the settings and values of making. Foregrounding the straight, white, cisgender masculinity pervading maker cultures and makerspaces, we see arguments for feminist hackerspaces (Burek et al.) and interdisciplinary makerspaces informed by queer feminisms (Rogers), combined with feminist approaches to wearable technologies and public humanities research (Knight et al.). We also encounter mobile projects invested in the politics of technologies and social relations (Hsu et al.; Martin et al.) as well as in the values of intelligent devices and smart cities (DiSalvo et al.). These projects underscore how important design and interaction are to persuasive work with technologies. Experience design, participatory design, applied cultural criticism, public interactives, and networked acts of witnessing all play a fundamental role in this section (Ruecker and Roberts-Smith; Balsamo et al.; Cooley and Buell; Knochel and Papaelias). These shared investments show how interfaces are not merely tools for re-presentation or copying; they are interpretations, and indeterminacy may very well be their primary ingredient (Sullivan et al.). Even when interfaces are steeped in machine knowledge and computer processing, their significance exceeds the circuits through which they are transmitted, and the conceptual matter that emerges with them is far more interesting than their tech specs.
This volume of Debates in the Digital Humanities concludes with "Making, Justice, Ethics" and focuses on issues of labor, equity, intersectionality, and material conditions that run throughout it. We are prompted to move beyond the "gendered, capitalist benefits of being a person who makes products" and "celebrate and foster education, maintenance, analysis, critique, and, above all, caregiving — all of the undervalued, underappreciated, ongoing work of making other people's lives better" (Chachra). We are also given several examples of how social justice may inform project design and development in humanities labs (Boggs et al.). And we conclude with a thought-provoking consideration of how we define "we" through material practice (Anderson and Campbell). So crucial to a digital humanities of the present moment, this final section offers us some language as well as a few paradigms for work that is aware of the boundaries it draws.
Read together, I hope these five sections demonstrate how creative and critical activity may be combined to engage — in media res — cultural issues. We may not be technicians, and we may not know all the circuitry. However, the chapters collected here direct our attention to what matters most: the entanglements of our work with labor. As they evoke interactions, they index where we make demarcations in our research. And they highlight why we are responsible for the boundaries drawn. From this perspective, technologies are comparable to the stuff of art, history, language, and culture: not something we control or master but rather a relationship we negotiate with some skepticism and surprise. Let us maintain the conversation.
Notes
Bibliography
#TransformDH. http://transformdh.org/.
AbTeC (Aboriginal Territories in Cyberspace). http://abtec.org/.
Amnesty International. "'This Is What We Die For': Human Rights Abuses in the Democratic Republic of the Congo Power the Global Trade in Cobalt." London: Amnesty International, 2016. https://www.amnesty.org/en/documents/afr62/3183/2016/en/.
Anderson, Chris. Makers: The New Industrial Revolution. New York: Random House, 2012.
Anderson, Laurie. "The Dream Before." In Strange Angels. New York: Warner, 1989.
———. "O Superman / Walk the Dog." New York: Warner, 1981.
Barad, Karen. Meeting the Universe Halfway: Quantum Physics and the Entanglement of Matter and Meaning. Durham, N.C.: Duke University Press, 2007.
Benjamin, Walter. "On the Concept of History," trans. Harry Zohn. In Selected Writings, vol. 4, 1938–1940, ed. Howard Eiland and Michael W. Jennings, 389–400. Cambridge, Mass.: Belknap Press of Harvard University Press, 2003.
Bolter, J. David, and Richard Grusin. Remediation: Understanding New Media. Cambridge, Mass.: MIT Press, 1999.
Borenstein, Greg. Making Things See: 3D Vision with Kinect, Processing, Arduino, and MakerBot. Sebastopol, Calif.: Maker Media, 2012.
Bowker, Geoffrey C., and Susan Leigh Star. Sorting Things Out: Classification and Its Consequences. Cambridge, Mass.: MIT Press, 1999.
Browne, Simone. Dark Matters: On the Surveillance of Blackness. Durham, N.C.: Duke University Press, 2015.
Bryant, Levi R. The Democracy of Objects. Open Humanities Press, 2011. http://quod.lib.umich.edu/o/ohp/9750134.0001.001/1:8/ — democracy-of-objects?rgn=div1;view=toc.
Chun, Wendy Hui Kyong. "Introduction: Did Somebody Say New Media?" In New Media, Old Media: A History and Theory Reader, ed. Wendy Hui Kyong Chun and Thomas Keenan, 1–10. New York: Routledge, 2006.
Collins, Nicolas. Handmade Electronic Music: The Art of Hardware Hacking. New York: Routledge, 2006.
Deleuze, Gilles, and Félix Guattari. Thousand Plateaus: Capitalism and Schizophrenia, trans. Brian Massumi. New York: Continuum, 2004.
FemTechNet. http://femtechnet.org/.
Galloway, Alexander R. "Love of the Middle." In Excommunication: Three Inquiries in Media and Mediation, by Alexander R. Galloway, Eugene Thacker, and McKenzie Wark, 25–76. Chicago, Ill.: University of Chicago Press, 2014.
Haraway, Donna J. Modest_Witness@Second_Millennium.FemaleMan_Meets_Onco Mouse: Feminism and Technoscience. New York: Routledge, 1997.
Hartman, Kate. Wearable Electronics: Design, Prototype, and Wear Your Own Interactive Garments. Sebastopol, Calif.: Maker Media, 2014.
Harvey, David. "Class 02 Reading Marx's Capital, Vol I with David Harvey." YouTube, 2011. https://www.youtube.com/watch?v=zwuMrd_Hgww.
HASTAC (Humanities, Arts, Science, and Technology Alliance and Collaboratory). https://www.hastac.org/.
Hatch, Mark. The Maker Movement Manifesto: Rules for Innovation in the New World of Crafters, Hackers, and Tinkerers. New York: McGraw Hill, 2014.
Igoe, Tom. Making Things Talk: Practical Methods for Connecting Physical Objects. Sebastopol, Calif.: Maker Media, 2007.
Jackson, Steven J. "Rethinking Repair." In Media Technologies: Essays on Communication, Materiality, and Society, ed. Tarleton Gillespie, Pablo J. Boczkowski, and Kirsten A. Foot, 221–40. Cambridge, Mass.: MIT Press, 2014.
Johnson, Jessica Marie. Diaspora Hypertext. https://diasporahypertext.com/.
Kirschenbaum, Matthew. Mechanisms: New Media and the Forensic Imagination. Cambridge, Mass.: MIT Press, 2008.
Klein, Lauren. "The Image of Absence: Archival Silence, Data Visualization, and James Hemings." American Literature 85, no. 4 (2013): 661–88.
La Frenais, Rob. "An Interview with Laurie Anderson." In The Art of Performance: A Critical Anthology, ed. Gregory Battcock and Robert Nickas. Ubu Edition, ed. Lucia della Paolera, 135–42. UbuWeb, 2010. http://www.ubu.com/historical/battcock/Battcock_The-Art-of-Performance_1984.pdf.
Latour, Bruno. Science in Action: How to Follow Scientists and Engineers through Society. Cambridge, Mass.: Harvard University Press, 1987.
———. "Why Has Critique Run out of Steam? From Matters of Fact to Matters of Concern." Critical Inquiry 30, no. 2 (Winter 2004): 225–48.
Lehman, Robert S. "Allegories of Rending: Killing Time with Walter Benjamin." New Literary History 39, no. 2 (2008): 233–50.
Mallarmé, Stéphane. "Un Coup de Dés Jamais N'abolira le Hasard." Paris: Revue Internationale, 1897.
———. "A Dice Throw at Any Time Never Will Abolish Chance." In Stéphane Mallarmé: Collected Poems and Other Verse, trans. E. H. and A. M. Blackmore, 161–81. Oxford: Oxford University Press, 2006.
Marcuse, Herbert. "Some Social Implications of Modern Technology." In The Essential Frankfurt School Reader, ed. Andrew Arato and Eike Gebhardt. New York: Continuum, 1982. 138–62.
Morris, Kief. Infrastructure as Code: Managing Servers in the Cloud. Sebastopol, Calif.: Maker Media, 2016.
Parker, Cornelia. Cold Dark Matter: An Exploded View. London: Tate Modern, 1991. http://www.tate.org.uk/learn/online-resources/cold-dark-matter.
Peirce, Charles Sanders. Collected Papers of Charles Sanders Peirce, vols. 7 and 8, ed. Arthur W. Burks. Cambridge, Mass.: Belknap Press of Harvard University Press, 1966.
Perner-Wilson, Hannah. "A Kit-of-No-Parts: Recipes for Materially Diverse, Functionally Transparent and Expressive Electronics." Thesis. Massachusetts Institute of Technology, 2011.
Peters, John Durham. The Marvelous Clouds: Toward a Philosophy of Elemental Media. Chicago, Ill.: University of Chicago Press, 2015.
Ratto, Matt. "Critical Making: Conceptual and Material Studies in Technology and Social Life." The Information Society 27, no. 4 (2011): 252–60.
Rieffer-Flanagan, Barbara Ann. Evolving Iran: An Introduction to Politics and Problems in the Islamic Republic. Washington, D.C.: Georgetown University Press, 2013.
Rosner, Daniela K., and Morgan Ames. "Designing for Repair?: Infrastructures and Materialities of Breakdown." In Proceedings of the 17th ACM Conference on Computer Supported Cooperative Work and Social Computing, 319–31. New York: ACM, 2014.
Sayers, Jentery. "Prototyping the Past." Visible Language 49, no. 3 (2015): 157–77.
Scheinfeldt, Tom. "Sunset for Ideology, Sunrise for Methodology?" In Debates in the Digital Humanities, ed. Matthew K. Gold, 124–26. Minneapolis: University of Minnesota Press, 2012.
———. "Where's the Beef? Does Digital Humanities Have to Answer Questions?" In Debates in the Digital Humanities, ed. Matthew K. Gold, 56–58. Minneapolis: University of Minnesota Press, 2012.
Shaviro, Steven. "Panpsychism, Whitehead, and OOO." The Pinocchio Theory. November 25, 2010. http://www.shaviro.com/Blog/?p=935.
Simpson, Dave. "How We Made Laurie Anderson's 'O Superman.'" The Guardian, April 19, 2016. https://www.theguardian.com/culture/2016/apr/19/how-we-made-laurie-anderson-o-superman.
Sterne, Jonathan. MP3: The Meaning of a Format. Durham, N.C.: Duke University Press, 2012.
Stone, Allucquère Rosanne. The War of Desire and Technology at the Close of the Mechanical Age. Cambridge, Mass.: MIT Press, 1995.
Wajcman, Judy. Feminism Confronts Technology. Oxford: Polity, 1991.
Wark, McKenzie. Molecular Red: Theory for the Anthropocene. Brooklyn, N.Y.: Verso, 2015.
Winant, Howard. "The Dark Matter." Ethnic and Racial Studies 35, no. 4 (2012): 600–607.