Dialogic Objects in the Age of 3-D Printing: The Case of the Lincoln Life Mask
Susan Garfinkel
Smithsonian Now Allows Anyone To 3D Print (Some) Historic Artifacts," declared a headline on the Forbes Tech blog page (Mack). "These New 3D Models Put the Smithsonian's Most Renowned Items in Your Hands," explained another, at the website of Smithsonian Magazine (Stromberg). Both appeared in November 2013, when a simultaneous press release and conference announced the launch of "Smithsonian X 3D," an initiative to scan significant museum artifacts and turn them into three-dimensional digital models to either view online or download and 3-D–print via a new portal website.[1] "The future has arrived," tweeted Mythbusters host Adam Savage (2013). "Is 3-D a Game Changer?" asked the newsletter of the American Historical Association (Varin).
3-D printing is an additive process whereby deposits of a suitably mutable material — powdered metal, heated plastic, biomatter, or chocolate, for instance — are built up on a platform and solidified layer by layer to create three-dimensional forms. Computer models constructed with computer-aided design (CAD) software or captured from scans of preexisting objects are used to guide the deposition of material during printing. First developed in the 1980s, 3-D printing technology moved into the consumer market early in the twenty-first century, taking advantage of the ready suitability of such thermoplastics as polylactide (PLA) and acrylonitrile butadiene styrene (ABS). Following on the success of the open-source RepRap project, start-ups such as MakerBot Industries (founded in 2009) today sell 3-D printers for home use at prices well under $1000. Websites such as Makerbot's Thingiverse provide convenient platforms for sharing user-created 3-D–printable models and also act as sites of online community for 3-D printing enthusiasts.
Among the most intriguing of the object models to appear on the Smithsonian X 3D website is the 1865 Abraham Lincoln life mask (see Figure 24.1): intriguing because the mask itself is a copy of a copy of a copy, even before it became a 3-D model to be copied via printing yet again; intriguing because it nevertheless so powerfully retains a sense of presence, of aura — of Lincoln — through its multiple transformations. Unlike the earlier 1860 Lincoln life mask, taken before his election as president (and also provided at Smithsonian X 3D), this second mask embodies the visage of a poignantly burdened national leader at the end of a long and divisive Civil War. "It is impossible to look at this cast of Lincoln's face — gaunt and careworn — and not think that it is a death mask," write its caretakers (Smithsonian X 3D, "Introduction"). Indeed, taken less than two months before his nation-wrenching assassination, this later likeness timelessly foreshadows yet fully inhabits the universalizing tragedy of Lincoln's lost life.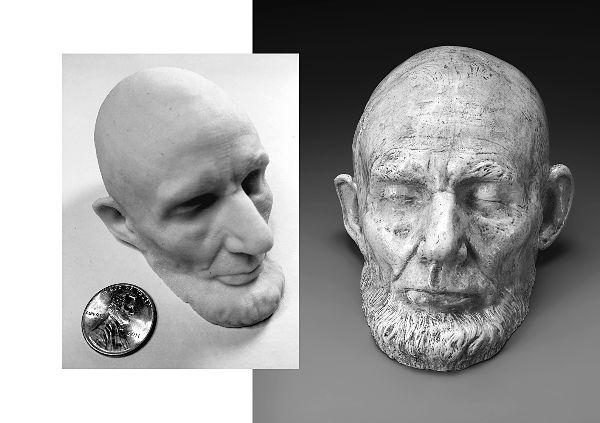 The Smithsonian's curators seem to struggle with terminology as they seek to explain the life mask's derivative physical nature yet palpable psychic presence. The manner of its creation by sculptor Clark Mills is detailed clearly enough under the heading "Process" in a website section devoted to a "Tour" of the object:
It is thought that Mills cast the original [1865] mask at the White House using a process that involved greasing the president's whiskers and applying oil over his face . . . Mills then spread a thin coat of plaster paste over Lincoln's face, leaving open only a small space under the nostrils so the president could breathe. The plaster dried in only fifteen minutes. Mills asked Lincoln to twitch his facial muscles until the mask broke into pieces and fell into a towel that Mills held. The pieces were then reassembled to form the finished mask. (Smithsonian X 3D, "Process")
Yet the object that has been scanned for Smithsonian X 3D is not in fact the "finished mask" just described — which, if made of the original pieces reassembled would create a negative space, a mold, of the president's face, its operative surface facing inward.
Confusingly for the curators' prose, the terms "life mask" and "death mask" typically refer to a solid casting made after the fact from an original hollow mold of the face — and the curators have left out the step where that casting of the mold was completed. Plus, the object that was scanned for the Smithsonian's 3-D model is also several generations and several decades removed from any actual plaster that touched Lincoln's face: the Smithsonian's "1865" life mask is a later plaster copy of a plaster impression taken from Mills's original mold. As detailed on the "Provenance" page of the "Tour," at the death of Clark Mills in 1883, the original 1865 life mask was given by Mills's son to Lincoln's former private secretary, after which time multiple copies were made from it in both plaster and bronze. Soon after, Mills's son also presented a plaster copy created from the original to the Smithsonian. This cast — meaning the scanned one — the curators explain, "was created in 1917 from the original mask that was given to the Smithsonian Institution in 1889" (Smithsonian X 3D, "Provenance"). In order to create the 1917 copy, of course, another here-unmentioned intermediate mold would also have been made. Face becomes mold becomes imprint becomes mold becomes imprint — and then becomes a scanned 3-D model, download, and print, circa 2015. All but Lincoln's face itself are copies.[2]
Even more than they struggle with the terminology of process, the Smithsonian's curators struggle to contain the mask's aura with their language. They title one section of the tour "A Window into Lincoln's Thoughts" with no explanation for how such direct revelation might operate. Under a subsequent heading, "Devotion to the Cause," they observe that "as Lincoln looks out, frozen in time with hollowed cheeks and with every line and wrinkle on his face recorded, we cannot help but think about the enormity of the challenge he had faced" (Smithsonian X 3D, "Devotion to a Cause"). In fact — and not surprisingly given the process of creation they have depicted — it is clear when viewing the mask that Lincoln's eyes are fully closed. The curators' wording is a literal mistake but less so an affective one: despite its closed eyes, the life mask seems to open wide to us some fundamental Lincoln-ness, viscerally other, but also eminently humane, exposing him to us while simultaneously hiding him behind the visage of our own interpretations. It both defies context and cannot exist without it.
I offer these details to explain the curators' conundrum, for even at this remove we still read the life mask as Lincoln, not a mask. Though derivative, it does not hide its subject: the mask reveals what it represents. The 3-D–enabled viewer on the Smithsonian's website enhances this conflation of mask and Lincoln, allowing us to virtually touch and turn and move the pixel projection that simulates its form. Likewise, this transformed object-formation still always emerges as Lincoln when we produce it on 3-D printers, either reduced in size or at scale (Figure 24.1), and hold a newly made copy derived of these many other copies in our hands. What confounds us, perhaps, is the strangeness of the thing that is a life mask in our age when such morbidly sentimental objects are odd or novel. It is the intimacy of touch: as we use our hands to rotate the virtual model so, too, do we heft this chunk of printed plastic, incongruously perceiving through our fingertips this thing to have touched Lincoln's face. Like the contents of Lincoln's pockets surviving at the Library of Congress, this vestige of his once-embodied humanness evokes utter fascination.[3] So like and yet different from the ubiquitous copper pennies and five-dollar bills that render Lincoln's face a tokenized and omnipresent memorial, the life mask and its copies are tangible in a startlingly intimate way.
Search Flickr, Twitter, or even Facebook, and you will find user photographs of 3-D prints of the Smithsonian's 1865 Lincoln life mask model. Often they are white like plaster, though brightly colored hues are almost as common. Sometimes they are full-sized, though more frequently they are reduced to just a few inches wide. Sometimes you can see the parallel contours of an imperfect 3-D–printing process overwhelming Lincoln's likeness. Often, the image posted deliberately foregrounds some feature of the model's nascent physicality: the 3-D print is still in process, the newly finished object is held in a hand or posed with a coin beside it for scale. Sometimes there are modifications: over at Thingiverse, a user has turned the original Smithsonian model into a Christmas ornament by adding a loop to the top of its head (UndeadManatee). This is not to suggest that the life mask was not evocative, even transformative, before it was published as a printable 3-D model in November 2013, nor that 3-D–printed copies are either more, or less, authentic than other copies made by more traditional means. Instead, the life mask's widely shared digitization, coupled with the ready option to create a new instance of a known-to-be-singular original, opens up a heterogeneous process to more makers, more viewers, more iterations, and more contexts: the possibilities transcend what is probable.
The Lincoln life mask example is exceptional, of course — except when it isn't. The 3-D capture, modeling, sharing, downloading, and printing of even the most mundane physical object constitutes a process at once specific yet far-reaching in its capacity: a discursive, performative, and dialogic one. In his formative analysis of literary genres, theorist Mikhail Bakhtin (1981) explores the multiply elastic environment of language, arguing that language in use is always dialogic, residing as it does in a complex swirl of contexts. Any meaning-in-the-moment is embedded in and overlaid with a rich array of its prior and emergent meanings, both consonant and contradictory. "No living word," writes Bakhtin, "relates to its object in a singular way" (276). Rather, he argues, the object in context "is entangled, shot through with shared thoughts, points of view, alien value judgments and accents," which are built on both "the inexhaustible wealth and contradictory multiplicity of the object itself" and "the socially heteroglot multiplicity of its names, definitions and value judgments" as invoked in prior usage (276, 278). Language, as lived interaction, merely complicates the dialogic object's already abundantly situated meanings.
Material culture scholars such as Bernard L. Herman (1992) have long made a case for a discursive approach to the study of material life: "Because objects occupy multiple contexts through time and perception, their meanings are always multifoliate and fluid. . . . Artifacts, like the totality of expressive culture, are multifunctional in their expressive content with a single object often imbued with an array of potential meanings" (5). As Herman contends, "In the discourse of objects we confront the fact that material culture does not passively reflect cultural process" (5). Given that objects, like language, so routinely exceed their meanings, the term dialogic object as I explore it here is surprisingly underused given its powerful implications. All objects are dialogic, their meanings emergent in the physical and cultural contexts that frame them — just as contexts reciprocally, and recursively, arise through the presence of objects.[4]
The ease with which 3-D–printed copies of cultural artifacts invite us to engage the object's dialogic nature is striking: by virtue of heightened circulation they are ready sites of discourse; moving broadly among and across contexts, they allow for the flexible dissemination, amplification, and re-creation of meanings. They are souvenirs, miniatures, remixes, recreations, memories, and inventions. They are technologically immediate yet affectively timeless, melding the past with the present with the future according to the needs and knowledges of their makers, users, and viewers. Like all objects, they actively constitute culture and its processes. In her intriguing discussion of the vibrancy of matter beyond human agency, political theorist Jane Bennett (2010) coins a phrase: the thing formerly known as an object. "Thing-power," she writes, "gestures toward the strange ability of ordinary, man-made items to exceed their status as objects and to manifest traces of independence or aliveness, constituting the outside of our own experience" (xvii). Things defy comprehension because they offer us too little, or too much. From one perspective they confound us because they lack words to define themselves and could seemingly mean anything. From another perspective, they lack words and are therefore not subject to the complications and uncertainties that language invites.[5] Here is Bakhtin's contradictory multiplicity realized in a material frame.
If objects are things in context — physical, cultural, historical, aesthetic — then the 3-D print's trajectory from original artifact to 3-D model to printed copy at once complicates and clarifies the shifting terrains, both physical and meaningful, that all material entities inhabit. Its transformations — of state, form, material, location, environment — especially bring to light the ways all material objects function across time, space, and context. The much-copied Lincoln life mask model compounds this visibility by virtue of its dense web of cultural-historical associations and its manifold replications, but this instance is a difference of scale, not of kind. Thus, while the finished 3-D print resides at a moment of cultural and technological convergence, it is no revelation in its own right. Instead, by foregrounding the dialogic nature of all cultural objects, it becomes a compelling vehicle for the larger exploration of discursive material forms while also imprinting the ethos of our own cultural-historical moment. When we grasp that final 3-D print in our hands, it is a palpable affirmation that all objects are dialogic reinstantiations, ever available to reshape our world.
As Walter Benjamin (1969) so famously indicated, in the age of mechanical reproduction a work of art's authentic aura is at once destroyed and liberated. Thus we know Lincoln through the contours of his life mask even as each 3-D–printed copy fails its test of authenticity. If meaning is emergent in context, made in this moment, and the next one, on and on, there are yet still processes — of mind, of culture, of environment, of physics — that preserve continuities of meaning across each semiotic gap. Objects, in their material thingness, continue to exist over time, which has the effect on us of embodying history: our history, the object's history, the planet's history. Because it is simultaneously discerned anew while also embodying our perceived continuity with the past, the object continuously reinvents itself in its own likeness. The process is not unlike the workings of "invented tradition" identified by Eric Hobsbawm (1983), except our emphasis here is on the invention of continuity rather than the veracity of a particular past. "The souvenir both mourns and celebrates the gap between object and context of origin," writes literary critic Susan Stewart (1984) in her masterful book On Longing (164). "The souvenir must be removed from its context in order to serve as a trace of it" (150). In its materiality the 3-D print appeals to and satisfies our nostalgic desire for connection, for authentic experience, yet we do not doubt it is a replica. "We do not need or desire souvenirs of events that are repeatable," Stewart elaborates (135). "Rather, we need and desire souvenirs of events that are reportable . . . through narrative the souvenir substitutes a context of perpetual consumption for its context of origin" (135). Our fascination with the powerful uniqueness of Lincoln is, in this way, earnestly indulged through the easy reproduction of each compelling copy of his likeness. "It is within an exuberant world of copies," suggests Hillel Schwartz (2014), "that we arrive at our experience of originality" (175).
Based in the array of its meaningful contexts, the dialogic object is at once multiple and distinct. In The Dialogic Imagination Bakhtin argues that, with the rise of the novel, author and hero newly share a temporal plane "and may enter into dialogic relations and hybrid combinations" with each other as contemporaries (27–28). With "the original formally present author in a zone of contact with the world he is depicting," Bakhtin writes,
For the first time in artistic-ideological consciousness . . . every event, every phenomenon, every thing, every object of artistic representation loses its completedness, its hopelessly finished quality and its immutability that had been so essential to it in the world of the epic "absolute past" . . . Through contact with the present, an object is attracted to the incomplete process of a world-in-the-making, and is stamped with the seal of inconclusiveness (28–30).
For us, the 3-D–printed copy is inherently incomplete simply because its authorizing original and intermediary model are, of necessity, exterior to its own physicality. Each is intrinsically a version of the others, reinforcing Bakhtin's world-in-the-making with its dynamic multiplicity, with the way that it keeps creating meanings.
Here, we are not simply claiming that the dialogic object is in dialogue with people, though of course in part it is. Rather, the object is in dialogue with its multiple contexts, so that the actions and perceptions of those who shape, foreground, or inhabit those contexts interrelate with the object by sharing formational meanings. No single mediator can perceive, contain, or synthesize all contexts: interpretation is contingent, based in the time, place, and position of the subject, and in the affordances the object employs. Our interpretive role necessarily brings us into negotiation with all of those contexts, even those that may be out of view. Yet our object encounters, if wholly contingent, do not lack specificity. Like anthropologist Clifford Geertz's (1973) seminal "thick description" or dramatist Richard Schechner's (2002) foundational version of "performance," our encounter with an object's significance is not just between us and its visible contexts; it is a triangulation between us and our understanding of how its visible context relates to many others. It is "our own construction of other people's construction" (Geertz 9), and it is "twice-behaved" (Schechner 52).[6]
Copies — 3-D prints or otherwise — bring meaning back to the original just as the original grounds and situates its abundant copies. "To say that a work of art grows in originality in proportion to the quality and abundance of its copies is nothing odd," write Bruno Latour and Adam Lowe (2011) in "The Migration of the Aura, or How to Explore the Original Through Its Facsimiles" (279). Much as for a poem or play, each concrete performance reflects both process and product, how the two work together. To quote Charles Péguy via Derrida, as they do, "If we stop interpreting, if we stop rehearsing, if we stop reproducing, the very existence of the original is at stake" (279). Latour and Lowe further suggest that "the real phenomenon to be accounted for is not the delineation of one version from all others but the whole assemblage of one — or several — original(s) together with its continually rewritten biography" (278). Surely the Lincoln life mask — so clearly an entity that holds aura across its composite state of original, 3-D model, and 3-D copy — qualifies here. "Students of material culture argue for the primacy of the artifact as a historical document or text, but that primacy is limited by the realities of [recoverable] context," argues Herman (10). If the original lives in both its copies and contexts, as well as in the stories that adhere to them, then the dialogic process across the whole assemblage of versions, environments, and interpreters is inevitably made visible. Taken together, the original-model-copy composite functions as a discontinuous yet meaningfully coherent entity whose digital interlude — material dissolving into virtual in order to be created once again — invites us to foreground the continuities and gaps in its significance, to explore both as foundational qualities of things. As objects retreat from a material authentic they gather ever more layers of experience and meaning — arraying their multiplicity for ready use in further dialogic encounters across time and space.
If performance is the creation of meaning through use, then objects, as material expressions, are surely performances in their own right (Garfinkel). When folklorist Richard Bauman and anthropologist Charles Briggs (1990) identify the "situational" context of performance, they are focused on the rising conditions of the moment. Building in part on Bakhtin's sociolinguistics, they explore the concept of entextualization, a transformational process whereby discrete units of discourse are rendered extractable from their interactional setting (73). This shift of attention, they argue, "represents a major step towards achieving an agent-centered view of performance" (69). "Consider for a moment," they write,
why researchers have had to make such an issue of contextualization, to devote so much effort to establishing that the form, function, and meaning of verbal art cannot be understood apart from context. The reason is precisely that verbal art forms are so susceptible to treatment as self-contained, bounded objects separable from their social and cultural contexts of production and reception. (72)
If scholars of verbal performance have most often sought to show how expressive meaning is firmly anchored, Bauman and Briggs argue an opposite tack, asking "what it is that makes verbal art decenterable despite all these anchoring counterforces" (73). If we extend this observation of the de- and re-contextualization of verbal genres to all separable and bounded forms, we soon see entextualization at work for the Lincoln 3-D model and its prints: they are surely neither "self-contained" nor "separable from their social and cultural contexts" — except when the decentering processes of discourse substantively transform and realign their meanings, creating junctures of new stability. Indeed, through time and circumstance, the transmutations of circulating objects are essential to keeping culture moving and alive.[7]
Yet, "thingification — " writes science studies scholar Karen Barad (2003), "the turning of relations into 'things,' 'entities,' 'relata,' — infects much of the way we understand the world and our relationship to it. Why do we think that the existence of relations requires relata?" ("Posthuman Performativity" 812). Like Bennett, among other scholars sometimes labeled new materialists, Barad argues that matter itself plays an active role in creating the world. It is neither dependent nor secondary. In her far-reaching theorization of what she terms agential realism — a "performative metaphysics" based in the rejection of dualities between observer and observed, words and things, objects and their boundaries — Barad proposes "a posthumanist refiguration of the nature of materiality and discursivity and the relationship between them" (818). Drawing on the work of quantum physicist Neils Bohr, she posits phenomena as the basic epistemological components of the world. "The primary ontological units are not 'things' but phenomena — dynamic topological reconfigurings / entanglements / relationalities / (re)articulations. And the primary semantic units are not 'words' but material-discursive practices through which boundaries are constituted" (818). Phenomena, Barad writes, "are constitutive of reality," while the world "is an ongoing open process of mattering through which 'mattering' itself acquires meaning and form in the realization of different agential possibilities" (817–18). For Barad, "Matter is not immutable or passive. . . . Matter is always already an ongoing historicity" (821).[8]
Bauman and Briggs on one side, Barad on the other: they both converge on the same coin but at incompatible faces. At the very moment words take on the tangible qualities of objects, objects are disbound from the tyranny of linguistic formulations, and meaning coalesces in the middle. Yet as Bill Brown (2004) writes in his formative discussion of "thing theory,"
The very semantic reducibility of things to objects, coupled with the semantic irreducibility of things to objects, would seem to mark one way of recognizing how, although objects typically arrest a poet's attention, and although the object was what was asked to join the dance in philosophy, things may still lurk in the shadows of the ballroom and continue to lurk there after the subject and object have done their thing, long after the party is over. (3)
Material objects, for all our contemplation, are still a conundrum — which is also "the resistance of the object[,] . . . the impossibility of its being exhausted by a word," that Bakhtin so long ago identified (276).
If part of an object's meaning lives in its contexts, the converse must also hold: part of the meaning of context is borne by objects. They implicate each other. Material objects, like the building blocks of all cultural discourse, emerge in meaning as they are encountered. Because of this, and despite their seemingly static materiality, they are precisely as emergent as any other container of human meaning, be that a sentence, a song, or a sensation. 3-D–printed copies are no different in this regard. What they do for us, though, is expose more readily to view a field of possibilities that was already there, awaiting our detection: virtuality's state change allows us to see that the contexts of objects change along with their materiality. Speed, scale, material, use, locale: all these can change more rapidly or unexpectedly than what previous generations experienced as part of their customary life-world. Our digital moment also works to bring multiple strands of scholarship closer together: literary scholars study things while material culturalists work to engage semiotics while digital humanists interrogate the anthropocene while we all set up maker labs to, well, make things. Recognized or not, the intended or unintended potential uses of objects, or environments, are all latent affordances, quietly waiting to drive meaning forward. In the dialogically expansive world of meaning revealed by the culture of 3-D copies, an expansive range of cultural affordances enable multiplicity. In our ever more computerized age, writes Schwartz, "creation and imitation, invention and repetition may become as indistinct as knowing is from copying" (204).
As the Smithsonian's Lincoln life mask model shows us, 3-D printing opens to view a Bakhtinian moment in cultural materiality. Through its immediacy, the attention it gathers, and the plasticity it brings to processes of memory, 3-D printing has the potential to put makers of material objects in dialogue with their no-longer-immutable, no-longer-impossibly-distant sources. For the dialogic object — that is, any object — a formerly absolute and immutable past dissolves into a configurable present available for further renegotiation. The 3-D-printed copy of the 3-D model of the significant original artifact, in its layers and tangles of dialogic multiplicity, invites a uniquely sustained attention to the object's raw world-making potential.
Notes
Bibliography
Appadurai, Arjun. "Introduction: Commodities and the Politics of Value." In The Social Life of Things: Commodities in Cultural Perspective, ed. Arjun Appadurai, 3–63. Cambridge: Cambridge University Press, 1986.
Appadurai, Arjun, ed. The Social Life of Things: Commodities in Cultural Perspective. Cambridge: Cambridge University Press, 1986.
Bakhtin, M. M. The Dialogic Imagination: Four Essays, ed. Michael Holquist, translated by Caryl Emerson and Michael Holquist. Austin, Tex.: University of Texas Press, 1981.
Barad, Karen. Meeting the Universe Halfway: Quantum Physics and the Entanglement of Matter and Meaning. Durham, N.C.: Duke University Press, 2007.
———. "Posthumanist Performativity: Toward an Understanding of How Matter Comes to Matter." Signs 28, no. 3 (2003): 801–31.
Bauman, Richard, and Charles L. Briggs. "Poetics and Performance as Critical Perspectives on Language and Social Life." Annual Review of Anthropology 19 (January 1990): 59–88.
Benjamin, Walter. "The Work of Art in the Age of Mechanical Reproduction." In Illuminations: Essays and Reflections, ed. Hannah Arendt, translated by Harry Zohn, 217–51. New York: Schocken, 1969.
Bennett, Jane. Vibrant Matter: A Political Ecology of Things. Durham, N.C.: Duke University Press, 2010.
Brown, Bill. "Thing Theory." In Things, ed. Bill Brown, 1–22. Chicago, Ill.: University of Chicago Press, 2004.
Chemero, Anthony. "An Outline of a Theory of Affordances." Ecological Psychology 15, no. 2 (2003): 181–95.
Fleming, E. McClung. "Artifact Study: A Proposed Model." Winterthur Portfolio 9 (January 1974): 153–73.
Garfinkel, Susan. "Recovering Performance for Vernacular Architecture Studies." Perspectives in Vernacular Architecture 13, no. 2 (2006/7): 106–14.
Geertz, Clifford. "Thick Description: Toward an Interpretive Theory of Culture." In The Interpretation of Cultures: Selected Essays, 3–30. New York: Basic, 1973.
Gibson, James J. "The Theory of Affordances." In The Ecological Approach to Visual Perception, 127–43. Boston, Mass.: Houghton Mifflin, 1979.
Glassie, Henry H. Folk Housing in Middle Virginia: A Structural Analysis of Historic Artifacts. Knoxville, Tenn.: University of Tennessee Press, 1975.
Herman, Bernard L. "Introduction: The Discourse of Objects." In The Stolen House, 3–14. Charlottesville: University of Virginia Press, 1997.
Hobsbawm, Eric. "Introduction: Inventing Tradition." In The Invention of Tradition, ed. Eric Hobsbawm and Terence Ranger, 1–14. Cambridge: Cambridge University Press, 1983.
Ingold, Tim. "Materials against Materiality." Archaeological Dialogues 14, no. 1 (2007): 1–16.
———. "Writing Texts, Reading Materials. A Response to My Critics." Archaeological Dialogues 14, no. 1 (2007): 31–38.
Kent, Thomas. "Dialogic Semiotics." The American Journal of Semiotics 6, no. 2/3 (1989): 221–37.
Latour, Bruno, and Adam Lowe. "The Migration of the Aura, or How to Explore the Original Through Its Facsimiles." In Switching Codes: Thinking through Digital Technology in the Humanities and the Arts, ed. Thomas Bartscherer and Roderick Coover, 275–97. Chicago, Ill.: University of Chicago Press, 2011.
Mack, Eric. "Smithsonian Now Allows Anyone To 3D Print (Some) Historic Artifacts." Forbes / Tech. November 13, 2013. www.forbes.com/sites/ericmack/2013/11/13/smithsonian-now-allows-anyone-to-3d-print-some-historic-artifacts.
MakerBot Industries. https://www.makerbot.com/.
Nye, Benjamin D., and Barry G. Silverman. "Affordance." In Encyclopedia of the Sciences of Learning, ed. N. M. Seel, 179–83. New York: Springer, 2012.
Ostendorf, Lloyd. "A Relic from His Last Birthday: The Mills Life Mask of Lincoln." Lincoln Herald 75 (1973): 79–85.
Prown, Jules David. "Mind in Matter: An Introduction to Material Culture Theory and Method." Winterthur Portfolio 17, no. 1 (1982): 1–19.
RepRap. http://reprap.org/.
Riggins, Stephen Harold, ed. The Socialness of Things: Essays on the Socio-Semiotics of Objects. New York: Mouton de Gruyter, 1994.
Savage, Adam. Tweet of November 13, 2013. https://twitter.com/donttrythis/status/400652819532746752.
Schechner, Richard. Performance Studies: An Introduction. New York: Routledge, 2002.
Schwartz, Hillel. The Culture of the Copy: Striking Likenesses, Unreasonable Facsimilies. New York: Zone Books, 2014.
"Smithsonian Releases 3-D Collection and Launches New 3-D Explorer." Newsdesk: Newsroom of the Smithsonian. November 13, 2013. http://newsdesk.si.edu/releases/smithsonian-releases-3-d-collection-and-launches-new-3-d-explorer.
Smithsonian X 3D. "Tour: Looking at Clark Mills' Life Mask of Abraham Lincoln." 2013. http://3d.si.edu/tour/looking-clark-mills-life-mask-abraham-lincoln.
Stewart, Susan. On Longing: Narratives of the Miniature, the Gigantic, the Souvenir, the Collection. Baltimore, Md.: Johns Hopkins University Press, 1984.
Stewart, T. D. "An Anthropologist Looks at Lincoln." In Annual Report of the Board of Regents of the Smithsonian Institution, 419–38. Washington, D.C.: Government Printing Office, 1952.
Stromberg, Joseph. "These New 3D Models Put the Smithsonian's Most Renowned Items in Your Hands." Smithsonian Magazine, November 13, 2013. www.smithsonianmag.com/smithsonian-institution/these-new-3d-models-put-the-smithsonians-most-renowned-items-in-your-hands-180947679.
Thingiverse. https://www.thingiverse.com/.
UndeadManatee. "Abraham Lincoln Christmas Ornament." November 9, 2014. http://www.thingiverse.com/thing:536545.
Volk, Leonard W. "The Lincoln Life-Mask and How It Was Made Reprinted from the Century Magazine for December, 1881: By Permission of the Century Company." Journal of the Illinois State Historical Society 8, no. 2 (1915): 238–59.