Material Care
Steven J. Jackson
What does it mean to care for things and not just people? This question has occupied a recent and growing subset of work in science and technology studies and in allied programs in the humanities. In the humanities and critical social sciences, the star of "care" has enjoyed a recent and deserved ascendance, casting new light on forms of work and value obscured by other ways of imagining human action and relationality. Building from theoretical but also highly practical concerns in feminist scholarship and politics, care has been deployed to account for possibilities of meaning and action denied under the instrumentalist logics by, to, and through which we all too often reduce and devalue human action in the world. Theorists of care have also called out practical forms of labor rendered invisible under such accounts, revealing the crucial but oft-neglected work through which human meaning and value are made, supported, and sustained.
As the uptake of these ideas underscores, it is easy to care for the human, at least at the conceptual level (although we also find so many ways not to, from the mundane to the creative to the abhorrent). It is also easy to care for things as a kind of second-order human effect, such as the nostalgia item that recalls a past human relation or the object that adds ease, functionality, or beauty to our lives. And it is easy to care for things that appear charismatic in human eyes—one of the reasons that ecological action and knowledge have long tipped toward the cuddly and the picturesque (think pandas vs. bacteria, national parks vs. Superfund sites).
But can we care for things as things, and not for the refracted glow of the human that we perceive in them? What would it mean to do so? And what might this mean for the digital humanities?
These questions have exercised recent strains of philosophical work from environmental and multispecies ethics to object-oriented ontology and speculative realism. It also forms the core ethical proposition (and for some, the sticking point) of recent science and technology studies (STS) approaches like actor-network theory. Critical humanities scholars themselves have had a long and complicated relationship to this question. On the one hand, things remain (for us as scholars as for everyone else) a chief modality of our work. Some fields, like archaeology and material anthropology, have been built substantially on and by the bones of things. Others rely on the great institutions of archive and document, library and memory. All of us live in great houses made of paper and, as the digital humanities usefully attest, also bits, silicon, and code.
On the other hand, we fall all too often into the error of discounting or disdaining things, treating them as passing or vulgar manifestations of a higher or spiritual real: this is an error traceable to Hegel or, if one prefers, all the way back to Plato. Alternately, we fall into the endless loop and echo of representationalism, in which the value and interest of things are made epiphenomenal to the human itself: stage furniture in the drama of human action.
But what if the road (back) to the human leads through things—and things as things, with all their messy materialities intact? What if we have been a stuff-y species, a thing-y people, all along?
This is where care (and specifically material care) comes in—as an ethical proposition, but most simply and powerfully as simple empirical observation. From subways (Denis and Pontille), to soils (de la Bellacassa, "Making Time for Soil," to Samsung Galaxies (Houston et al.; Ahmed and Jackson)—to cite just a few of the examples offered by recent scholars who have started to make this argument—we do care for the object worlds around us and in ways that cannot be fully attributed to instrumentalist, human-only, or human-first logics (see Figure 38.1). Care here has an affective dimension, speaking to forms of attachment (even love?) that people regularly enter into with the object worlds around them. Care also speaks to a certain ethical commitment, a sustained engagement with the well-being of things as things undertaken beyond and beneath the instrumentalist relations usually held to govern our interactions with objects. As the image of caring for a patient or a sick child attests, care also names a kind of patient attending, a slow and attentive being with by which the trajectory of others is secured and sustained through time. And as its roots in feminist political economy remind us, care may also speak to a distributive and practical politics, reminding us that if things need care, it may also be necessary to recognize, honor, and sometimes even pay for that work.
In light of this work, to neglect material care as a facet of human existence in the world is to ignore the evidence all around us and to stick to a two-world story of human exceptionalism that simply does not, in my view, hold up. (It also sounds rather lonely). From the perspective advocated here, being human is not what is left over after the haze and shadow of things are stripped away: it is what comes out at the end of the process, a state achieved in concert with the things around us. Acts of care and repair (whether performed on soils or subway signs) produce not only different objects but also different fixers. For this reason, human nature is best approached not naked but fully clothed, or as argued elsewhere, "we're made human by addition, not subtraction" (Jackson and Kang).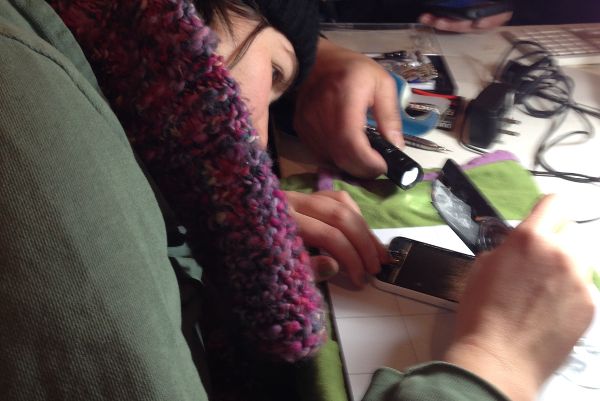 This position has value for the digital humanities, I believe. It can help us think differently about the things that surround and constitute DH work: hardware and maker spaces, for example, but also the curl of old paper, the faded edges of photographs, and the indescribable smell and feel of (some) archives. It can help us toward a different sense of time and temporality, locating digital forms and moments within longer and care-ful histories that do not run inevitably and relentlessly forward. It can lead us to imagine and recognize different forms of work and engagement, pointing away from preoccupations with novelty and design and back to the centrality and creativity of maintenance and repair. And it can speak to ethical ideals and aspirations that we may also want to advance and uphold through our work. Affective attachment, mutual responsibility, patient attending: these are also virtues of a digital humanities worthy of the name.
Bibliography
Ahmed, Syed Ishtiaque, and Steven J. Jackson, "Learning to Fix: Knowledge, Collaboration, and Mobile Phone Repair in Dhaka, Bangladesh." Proceedings of the 2015 Information and Communication Technologies for Development (ICTD) Conference, Singapore, May 2015.
de la Bellacassa, Maria Puig. "Making Time for Soil: Technoscientific Futurity and the Pace of Care." Social Studies of Science 45, no. 5 (2015): 691–716.
de la Bellacassa, Maria Puig. "Matters of Care in Technoscience: Assembling Neglected Things." Social Studies of Science 41, no. 1 (2011): 85–106.
Denis, Jerome, and David Pontille. "Material Ordering and the Care of Things." Science, Technology, and Human Values 40, no. 3 (2015): 338–67.
Houston, Lara, Steven J. Jackson, Daniela Rosner, Syed Ishtiaque Ahmed, Meg Young, and Leo Kang. "Values in Repair." Proceedings of the 2016 SIGCHI Conference on Human Factors in Computing, San Jose, Calif., May 7–12, 2016.
Jackson, Steven J. "Rethinking Repair." In Media Technologies: Essays on Communication, Materiality, and Society, edited by T. Gillespie, P. Boczkowski, and K. Foot, 221–39. Cambridge Mass.: MIT Press, 2014.
Jackson, Steven J., and Leo Kang, "Breakdown, Obsolescence and Reuse: HCI and the Art of Repair." Proceedings of the 2014 SIGCHI Conference on Human Factors in Computing, Toronto, April 2014.