Mixed Methodological Digital Humanities
Moacir P. de Sá Pereira
The specter of quantitative methods haunts work in the digital humanities. As James English reminds us, literary studies is not a "'counting' discipline," and when numbers, by definition the foundation of any computational work, appear in a work of literary criticism, they often prompt that "hoary binarism of quantitative versus qualitative" (xii, xiv). With prominent scholars in digital humanities such as Andrew Goldstone aiming to bring literary studies "closer to the social sciences," that binarism returns ("At DH 2014").[1] Studying how the social sciences manage that tension between quantitative and qualitative, however, opens new possibilities for DH practitioners.
Adherents of both quantitative and qualitative methodologies took advantage of a strong reading of Thomas Kuhn's slippery term "paradigm" to launch the "paradigm wars" of the late twentieth century in the social sciences.[2] Relying on the "incommensurability" of paradigms, the combatants entrenched themselves in their views.[3] Methodologies now revealed underlying, incommensurate epistemologies: quantitative methods a positivist epistemology, and qualitative methods a constructivist one. In response, some social scientists, in the spirit of William James and John Dewey, developed a "pragmatic approach" that downplays metaphysical issues, namely by mixing methods (Morgan, 67).[4] So while literary studies—or the humanities more generally—perhaps has no real analog to the paradigm wars, a conscious use of mixed methods would push aside the binarism and let literary study be a counting discipline at the same time as a reading one.
The use of mixed methods in the social, behavioral, and health sciences does what it says on the tin; as the founding editors of the Journal of Mixed Methods Research describe it, "The investigator collects and analyzes data, integrates the findings, and draws inferences using both qualitative and quantitative approaches or methods in a single study or a program of inquiry" (Tashakkori and Creswell, 4). The integration, which is to say, the mixing, remains vital to the project.[5] Though the term is new, the impulse is at least a half-century old, and the practice has spread throughout a range of fields, especially education, health sciences, sociology, and psychology.[6] Importantly for this chapter, the use of mixed methods has also appeared in geography, uncovering new paths available to pragmatically minded literary scholars with interests in mapping.[7]
Of course, arguing for a methodological macédoine is not terribly new in literary studies either. Along the whole spectrum of digital humanities, from skeptics to devotees, we can find calls for some sort of mixing. For example, Jeremy Rosen encourages "combining digital and computational methods with traditional modes of literary analysis" in a critical response to a DH project. Similarly, but with different stakes, Hoyt Long and Richard Jean So have announced "literary pattern recognition," a "model of reading literary texts that synthesizes familiar humanistic approaches with computational ones" (235).[8] Bringing these digital and nondigital syntheses explicitly under the rubric of mixed methods, however, allows humanities scholars to make use of the decades of debates and discussion regarding mixed methods in the social sciences. By mixing, we can bring our work closer to the social sciences, but we can also learn, as have the social scientists, how to incorporate quantitative methods without necessarily making them the focus of our digital humanistic inquiry.
Geography suffered a similar tempest to the paradigm wars with its "GIS wars." Studying this moment, one can see the sorts of DH skepticism that would follow two decades later.[9] The arrival of digital mapping and analysis in the 1980s forced a reconsideration of geographic practice. Some geographers saw these new technologies as, among other things, a necessary breakthrough for a dormant discipline, a methodology that would tie together a fractured field, or a positivistic riposte to postmodernism. For others, it was "a retreat from ideas to facts," underwritten by the military and visible in full glory during the first Gulf War (Smith, 258).[10] Out of the subsequent détente arose critical GIS.[11] The tendency toward greater quantification would now be held in check by a critical impulse among the practitioners.[12] What had seemed like an especially quantitative and positivist form of social science—after all, land is land and water is water, and these are sensed remotely by satellites—could be mixed.
In practice, qualitative GIS, a mixed methods approach to geography, emerges from a fundamental "messiness" where technologies and methods get blurred, mixed, and woven together, leaving behind a practice that "simultaneously revels in the broad diversity of truths and turns a critical eye toward those very 'truths'" (Cope and Elwood, "Conclusion," 173). LaDona Knigge, for example, made use of this approach in investigating the concept of vacancy in Buffalo, New York, by iteratively collecting qualitative data through interviews and comparing that to the quantitatively established "patterns of vacancy of visualizations of official [US Census, etc.] data" (Knigge and Cope, "Grounded Visualization and Scale," 111).[13] The official data both provided a context for the specific district where Knigge met with activists and also guided questions in activist interviews. The answers, in turn, led to reconsidering the many ways that vacancy fails to be a binary definition, though it may appear so on a map. A blend of ethnography and cartography, each iteration of analysis and collection expands the interpretive field and produces more knowledge.
As the example of qualitative GIS shows, porting mixed methods to the digital humanities would help researchers definitively move past the quantitative/qualitative binarism.[14] This stands in contrast to how scholars like Goldstone and Franco Moretti have at times polemically made the case for a large-scale form of literary study that cannot be other than quantitative (Goldstone, "Social Science and Profanity"; Moretti). But their prescription of sociological and quantitative analysis to correct the "barrier to the production of knowledge" that current methods in the humanities throw up is not the only way to inject quantitative methods from the social sciences into humanistic work (Goldstone, "Social Science"). After all, the digital humanities are not a synonym for distant reading, nor should they be. In mixing methods, we incorporate quantitative modes of analysis without accepting the polemics that reduce other forms of humanistic inquiry to omphalic inward spirals of sacralization. That is, just as geographers mix, so can we. Mixed methods create a space for quantitatively minded digital scholarship that goes beyond the trend of "big data," allowing us to craft digital hermeneutic strategies for a handful of texts or even for just one.
For example, I read Ernest Hemingway's For Whom the Bell Tolls in a mixed methodological fashion informed by qualitative GIS.[15] I built a dataset of every instance of a toponym mentioned in the novel. Every instance belongs to a specific place, such as Madrid or Spain, which are mentioned fifty-three and twenty-two times, respectively. Before building the dataset, however, I noticed that the novel featured three particularly distinct rhetorical sites or planes of heteroglossia.[16] A "fabula" site reflected the action or plot of the novel. Next, a "discourse" site featured the conversations between characters. Finally, a "monologue" site contained Robert Jordan's interior monologues. Every time a place was mentioned in the text, I also assigned it to one of these three sites. Madrid is mentioned once in the fabula site, twenty-seven times in the discursive site, twenty-three times in Jordan's monologues, and twice in other sites.[17]
Already, an iterative, mixed methodological process alters the object under study with each pass, generating questions more quickly than answers. Step one: read the novel closely. Step two: switch methods, build a dataset, and incorporate a GIS to map the three different layers, each corresponding to a different site. Now a quantitative analysis (average nearest neighbor) of places in Spain (city-sized and smaller) across the three sites yields something that was not obvious in step one (see Figure 34.1). The Spain in Jordan's monologues is simultaneously broader than it is in any other site (its observed mean distance is the largest) and is also more clustered (its nearest neighbor index is the lowest).[18] That is, Jordan thinks about a larger geographical Spain than the one that comes up in the plot or in conversations, but he is also notably fixated on Madrid and places in Madrid, especially Hotel Gaylord's, the communist headquarters that he mentions forty-two times.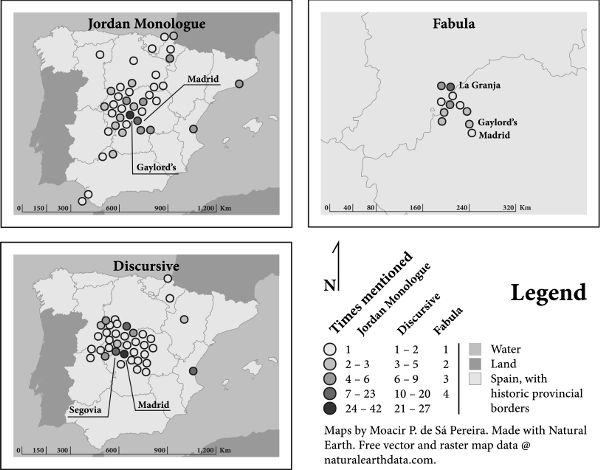 The geostatistical analysis prompts a return to the novel in order to account for Jordan's sense of Spain. Step three, then, is another close reading, which offers a provisional conclusion: Jordan imagines himself as a sort of "pan-Spaniard" on a mission to unite the various "patrias chicas" of Spain into a single republican nation-state, necessarily, though only temporarily, under communist leadership. A fourth step of manipulating the data again or switching to a different method entirely would happily move the inquiry further along toward new questions, new conclusions.
As with a standard social scientific mixed methods project, I used both quantitative and qualitative techniques. But I also mixed my techniques by using some that I consider explicitly DH (GIS-driven geospatial analysis) and some non-DH (close reading, historicist analysis). What was important was mixing and iterating.
Mixing methods in the humanities need not involve a move from the macro (distant) to the micro (close), but rather can include a mixing performed iteratively over the same object(s). This makes the work an act of curating and composing, to use two of Rita Felski's Bruno Latour–inflected rationales for humanistic inquiry. Again, the digital humanities can become more sociological without necessarily becoming exclusively quantitative. This approach can give us a renewed relationship with the (aesthetic) pleasure of reading a single text, refusing to diminish the infinite world within its own pages, a world waiting to be explored, explained, and explored again.
Notes
Bibliography
Bakhtin, Mikhail Mikhailovich. "Discourse in the Novel." In The Dialogic Imagination: Four Essays, edited by Michael Holquist, 259–422. Translated by Caryl Emerson and Michael Holquist. Austin: University of Texas Press, 1981.
Bode, Katherine. "The Equivalence of 'Close' and 'Distant' Reading; or, toward a New Object for Data-Rich Literary History." Modern Language Quarterly 78, no. 1 (2017): 77–106. doi:10.1215/00267929–3699787.
Clark, Philip J., and Francis C. Evans. "Distance to Nearest Neighbor as a Measure of Spatial Relationships in Populations." Ecology 35, no. 4 (1954): 445–53. doi: 10.2307/1931034.
Cope, Meghan, and Sarah Elwood. "Conclusion: For Qualitative GIS." In Cope and Elwood, Qualitative GIS, 171–77. doi:10.4135/9780857024541.n10.
Cope, Meghan, and Sarah Elwood, eds. Qualitative GIS: A Mixed Methods Approach. Los Angeles: SAGE, 2009. doi:10.4135/9780857024541.
Crampton, Jeremy W. "GIS after Critique: What Next?" In Mapping: A Critical Introduction to Cartography and GIS, 98–111. Chichester, UK: Wiley-Blackwell, 2009. doi:10.1002/9781444317411.ch8.
Creswell, John W. Research Design: Qualitative, Quantitative, and Mixed Methods Approaches. 3rd ed. Thousand Oaks, Calif.: SAGE, 2009.
English, James F. "Everywhere and Nowhere: The Sociology of Literature after 'the Sociology of Literature.'" New Literary History 41, no. 2 (2010): v–xxiii. doi: 10.1353/nlh.2010.0005.
Felski, Rita. "Introduction." New Literary History 47, no. 2 (2016): 215–29. doi: 10.1353/nlh.2016.0010.
Fetters, Michael D., and José Molina-Azorin. "The Journal of Mixed Methods Research Starts a New Decade: The Mixed Methods Research Integration Trilogy and its Dimensions." Journal of Mixed Methods Research 11, no. 3 (2017): 291–307. doi:10.1177/1558689817714066.
Giddings, Lynne S. "Mixed-Methods Research: Positivism Dressed in Drag?" Journal of Research in Nursing 11, no. 3 (2006): 195–203. doi:10.1177/1744987106064635.
Goldstone, Andrew. "At DH 2014." July 2, 2017, http://andrewgoldstone.com/blog/2014/07/02/dh2014/.
Goldstone, Andrew. "Social Science and Profanity at DH 2014." July 26, 2014, http://andrewgoldstone.com/blog/2014/07/26/dh-soc/.
Guba, Egon G., and Lincoln, Yvonna S. Effective Evaluation: Improving the Usefulness of Evaluation Results through Responsive and Naturalistic Approaches. San Francisco: Jossey-Bass, 1981.
Hacking, Ian. "Introductory Essay." In Kuhn, The Structure of Scientific Revolutions, i–xxxvii.
Knigge, LaDona, and Meghan Cope. "Grounded Visualization: Integrating the Analysis of Qualitative and Quantitative Data through Grounded Theory and Visualization." Environment and Planning A 38, no. 11 (2006): 2021–37. doi:10.1068/a37327.
Knigge, LaDona, and Meghan Cope. "Grounded Visualization and Scale: A Recursive Analysis of Community Spaces." In Cope and Elwood, Qualitative GIS, 95–114. doi: 10.4135/9780857024541.n6.
Kuhn, Thomas S. The Structure of Scientific Revolutions. 4th ed. Chicago: University of Chicago Press, 2012.
Lincoln, Yvonna S., and Egon G. Guba. Naturalistic Inquiry. Newbury Park, CA: SAGE, 1985.
Long, Hoyt, and Richard Jean So. "Literary Pattern Recognition: Modernism between Close Reading and Machine Learning." Critical Inquiry 42, no. 2 (2016): 235–67. doi:10.1086/684353.
Marston, Sallie A., John Paul Jones III, and Keith Woodward. "Human Geography without Scale." Transactions of the Institute of British Geographers 30, no. 4 (2005): 416–32. doi:10.1111/j.1475- 5661.2005.00180.x.
Masterman, Margaret. "The Nature of a Paradigm." In Criticism and the Growth of Knowledge, edited by Imre Lakatos and Alan Musgrave, 59–90. Cambridge: Cambridge University Press, 1970. doi:10.1017/CBO9781139171434.008.
Molina-Azorin, José F., and Michael D. Fetters. "The Journal of Mixed Methods Research Starts a New Decade: The First 10 Years in Review." Journal of Mixed Methods Research 11, no. 11 (2017): 143–155. doi:10.1177/1558689817696365.
Moretti, Franco. "Conjectures on World Literature." New Left Review, no. 1 (2000): 54–68.
Morgan, David L. "Paradigms Lost and Pragmatism Regained." Journal of Mixed Methods Research 1, no. 1 (2007): 48–76. doi:10.1177/2345678906292462.
Pavlovskaya, Marianna. "Non-Quantitative GIS." In Cope and Elwood, Qualitative GIS, 13–39. doi:10.4135/9780857024541.n2.
Pickles, John. "Tool or Science? GIS, Technoscience, and the Theoretical Turn." Annals of the Association of American Geographers 87, no. 2 (1997): 363–72. doi: 10.1111/0004–5608.00058.
Rosen, Jeremy. "Combining Close and Distant, or, the Utility of Genre Analysis: A Response to Matthew Wilkens's 'Contemporary Fiction by the Numbers.'" Post45 (2011), http://post45.research.yale.edu/2011/12/combining-close-and-distant-or-the-utility-of-genre-analysis-a-response-to-matthew-wilkenss-contemporary-fiction-by-the-numbers/#identifier_0_1805.
Sá Pereira, Moacir P. de. "The Site of the Novel: Objects in American Realism, 1930–1940." PhD diss., University of Chicago, 2014.
Schuurman, Nadine. "Critical GIS: Theorizing an Emerging Discipline." Cartographica 36, no. 4 (1999): 1–107.
Smith, Neil. "History and Philosophy of Geography: Real Wars, Theory Wars." Progress in Human Geography 16, no. 2 (1992): 257–71. doi:10.1177/030913259201600208.
Tashakkori, Abbas, and John W. Creswell. "The New Era of Mixed Methods." Journal of Mixed Methods Research 1, no. 1 (2007): 3–7. doi:10.1177/2345678906293042.
Tashakkori, Abbas, and Charles Teddlie. Mixed Methodology: Combining Qualitative and Quantitative Approaches. Thousand Oaks, CA: SAGE, 1998.
Wilson, Matthew W. "Critical GIS Reading List." Critical GIS.com. May 29, 2012, http://criticalgis.blogspot.com/p/critical-gis-bibliography.html.
Wilson, Matthew W. New Lines: Critical GIS and the Trouble of the Map. Minneapolis: University of Minnesota Press, 2017.
Woodward, Keith, John Paul Jones III, and Sallie A. Marston. "Of Eagles and Flies: Orientations toward the Site." Area 42, no. 3 (2010): 271–80. doi:10.1111/j.1475–4762.2009.00922.x.
Wright, Dawn J., Michael F. Goodchild, and James D. Proctor. "GIS: Tool or Science? Demystifying the Persistent Ambiguity of GIS as 'Tool' versus 'Science.'" Annals of the Association of American Geographers 87, no. 2 (1997): 346–62. doi: 10.1111/0004–5608.872057.