Father Busa's Female Punch Card Operatives
Melissa Terras and Julianne Nyhan
Since 2009, Ada Lovelace Day1 has been held in October as a celebration of the first computer programmer, in order to raise the profile of women in science, technology, engineering, and math. While working with Charles Babbage, another nineteenth-century inventor, Lovelace (1815–52) identified the significance of his Analytical Engine (a machine that could conduct a number of different functions, such as addition, subtraction, multiplication, and division) and its implications for computational methods. She saw that, via the punched-card input device, the Analytical Engine presented a whole new opportunity for designing machines that could manipulate symbols rather than just numbers. In 1843, Lovelace attempted to draw together romanticism and rationality to create a "poetical science" that allowed mathematics and computing to explore the world around us, recognizing the potential for a move away from pure calculation to computation and possessing a vision that foretold how computing could be used in creative areas such as music and literature.
For Ada Lovelace Day 2013, it seemed apposite to look at some of the women working on one of the first "poetical science" projects in humanities computing: the Index Thomisticus. In the 1950s an Italian Jesuit priest named Father Roberto Busa teamed up with IBM to produce, via computational methods, a concordance to c. 11 million words of Thomas Aquinas and related authors. The project took over thirty years to complete and endures as one of the earliest and most ambitious projects in the field that is now called digital humanities, with Busa since renowned as the founding father of the field. The project itself had far-reaching impact on computational linguistics and the development of Internet technologies (L'Osservatore Romano).
To produce the index, the works of St. Thomas Aquinas had to be encoded onto punch cards. However, there is very little in the official documentation of the project that broaches the subject of who actually did the work of data entry. This piece attempts to highlight the essential work by women employed on Busa's project, who, although not previously credited, were central to its success. The CIRCSE Research Centre2 at the Università Cattolica del Sacro Cuore, Milan, Italy, hosts the Index Thomisticus Treebank3 project and the University has recently accessioned the archive of Father Busa. Marco Carlo Passarotti from CIRCSE explained, in a 2013 e-mail, how the data entry was carried out:
Once, I was told by Father Busa that he chose young women for punching cards on purpose, because they were more careful than men. Further, he chose women who did not know Latin, because the quality of their work was higher than that of those who knew it (the latter felt more secure while typing the texts of Thomas Aquinas and, so, less careful). These women were working on the Index Thomisticus, punching the texts on cards provided by IBM. Busa had created a kind of "school for punching cards" in Gallarate. That work experience gave these women a professionally transferable and documented skill attested to by Father Busa himself. (Passarotti)
Passarotti also shared a previously unpublished archive of photographs in the archive of Father Busa at the CIRCSE Research Centre. This archive contains many images from the late 1950s and early 1960s. Taken in Gallarate, Italy, they show the ranks of women involved in encoding and checking the punch card content of the Index Thomisticus (and probably other projects that we know Busa to also have been working on at that time) of Thomas Aquinas's works. The women can also be seen demonstrating the technologies to visiting dignitaries and overseeing the loading of the punch cards into the mainframe. The names of the women have not been preserved in the historical record, and until now, their contribution to the early days of humanities computing has been overlooked. However, it shouldn't be that surprising to us that women were so important to Father Busa's pioneering computing project: in the early 1960s many roles of this kind that were related to computing were performed by women (Eveleth).
The original blog post (Terras) led to interest both from the local and scholarly community. Three of the women were quickly identified; they are still alive and living in Gallarate or nearby. By the start of 2014, ten women had been identified and contacted. In April 2014, Julianne Nyhan traveled to the Università Cattolica del Sacro Cuore to spend a week working in the newly accessioned Busa archive and to carry out oral history interviews with Father Busa's female punch card operators.
These interviews are now in the process of being translated and transcribed,4 and an article analyzing them is under preparation. Further cross-referencing and checking of the interviews is necessary before detail is provided, but this essay represents our attempt to provide a description of the process, as well as some initial impressions about the recollections we documented.
Figure 6.1. Posting these images online led to the identification of a few of the punch card operators: for example, Livia Canestraro is on the left. Image reproduced under a Creative Commons CC-BY-NC license by permission of CIRCSE Research Centre, Università Cattolica del Sacro Cuore, Milan, Italy. For further information, or to request permission for reuse, please contact Marco Passarotti, on marco.passarotti AT unicatt.it, or by post: Largo Gemelli 1, 20123 Milan, Italy.
The interviews were semi-structured. As Nyhan does not speak much Italian the interviews were mostly carried out by Marco Passarotti, with Nyhan in attendance. Nyhan had agreed with Passarotti in advance of the interviews about the questions that were to be asked. Questions were prepared with two main aims: first, to uncover the women's memories of working on the project, and second, to uncover their memories of working with Busa himself. What emerged was a number of insights into the social, cultural, and organizational conditions that they worked under and how they, as women, were treated in what was a male-dominated environment. We found that the women were hired straight from high school and worked in a training college that Busa had set up, which he describes as follows:
In 1954 . . . I started a training school for keypunch operators. For all those admitted, the requirement was that it was their first job. After a month of testing, only one out of five was accepted for a program of four semesters, eight hours per day. The success was excellent: industries wanted to hire them before they had finished the program. Their training was in punching and verifying our texts. To make the switch from the Latin to the Hebrew and Cyrillic texts, only two weeks were needed, and it was not even necessary to attach these new alphabets to the keys of the puncher. In punching these non-Roman alphabets, the process was less speedy but with fewer errors. This school continued until 1967, when I completed the punching of all my texts. (Busa, 85)
The women who were interviewed discussed the thorough training they received; at times, they even worked blindfolded to test accuracy. Many described how they secured excellent jobs once they had completed the course, and often before. Few, if any, understood the nature of the work they were doing or the nature of their contribution to the fledgling Index Thomisticus. We recorded accounts of how gender seems to have played a role in issues of appointment and promotion, and how one of the women tried, albeit unsuccessfully, to overturn this state of affairs when she was blocked from taking on a managerial role.
Nyhan also carried out interviews with two male computer scientists who had worked with Busa in the 1970s in Venice, where the final typesetting and preparation for printing of the Index Thomisticus was done. One had a very clear and detailed understanding of the nature of the project and his role in it. He recalled that it was Busa himself who had imparted this knowledge to him. He also mentioned that women were among those who held more intellectual—if not more senior—roles at this later stage of the project. Subsequent archival work has uncovered some documents that will help us to study this further. In any case, it is evident that issues of gender, knowledge, and hierarchy were closely interrelated but that they intersected with the implementation of the project in a more complex and shifting way than might be apparent at first glance (Nyhan). External societal, economic, and religious factors had an influence that must be taken into account as well.
Some of the former punch card operators brought along documents to their interviews that were not otherwise known to be contained in the Busa archive in Università Cattolica del Sacro Cuore. One of them was the certificate of completion of training; a copy of this document and others have now been deposited in the archive and copies of some can be seen on Nyhan's blog (Nyhan).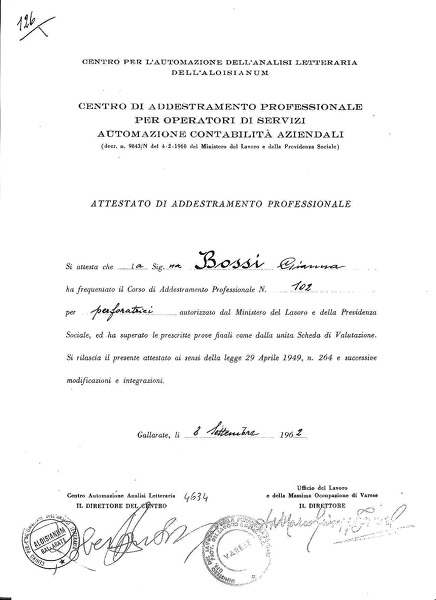 Figure 6.2. Certificate of completion of Fr. Busa's punch card operator school. Image reproduced under a Creative Commons CC-BY-NC license by permission of CIRCSE Research Centre, Università Cattolica del Sacro Cuore, Milan, Italy. For further information, or to request permission for reuse, please contact Marco Passarotti, on marco.passarotti AT unicatt.it, or by post: Largo Gemelli 1, 20123 Milan, Italy.
The overarching questions that remain are about the significance of the cultural, intellectual, and social conditions that shaped the earliest work in digital humanities. When we compare the early period of humanities computing with modern-day digital humanities, what continuities and differences can we notice? How, for example, have understandings of terms like "pioneer" changed over time, and how is this reflected in the few writings we have about the history of digital humanities? How is credit given to programmers and to those doing data entry in collaborative projects? Might we learn something from the history and recovery of Busa's female punch card operators? It has been satisfying to uncover how important women were to one of the first projects in the field. The photographs that sparked this research suggest the enormous scale of the operation, and our work documents the many women who were employed by Busa. Although further research is needed to uncover the role and responsibilities of women in this project, Busa certainly depended on their input, and our work is to write them back into the historical record.
Notes
Bibliography
Busa, R. "The Annals of Humanities Computing: The Index Thomisticus," Computers and the Humanities 14, no. 2 (1980): 83–90. http://www.alice.id.tue.nl/references/busa-1980.pdf.
Eveleth, R. "Computer Programming Used to Be Women's Work," Smithsonian Magazine, October 7, 2013. http://www.smithsonianmag.com/ist/?next=/smartnews/2013/10/computer-programming-used-to-be-womens-work/.
L'Osservatore Romano. "Stop, reader! Fr. Busa is dead," August 11, 2011. http://www.osservatoreromano.va/en/news/stop-reader-fr-busa-is-dead.
Lovelace, A. "Notes on L. Menabrea's 'Sketch of the Analytical Engine Invented by Charles Babbage, Esq.,'" Taylor's Scientific Memoirs 3 (1843).
Nyhan, J. "Gender, knowledge, and hierarchy: on Busa's female punch card operators," May 3, 2014. http://archelogos.hypotheses.org/135.
Passarotti, M. Personal communication (e-mail to M. Terras), October 4, 2013.
Terras, M. "For Ada Lovelace Day, Father Busa's Female Punch Card Operators," October 15, 2013. http://melissaterras.blogspot.co.uk/2013/10/for-ada-lovelace-day-father-busas.html.