Collections and/of Data: Art History and the Art Museum in the DH Mode
Matthew Battles and Michael Maizels
Where the world becomes picture, the system . . . comes to dominance.
—Martin Heidegger, "The Age of the World Picture" (1938)
The Photographic Turn
Compared to other humanities disciplines, art history has a relatively recent origin story for the birth of an "empirical" version of the field. While nineteenth-century historians enshrined the Thucydidean rejection of supernatural causes and moral lessons as the mythical foundation for fact-based history, efforts to objectively map and understand the development of art (read: Western art) were still very much inchoate at the time (Suessmann, 85). This is not to say that there had been no attempts to systemically narrate the history of art-making. Such eighteenth-century thinkers as Johann Winkelmann and Gotthold Lessing sought to replace a prior emphasis on hagiography with a new approach that privileged stylistic analysis and historical argumentation. Although Winkelmann and Lessing might have been able to directly observe some of their objects of investigation, they could not necessarily compare one object with another, nor could they share those comparisons visually with their readers (Potts, 136; for more on the intellectual roots of the discipline of art history, see Mansfield, Art History and Its Institutions). One might argue that the beginnings of modern art history, as a field, are inseparable from the technology—photography—that made such interobject comparisons possible. To understand how the possibilities of "digital art history" and "the digital museum" have been uniquely construed within the larger constellation of DH, it is therefore necessary to probe the long-standing, discipline-specific ambitions (as well as suspicions) for mobilizing representations not only to stand in for, but also to order, associate, and authorize works of art.
Art history's origin myth centers on a particularly ritualized performance of that photographically mediated comparability: the lantern-slide lecture. (For more on the centrality of the slide lecture to the historiography and self-identity of art history, see Nelson.) In darkened auditoriums, founding figures such as Aby Warburg, Heinrich Wolfflin, and Jacob Burkhardt enacted a new kind of learning, one in which pairs of great masterworks could be conjured up, thereby placing them in direct dialogue with one another. Viewers saw the development of stylistic attributes—the pointed tip of the Gothic arch, the theatrical lighting of Caravaggesque painting—unfold across space and time. Indeed, the work of these scholars seeded a range of art historical movements, each with ambitions to explain the evolution of the plastic arts.
The slide lecture maintains a powerful grip on the collective art-historical imagination; it is the format through which art historical most often training begins, and it is by far the most popular means by which the discipline spreads its views and virtues to the mass of uninitiated undergraduates. Considered more broadly, however, the slide is part of an assemblage of critical, curatorial, and historical visual documentation that affects preservation practice and print production. In point of fact, the slide is only one of a much larger set of examples of how the notion of the photographic has been integral to art history since its beginnings. While projected lantern-slides may be useful for communicating with a broad audience, for example, they have significant drawbacks as research aids. They were expensive to make, easy to destroy, and unwieldy in groups of more than two or three. For this reason, another photographic form, one with an uncannily contemporary valence—the comprehensive image collection, consisting of surrogates printed variously on paper and glass or kept as negative stock—emerged at scholarly centers such as the Frick Collection, the Warburg Library, and Bernard Berenson's Villa I Tatti, giving shape to a wholly new discipline. The scope of such collections still outstrips all but the most recent repositories of digital images. Collecting surrogates intensively in the first two decades of the twentieth century, the eminent collector and scholar Bernard Berenson was able to supplement his own massive holdings with an encyclopedic collection of 300,000 photographs of art objects, most of which dated to the Italian Renaissance (Cohen).
Much reflection on the effect of photographic reproduction on art has followed Walter Benjamin, who saw the photograph as a force that "emancipates the work of art from its parasitical dependence on ritual" (224). Beyond the impact on the "aura" of individual objects adumbrated by Benjamin, however, it is important to see how photographic reproductions of artworks have worked as more than mere surrogates. For they also made art available to forms of ordering based fundamentally in writing, and especially print: tables, files, catalogs, and lists. As Geoffrey Bowker (Memory Practices in the Sciences) has shown in the case of nineteenth-century geology, such practices were useful in assembling disparate materials into a unified time series, shaping aesthetic experience into a manageable historicity. Gathered and sorted into boxes, trays, and carousels, deposited into image archives and collections of many kinds, the slide was a crucial element in a kit of parts for reifying and performing explanations of aesthetic experience, an archipelago of visualized, commodified, and institutionalized reinscription of images and objects. Seen in this light, the institution of the slide was also a key element in early twentieth-century art history's preliminary gestures toward quantitative and combinatorial practices presently familiar in the digital humanities.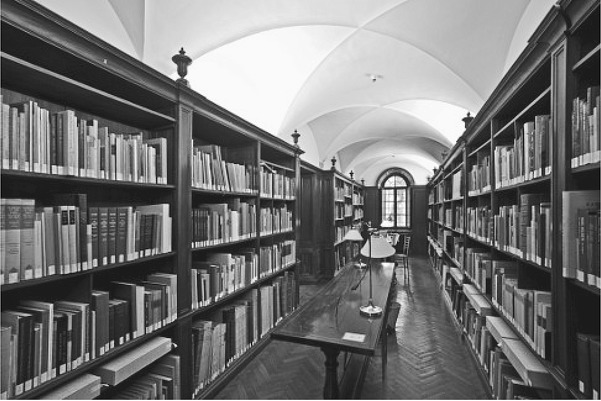 Figure 27.1. The Biblioteca of Bernard Berenson's Villa I Tatti in Florence, where Berenson, assembled the apparatus for art-historical research, including vast collections of photographic reproductions for comparative purposes.
Despite their scale, these archives mimicked in basic conceit the organizing principle of the art museum, an institution that had emerged more than a century before. Early art museums, many of which began as royal collections, provided an important manifestation of coalescing nationhood (their art, our collection) as well as an expression of the Victorian-era drive for unified, orderly knowledge, characteristic of a time when "international classifications were developed . . . facts could be split apart, sorted into pigeonholes, and reassembled in new ways" (Bowker, Memory Practices in the Sciences, 29). Such developments were powerfully at work in the constitution of art history as well. By presenting a representative selection of Italian masterworks, for example, gentlemen-scholars steeped in the historical literature could glean insights into the development of naturalistic lighting in the Quattrocento. These insights represented a transfer of intellectual and cultural capital parallel to that involved in the colonial transport of cultural goods. Scholars in Germany, France, and later, the United States would become the world leaders in the analysis of artworks from the long history of the Mediterranean (Mansfield, "Art history in Greece and Cyprus," 291), and this analysis was performed and represented in the galleries of encyclopedic museums. Photographic archives fulfilled a similar, albeit much less public-facing function. By drawing together an array of representations of world art objects, the photographic archive formed a stable center, a privileged position of viewing, from which the nascent art historian could survey the production of geographically and chronologically dispersed artifacts (see Latour).
For Andre Malraux, the French theorist and cultural diplomat, this photographic archive could fulfill the potential of the museum by turning its original mission inside out. (For further discussion of the centrality of Malraux's ideas to the rise of "global art history," see Allan.) The museum had not simply served to collect and preserve artworks of important artistic heritage that might otherwise be scattered and lost to the vicissitudes of history—it had essentially created the concept of artistic heritage, and arguably art itself, through its collections. "The Middle Ages were as unaware of what we mean by the word 'art' as were Greece and Egypt, who had no word for it," Malraux wrote in his treatise Voices of Silence. Because the linkages between the Mediterranean and the European, or the medieval and the classical, were not to be found within the originating cultural contexts of the material, they had to be drawn out through the retrospective gaze of the art historian. As he explains, while the "common link . . . between a 'Venus' which was Venus, a crucifix which was Christ crucified, and a bust," may be hard to define, the objects could nevertheless be put into dialog if considered not as culturally-specific artifacts but simply as 'three 'statues'" (Malraux, 53; this discussion is informed by Foster, 100). In Malraux's distinctly Kantian thought, all traces of staked interest—in any aspect of the object that might have informed an original context, meaning, or usage—could be stripped away in order to situate an art object within the ostensibly neutral epistemological framework of the museum.
As with the slide, these vast collocations of surrogate images do more than simply represent widely distributed objects; they also make them sortable, comparable, classifiable, and reducible to orders. Indeed, such classificatory assemblages serve as epistemological and practical precedents for the database, which, as Lev Manovich (The Language of New Media) has argued, discloses meaning not discursively or syntagmatically but paradigmatically, as a structure of possible relations. In this move toward flatness and fungibility, ordering effaces or supersedes narrative accounts—grounded in particularities of material, technique, and place—of art and its makers. Predictably, this conception generated considerable backlash from a number of different directions. On one hand, a global art history—one capable of being put into practice through the transnational circulation of images—seemed inherently, problematically Eurocentric. It served to flatten the production all of cultural artifacts into an undifferentiated "art" to be sorted and classified by a Western scholar constantly reinforcing his own position at the center. Moreover, an image-based art history appeared untenable from an epistemological as well as ethical vantage. Photographic images introduce many kinds of distortions—of original installation contexts, material construction and history, weight, scale, and color—and thus the validity of formal comparisons (especially of cross-cultural examples) seemed radically in doubt (see Preziosi, 403–503).
These tensions—between a world-historical system and the specificities of the local; between a thing and its representation; between a new technology and an old subject of inquiry—still frame the art-historical reception of the digital turn. Indeed, it was frequently as a fulfillment of the photographic legacy that the earliest experiments in digital art collections were typically seen (Foster, 109; Nelson, 414). More recent, ambitious projects such as the Google Art Project or Art.sy's "artistic genome" are particularly redolent of Malraux's ambition to build an edifice of images from which nothing would remain missing. These projects do not originate in any digital-humanities-inflected version of academic art history; instead, they represent commercial attempts to generate and mine value from accumulations of visual abundance. And yet it is worth noting that analogous textual corpora—Google Books most obviously and emphatically, but also Project Gutenberg and the larger ecosystem of digitized textual material, many of them commercial products—were likewise not the product of DH-identified centers or practices. DH practitioners not only make use of such resources, but provide critical reflection on their hybrid origins and dubious commercial and technological entanglements. In comparison to textual studies, however, art history's analytic, computational, and critical encounter with vast repositories of digital images is in its infancy.
Project Outlines: The Lightbox and
S.M.S.
NOs 1–6
To work with large collections, databases of surrogate images, and the metadata that coordinate them, art historians and curators face both theoretical and practical challenges. The dichotomy may be ready-to-hand, but it is unavoidable: arguments developed in exhibitions express and contend with norms and assumptions that both undergird and undermine theory; scholarly arguments in art history, meanwhile, normatively are expected to survive the tests of spatialization and performativity associated with gallery installation. Two projects associated with metaLAB (at) Harvard have sought to tangle with these challenges. One proceeds as a provocative encounter with theoretical adumbrations of metadata and descriptive practice in collections; the second takes up a practical and curatorial struggle with the folk-theoretical contentions of a body of mid-twentieth-century art practice. Neither is offered as a comprehensive solution to the tensions that characterize art history's disciplinary encounter with "big data" in its successive manifestations. Rather, they are presented here as case studies and anecdotes from the field.
The first project, Lightbox, is a participatory installation of data and media for the Lightbox Gallery, an exhibition space and media platform in the Harvard Art Museums. The project offers an interface through which museum visitors can use the screen array to navigate and interactively manipulate, on-screen, metadata associated with the collection on display in the galleries. Lightbox seeks to enact a critical turning-around, an interrogation not so much of artworks themselves but the digital means by which we so frequently know them.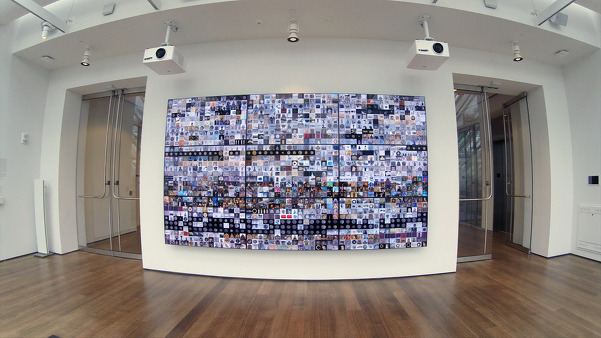 Figure 27.2. The Lightbox Gallery in the Harvard Art Museums, showing the screen with the object map, above which are mounted the projectors that display data visualizations on the window shades opposite. Photographed February 2015.
The design of the installation constantly reinforces the dialogue (and difference) between the digital objects and their material referents, exploring the differing meanings of words like "object," "image," and "data" at work in information science and curatorial practice. While a spectrum of museums and museologies have been since legible long before the rise of digital media, the perspective offers special salience in the present context, one in which information networks act as cybernetic systems of aesthetic immanence, mediators of the modes and forms defined as art by the disciplines that claim and structure the museum.
A second project, S.M.S. NOs 1–6s, presents a digital survey of William Copley's S.M.S. (1968), an editioned set of multimedia artworks produced over the course of a single year. Although the artworks were entirely analog, S.M.S. was in many ways a predecessor of contemporary experiments in multimedia publishing: every two months subscribers would receive a small folder filled with assembly-art projects, music, poetry books, games, and other assorted objects produced by artists including Marcel Duchamp, John Cage, Bruce Nauman, La Monte Young, Dick Higgins, and Hollis Frampton. The project alluded to and utilized technologies of information transmission both old and new—ranging from semaphore and telegraphy to magnetic tape and fair-use copyright statutes—as a means of breaking free of the notion of the artwork as a singular, stable, bounded object.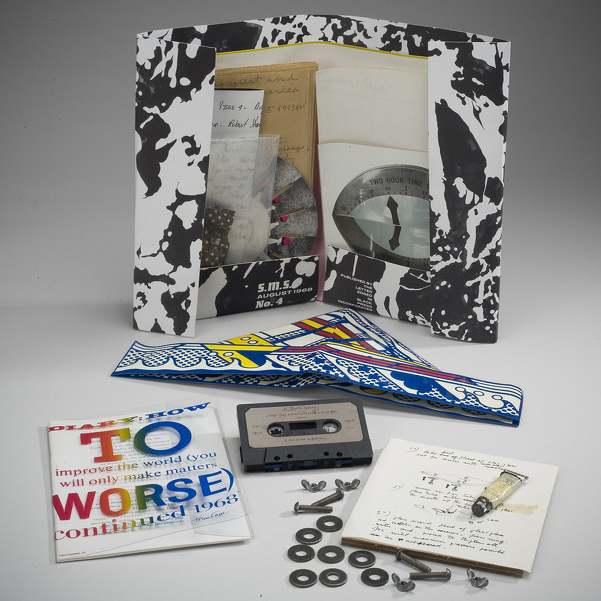 Figure 27.3. In 1967, the artist and dealer William Copley, drawing inspiration from Duchamp's Boite en Valise, began to assemble a set of editioned portfolios that were designed to make art accessible to those beyond the wealthy collector class.
Complementing a 2014–15 exhibition at the Davis Museum at Wellesley College, our web-based S.M.S. NOs 1–6s illustrates the ways in which digital tools can be mobilized toward a kind of digital translation of a set of objects. Expressed on an iPad, the interface presents images of the small S.M.S. objects with a degree of the kineticism that was integral to their original presentation. These objects were initially made to be handled: books opened and read, DIY kits assembled, puzzles solved, and music unwound and listened to. Although any digital mediation irrevocably alters the experience with the artwork, our interface offers a translation of these objects, in keeping with their original spirit, into a new digital space. Users are now able to interact with digital avatars of each S.M.S. object: flipping it over, turning its pages, listening to its audio, or activating its intended motion. The project can be accessed at http://sms.sensatejournal.com/.
As curatorial and scholarly practices incorporate computational and data-intensive tools and methods, art historians struggle afresh with the collision of orders and epistemes prefigured in the discipline's encounter with photographic reproduction and large-scale image sets: conflicts of narrative and database, of particularized connoisseurship and comprehensive analysis, of micro-scale accounts of objects with the elucidation of systems at the macro scale. Specifically, we aim not only to provide interested computational thinkers with culturally or epistemologically significant datasets, but also to foster dialogue in which the rich interpretative traditions of the humanities can work to historicize our own sociotechnical moment. By emphasizing the ways in which our culture has long attempted to picture a perfectly complete representation of the world's knowledge—from the medieval compendia up through Malraux's encyclopedic museum of photographs—we can gain greater theoretical and practical purchase on the aspirations and limitations of our contemporary fascination with the possibilities of big data. As interventions in this history, Lightbox and S.M.S. NOs 1–6s are meant to suggest a specific aspirational epistemology: that in both theoretical argument and curatorial practice, art history in the digital context should attend to not only the powers and benefits of technology, but its norms and assumptions as well.
Lightbox: Theorizing Data in the Art Historical Mode
Compared to textual studies, art history and visual analysis still lack a robust toolkit for "distant looking," albeit with notable (and rapidly maturing) exceptions.1 The Lightbox installation is informed by two overlapping metaLAB research interests related to this desire for wider perspectives: first, to explore the practical manipulation of metadata to answer new kinds of questions in the study of visual culture; and second, to seek in such metadata traces of past practices of collection and description, tracing changes in the constitution and ordering of collections and the objects they contain over time. (For a thorough and searching example of this second interest, see Loukissas.) The first interest signals a recognition of the power of practices termed "distant reading" in text-focused digital humanities domains through technical systems such as text mining, network visualization, and geospatial analysis.
The Lightbox, it should be admitted, is no solution to this problem. It is not a research tool, but an expressive demonstration of certain aspects of the museum's disciplinary identity and the polyvalent nature of the art collection, tracing a line from academic canons of taste to art markets, public discourse, and constructions of cultural heritage. The Lightbox installation reflects these contradictory and overdetermining strands not by means of linear argument, but through a database-driven structuration and animation of collections and the media and metadata that index them. Design and development of the Lightbox installation drew on metaLAB's hybrid strengths, combining elements of architectural design, software development, and scholarly practice.2 Crucially, however, the project is motivated by a desire to grapple with the theoretical framing of objects, their description and classification, and the transformations wrought in this theoretical space by the advent of the digital. Before offering a description of the installation, then, an account of this theoretical framing would be useful.
The project relies on two concepts—first, the "boundary object," and second, the "epistemic virtue"—as heuristic tools for thinking about the function of the twenty-first-century art museum. The concept of the "boundary object," which originates with S. L. Star and J. R. Griesemer, is crucial to our understanding of the museum as a site of methodological agon and discipline formation. Star and Griesemer examine the way in which objects in museums both "inhabit several intersecting social worlds . . . and satisfy the informational requirements of each of them" (393). While Star and Griesemer were writing about objects in a natural-history museum, works of art in galleries may be seen in the same light, as they serve as nodes in flows of epistemes and sites for the coordination of practice among scholars, curators, conservators, and the viewing public. Such negotiations, as Lorraine Daston and Peter Galison have shown, tend to cohere around "epistemic virtues": norms and assumptions, rarely articulated but often performed, that stabilize understandings of the order, meaning, and value of ideas (18). Taken together, the "boundary object" and the "epistemic virtue" provide a useful armature for understanding collaborations among database managers, interface designers, and curators in the art museum.
In Lightbox, metaLAB fixed on one boundary object above all: the idea of the "object" itself, in its multiple and overlapping negotiations in computer science, art history, and the craft practices of exhibition and conservation. The back-and-forth of practice in the art museum churns through definitions of the "object" as an object of desire, an artifact rendering knowledge of lost time, a fungible commodity in a marketplace, or a cloud of data to be virtually embodied. Evaluating and enacting these definitions takes the negotiation of such epistemic virtues as comparison, historicization, access, and appreciation. In their collaborative address of the "object," different constituencies have differing stakes in the museum's enterprise of preservation, exhibition, and knowledge production.
In the museum database, these negotiations take a notable turn, as the historical panoply of the descriptive apparatus deployed by these constituencies (including card-based accessions records, tabular inventories, and textual bibliographies, exhibition records, and provenance files) is collapsed, systematized, and made digitally fungible and interoperable. Since the mid-twentieth century, this transformation has taken place across a spectrum of systems from mainframe and terminals, through the desktop personal computer, to distributed, web-native interfaces. As discussed in the first section of this chapter, throughout much of that transformation, a regnant epistemic hierarchy (which emerged in the era of Berenson and Warburg and came to maturity in the Malrauxian twentieth century) was largely conserved: objects are things of transcendent value, of aura, with connections to deep time and the wellsprings of invention; salient comparisons among them balance aesthetic appreciation with a global historicity of visual culture. The digital records that index these objects were designed to be wholly subservient to the work of historicizing, interpreting, and evaluating them.
With the coming of the World Wide Web, however, this political and epistemic balance begins to shift. Diverse, disaggregate genres and formats (sculptures and coins, textiles and texts, oil paintings and electronic images) have coalesced into a new class of "digital objects" of ascendant practical and political value. Sets of loosely connected media and metadata are being assembled into objects of a new kind, with powerful online presences, commanding programmatic agencies and transmedial powers. The agents of these digital objects put new epistemic virtues into play: access, openness, and interoperability take up residence alongside comparability, historicity, and aesthetic appreciation. These virtues and boundaries are expressed in classifications and orderings of objects that often are rendered invisible by the normative modes of description and presentation that operate in galleries, exhibitions, and catalogs raisonnés. (For a rich analysis of the role of invisibility in classification schemes, see Bowker and Star, Sorting Things Out.) The aggregrative, universalizing purposes Malraux lent to words like "art" or "sculpture" for purposes of a museum without walls, the online art museum in the twenty-first century deploys around the word "object" in the context of the wall-less web.
In the museum, digital objects at present are encoded in JavaScript Object Notation (JSON), a data format that disciplines assemblages of discrete and disparate information into closely articulated textual "arrays." The JSON data format is offered as an "open" standard, in contrast to proprietary data formats developed by the vendors of commercial systems for managing collections in libraries and museums. More than this, though, it is also a vernacular: JSON's instrumental syntax also expresses the norms and practices of a community of technologists committed to concepts of collaboration, community, and "openness" in the development of software. It also encodes practical definitions of such concepts as "object," "array," and normative valuations of qualities like "flatness" and "hierarchy" that are entangled with moral and ideological commitments of the open-source and free software movements. As a mode of structuring data, it is expressive of emergent epistemic virtues associated in the digital realm with these movements and allied communities: accessibility, openness, semantic computability, and interoperability.3 The "objects" in question (referred to by the "O" in the acronym "JSON") live between the curly bracket braces of JavaScript syntax; they render qualities of the material objects of art-historical interest as discrete, linked, computable information. The museum objects to which they refer—coded elsewhere as unique bodyings-forth of genius, material specificity, and aesthetic impulse, comparable but ultimately irreducible—are thus computationally domesticated to the database, the rigors of the TCP/IP protocol, and the virtues of the open web. And yet unlike Daston and Galison's draftsmen, who rendered neurons or crystals in ways that subordinated artisanal effects of visual invention to the theoretical dispositions of scientists, today's designers and web programmers act on museum objects in ways that reflect the cultural capital amassed by digital projects in a networked age.
In the Lightbox, metaLAB sought to explore this tangle by way of the agency and rhetoric of design. In its final form, the installation offers an "object map" on its display screens, consisting of an array of thumbnail images of all of the objects on display in the museum galleries (ca. 1,400 objects, about sixth-tenths of one percent of the museum's collection in toto). Visitors use a wireless controller to explore this object map; when an object is selected, a display of its record image and associated metadata fills the screens. Upon selection of a given object, the first state of the object display screen offers an array of object-intensive media and information; the location of the object in the museum is given, surrogate images are displayed, and a histogram showing the proportions of colors in the digital record image of the object is rendered.
This histogram presents the color values not of an object in a museum gallery, but of a web-native digital object, an immutable mobile readily transportable across browsers and platforms. It is rendered from data derived by an algorithm that analyzes the record object as a digital file and identifies the various percentages of color data conveyed in the form of web-native hexadecimal values in the RGB color model. It makes no distinction between background colors, frames, or other parts of the image that are peripheral to the object itself. Thus in histograms of ancient coins, the black of the background typically predominates, while histograms of sculptural objects tend to reflect the cool grays of the galleries' normative white walls. The design and presentation of these color data provoke viewers to consider the differences between the experience of color in the museum gallery or when viewing an image on a screen as compared to the phenomenon of color-as-data "experienced" by digital systems. In this uncanny phenomenology, reflective surfaces reduce to dappled, mappable mosaics; the computer makes no distinction between figure and ground, object and support, picture and frame. Lightbox uses design and technology to explore the spectrum of perception and affect across technical and human encounters with the collection, to expose the grain of technical and interpretive negotiations implied by the computational access of museum collections.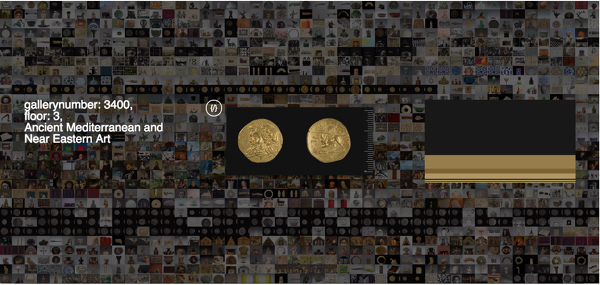 Figure 27.4. Lightbox installation, "Object Map," with record image (center), information on location of the object in the gallery (left), and a color histogram displaying proportions of RGB color values in the record image (right). The histogram displays black (derived from the background) as the major color, clearly demonstrating the algorithm's treatment of the digital image, and not the material object, as the "object" of analysis. (The record image, it is worth pointing out, already offers a phenomenological fiction, displaying obverse and reverse of the coin at once.)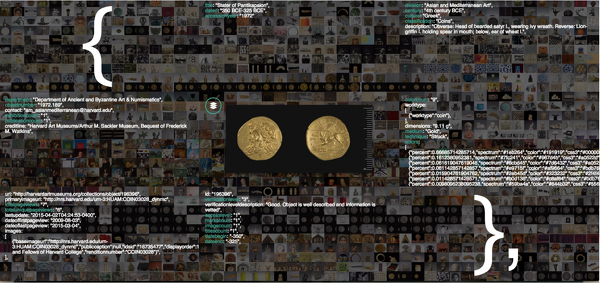 Figure 27.5. Lightbox installation, "Object Map," with thumbnails of objects on display serving as background to two instantiations of the digital object: the record image (center), framed with metadata in JSON. To the viewer, the image represents the object; to the computer, the object is the encoded metadata enclosed in curly brackets.
The reordering and representation not only of color data, but of a comprehensive selection of metadata fields, allows the visitor to explore how art objects are described and indexed for computational manipulation and scholarly investigation. By resorting the collections successively according to these fields, the visitor is able to play with strategies for organizing objects in galleries, museum databases, and interactive, web-based search tools. These sortings also are expressed in a series of graph-based data visualizations in the projection opposite the screens, with bar-graph visualizations placing the selected object and the search term in the context of the collection as a whole, rendering visible ebbs and flows in museum acquisition, cultural and historical areas of strength and interest, and the clustering of practices of description among genres, media, and cultural areas.

Figure 27.6. An instance of the projected data visualization, this one ordering the collection according to the field "title," displaying the text contexts of that field as vertical "bars" of text. Although scale and interposition render these lines of text all but illegible, we elected to include them in the visualization, as patterns of resonance and repetition make visible practices of naming and describing artworks across the collections.
The Lightbox installation makes visible not only changes in museum practices of collection development, description, and interpretation (which it does only gesturally, performatively, and not in any comprehensively scholarly sense, to be sure). It also offers a glimpse of how data systems past and present coexist palimpsestically in databases, on websites, and in museum galleries; it plays visually with the forms data have taken in systems of inventory, registration, and access; and it explores the extent to which the computational address of objects in museum collections—like the digital instantiation of all kinds of objects—involves acts of translation and negotiation. Finally, the installation explores museum objects as boundary objects caught in the digital-material divide. We discover that these objects are never stable entities, but sites of negotiation, cascades of epistemic virtues balanced variably across galleries, exhibition catalogs, and online databases. This scholarly conjecture is realized in the first instance through the acts of design and making that constitute the installation—acts that not only indicate the imbrication of boundaries and virtues, but perform and enact them as well. Fundamental aspects of the design—decisions whether to include color data, whether to make digital images modifiable or analyzable on-screen, and degrees of balance between curatorial exposition and digital "transparency"—enacted the cascade of virtues and the confusion of boundaries at every point. As a project, then, the Lightbox is a demonstration of the conjecture it seeks to index and frame: that knowledge in the museum is a constructed thing, always in the making.
S.M.S. NOs 1–6:
4
A Narrative of Art-Historical Data in Practice
A desire to unsettle the object-ness of the art object, thereby disrupting the circuitry of the institutions dedicated to their cultural valuation, also formed the bedrock of a much different historical project. In 1967, the artist and dealer William Copley felt that he was at the end of his rope. Reeling from the closure of his Los Angeles gallery—one of the first institutions to introduce Marcel Duchamp and Man Ray to West Coast audiences—and the fallout from his second divorce, Copley returned to New York to seek a new direction. Feeling, in his words, that "Shit Must Stop," he began to envision ways of circumventing the gallery and collector system and assembled a set of editioned portfolios that were designed to make art accessible to those beyond the wealthy collector class. Although Copley paid all participants the same modest $100 honorarium, he spent nearly the remainder of his savings producing luxurious, exacting replicas of each artist's work in an edition of 2,000. This enormous edition size—and the affordable price of $125 for the entire project—enabled a much broader swath of the public to collect the internationally recognized artists contained in the S.M.S. portfolios. Within the next months, the first bimonthly issue of S.M.S. was on its way to subscribers.5
Figure 27.7. Drawing on the connections he had built as a dealer, Copley brought together an impressive range of artists for the S.M.S. project, including Marcel Duchamp, Man Ray, Roy Lichtenstein, La Monte Young, and Walter de Maria.
But what differentiates S.M.S. from better-known meditations on the theme of art as a kind of reproduction—for example, in the work of Andy Warhol or, later, Sherrie Levine—was the emphasis on technologies of information transmission as both the vector and model for artistic creation as copy-making. The productions of S.M.S. are unmistakably a product of the moment that gave rise to the modern data-driven society, and they willfully, imaginatively, and playfully engage with topics like cryptography, random number generation, and the panoply of technologies for moving information over long distances. While Walter de Maria explored the notion of art by telephone, Hannah Weiner used historical flag-signaling languages in her poetry, and Dick Higgins contributed a word-puzzle based on the principle of code switching. Even the generic cardboard mailer box was adorned with Morse code that repeatedly spells out "S-M-S."6 In this way, Copley's S.M.S. functions as an early example of information technology imagined as giving rise to something very much unlike Malraux's totalized museum without walls, a world in which artistic proliferation produces endless difference rather than encyclopedic completeness.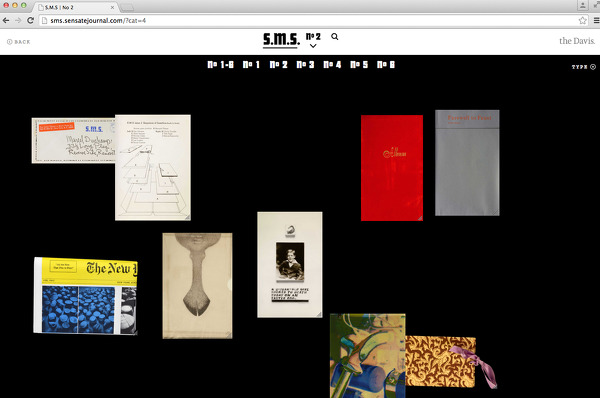 Figure 27.8. The S.M.S. interface reproduces the effect of receiving a portfolio in the mail and pouring the contents onto a coffee table in order to thumb through the books, play the audio, and assemble the kits. By enabling viewers to pinch, expand, and shuffle each object, the system reprises the tactility and kineticism that was integral to the original presentation of this material.
For this reason, S.M.S. provides an ideal subject through which to think about the possibilities for digital art history in new ways. The specific venture we discuss came about through an opportune collaboration between the Davis Museum at Wellesley College and Sensate, an experimental scholarly and media practice journal. While the Davis Museum was interested in showcasing its holdings of the complete set of the S.M.S. portfolios, Sensate sought an innovative way to present material from S.M.S., in large part because the multiplatform, media-rich nature of S.M.S. positions it as a kind intellectual ancestor of contemporary, experimental journals. Thus while the physical exhibition strove to make these objects singular and accessible—for example, by producing a select number of replica objects that museum patrons could handle and explore—the digital project was designed to capitalize on this parity between form and content. In other words, if S.M.S.—with its thematic interests in information technology, avant-garde experimentalism, and transcending a received set of rarified confines—might be considered a predecessor of Sensate, the publication ought to allow the latter to shed a new and specific light on the former.
Given the attention that Copley devoted to how the S.M.S. objects were to be received and handled by subscribers, the solution presented itself in the area of interface design. To devise the user's pathway through the information, we used small printouts of each work to mark a place for that object in the portfolio. As we moved these small copies (of small copies) around on a large table, we realized that this arrangement could function as a very generative interface. Users could be presented with digital versions of each object seemingly spilled onto a horizontal surface, an experience that would reproduce the effect of receiving a portfolio in the mail and then, as was intended, pouring the contents onto a coffee table in order to thumb through the books, play the audio, and assemble the kits. By enabling viewers to "touch" each object to magnify or reorder it, we would be able to reprise the tactility and kineticism that was integral to the original presentation of the material.
Because most objects in the original S.M.S. were comprised of an outside cover and inside contents, we elected to treat these virtual, resizable representations as "covers" for unique digital objects. When users click on each object, they are taken to an "interiors" page that contains a number of high-resolution photographs—of all sides of all parts of the object, as well as several "action shots" of the parts being put into use.7 For example, in Arman's Torture Device for Color, viewers could see not just details of the screws and Plexiglas plates, but how these bits of hardware were to be assembled into a miniature vise that could squeeze a tube of paint to the point of explosion. These simulations made it newly possible for members of the public to read prose and poetry works by figures including John Cage, George Reavey, and Nicolas Calas, as well as to listen to Marcel Duchamp's contrepètries and Diane Wakoski's The Magellanic Clouds, a unique piece of spoken-word poetry recorded directly onto cardboard.
Like all such projects, S.M.S. NOs 1–6 was threaded through with instances in which our ambitions ran up against the singularity of our objects under consideration. Beyond the basic questions of media preservation—which has impacted both the long-term survival of the S.M.S. objects themselves as well as framed decisions about the life of our project going forward—these issues shed light on the epistemological stakes of doing digital art history. Namely, we aimed to produce a kind of digital catalog raisonné, an authoritative volume that would comprehensively document the contents of the S.M.S. portfolios. But the question of what constituted comprehensiveness quickly became more complicated than we realized. When attempting to create standards for the photographic presentation of these objects, we ran again and again into the irreducible heterogeneity of the portfolios. We decided on a policy to photograph everything front and back—but should we present viewers with thirty-six identical-looking photographs of the flat black backs of John Giorno's playing cards? What about an object like Alain Jacquet's Three Color Separations, a set of three color transparencies that have no clearly specified arrangement and thus no single "back"?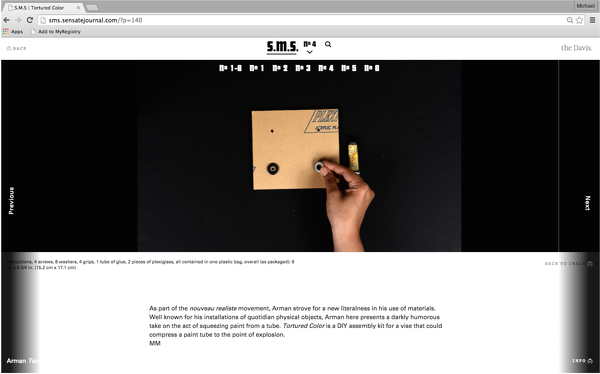 Figure 27.9. The digital version of Arman's Torture Device for Color not only gives viewers details of the screws and Plexiglas plates, but shows how these bits of hardware were to be assembled into a miniature vise that could squeeze a tube of paint to the point of explosion.
It was in this attempt to square a documentary circle that we most clearly saw the collision between S.M.S. and the museum/gallery world of which the portfolios were originally couched as a refusal. In their sheer internal difference, media-based ephemerality, and irreducible strangeness, the S.M.S. objects are particularly ill-suited for traditional museum practices grounded in the analysis of freestanding, stable artworks produced by recognized, well-understood makers. Yet, both S.M.S. and the Davis Museum were transformed, however slightly, by the encounter. One the one hand, Copley could never have envisioned that the museum would become an important vector through which his beloved S.M.S. would be disseminated and preserved. Similarly, our S.M.S. exhibition became the first time that the Davis Museum partnered with an external scholarly journal to distribute high-resolution images that not only depict works in its collection, but also digitally simulate the original conditions of their reception. This is a museum without walls in the most un-Malrauxian sense, one that uses the dissemination of photographic images not to produce an encyclopedic compendium of artifacts stripped from their context, but a transcription of a set of works that attempts to preserve, and even potentially further, an original set of intentions, meanings, and uses.
Art History and Curatorial Practice in the DH Mode
The advent of "data" as a category of popular discourse and interdisciplinary negotiation has inaugurated an era of both anxiety and excitement in the humanities. The excitement originates from those who see in the approach taken to "data" by technologists and scientists models for the practical and epistemological address of topics of abiding interest in the humanities: texts, objects, and images, but also lives, values, and affective experience. These things, too, are data, we are wont to say; they disclose aspects of their uncanny depths to quantitative perspectives made possible by the rise of computation. "Our" data, moreover, tied as they are to art, literature, architecture, music, and the full panoply of human expressive ambition, offer a glamour and an interest missing from data generated in other social contexts. And what of the anxiety? It emerges from the very same place: from the recognition that humanities topics, terms, and objects of study rarely look like the kinds of data found salient and manipulable—rendered meaningful—in computational contexts.
And yet it is precisely in connection with this last point—with the meaning-making nature of computational approaches to "data" writ large—that the humanities finds its bearings as a set of interpretive and critical practices. For all the real power and instrumental impact of computational efforts, and for all the cool implacability with which machines and algorithms seem to pick data apart, to fix their natures and discern their associations, these acts and analyses still take place as ineluctably human constructs, in inescapably human contexts. As we apply our assemblages of machines to the making or discovery of meaning in data, we face long-standing challenges to historicize, to interpret, and to tell stories. Our machines enter into these evaluative moves neither in originary nor terminal positions—neither as the dawn of a new age nor as the teleological culmination of what has come before—but in the midst of the churning cycle of human encounters with the world.
These humanistic gestures and predispositions, expressed through the S.M.S. publication and the Lightbox installation, gather force and importance as they emerge in our specific institutional milieus: art museums and an interdisciplinary research group situated in institutions of higher education. Both installation and exhibition, with their associated programs of design, knowledge production, and scholarly reflection, must be judged ultimately on their entanglement with and impact on an emerging generation of thinkers and makers. Asking students, as well as colleagues and the visiting public, to reflect on and explore the theoretical underpinnings that inform the description of the object in digital terms (as in the case of Lightbox), or to reflect on norms of ephemerality, materiality, and networked communication that both precede and overspill the advent of the digital (as in the case of S.M.S.), is to ask them to ponder the powers and agencies of computation in terms not only of efficacy and instrumentality, but in terms of technical, academic, and aesthetic translation and negotiation. It is our purpose to ground a generation fully (and indeed normatively) convinced by the powers and possibilities of digital technology in the vital and salutary work of interpretation, evaluation, and appreciation that remains at the heart of the humanistic disciplines, however they are formulated in formal, professional, and institutional terms. Computation is powerful, but not all-powerful; the work of framing its epistemological limits is essentially a humanistic endeavor.
Notes
Bibliography
Allan, Derek. "André Malraux and the Modern, Transcultural Concept of Art." Literature and Aesthetics 15, no. 1 (2005): 79–98.
Benjamin, Walter. "The Work of Art in the Age of Mechanical Reproduction." In Illuminations: Essays and Reflections, ed. Hannah Arendt, trans. Harry Zohn, 217–52. New York: Schocken, 1969.
Bowker, Geoffrey. Memory Practices in the Sciences. Cambridge, Mass.: MIT Press, 2008.
Bowker, Geoffrey, and Susan Leigh Star. Sorting Things Out: Classification and Its Consequences. Cambridge, Mass.: MIT Press, 1999.
Cohen, Rachel. Bernard Berenson: A Life in the Picture Trade. Jewish Lives Series. New Haven and London: Yale University Press, 2013.
Daston, Lorraine, and Peter Galison. Objectivity. Cambridge, Mass.: MIT Press, 2007.
Foster, Hal. "The Archive without Museums." October 77 (Summer 1996): 97–119.
Latour, Bruno. "Visualisation and Cognition: Drawing Things Together." Knowledge and Society Studies in the Sociology of Culture Past and Present 6 (1986): 1–40.
Loukissas, Yanni. The Life and Death of Data, 2014. http://lifeanddeathofdata.org/.
Malraux, Andre. The Voices of Silence. Translated by Stuart Gilbert. London: Paladin, 1974.
Manovich, Lev. The Language of New Media. Cambridge, Mass.: MIT Press, 2001.
Mansfield, Elizabeth, ed. Art History and Its Institutions: Foundations of a Discipline. New York: Psychology Press, 2002.
—. "Art History in Greece and Cyprus." In Art History and Visual Studies in Europe: Transnational Discourses and National Frameworks, ed. Matthew Rampley, 379–92. Leiden: Brill Publishing, 2012.
Mizota, Sharon. "Shit Must Stop." Special issue, Art on Paper 13, no. 4 (May/June 2009).
Montfort, Nick, Patsy Baudoin, John Bell, Ian Bogost, Jeremy Douglass, Mark C. Marino, Michael Mateas, Casey Reas, Mark Sample, and Noah Vawter. 10 PRINT CHR$(205.5+RND(1)); : GOTO 10. Cambridge, Mass.: MIT Press, 2014.
Nelson, Robert. "The Slide Lecture, or the Work of Art 'History' in the Age of Mechanical Reproduction." Critical Inquiry 26, no. 3 (Spring, 2000): 414–34.
Potts, Alex. Flesh and the Ideal: Winckelmann and the Origins of Art History. New Haven, Conn.: Yale University Press, 2000.
Preziosi, Donald. "Globalization and Its Discontents." In The Art of Art History: A Critical Anthology, ed. Donald Preziosi, 403–8. Oxford: Oxford University Press, 1998.
Star, S. L., and J. R. Griesemer. "Institutional Ecology, 'Translations,' and Boundary Objects: Amateurs and Professionals in Berkeley's Museum of Vertebrate Zoology, 1907–1939." Social Studies of Science 19, no. 3 (August 1989): 387–420.
Sterne, Jonathan. MP3: The Meaning of a Format. Durham, N.C.: Duke University Press, 2012.
Suessmann, Johannes. "Historicising the Classics." In Thucydides and the Modern World: Reception, Reinterpretation, and Influence, ed. Katherine Harloe and Neville Morley, 77–92. Cambridge: Cambridge University Press, 2012.