My
Old Sweetheart
s: On Digitization and the Future of the Print Record
Andrew Stauffer
Energetic digitization efforts of the past two decades have created a world of surrogates for printed books. The Google Book project made huge inroads into the born-analog content of libraries, with a particular emphasis on open-stack collections. Other agents such as HathiTrust, and commercial entities such as Gale/Cengage, have also been assiduous in providing digital access to print materials of earlier eras via scanned copies.1 Particularly for non- or medium-rare materials printed between 1830 and 1923 (the beginning of industrial printing up to the copyright limit), this has meant wide access to full-text content and page images.2 One downstream effect of these massive collections of photo-facsimiles has been a renewed attention to bibliographic detail: we see pages, everywhere. And we notice things about them as interfaces, as designs, and as material that eluded us in modern editions. In some ways, the print record is available to us like never before. However—and this is my polemic—it is also occluded in crucial ways that have troubling implications not only for scholarship but also for the institutions that stand at the center of humanistic activity generally: libraries.
The problem is this: academic libraries are now questioning the value of maintaining extensive print collections of non-rare materials that have been scanned and are freely available online.3 After all, most patrons prefer to consult older books via Google or HathiTrust (or more modern editions of their textual content) when they can (Anderson). Use of the non-rare legacy print collections is dropping, and at the same time libraries are facing urgent demands for digital databases, collaborative spaces, and the newer, in-copyright books that claim more shelf space each year. That is, various pressures (money, space, convenience) are driving the nineteenth- and early twentieth-century books off the shelves. An obvious solution is to downsize the print holdings in the stacks, either moving them to offsite storage or de-accessioning them in reliance on interlibrary loan if the print version is really needed. In pursuit of this effort, library policy leaders are pursuing ideas of "collective collections"—managing (and managing down) our national holdings of little-used printed books and journals in regional, and eventually national, collaborative arrangements (Dempsey et al.; Lavoie, Malpas, and Shipengrover). Librarians are now developing preservation and access models wherein the use of non-rare, out-of-copyright, already-digitized physical materials is increasingly an eccentric requirement.4 With all of their content online, who still needs these books?
Scholars do, as it turns out. I am going to pass lightly over some large issues such as the value of serendipitous discoveries in the stacks (Alves; Carr),5 the importance of the library as a built space for historical encounters, and the somatic and affective appeal of the codex as such. (For a perspective on the particular value of humanities materials in libraries, see Woolwine.) I want to focus our attention instead on the library as a more complex ecosystem of information than our digital catalogs and electronic text corpora comprehend. Insofar as we resolve whole ranges of "copies" to a single catalog entry and/or a scanned version of a single copy, we strip the print record of its meaningful variety. As we all know, when we abstract and formalize printed books in order to make them operational in a digital environment, we lose detail. We don't ever really "put a book online" or even "digitize" a book: rather, we create a model that allows certain affordances and eliminates others. As Jerome McGann has written, "After we digitize the books, the books themselves remain. . . . Perhaps the greatest of the false promises of digitization is that its simulations will save our books. . . . If our book heritage is to be saved, we will have to chose to save it intact, not simulate it electronically" (132). Scanned books still exist in the world, somewhere, as part of a much larger family of copies whose significance can only be grasped in the aggregate. Bibliography and textual scholarship attempt that grasp.
None of this would be a huge worry if books were mostly staying on the shelves, or if our access to collections was not increasingly mediated by layers of digital cataloging—that is, by metadata. Metadata is not the enemy, of course: it has potential to reveal books and their relations in ways far beyond analog classificatory systems. But it can also lead to oversimplifications—the too-few-buckets problem—especially under conditions of straitened resources and efficiency mandates. Insofar as scholars and students get to books primarily via online searches that lead to offsite retrieval—or interlibrary loan requests or (most commonly) the click of a Google Books link—they will be misled by the apparent singularity and self-identity of the copy they encounter. Moreover, librarians pursuing significant downsizing of their collections based on the number of copies in OCLC WorldCat (a common metric for de-accessioning, along with usage numbers) will be winnowing a multiform collection whose significant variations lie hidden behind blandly aggregated metadata, given current library cataloging standards. ("If an item can easily be obtained from other libraries, it can be safely weeded" [Tyckoson, 69].) In addition, the further we as an academic culture move away from ready access to the actual print record (the real books), the more unlikely it is that scholars will cultivate the baseline bibliographic familiarity out of which comparative discovery can only grow.
As specialists in medieval and early-modern eras know well, books reflect the multiple hands of their makers and users: the contingencies and processes, the tactical moves, the errors and accidents, the exfoliation of possibilities—the texture of the communicative circuit. They are temporally layered objects, variable from other copies at the point of production in myriad ways, and accruing meaningful evidence of use chronically throughout their individual existences in the world (they are sort of like people, in those ways). All of this is true of books printed after the handpress period as well (that is, via increasingly mechanical, industrial processes), although people tend to forget the fact. Insofar as we allow single-copy scans to stand in for entire editions and conflate multiple copies into a single WorldCat entry, we are encouraging the growth of bibliographic monocultures, editing away the details in the interests of efficiency.6 With such protocols, we are enabling a flattening of the human record in all of its variability, and the humanities suffer thereby.
As I have said, material printed between 1830 and 1923 is the most vulnerable: mostly out of copyright, frequently available in full text online, usually not valuable to collectors, sometimes in deteriorating condition due to the wood pulp paper and cheaper production values of the era, and often assumed even by scholars to be standard, identical copies created by machines in the age of the stereotype and the steam press. Also, there is a lot of it, and it is little-used by patrons. No wonder libraries are trying to move much of this material offsite or abandoning commitments to their copies altogether. When someone really needs to see a physical copy of, say, the 1902 edition of James Whitcomb Riley's An Old Sweetheart of Mine, that person can get it via interlibrary loan.
So I decided to test the implications of that logic by requesting as many copies of the 1902 Old Sweetheart as my interlibrary loan office would supply at once. This book was chosen somewhat haphazardly as a subject, based on research into editions likely to reside in a large number of circulating collections in the United States. Riley was a popular American poet of the later nineteenth century and was often published in kitschy formats that circulated widely as gift-books during his era. This particular edition features numerous illustrations by Howard Chandler Christy and decorative embellishments by Virginia Keep.7 Working from a single WorldCat entry that indicated over 100 copies held in member libraries, I made requests for ten of these copies, including the University of Virginia copy in the set. I would have asked for more, but the interlibrary loan (ILL) office expressed its displeasure; and in any case, ten copies were enough to make my point, for now.
Placed side-by-side, these ten Old Sweethearts began to tell a story.
The first thing one notices are the varying bindings, visible even in a black and white photograph: the burgundy cloth, blue-green cloth, gray cloth, and library buckram reveal an obvious layer of variation among these supposed duplicates. Individual weathering to each binding has produced different gradations of color within the groupings as well, both of the publisher's cloth and the stamped designs on it. Various library stamps, stickers, and barcodes are also visible on the exteriors. So even from this distance, having not even opened the books, we can see evidence of two species of variability: different bindings at the point of production, and different post-publication patterns of change.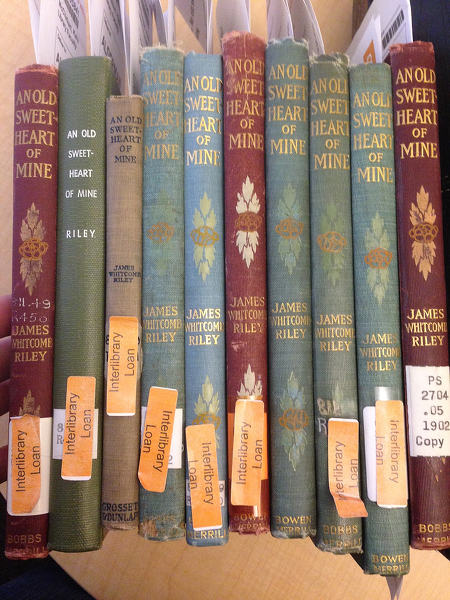 Figure 19.1. Copies of the 1902 edition of An Old Sweetheart of Mine obtained via ILL from Richard Bland College, U Tennessee, UNC-Charlotte, Louisiana State U, Olivet Nazarene, Kenyon, West Virginia U, Duke, Vanderbilt, and U Virginia.
It is beyond my scope in this brief chapter to present an exhaustive catalog of the ways in which each of these copies differs from its peers. It is enough to say that no two copies are exactly alike, and to express my belief that, were I to examine all of the copies of this edition from the various libraries in WorldCat, that same truth would hold to some degree. It remains for me to register a few examples to help convey a sense of the bibliodiversity preserved in multiple copies of a single edition. According to WorldCat and the interlibrary loan system that undergirds the "collective collections" movement, these are all interchangeable duplicates.
Publishers' Information
All ten copies have the same copyright statement on the reverse of the title-leaf: "Copyright, 1902/ The Bowen-Merrill Company." But on the title page itself, four copies have "Bowen-Merrill" listed as the publisher, five copies have "Bobbs-Merrill," and one has "Grosset and Dunlap." The company changed the "Bowen" to "Bobbs" in January 1903, in the midst of the print run, in part accounting for the mixed state of attribution here (Russo and Russo, 92). On the spines of these books, three copies are stamped "Bowen Merrill," five have "Bobbs Merrill," one has been rebound, and one has "Grosset and Dunlap." These are distributed across the burgundy and blue-green bindings, with Grosset and Dunlap the odd man out in gray, printed in a smaller format. A bibliographer could use these variants as an aid to determining the chronological order of the different states of the first edition.
Text of the Poem
Seven of the copies have the word "song" in stanza 18, where the other three have the word "shout." Eight of the copies have an exclamation point after the word "come" in stanza 34, and two have a period instead. Seven copies have a lower-case letter "t" at the opening of the third line of stanza 36, and three have a capital "T." These variations do not cluster together in immediately recognizable sets, nor do they map directly to the varying publisher information or to the binding colors. Textual scholarship requires such details to establish the genealogy of a work: does "song" or "shout" represent Riley's final intention for stanza 18? Which word should we reproduce in a modern version? What about our punctuation and capitalization choices? Rather than just choosing randomly, scholars use evidence of the kind contained in these multiple copies to produce new editions.
Preliminary and End-Leaves
In addition to decorative endpapers, this edition has eleven preliminary leaves and three end-leaves, including various vignettes of the narrator and his sweetheart as children and adults, printed in pale pink (as well as a half-title, title page, dedication page, list of illustrations, and an epigraph). The pink vignettes are variously faded across all copies, coming through bright and clear in some and barely visible in others. One copy has shuffled the order of the front matter so that the half-title comes two pages earlier than in other copies. Another copy omits one page of the opening vignette illustrations. The copy rebound in buckram lacks the rear endpapers entirely. In choosing which copies to retain in our "collective collection," we need to have a better sense of condition, or else we risk choosing faded, damaged, or incomplete copies to represent the edition. Without the kind of cross-copy comparison that diversity in library collections enables, bibliographical description is hamstrung by a lack of evidence and can only proceed by guesswork.
Illustrations
Two copies show subtle differences in at least one of the illustrations, suggesting something complex about the ways they were engraved and reproduced. A much fuller study would be necessary to survey and explicate the variants across all of the illustrations and designs as printed, but for now, we can simply say that not all "old sweethearts" are the same.
Here she is: see any differences between these two (Figure 19.2)?
Look closely, for example, at the roses she is plucking.
In Figure 19.3 you can see the flowers on the left seem to be pulled toward her, whereas those on the right are shooting up more vertically, with extra stems. Further, in the latter image, the rose in the sweetheart's hand is accompanied by three lines of background texture, leading to a ghostly (uncolored) rose above right, all absent in the other version. These small variations provide evidence of a forked printing history and multiple states of the engravings, something that would require the examination of many copies to trace. We might discover something about the way Christy worked as an illustrator, or the nature of the reproductive process used by the publisher. But in any case, these variable roses serve as a nice representation—part metaphor, part synecdoche—for the presence of rich, unnoticed bibliodiversity in the stacks, an ecosystem under threat in the new information economy.
User Marks
In four copies, previous owners have written their names. The University of Virginia copy has a gift inscription that reads, "This is my message/ for you—/ December 1903 / D / Can you decipher it?" The bookplate indicates it was a gift from R. N. Watts, who seems to have been serving as secretary to Austin, Texas chapter of the YMCA around the time of the inscription (thanks, Google Books). Using large libraries of digital surrogates like those found at Google and Hathi, we can begin to trace the lives recorded in the print volumes. In this way, scholars may illuminate patterns of book use and reading in previous eras when print dominated the media landscape. We can help "decipher" their individual messages via digital search, opening up a hybrid research environment in which digital models and physical records illuminate one another. My Book Traces project (http://booktraces.org) is one attempt in this direction, a crowdsourced site encouraging the discovery of historical user-modified volumes (primarily marginalia and inscriptions) in the circulating collections of libraries. Thanks to a grant from the Council for Library Information Resources (CLIR), librarians at the University of Virginia are working to catalog such volumes in our main humanities library in the Book Traces @ UVA initiative. As these copies of Old Sweetheart demonstrate, user modifications are only one way that copies differ, but marginalia and inscriptions are easily spotted locally without the need for cross-copy comparison, and thus they provide a pragmatic vector for conserving variety in the stacks.
In the event, An Old Sweetheart of Mine was a happy choice for this experiment, not only because of the multifaceted variation among copies of the 1902 edition, but because the poem itself resonates with the bookish forms that contain it. The narrator presents a series of nostalgic memories of a childhood girlfriend, indulged in an upstairs study among "old bookshelves" while his wife and children are out of the way. In its first published version (1889), the poem begins,
As one who cons at evening o'er an album, all alone,
And muses on the faces of the friends that he has known,
So I turn the leaves of Fancy, till, in shadowy design,
I find the smiling features of an old sweetheart of mine.
In Riley's poem, remembering the beloved is like browsing through a picture album, a book of souvenirs made up of "the leaves of Fancy." The poem suggests the close ties between consciousness and codices, between books and identity, in the great age of industrial printing. These were the platforms, these the interfaces, upon which readers in the nineteenth and twentieth centuries elaborated their social relationships and emotional lives. Their apparent sameness from a distance (are not all old sweethearts the same?) is belied by their utter individuality once examined and known (no, each one is different). Yet as a cultural object, this Riley book moves in the other direction as well, predicated as it is on the similarity of middle-class romantic feelings across an incalculable range of readers. Put harshly, the book trades in sentimental cliché: a Hallmark card on steroids, this edition of An Old Sweetheart of Mine needs to be relatable to be salable: the reader needs to be able to imagine that Mine as his own. In this way, it becomes a fascinating thing to contemplate, a little microcosm of the uncertain relation of the one to the many, the individual to the mass public, that characterizes modern questions of identity, and animated the entire scene of literary production in an era of general literacy. Its bibliographic variety-within-sameness puts a particularly fine point on the issue.
It is no surprise that Riley's poem and its accompanying paratexts vary across editions and reprintings: but the range of variation within a single edition—pointing to numerous states of that edition invisibilized by aggregating common metadata—should give us pause before we declare them all duplicates. After the exercise with interlibrary loan copies of the 1902 Old Sweetheart, I started looking for other copies of this edition at used bookstores and found one—printed with "Bowen-Merrill" on the copyright page, but "Bobbs-Merrill" on the title page and spine, like some of the others—with an alternate binding, as shown in Figure 19.4.
And so possibilities proliferate. My limited interlibrary loan experiment did not net this one, but it well might have if I had pushed through to obtain other libraries' copies. Here, an alternate "Christy girl" graces the cover, another representation of the "old sweetheart," caught in the act of reading: her finger poised within the volume, a look of reverie on her musing face. Like our narrator, she turns "the leaves of Fancy," perhaps of her own eponymous volume, the one she inspired and the reader holds.
The poem itself, "An Old Sweetheart of Mine," ends with an uxorial twist: it turns out that the apparently neglected wife downstairs is the "old sweetheart," who shows up at the end in her own "living presence," as domestic bliss subsumes the "truant fancies" of erotic memory. It seems an apt allegory for the reappearance of the book in our hands, as we move from the "leaves of Fancy" of virtual reading back to the "living presence" of the physical volumes. Riley's point is that love requires both the memories and the embodied form, the virtual sweethearts of the past and her living self before him. Humanities scholarship also needs both worlds to thrive: digital and analog, virtual and historical, abstract and particular. Matthew Kirschenbaum8 and Bethany Nowviskie9 have often said that "love will find a way" to preserve our cultural inheritance. If that is true, then let me add a corollary proposition: we are going to need as many Old Sweethearts as we can get.
Notes
Bibliography
Alves, Julio. "Unintentional Knowledge: What We Find When We're Not Looking." Chronicle of Higher Education 59, no. 41 (2013). http://chronicle.com/article/Unintentional-Knowledge/139891.
Anderson, Richard. "Print on the Margins." Library Journal, 136, no. 11 (2011): 38–39. http://lj.libraryjournal.com/2011/06/academic-libraries/print-on-the-margins-circulation-trends-in-major-research-libraries/.
Carr, Patricia. "Serendipity in the Stacks: Libraries, Information Architectures, and the Problems of Accidental Discovery." College and Research Libraries (2015). http://crl.acrl.org/content/early/2015/01/01/crl14-655.full.pdf.
Darnton, Robert. "Google and the Future of Books." New York Review of Books, February 12, 2009. http://www.nybooks.com/articles/archives/2009/feb/12/google-the-future-of-books/.
Dempsey, Lorcan, Brian Lavoie, Constance Malpas, Lynn Silipigni Connaway, Roger C. Schonfeld, J. D. Shipengrover, and Günter Waibel. Understanding the Collective Collection: Towards a System-wide Perspective on Library Print Collections. Dublin, Ohio: OCLC Research, 2013. http://www.oclc.org/research/publications/library/2013/2013-09r.html.
Grafton, Anthony. "Apocalypse in the Stacks: The Research Library in the Age of Google." Daedelus 138, no. 1 (Winter 2009): 87–98.
Lavoie, Brian, Constance Malpas, and J. D. Shipengrover. Print Management at "Mega-scale": A Regional Perspective on Print Book Collections in North America. Dublin, Ohio: OCLC Research, 2012. http://oclc.org/content/dam/research/publications/library/2012/2012-05.pdf.
McGann, Jerome. A New Republic of Letters: Memory and Scholarship in the Age of Digital Reproduction. Cambridge, Mass.: Harvard University Press, 2014.
Nunberg, Geoffrey. "Google's Book Search: A Disaster for Scholars." Chronicle of Higher Education, August 31, 2009. http://chronicle.com/article/Googles-Book-Search-A/48245/.
Russo, A. J., and D. R. Russo, eds. A Bibliography of James Whitcomb Riley. Indianapolis: Indiana Historical Society, 1944.
Schoenfeld, Roger, and Ross Housewright. "What to Withdraw: Print Collections Management in the Wake of Digitization." Ithaka S+R Research Report, September 1, 2009. http://www.sr.ithaka.org/research-publications/what-withdraw-print-collections-management-wake-digitization.
Stauffer, Andrew. "Digital Scholarly Resources for the Study of Victorian Literature and Culture." Victorian Literature and Culture (2011): 39, 293–303.
Tyckoson, David A. "Perspectives on Weeding in Academic Library Collections." In Rethinking Collection Development and Management, ed. Becky Albitz, Christine Avery, and Diane Zabel, 59–76. Santa Barbara, Calif.: ABC-CLIO, 2014.
Woolwine, David E., "Collection Development in the Humanities and Social Sciences in a Transitional Age: Deaccession of Print Items." (2014). Library Philosophy and Practice (e-journal). Paper 1173. http://digitalcommons.unl.edu/libphilprac/1173.