The Care of Enchanted Things
Kari Kraus
As part of the third-year curriculum at the Hogwarts School of Witchcraft and Wizardry in J. K. Rowling's Harry Potter series, students are assigned The Monster Book of Monsters, an enchanted bestiary whose contents include hippogriffs, sphinxes, and all manner of chimerical creatures. A most menacing bibliographic specimen, the book functions nothing like the inanimate volumes we encounter in the real world: it snaps and growls at whoever tries to open it and can only be placated by a reader intrepid enough to risk losing her fingers by gently stroking its spine (Rowling, 113). Harry and his classmates devise various other ad hoc methods of restraining their volumes when not in use, including belting, roping, and duct-taping them shut (112). Failing such measures, the books will savagely attack not only their owners but also other copies of themselves—as Harry learns when he visits the Flourish and Blotts bookstore and watches the natural-born pulpivores attempt to shred one another to bits (52–53).
What is the fate of these monsters, these mauled and mangled things? In the transmedial universe of Harry Potter—comprised of books, films, video games, toys, and other media—one clue is provided by the Marauder's Map, a document depicting the location of various buildings and secret passages on the grounds of Hogwarts. In the closing credits of the film adaptation of Harry Potter and the Prisoner of Azkaban, the camera pans over a location on the map labeled the "Monsters Repair Workshop," where mutilated copies of The Monster Book of Monsters ostensibly go to be fixed ("Monster's [sic] Repair Workshop"). Like the Island of Misfit Toys, the workshop functions as a way station for broken, defective things. There they remain until presumably they can be examined, repaired, and put back into cultural circulation. Although unequivocally part of the Wizarding World, these artifacts are not magically mended with the help of a charm. Instead, they are ontologically positioned within this fictional universe as fragile material media requiring specialized tools and techniques to stabilize them. The books' supernatural properties, in other words, neither protect them from harm nor exempt them from the need for painstaking stewardship and conservation. At the same time, we might reasonably suppose the care of enchanted things to be different in kind from the care of everyday things. If restoring an antiquarian book to a mechanically sound condition involves such routine practices as sewing and rebinding, what might the maintenance of an enchanted book entail? This chapter offers a sustained reflection on that question, addressing how care and design can be productively considered in tandem. Following David Rose, the enchanted things of my title refers to hybrid physical-digital objects in the real world whose seemingly magical properties imbue them with the aura of enchantment. Throughout the chapter, I use the Monster Book as a metaphor for this larger class of technological artifacts. More popularly known as the "Internet of Things," they provide us with the opportunity to identify and explore some of the tensions and problems inherent in their production and maintenance. These tensions include the friction between data openness and data privacy; physical wear and computational wear; desktop computing and pervasive computing; and make-believe and reality as competing conceptual domains for interface metaphors.
In the years since the various Harry Potter releases, The Monster Book of Monsters has transitioned from a fictional object on page and screen into a real-world object variously created by researchers, artists, inventors, Harry Potter fans, and commercial manufacturers. "Reinvented with 100% muggle brand crafting supplies," as one DIY enthusiast boasts (Quinnsulivan), these functional prototypes and prop replicas—which mimic the appearance and behavior of their on-screen progenitors with varying degrees of fidelity—often incorporate servo motors, microcontrollers, and other electronic components.
In the Harry Potter universe, the Monster Book is a sentient object; as such, it operates within the realm of the supernatural. Outside the fictional world, the proliferating number of home-brewed monster books coming out of basements and design labs are augmented with digital devices to give the illusion of sorcery. The in-world versions are powered by magic, the out-of-world versions by technology sufficiently advanced to make them indistinguishable from magic, to paraphrase Arthur C. Clarke's famous dictum. Indeed, inspired by the Harry Potter universe, David Rose of the MIT Media Lab refers to the products of ubicomp—the whole class of things that "seamlessly couple the dual world of bits and atoms"—as enchanted objects (Tangible Media Group; Rose). Thus the paranormal magic in the story world gives way to illusionist magic in the real world.
Examples of such enchanted objects currently in the R&D phase or already entering the market include a water faucet that curls up in response to wasteful water use, a toaster that wiggles restlessly after a prolonged period of disuse, an umbrella that warns you when it is about to rain, and a clock that chimes the location of family members (Togler, Hemmert, and Wettach; Burneleit, Hemmert, and Wettach; Rose, 92, 109, and passim). Like The Monster Book of Monsters, these objects and others like them could collectively benefit from their own dedicated workshop, but one that is capable of accommodating every phase of an object's life cycle, not just repair. By encompassing creation and manufacturing within its purview, such a workshop embraces a key tenet of sustainable design: that change and adaptation can be intentionally engineered into products and technologies from the outset. It is not that such objects are fortified against entropy, but rather that their aging patterns develop and unfold along designed trajectories, particularly at the level of user interface, as explored later. Consequently, the project of maintenance and repair begins to take on a different cast, one that is intimately connected to—rather than separate and distinct from—a product's genesis and development.
Because so many of these emerging technologies involve personal data collection, ethical reflection will need to be brought to bear at each stage of the process. Imagine, for example, a digitally augmented DIY version of the Monster Book embedded with sensors capable of detecting temperature, moisture, sound, motion, and open/close events. If books have always been the record keepers of readers' interactions with them, how much more can we learn about a book once we have endowed it with tiny digital prosthetics that document ever so much more of its history? Properly preserved and maintained, such a specially outfitted book could enhance book history as a field of study by magnifying our ability to tell a story about its past, such as the precise date, time, and place it was opened or read aloud or subjected to the mishaps of a careless reader who spilled coffee on it. More than a decade ago, Bruce Sterling presciently coined the term spime to refer to such informational objects. A portmeanteau of "space" and "time," spimes are "precisely tracked . . . throughout their earthly sojourn" (11).
One premise of this thought experiment is that books, like other physical objects, are already lo-fi sensors in their natural state, detecting and reacting to information about external stimuli and events. A moldy book, for example, registers the fact that there is excess moisture in the air through a multimodal output that takes the form of a musty odor and foxing stains. A book read by candlelight is likely to retain telltale drops of wax on its pages. These traces function as a form of metadata that is materially coextensive with the book itself: a type of on-board provenance. Book historians are adept at interpreting these physical clues, often with the help of perceptual aids: Kathryn Rudy, for example, has attempted to identify which pages in a small corpus of medieval manuscript books were handled most frequently by using a densitometer, a machine that measures light reflected off a surface. The relative darkness of the edges, corners, and other white space of the page as quantified by the densitometer thus becomes a proxy for the amount of use and wear the book has undergone. Rudy adopts the densitometer as a tool to augment her umwelt (Eagleman 2015; Eagleman 2011): the semiotic information in the environment that is available to her senses. By embedding sensors into a book, we can increase the temporal bandwidth available to us in our quest for book knowledge; they expand our umwelt by amplifying the book's capabilities as a sensing system.
But such goals, however principled and socially benevolent in theory, are—as Katie Shilton and Deborah Estrin have argued about the self-quantification movement more broadly—potentially undercut by the technologies of surveillance used to support them. "Values such as privacy, consent, equity, and social forgetting," they note, "are particularly challenged by this new form of data collection" (1).
From the vantage point of a privacy activist, then, as opposed to that of a researcher or designer, the "care" of an enchanted object could controversially involve breaking its data-logging capabilities or purging its data store or even intentionally injecting noise into the system to make the data unreliable: what Finn Brunton and Helen Nissenbaum call obfuscation. A Monster Repair Workshop reflecting such user values might paradoxically vandalize the enchanted things consigned to its care in the name of anti-surveillance.
"Each society, each generation," write Mark Jones and colleagues in a wide-ranging study of forgeries from antiquity to the present, "fakes the thing it covets most" (13). Fakes, in other words, are a reliable indicator of what a culture values and reveres. At a time when data is as precious a commodity as oil, we need voices like Brunton's and Nissenbaum's advocating for strong countermeasures to prevent corporate and governmental exploitation of personal digital information, even, perhaps—under limited circumstances—the production of counterfeit data. But actions deemed heroic in one age are often regarded as reckless in the next. In this case, what we are presently defining as a privacy issue could eventually transition into a heritage issue if posterity is forced to reckon with a cultural record deliberately seeded at perhaps unprecedented scales with disinformation—planted there as much by the general populace as by the governments and corporations that rule over them. (In the wake of the 2016 U.S. presidential race, such a scenario can no longer be viewed as hypothetical. Clickbait, yellow journalism, fake news, meme warfare, and Russian-backed Twitter bots are now endemic features of civic life.) My intent here is not to invalidate Brunton's and Nissenbaum's tactics—which participate in a venerable tradition of using political protest to achieve just social change—but rather, in the spirit of debate, to imagine their unintended consequences. If you believe, as the authors of a 2000 report on the illicit trade in cultural antiquities do, that there is a "fundamental right of a people to their cultural heritage" (Brodie, Doole, and Watson, 11), then widespread tampering of data with the intent to deceive—taken to an extreme—is arguably a human rights violation. The act of recovering the past, already fraught with peril under the best of circumstances, will be exponentially harder if the real and the fake are allowed to perniciously intermingle. Seen from this angle, a central mission of the Monster Repair Workshop should be to develop novel techniques and protocols for recovering and authenticating the data logs of enchanted things, as well as finding the right balance between allowing the public access to those repositories, on the one hand, and judiciously redacting them, on the other. The shop, in other words, will need to be well staffed with the information professionals who already dare such things, namely, librarians, conservators, curators, and archivists.
As an alternative to Brunton and Nissenbaum, Shilton and Estrin offer what is in my view a more equitable and sustainable approach to privacy that could potentially offset the need for obfuscation. Drawing on her own ethnographic research into mobile technology development, Shilton proposes the deployment of values levers: design practices that "pry open opportunities for discussion of antisurveillance values during design and [help] build consensus around those values as design criteria" (12). Two such practices identified by Shilton and Estrin as being particularly efficacious are the formation of interdisciplinary teams and advocacy by a team member devoted to ethical issues (12–14). Although they envision a traditional researcher fulfilling the role of advocate, a participatory design approach that enlisted end users as co-designers could achieve the same goals. As an example of the kind of negotiated outcome this method might produce in collaboration with both users and digital humanists, consider once again the hybrid digital–physical Monster Book. Users of such a book could be given the option of committing the data being collected about their reading habits to a dark archive inaccessible to current researchers but available to posterity. The specific trigger event causing the information to be released publicly could be managed by a trusted digital estate.
If enchanted objects raise concerns about the overabundance of information they surface and reveal, then they should paradoxically also be scrutinized for what they efface and conceal. At the heart of this apparent contradiction is software, which logs and displays metadata about the object's interactions with the world, but fails to visibly register its own second-order interactions with users. To see what I mean, imagine that our DIY Monster Book has, in addition to a vast array of sensors, a miniature LCD screen embedded in it. This screen has a menu-driven display of the data being collected about the book and its readers. While the material structure of the book, such as its spine and pages, reflects patterns of use and wear, the software interface does not. If users repeatedly consult the statistics regarding how often the Monster Book growls, for example, but almost entirely ignore other available information—such as the number of times the book has been opened—there is nothing in the LCD rendering that symptomatically hints at those behaviors. The items selected most frequently from the screen menu, in other words, do not yellow or fade or become brittle with age. At the perceptual level, then, the hardware of the book is vulnerable to material change; the software appears impervious to it.
The act of modeling the appearance of change in software interfaces based on underlying usage data is known in the research literature as digital patina or computational wear (Hill et al. 3). Here "patina" is interpreted broadly to refer to artifacts and representations of all kinds that "carry [material] traces about time and life" (Giaccardi et al. 473). These traces are the result of chemical, environmental, and human interactions with the materials in question. When visiting a web page or other online resource, we typically encounter little in the way of visual cues that tell us which links have been clicked most often or which images have been repeatedly viewed. Web and app design in general validate Brien Brothman's concern that electronic documents "may well be imperceptibly eroding our ability to experience historical pastness, for example to witness the patina of record agedness" (49). Even in cases where the user interface has been designed to communicate patterns of use or wear, the metaphors underlying those choices often feel bland and predictable. Kindle's "Popular Highlights" feature, for instance, adopts the generic convention of a dotted underline to indicate passages in books that have been highlighted by three or more readers (see Figure 14.1). More intriguingly, but still operating within a similar paradigm, Xiaoyang Mao and colleagues have prototyped a set of link icons that appear to rust over time the more they are clicked. Both GUIs are vulnerable to charges of skeuomorphism insofar as they transplant material properties from the real world to the virtual world. Nonetheless they admirably buck convention by taking stock UI components and icons—generally represented as static and timeless—and transforming them into elements decidedly of time. To borrow a resonant term used by William Hill et al., their interaction histories are directly "tattooed" on the interface, "exactly where [they] can make an informative difference" (6).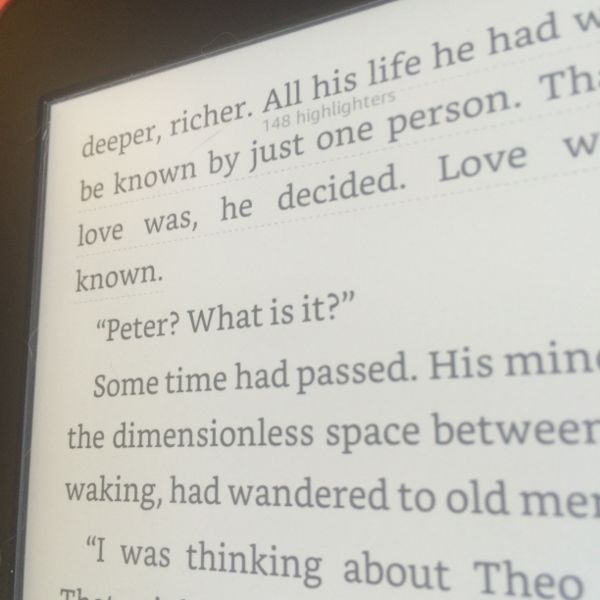 In addition to skeuomorphic displays, other models of digital patina, imaginative and compelling, are being commercialized or field tested. The Kobo eReader, for example, relies on an icon of a glowing orb whose intensity waxes and wanes in response to the level of social activity around a particular text. The reader is enjoined to "watch a book's pulse get stronger as comments are added and more readers are reading!" ("Kobo Brings Books to Life"). A similar tack is taken in the case of the History Tablecloth, a physical computing project developed by William Gaver and collaborators. The tablecloth is screenprinted with electroluminescent material (see Figure 14.2). When an object, such as a plate or teapot, is placed on it, the cells beneath it light up and expand in diameter, growing bigger the longer the object is left there. Once it is moved, the halo effect persists for approximately thirty seconds before disappearing (199–200). The History Tablecloth thus captures and visualizes activity traces related to everyday domestic objects. In true enchanted fashion, it moves the computational interface "off the desktop and into the world" (Dourish and Bell, 414).
The visual artifice employed in the History Tablecloth deviates from common forms of data representation in the sciences, notably with regard to the presentation of usage statistics. Unlike the Kindle "Popular Highlights" feature—which spells out the exact number of users who have highlighted a specific passage of text (e.g., "14 highlighters" or "29 highlighters")—the History Tablecloth provides relative rather than absolute information: an object with a large halo, for example, indicates that it has been stationary on the table longer than an adjacent object with a smaller halo, but the tablecloth contains no logging device or other mechanism by which the precise difference in duration is quantified. Given the sophisticated data-logging capabilities of today's digital sensors, we might ask why a designer would deliberately bypass precision metrics in favor of blurrier or fuzzier ones for purposes of output and display. The decision, at least in Gaver's case, reflects an ethos that values ambiguity and augments the role of user interpretation in design: what art historian E. H. Gombrich calls "the beholder's share" (Gaver, Beaver, and Benford, "Ambiguity"; Gombrich, 179–288). Such lo-fi rendering has been advocated as a potential avenue for design by a growing number of researchers. Stacey Kuznetsov and collaborators recommend looking to nature for models of nondigital sensors, citing examples such as the color of the water in a fish tank, which can indicate ozone deficiency, or the behavior of bees, which can signal drought conditions (231). They conclude that "ubiquitous systems can draw on 'imprecise' digital sensing [modeled after the biomarkers and analog measuring tools used to monitor living systems] to embrace 'ambiguity as a resource for design'" (234). Moreover, by deliberately coarsening the grain of representation, we can potentially address both of the contradictory concerns raised in this chapter: namely, that enchanted objects simultaneously over- and underreport their histories. Digital patina, in other words, by softening and curbing the information density of its display, could theoretically bear witness to the past without compromising user privacy.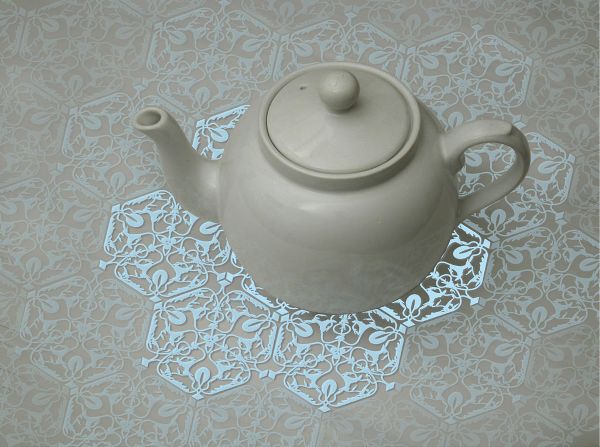 The value of potentially including digital patina as part of the design of enchanted things is reinforced by some of my own human subjects research, which found that participants made active use of signs of wear to interpret objects. In 2014, I conducted a study on how individuals identify the constituent parts of objects, including broken, obsolete, and semantically ambiguous objects. The initial impetus for this research was a literature review on the subject of technological change. Historically we know that many new technologies have inherited parts from earlier technologies. The skateboard remediated the surfboard; the camera pilfered from the gun; the telephone harvested batteries and wires from the telegraph; and early models of the phonograph borrowed the treadle mechanism of the sewing machine. In each of these instances, the logic of part–whole relationships governs the design. "Many of a technology's parts are shared by other technologies," notes Brian Arthur in The Nature of Technology, "so a great deal of development happens automatically as components improve in other uses 'outside' the host technology" (134).
To better understand this process, I decided to take a closer look at the role of "parthood" in creativity and design. I recruited thirty research subjects at the University of Maryland who were asked to examine six 3D artifacts and complete a written questionnaire about them. These artifacts ranged from the familiar (a book) to the unfamiliar or imaginary (a 3D-printed steampunk variation on the medieval astrolabe) to the broken or visually distinctive (a fork with a bent tine and a rock that appears to have a face, a phenomenon known as pareidolia). The questionnaire asked participants to identify each object or hazard a guess about it if they did not know what it was (object recognition); analyze it into its constituent parts (component analysis); identify the most significant, distinctive, or salient part (significant properties); and describe the process by which they performed these tasks and any challenges they faced (self-reflection).
Although it is beyond the scope of this chapter to delve too much into the results, one finding worth highlighting is that research subjects tended to approach component analysis as a temporal as well as spatial exercise, endowing objects with inferred origin stories and biographies. Most often these took the form of speculative remarks concerning the formation, production, provenance, and/or manufacturing of the items in question. One participant theorized that the ball, for example, was "formed of a single homogeneous foam (possibly cut/whittled by machine out of a more standard—possibly rectangular—shape of the material)." This line of reasoning was most pronounced with respect to the book: "I guess if I wanted to think more like a book scholar I'd further identify . . . the absent metal, inked letterforms that were arranged to print these words on the body pages. Interesting to think about how far you want to stretch 'included components.' . . . Is the printing press part of the book?" (emphasis added).
Like Borges's Funes the Memorius, who discerns vineyards and grapes in a goblet of wine, test subjects interpreted each object as feeding them information about time through the geometry of space. Key to recovering this information is evidence of composition and wear: "I looked for any signs of wear or scratch marks," wrote a participant about an object she could not decipher, "to see [how] it had been used." Across the board, participants sought out visual traces of material change to help them individuate and enumerate the parts of an object.
In one instance, such traces were invoked not only to recover the past but also to project the future: confronted by the apparent partlessness and homogeneity of the red foam ball, one participant mentally subjected it to a process of accelerated aging, imagining it as an object that has eventually been so heavily used and worn that "the surface is damaged . . . you can see the 'inside' area, and although it may be the same consistency as the outside, because it's not immediately visible there's the possibility of something else existing" (emphasis added).
I regard this future-oriented speculation—which almost seems to take the form of a hypothetical cutaway diagram showing the ball's interior texture and unevenness—as an attempt to compensate for its flawless symmetry, an attribute that can make nearly any object seem timeless, as though it stands outside the laws of physics, immune to degradation and decay. The cognitive scientist Michael Leyton has conducted a number of experiments demonstrating that humans interpret the irregularities in objects, such as indentations or protrusions, as repositories of memory from which we can extract their history (3). In an effort to concretize his ideas, Leyton asks us to envision an empty subway station: here we see "all around . . . objects that hold for [us] the memory of events at which [we have] not been present," he writes. "The dents in a bin are unavoidably seen as the result of kicking. . . . A crumpled newspaper evokes the compacting actions of hands. . . . A squashed beer can recalls a compressing grip" (1). It is in such everyday artifacts that we locate causal history.
For Leyton, memory is always in the form of asymmetry (6–7), while symmetry is always the absence of memory. According to this value system, the trope of asymmetry signifies the preservation of the past, while the trope of symmetry represents the denial or destruction of it. A maximally symmetrical object, like the red ball, is one that is silent, sterile, and vacuous (600). By contrast, an asymmetrical artifact is one that is information rich, allowing us to infer earlier states from its spatial irregularities.
If the gritty, debris-filled subway station is a particularly rich memory store, then the barren cell of an internment camp—to take Leyton's most poignant counterexample—is a grossly impoverished one: "unless events intrude from outside the cell, one day is indistinguishable from the next because there are no effects of interaction with the environment" (590). Leyton adopts the term "history ethic" to express the underlying rationale for closely attending to asymmetry: "the history ethic is the commitment to revealing, to the fullest, the history of an entity—a person, a culture, the animate and inanimate environment, oneself—and to interact with the entity by virtue of its fullest history" (601). A direct affront to such an ethic, the barren cell of the internment camp is emblematic of symmetry, not asymmetry. Inured against time, it no longer acts as a recording medium of the human condition.
If our tweets, Facebook posts, credit card purchases, and browsing histories collectively disclose personal information, so too do our everyday household objects. Their asymmetries—Leyton's variation on patina—are as much a part of our data shadows as the trackable information we leave in the cloud. Because user interfaces—whether of a dog-eared book, a crumpled newspaper, a dented beer can, or a fingerprint-smudged computer monitor—indirectly register information about human lives, they too are potentially subject to surveillance. Leyton's history ethic, however, functions as a ballast against obfuscation, reminding us—through the example of the internment camp—that there are profound human costs to erasing or distorting evidence of the past.
The barren cell thus serves as a kind of cautionary tale, warning us of the adverse consequences of dousing enchanted things in the waters of Lethe in the name of anti-surveillance. Deciding whether and under what circumstances to retain, exploit, visualize, modulate, or erase the "accrued histories" (Hill et al., 3) of enchanted objects will require an especially thoughtful application of Shilton's values levers, with one potential design outcome being the adoption of the imprecise displays previously discussed. Just as museum conservators and book binders must balance competing demands to preserve the authenticity of the items in their care on the one hand and to increase their longevity on the other (Rosner and Taylor), so too will the careful stewards of Monster Books need to negotiate data endurance and display.
As Hill and colleagues argue, physical wear can serve as a powerful organizing metaphor for computational wear (6), as most of the examples of digital patina suggest. In the final section of this chapter, however, I want to propose enchanted wear—let us call it spectral wear—as an alternative conceptual domain from which to draw inspiration for the design of enchanted things. In what tattered and mangled state, for example, does The Monster Book of Monsters arrive at the Monster repair shop? What are the supernatural counterparts to physical phenomena such as patina, corrosion, and decay? In short, what visual or perceptual traces of material change might result from magical processes and operations as opposed to real-world processes? A crude example is the ectoplasm in the slime scene in Ghostbusters. More ethereal sources of ideas—both strange and macabre—are the pastings and splatterings of fairies, goblins, and sprites in Lady Cottington's Pressed Fairy Book (T. Jones). Instead of pressing flowers in her journal, like other little girls, Lady Cottington presses garden fairies. Like a Venus flytrap, she snaps her book shut when they hover too close, catching and preserving them in suspended animation, their gossamer fairy entrails dripping down the page.[1]
Two examples of spectral wear come from work done by my team and me. Over the last few years, funded by the National Science Foundation, we have been collaborating with a large group of researchers, artists, musicians, and programmers designing educational alternate reality games for teens. In January 2015, we launched DUST in partnership with Brigham Young University, NASA, and Western Lights (Hansen, Kraus, Ahn, et al.). Focused on the deep-time sciences, DUST incorporates augmented reality apps, 3D panoramic environments, and an interactive graphic novel. The game centers on the mysterious collapse of adults worldwide who fall into a coma-like state following a cataclysmic meteor shower. Players "hack" into NASA research databases and engage in collaborative play and inquiry across multiple media platforms to search for answers that will save their parents' lives. Eventually they discover that the meteor dust is full of microscopic extremophiles whose DNA contains the records of a lost alien civilization, a voice from the DUST, whose world was destroyed. In Kilroy-was-here fashion, their message proclaims, "Look, we were here; we mattered; we existed." But because it has been transmitted in a mutable medium over time and space, the message arrives glitched and distorted. Players eventually decrypt it with the help of the Dream Decoder, a web app introduced in the final stage of the game.
As one of our project team members, Tony Pellicone, pointed out, glitch is symptomatic of technological decay and indicative of interference or corruption by the supernatural (think of Sadako Yamamura in Koji Suzuki's Ring series of novels, the ghost who causes digital distortion through her presence on recorded media; or Carol Anne in Poltergeist, the little girl enchanted by the static being transmitted by the family's haunted television). The term "glitch" first appeared in print in John Glenn's Into Orbit (1962), a book about the first U.S. human spaceflight program. Glenn defined glitch as "a spike or change in voltage in an electrical circuit which takes place when the circuit suddenly has a new load put on it" (qtd. in Merriam-Webster Online). Capitalizing on the original aeronautical context, DUST draws on glitch as a quintessentially digital trope to visually express the transmission of alien information. It transfers an aesthetic associated with the inert world of electronics onto a living system, one putatively hailing from an exoplanet millions of light-years away. Glitch, then, in DUST is meant to capture the paradoxical precarity and stability—the persistence but also the extreme vulnerability—of a genetic signal that has fantastically withstood ultraviolet radiation and the vacuum of space to reach its final destination (for a visual example of DUST's glitch aesthetic, see http://goo.gl/Vvij6K).
My second example is taken from our current transmedia project, The Tessera, developed in partnership with Brigham Young University, the Computer History Museum in Mountain View California, and Western Lights (Hansen, Kraus, Ahn, et al.). When the ghosts of historical figures, including Ada Lovelace and Charles Babbage, start haunting electronic devices, players must help them restore order by piecing together computational clues that will help fend off the forces of chaos. In the world of The Tessera, decay is a sign of Entropy, visualized as shadows that insidiously eat away at the objects associated with each of the game's gothic locales.
Figure 14.3, for example, is an interior shot of Horsley Towers, modeled after the mansion once occupied by the real Ada Lovelace. Time here has pooled in the hollows and crevices of bygone things. Entropy's effects can be felt in the crumbling plaster, the creaky floorboards, and the moldering portraits on the walls. Light flooding in from the windows extinguishes the darkness and elsewhere gives way to a gallery of marvels: mechanical leviathans and self-acting machines, calculating engines and automata, street organs and looms, mysterious contraptions lit from within as though powered by moonbeams. To protect and guard these enchanted things—to properly care for them—players are enlisted as darkness chasers who must combat Entropy's anarchic imagination. At another locale within the game, players are ferried about the velvety black waters of an abandoned subway station by a ghostly crew of automatons (see Figure 14.4). Initially enveloped in darkness inside the submarine, broken and worn down, the automatons come to life as players start the game (see Figure 14.5). In contradistinction to more benign forms of wear that encode the passage of time and enhance the archaeological record—what I have referred to as patina throughout this chapter—Entropy in The Tessera is a nihilistic force. Like Chaos in Milton's Paradise Lost, Entropy delights in sowing "spoil and ruin" everywhere. It is this dissolution of the world that players seek to avert.
But what might spectral wear look like in a truly enchanted, post-desktop technology? Consider William Gaver's Key Table, developed alongside the History Tablecloth as part of a larger collaborative project exploring the role of electronic furniture and playful technologies in the home (Sengers and Gaver, 102, 106). The table uses load sensors to measure the force with which everyday objects—keys, wallet, phone—are placed on it (see Figure 14.6). Throw your keys down hard enough, and a mechanized picture frame hanging on the wall just above the table will tilt wildly in response. In this way, the picture ostensibly becomes a rough barometer of the affective state of the user, allowing the next person who walks through the door to read it symptomatically: Did family member x just return from a restorative yoga class or, conversely, storm in after an emotionally draining fight with a partner? As a lo-fi 3D visualization of mood, the picture frame, which communicates wirelessly with the table, is designed to help answer this sort of question.
In the final analysis, what gives the table an enchanted feel is the fact that the picture frame is an inanimate object that moves in violation of psychophysical norms. It seems, moreover, to do so not of its own volition, which would be strange enough, but rather at the mysterious direction of the table. Like a magician's dancing handkerchief, it is an animation trick that feels more like sorcery. And because the mechanism of movement is atypical, whether one ascribes it to magic or technology, the frame theoretically escapes some types of everyday wear phenomena, such as the telltale fingerprints that would be left behind if hands were responsible for the constant tilting.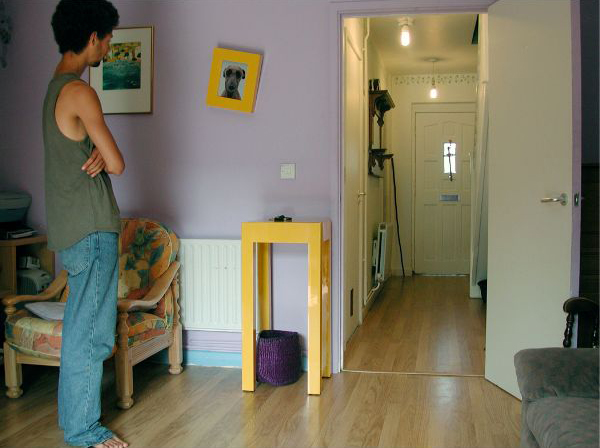 When Gaver and colleagues field-tested the key table with volunteers, they found that the family in whose home it had been installed responded to the table in unexpected ways. In particular, family members became entranced with the portrait of the dog contained in the picture frame, leading them to anthropomorphize the table and interact with it almost as if it were a pet (Sengers and Gaver, 102, 106). What Gaver et al. did not fully anticipate, then, was the role of representational content (not just technological affordances) in shaping how the furniture would be used and interpreted. An alternative approach to the portrait that takes their interesting findings into account might be to include a digital picture (rather than a static photographic print) in the mechanized frame. This digital portrait could be programmed to react more gradually to underlying patterns from the sensor data over time. The idea would be to visually capture the larger cycles of emotional change in the household as data accrued over a period of days, weeks, months, and years.
There is a further dimension to spectral wear that touches directly on care. Drawing on a wealth of empirical research, the designer Judith Donath has observed that we often impute sentience to complex interactive objects (69–71). Sentience in turn, whether real or imagined, prompts caretaking behavior (71). Because enchanted objects dial sentience up to 11, they may have a built-in advantage when it comes to survival, inspiring their owners to maintain and preserve them, rather than letting them fall into disrepair; interestingly, we also tend to attribute sentience to worn objects that have acquired personality through use, such as an antique car or a nicked and scratched skateboard (69). Recall in this context that users open the tattered Monster Book by gently stroking its spine, a gesture that mimics the way we interact with pets.
Lori Emerson, a new media scholar at the University of Colorado, has perceptively explored magic as a source of metaphor for interaction design in her recent book Reading Writing Interfaces. She shows how the language of magic is often used to mystify technology and to bolster a complementary philosophy of invisible interface design (1–46). As an alternative paradigm, she advocates for interfaces that assert themselves rather than disappear, that provoke or challenge the user rather than recede from view. The enchanted objects referenced throughout this chapter—such as the History Tablecloth, the key table, and The Monster Book of Monsters—tend to align more closely with these alternative values, but ultimately surpass mere provocation by trafficking in a wider variety of emotions ranging from wonder, astonishment, and intrigue to curiosity, playfulness, and mindfulness. In essence, enchanted computing seeks to decouple usability from unobtrusiveness—long considered two sides of the same coin—and instead to demonstrate that usability can be fundamentally compatible with radical new approaches to UI design.
In this chapter, following David Rose, I have labeled the products of pervasive computing—epitomized by the Monster Book of Monsters—as enchanted objects. I have positioned them as experimental hardware–software composites whose perceived anthropomorphism, data-logging capabilities, programmed behaviors, and environmental embeddedness create unique stewardship and UI challenges for digital humanists and information professionals. In response to those challenges, I introduced spectral wear as a distinct design aesthetic, arguing that its adoption confers several benefits on enchanted objects. Specifically, spectral wear might help mitigate privacy and surveillance concerns through figurative rather than quantitative displays, reflect and document patterns of use, and promote an ethics of care. It also provides a series of design tenets that are compatible with the application of Shilton's values levers: an add-on or extension to the design process that can support researchers and developers in realizing the goals identified during conversations about ethics and values.
Borrowing a term from evolutionary biology, I have elsewhere referred to the products of speculative design, such as the History Tablecloth or The Monster Book of Monsters, as Hopeful Monsters: "they are things born perhaps slightly before their time," writes the novelist Nicholas Mosley, "when it's not known if the environment is quite ready for them" (71). Through the ethical design of software interfaces and the adoption of values levers in DH's labs and centers, or even its kitchen tables (the original design and repair workshops), we can help create an environment, and a world, that is ready.
Notes
I would like to thank students in my 2013 Classification Theory course, who participated in an informal version of the parthood study as a class activity and offered suggestions on what types of objects to present to test subjects, including the suggestion that I incorporate an object exhibiting the characteristics of pareidolia. I would also like to thank Derek Hansen, Elizabeth Bonsignore, Tony Pellicone, Katie Kaczmarek Frew, and Jared Cardon for helping me compile examples of spectral wear; Matthew Kirschenbaum, Lauren Klein, and Matt Gold for reading and commenting on earlier drafts of this chapter; Amanda Visconti for pointing me to literature on the densitometer; and Rachel Dook for introducing me, in the context of enchanted wear, to Lady Cottington's Pressed Fairy Book. My gratitude to Jentery Sayers for allowing me to reprint several paragraphs/sections from "Finding Fault Lines: An Approach to Speculative Design," my chapter for his edited collection (The Routledge Companion to Media Studies and Digital Humanities, 1st ed. [New York: Routledge, 2018, 162–73]). Finally, I would like to acknowledge and express my appreciation for my fabulous research collaborators, including Derek Hansen, June Ahn, Elizabeth Bonsignore, Jared Cardon, Jeff Parkin, Katie Kaczmarek Frew, Tony Pellicone, Carlea Holle-Jensen, Ann Fraistat, Lexie Bradford, and Connor King. The brief plot summaries of DUST and The Tessera included in this chapter incorporate team-authored language used in our promotional materials, game materials, and other publications.
1. We are gratifyingly informed in a publisher's note at the beginning of the book that no fairies sustained any actual injuries at the impetuous hand of Lady Cottington. Apparently the fairies only leave "psychic imprints." Indeed, they eventually start trying to outdo one another in adopting the most sensational poses on the pages of the book, including mooning the reader.
Bibliography
Arthur, Brian. The Nature of Technology. Free Press, New York: Free Press, 2009.
"Book of Monster's Repair Workshop." Harry Potter Wiki. March 2016, http://harrypotter.wikia.com/wiki/Book_of_Monster%27s_Repair_Workshop.
Brodie, Neil, Jenny Doole, and Peter Watson. "Stealing History." CRM-WASHINGTON 25, no. 2 (2000): 7–10.
Brothman, Brien. "Perfect Present, Perfect Gift: Finding a Place for Archival Consciousness in Social Theory." Archival Science 10, no. 2 (2010): 141–89.
Brunton, Finn, and Helen Nissenbaum. Obfuscation: A User's Guide for Privacy and Protest. Cambridge, Mass.: MIT Press, 2015.
Burneleit, Eva, Fabian Hemmert, and Reto Wettach. "Living Interfaces: The Impatient Toaster." Proceedings of the 3rd International Conference on Tangible and Embedded Interaction, ACM (2009).
Donath, Judith. The Social Machine: Designs for Living Online. Cambridge, Mass.: MIT Press, 2014.
Dourish, Paul, and Genevieve Bell. "The Infrastructure of Experience and the Experience of Infrastructure: Meaning and Structure in Everyday Encounters with Space." Environment and Planning B: Planning and Design 34, no. 3 (2007): 414–30.
Eagleman, D. M. "Can We Create New Senses for Humans?" Ted Talk, 2015. www.ted.com/talks/david_eagleman_can_we_create_new_senses_for_humans?language=en.
Eagleman, D. M. "The Umwelt," 2011: What Scientific Concept Would Improve Everybody's Cognitive Toolkit? Edge.org, 2011, https://edge.org/response-detail/11498.
Emerson, Lori. Reading Writing Interfaces. Minneapolis: University of Minnesota Press, 2014.
Gaver, William W., Jacob Beaver, and Steve Benford. "Ambiguity as a Resource for Design." Proceedings of the SIGCHI Conference on Human Factors in Computing Systems, ACM (2003): 233–40.
Gaver, William, et al. "Electronic Furniture for the Curious Home: Assessing Ludic Designs in the Field." International Journal of Human-Computer Interaction 22, nos. 1–2 (2007): 119–52.
Gaver, William et al. "The History Tablecloth: Illuminating Domestic Activity." Proceedings of the 6th Conference on Designing Interactive Systems, ACM, New York (2006): 199–208.
Giaccardi, Elisa, et al. "Growing Traces on Objects of Daily Use: A Product Design Perspective for HCI." Proceedings of the 2014 conference on Designing interactive systems. ACM, 2014.
Glenn, John. Into Orbit. London: Cassell, 1962.
Gombrich, E. H. Art and Illusion: A Study in the Psychology of Pictorial Representation. Millennium edition, Princeton University Press, 2000.
Hansen, D., K. Kraus, J. Ahn, Co-Principal Investigators; J. Cardon and J. Parkin, Artists and Designers; E. Bonsignore, A. Pellicone, K., Kaczmarek, Student Investigators (UMD); C. Holl-Jensen, Creative Writer. DUST: An Educational Alternate Reality Game (fallingdust.com). Sponsored by the NSF (awards #1323306 and #1323787) and created in partnership with NASA and Tinder Transmedia.
Hansen, D., K. Kraus, J. Ahn, Co-Principal Investigators; J. Cardon and J. Parkin, Artists and Designers; E. Bonsignore, Postdoctoral Researcher; K. Kaczmarek Frew, T. Pellicone, Student Investigators (UMD); A. Fraistat and C.Holl-Jensen, Creative Writers. The Tessera: An Educational Alternate Reality Game (thetessera.org). Sponsored by the NSF (awards #1323306 and #1323787) and created in partnership with The Computer History Museum and Western Lights.
Hill, William C., et al. "Edit Wear and Read Wear." Proceedings of the SIGCHI Conference on Human Factors in Computing Systems, ACM (1992).
Jones, Mark, Paul T. Craddock, and Nicolas Barker. Fake? The Art of Deception. Berkeley: University of California Press, 1990.
Jones, Terry. Lady Cottington's Pressed Fairy Book. London: Pavilion Books, 1994.
Kelly, Kevin. The Inevitable: Understanding the 12 Technological Forces That Will Shape Our Future. New York: Viking, 2016.
"Kobo Brings Books to Life with Kobo Pulse." September 27, 2011, https://news.kobo.com/kobo-brings-books-to-life-with-kobo-pulseTM-1685959.
Kuznetsov, Stacey, et al. "Nurturing Natural Sensors." Proceedings of the 13th International Conference on Ubiquitous Computing, ACM (2011): 227–36.
Leyton, Michael. Symmetry, Causality, Mind. Cambridge, Mass.: MIT Press, 1992.
Mao, Xiaoyang, et al. "Visualizing Computational Wear with Physical Wear." Proceedings of 6th ERCIM Workshop on "User Interfaces for All." Florence (October 25–26, 2000).
"Monster Book of Monsters, The." Harry Potter Wiki. 2000, http://harrypotter.wikia.com/wiki/The_Monster_Book_of_Monsters.
Mosley, Nicholas. Hopeful Monsters. Champaign, Ill.: Dalkey Archive Press, 2000.
Quinnsulivan. "The DIY Monster Book of Monsters." Instructables, https://www.instructables.com/id/The-DIY-Monster-Book-of-Monsters/.
Rose, David. Enchanted Objects: Design, Human Desire, and the Internet of Things. New York: Simon & Schuster, 2014.
Rosner, Daniela K., and Alex S. Taylor. "Antiquarian Answers: Book Restoration as a Resource for Design." In Proceedings of the SIGCHI Conference on Human Factors in Computing Systems (CHI'11), ACM (2011): 2665–68.
Rowling, J. K. Harry Potter and the Prisoner of Azkaban. New York: Scholastic Paperbacks, 2001.
Rudy, Kathryn. (2010) "Dirty Books: Quantifying Patterns of Use in Medieval Manuscripts Using a Densitometer." Journal of Historians of Netherlandish Art 2, nos. 1–2. www.jhna.org/index.php/past-issues/volume-2-issue-1-2/129-dirty-books.
Sengers, Phoebe, and Bill Gaver. "Staying Open to Interpretation: Engaging Multiple Meanings in Design and Evaluation." Proceedings of the 6th Conference on Designing Interactive Systems, ACM (2006): 99–108.
Shilton, Katie, and Deborah Estrin. "Ethical Issues in Participatory Sensing." Ethics CORE 1 (Paper 5) (2012): 1–29.
Sterling, Bruce. Shaping Things. Cambridge, Mass.: MIT Press, 2005.
Tangible Media Group, MIT Media Lab, http://tangible.media.mit.edu/vision.
Togler, Jonas, Fabian Hemmert, and Reto Wettach. "Living Interfaces: The Thrifty Faucet." Proceedings of the 3rd International Conference on Tangible and Embedded Interaction, ACM (2009).