A Literacy of Building: Making in the Digital Humanities
Bill Endres
We have rights rooted in words to make and remake the world.
— Guillaume Apollinaire
Every CSV is an expression of power, every API is an argument.
— Tim Sherratt
In 2011, Steven Ramsay caused controversy when he gave his provocative talk at the Modern Language Association: "Who's In and Who's Out." Ramsay claimed, "Digital Humanities is about building things." While scholars criticized Ramsay for being exclusionary, they ironically ignored the fact that building has been generally excluded from tenure and promotion guidelines in the humanities.
Building faces the challenge of not being writing. However, the commonalities between writing and building far exceed their differences. The present circumstances that exclude building from institutional rewards, especially tenure and promotion, have more to do with the institutionalization of scholarship. As Kenneth Burke (1984) explains, institutionalized practices regularly promote inflexible perspectives, what Burke calls bureaucratization of the imagination: "the vexing things that happen when men try to translate some pure aim or vision into terms of its corresponding material embodiment, thus necessarily involving elements alien to the original, 'spiritual' ('imaginative') motive" ("Introduction"). Writing is one of many possible material embodiments of "pure aim or vision." Its status as the gold standard for measuring scholarly production is an accident of available technologies. Scholarly activity can be measured in many ways.[1]
Building is also often viewed reductively, as a set of isolated, technical skills. When Stephen Ramsay speaks about building and the importance of digital humanities (DH) scholars knowing how to code, he is talking about coding as a complex intellectual activity ("Who's In"). He recognizes it as practical know-how and an ability to intercede in the world, but he also recognizes its importance in how digital scholars choose to intercede and have impact. Such impact depends upon knowledge of coding (not necessarily coding itself) for envisioning and assessing current possibilities, analyzing and critiquing digital structures, understanding digitally generated ontologies, and apprehending the epistemic principles enmeshed in layers of code (from algorithms to application programming interfaces to scripts to network protocols). Code underpins digital scholarship and affects what can be known, its reliability, and what can be envisioned as possible.
To move beyond superficial differences between writing and building, I employ literacy as a metaphor to examine the complex intellectual activity that building entails and the complexities it shares with writing. I draw from the insights of scholars who revolutionized the study of literacy by viewing it as ideologically constructed rather than a set of autonomous skills. For supporting examples, I turn to my own digital building. This work includes representing the materiality of an eighth-century illuminated manuscript (St. Chad Gospels) through the likes of interactive 3-D renderings and Reflectance Transformation Imaging (RTI).[2] My scholarship is ideologically constructed in the tradition of humanistic inquiry. It functions as a critique of 2-D photography as well as an assessment of and argument for specific uses of emerging technologies and the knowledge they generate.
Literacy as Ideologically Constructed
In the 1980s, scholars began to understand literacy as ideologically constructed. Until this time, literacy was generally viewed as a series of successively learned skills, starting with the recognition and formation of letters and progressing to assembling letters into words and words into sentences. In Literacy in Theory and Practice (1985) Brian Street named this approach the "autonomous method" and a second, more theoretically dynamic approach the "ideological method." The main difference between the two is that the ideological method views literate practices as embedded in culture. As Street explains, "In talking about literacy we are referring to the ideology and concrete social forms and institutions that give meaning to any particular practice of reading and writing" (121). When values and beliefs that give meaning to a culture's practices go unexamined — as happens with an autonomous model of literacy — the resulting understanding is fundamentally flawed, understating the dynamics and intellectual complexities of the practices.
Moreover, a year prior to Street's book, Shirley Brice Heath published Ways with Words: Language, Life and Work in Communities and Classrooms (1983) a groundbreaking ethnographic study. Heath's book made any return to an autonomous method seem intellectually naïve. Her work documents the disparate struggles faced by children from two communities in a small mill town as they attempt to learn the literacies of school. As Heath explains, children from these communities adopted different literate practices and came to divergent understandings of literacy, structured by their community's ideology: "Their socially determined habits and values have created for them an ideology in which all that they do [including reading and writing] makes sense to their current identity and their preparation for the achievements which will frame their futures" (368). Heath goes on to explain how ideology learned at home and structured by a community makes nonconforming literate practices seem unintelligible or lacking in common sense, creating various types of conflicts around identity and social preparation.
The ideological model of literacy opened possibilities and encouraged scholars to view literacy as a dynamic cultural engagement. It invited questions about how individual communities invent or transform literate practices, integrating these practices into a communal identity. Nowhere is this integration more evident than in international studies of literacy.[3] These studies tend to focus on literacy initiatives that teach literate practices to communities that previously depended upon oral traditions. Researchers regularly note how such communities transform the practices taught to them, not simply adopting them.
Important to my concerns, an ideological model likewise reveals building as ideologically constructed. It provides explanatory power for the dynamic and complex social, scholarly, and intellectual activity that building entails.
Building as Literacy
For the purpose of this essay, building is constructing something digitally, through which a scholarly discourse community can generate knowledge. It can be an archive, piece of software, model constructed in a virtual realm, or interactive feature of a website, such as my digitized and overlaid 125 years of historical photographs for the St. Chad Gospels.
Viewing such building through the lens of literacy calls attention to its ideological construction. It discourages the temptation to view building reductively as mere technical skill. Moreover, literacy provides a model for understanding claims made by DH scholars about building as a scholarly activity. For instance, scholars have proposed building as theoretical modeling (McCarty 2004), prototype as theory (Manovich in Ramsay and Rockwell 2012), prototype as argument (Galey and Rucker 2010), API as argument (Sherratt 2015), design as argument (Galey and Ruecker 2010; Eyman and Ball 2015), visualization tools as hermeneutical theory (Rockwell 2001), digital artifacts as theoretical lenses or "telescopes for the mind" (McCarty 2012), building as scholarly intervention (Ramsay and Rockwell 2012), and tinkering as a process of scholarly reverie, where theory and making collide (Prescott 2012).
Andrew Prescott's view is particularly intriguing because it echoes claims about writing found in much scholarship in the field of rhetoric and composition. This scholarship examines writing as a process of engagement, thinking, discovery, arranging, testing, rethinking, rearranging, and learning. With roots in Aristotelian rhetoric, this perspective has long been valued in the humanities (Ramsay and Rockwell 82). One of the most influential articles about writing as an intellectual activity, "Writing as a Mode of Learning" by Janet Emig (1977), supports building as a scholarly activity. It claims that writing only has its preeminence over other modes for teaching and intellectual expression, such as dance, architecture, painting, and film, because it represents "the most available medium for composing" (122). Emig adds that such availability "can probably not be overstressed" (122). While digital technologies were not prevalent during the time of Emig's writing, digital building contains all of the qualities that Emig celebrates.
These qualities, however, do not necessarily belong to either writing or building. Rather, they are located in the communities that adopt and adapt them as practices. Communities and their ideologies drive practice. In DH, the ideological construction of building is predicated on answering specific questions posed by scholars in specific fields. It is guided by disciplinary knowledge, participation in a scholarly discourse community, training in the tradition of humanistic inquiry, and pursuit of knowledge previously beyond a single field. DH scholars recognize that the digital brings something new to the table and can contribute to answering questions that could not be answered prior to the computer. While computer scientists and archivists contribute to digital building, the tradition of humanistic inquiry and pursuit of humanistic knowledge consciously constructs a DH project as ideology at its inception.
Disciplinary knowledge, perspectives, and questions inform my own digital building. One important question concerns the materiality of manuscripts and its significance for meaning and interpretation. Part of my training is as a visual rhetorician. Rhetoric, like most fields in the humanities, experienced a "material" turn.[4] This turn was felt in manuscript studies through theorists such as D. F. McKenzie.[5] McKenzie (1999) argues that comprehending a text requires more than interpreting its symbolic meaning. Following Marshall McLuhan's "the medium is the message," McKenzie demonstrates that a scholar cannot exclude "the relations between form, function, and symbolic meaning" (10). For a manuscript, especially an illuminated one, size, layout, and grandeur are part of its expression, part of the complex layering of embodied knowledge. Grandeur, for instance, structures spiritual expression by tapping into the human capacity for wonder.
When studying manuscripts, 3-D digital methods promote McKenzie's call for attending to their materiality. To represent the materiality of the St. Chad Gospels, I employ 3-D flyovers, interactive 3-D renderings, and RTI. Because the humanities have a long-standing orientation toward text, ingrained textual practices tend to emphasize linguistic meaning. This emphasis makes it easy to forget that text on a page is a three-dimensional phenomenon. 3-D renders the contours of a page and restores an awareness of text as three-dimensional. I use 3-D flyovers to provide the experience of looking over a page, offering various perspectives and a sense of a page's grandeur (see Figure 4.1).[6] For exploration, I provide interactive, high-resolution 3-D renderings. These renderings resist the left-to-right and top-to-bottom heuristics that favor most forms of reading as well as sole attention to linguistic meaning. They also eliminate the need for and dictates of horizontal/vertical scrollbars common for 2-D images. With 3-D renderings, I include helpful tools, such as a measurement tool and means for making and storing annotations.[7]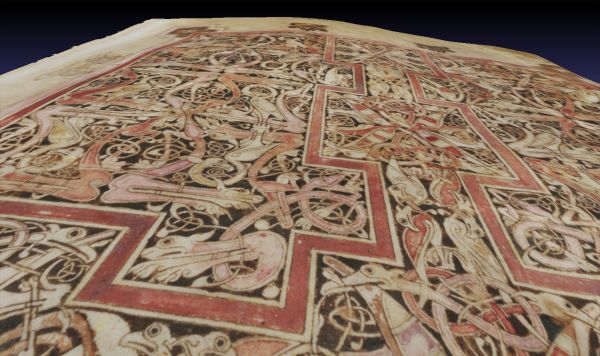 Furthermore, 3-D poses significant epistemological questions for humanistic inquiry: What are the implications for knowing when a digital artifact has a vanishing point? How do 3-D renderings affect our relationship to a manuscript, and therefore, how we explore it, remember it, think about it, and know it? Building engages these questions theoretically and experientially. It enriches scholarly expression, enabling theorized positions to have manifest form that can be tested, experienced, critiqued, and examined over time.
Yet using a collection of imaging technologies also meets the demands of scholarly rigor. Rigor constantly requires more from images and imaging technologies. 3-D might capture contours, but it does not necessarily do well in capturing and representing surface details. Fortunately, a new technology, RTI, does. RTI requires a series of photographs taken with different directional lighting. Its software combines these photographs into a composite file that enables control over the angle of light and mathematical enhancements for viewing surface details.[8] For manuscripts, RTI captures the texture of vellum (calfskin), condition of pigments (such as where they are lifting from the page), and notoriously difficult to see features (such as dry-point glosses) (see Figures 4.2 and 4.3). Dry-point glosses are especially intriguing, etched with a stylus but no ink and meant to go unnoticed. Without scholarly rigor informing digital imaging, visual information such as that for dry-point glosses will be overlooked, underappreciated, and lost to history.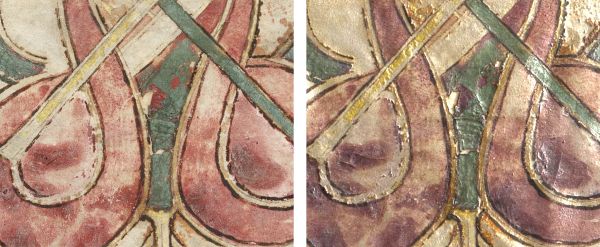 Digital Objects Are Rhetorical Objects
While I do not have space to pursue this notion completely, I want to emphasize that digital objects are rhetorical objects. Recognizing their rhetorical nature increases understanding of their limits in generating knowledge and kinship with scholarly text. In the humanities, digital data is often viewed as scientific (or scientifically verified) rather than rhetorical. This causes problems, such as when digital images are considered data. Belief in 2-D photographs as faithful representations of manuscripts has tempted some institutions and scholars to define them, microfilm, and microfiche as primary sources.[9] Such a stance ignores the arguments that McKenzie makes about materiality and raises doubts about manuscript studies based on 2-D photographs. It suggests a lack of critical perspective about media, interpretation, and photography.
I include all digital objects as rhetorical objects, whether images, virtual environments, visualizations, databases, or software. Such recognition emphasizes the weave of beliefs, values, assumptions, epistemologies, theories, and interpretive strategies that underwrite their construction and use. Digital objects are made to participate in an ideologically charged scholarly discourse community and to generate, transmit, and debate its knowledge. The nature of digital objects is rhetorical. Here, the pre-Socratic Greek philosopher Protagoras is worth quoting: "Of all things, man is the measure; of things that are, that they are; and of the things that are not, that they are not" (Kent 4). A definition of 2-D photographs as primary sources eliminates materiality from interpretation and features such as dry-point glosses from historical contribution. Furthermore, the collection of digital objects I mentioned, from software to databases, functions similarly. A database, for instance, stores data by categories determined by a human being. A simple database, such as menus of restaurants, might seem straightforward and yet can run into difficulties when defining what counts as an entrée or side, especially if a few of the sides cannot be ordered separately and only come with certain entrées. Recognizing the rhetorical and relational nature of digital objects makes scholars wiser in constructing and using them. But important for this chapter, it acknowledges the kinship of digital objects to other rhetorical objects, such as scholarly essays and monographs.
Yes, There Will Be Differences
How scholars ideologically construct writing and building will generate differences. However, building faces the challenge of overcoming or at least addressing the ideological features of academic prose. Alan Liu (2014) identifies two such features that I find of particular importance. First, Liu calls attention to how objects of study in the humanities have encouraged scholars to adopt a high style for their language practices: "higher value is ascribed to scholarly writings that at least to some degree are as crafted, nuanced, or elegant as complex literary language; as classically or biblically periodic as famous historical speeches; or otherwise as linguistically tour-de-force as some variant of the above." Liu's characterization of the high style of humanistic writing sets up an immediate tension between academic prose and building. When examined, code or a digital archive does not provide the same order of linguistic phenomena that is expected of humanistic discourse. A well-designed archive is normally efficient in its navigation and content. Code functions behind the screen, and when it is examined, it is not "classically or biblically periodic." The tour-de-force of language is missing. This tour-de-force is an assumed marker of intellectual engagement, scholarly insight, complexity of thought, and academic accomplishment. Digital building, whether code or archive, is not typically wrapped in the "high-pitch verbatim performance" of language and does not feel like scholarly activity.
Second, Liu points out that the data supporting humanistic scholarship is regularly implicit. It results from what he calls "entrained" practices, such as close reading, with only pieces of evidence woven into the narrative of arguments. For finding and retrieving data, humanities scholars rely upon a massive infrastructure of libraries and publishers. The empirical sciences have a different model. They tend to separate the generation of data into its own scholarly activity. Meanwhile, humanities discourse generally does not have the epistemic pressure, as Liu puts it, "for making all its data explicit, shareable, and open to critical examination." Therefore, generating data that other scholars can use is ideologically undervalued in the humanities.
Following Liu, the question of data and how it constructs knowledge is likewise related to medium.[10] While I view ideological construction as the most salient attribute of building, I do not want to neglect differences in media that contribute to knowledge production. For digital technologies, one major contribution is overlay. Overlay is impossible with prose, its linearity requiring juxtaposition.[11] Juxtaposition manifests itself in academic writing in the likes of the dramatic reversal. Such reversals are common and readily observed in significant places, such as setting up a problem in the introduction of an academic essay with the word "however" (Williams and Bizup 101–4). The digital does not need to present information sequentially. In my building, I have taken advantage of digital opportunities for overlay. I built an overlay viewer and use it to organize the thirteen multispectral images I took of each page for the St. Chad Gospels. It allows visitors to stack and compare any two images from a drop-down list, adjusting the transparency of the top image through a slidebar. However, I also use overlay to reveal a significant aspect of the materiality of the St. Chad Gospels: how it is aging. I have digitized images from 1887, 1911, 1929, 1956, 1962, and 2003. Overlaying them reveals changes in the St. Chad Gospels, particularly where small chips of pigment have broken free.[12] Such chips normally measure a fraction of a millimeter, making overlay essential.
Closing Proposition
Pitting writing against building is counterproductive. It circumvents understanding the intellectual complexity and ideological construction that building and writing share. In the introduction, I mention Ramsay's claim, "Digital Humanities is about building things." Instead of proposing coding as a distinguishing characteristic for DH scholars, I propose something based on the shared commonalties between writing and building, and I recognize that my epigraph by Apollinaire could as easily refer to building things — that likewise rooted in images and tools (such as the fifteenth-century printing press) is the power to remake the world. Therefore, I propose that scholars do not need to build to be considered part of DH. Instead, if a scholar supports building as part of tenure and promotion guidelines, then the scholar is part of DH. If scholars recognize the complex intellectual task of building, its scholarly ideological construction, and its kinship with linguistic production, then they are in. Such a proposition opens possibilities for the humanities to meet the needs of current historical circumstances and also support digital building through sponsorship, promotion, and tenure. Such a change will enrich scholarship and perhaps even help to remake the humanities.
Notes
Bibliography
Apollinaire, Guillaume. Selected Writings. Trans. Roger Shattuck. New York: New Direction Books, 1971.
Burke, Kenneth. Attitudes toward History. Berkeley, Calif.: University of California Press, 1984.
Eyman, Douglas, and Cheryl Ball. "Digital Humanities Scholarship and Electronic Publication." In Rhetoric and the Digital Humanities, ed. Jim Ridolfo and William Hart-Davidson, 65–79. Chicago, Ill.: University of Chicago Press, 2015.
Fitzpatrick, Kathleen. Planned Obsolescence: Publishing, Technology, and the Future of the Academy. New York: New York University Press, 2011.
Foys, Martin. Virtually Anglo-Saxon: Old Media, New Media, and Early Medieval Studies in the Late Age of Print. Gainesville, Fla.: University Press of Florida, 2007.
Galey, Alan, Stan Rucker, and the INKE team. "How a Prototype Argues." Literary and Linguistic Computing 25, no. 4 (2010): 405–24.
Greene, Ronald. "Another Materialist Rhetoric." Critical Studies in Mass Communication 15, no. 1 (1998): 21–41.
Heath, Shirley Brice. Ways with Words: Language, Life and Work in Communities and Classrooms. Cambridge: Cambridge University Press, 1983.
Kent, Rosamond, ed. The Older Sophists. Indianapolis, Ind.: Hackett Publishing, 1972.
Liu, Alan. "Theses on the Epistemology of the Digital: Advice for the Cambridge Centre for Digital Knowledge." Author's blog, August 14, 2014. http://liu.english.ucsb.edu/theses-on-the-epistemology-of-the-digital-page.
McCarty, Willard. "Modeling: A Study in Words and Meanings." In A Companion to Digital Humanities, ed. Susan Schreibman, Ray Siemens, John Unsworth. Oxford: Blackwell, 2004. http://www.digitalhumanities.org/companion/.
———. "A Telescope for the Mind?" In Debates in the Digital Humanities, ed. Matthew Gold, 113-123. Minneapolis: University of Minnesota Press, 2012.
McGee, Michael Calvin. "A Materialist's Conception of Rhetoric." In Explorations in Rhetoric: Studies in Honor of Douglas Ehninger, ed. Ray McKerrow, 23–48. Glenview, Ill.: Scott, Foresman, 1982.
McKenzie, D. F. Bibliography and the Sociology of Text. Cambridge: Cambridge University Press, 1999.
Miller, Peter. "Introduction." In Cultural Histories of the Material World, ed. Peter Miller. Ann Arbor, Mich.: University of Michigan Press, 2013.
Prescott, Andrew. "Made in Sheffield: Industrial Perspectives on the Digital Humanities." In Proceedings of the Digital Humanities Congress 2012, ed. Clare Mills, Michael Pidd, and Esther Ward. http://www.hrionline.ac.uk/openbook/chapter/dhc2012-prescott.
Ramsay, Stephen. "On Building." Author's blog, January 11, 2011. http://stephenramsay.us/text/2011/01/11/on-building.
———. "Who's In and Who's Out." Author's blog, January 8, 2011. http://stephenramsay.us/text/2011/01/08/whos-in-and-whos-out.
Ramsay, Stephen, and Geoffrey Rockwell. "Developing Things: Notes toward an Epistemology of Building in the Digital Humanities." In Debates in the Digital Humanities, ed. Matthew Gold, 75–84. Minneapolis: University of Minnesota Press, 2012.
Rockwell, Geoffrey. "The Visual Concordance: The Design of Eye-ConTact." Technology 10, no. 1 (2001): 73–86.
Seltzer, Jack, and Sharon Crowley, eds. Rhetorical Bodies. Madison, Wis.: University of Wisconsin Press, 1999.
Sherratt, Tim. "Unremembering the Forgotten." Keynote, DH2015. July 3, 2015. http://discontents.com.au/unremembering-the-forgotten.
Street, Brian, ed. Literacy and Development: Ethnographic Perspectives. New York: Routledge, 2001.
———. Literacy in Theory and Practice. Cambridge: Cambridge University Press, 1985.
Williams, Joseph M., and Joseph Bizup. Style: Lessons in Clarity and Grace. 11th ed. Upper Saddle River, N.J.: Pearson, 2013.