Building Humanities Software That Matters: The Case of the
Ward One
Mobile App
Heidi Rae Cooley and Duncan A. Buell
An estimated ten thousand people gathered at the state house grounds in Columbia, South Carolina, on the morning of July 10, 2015. They gathered with anticipation; they gathered despite record heat. At 10:00 a.m. "the flag" would be — swiftly and with little ceremony — lowered and transported to the Confederate Museum located a mile away. Some dozens might have been there supporting the flag; the vast majority, black and white together, were there to witness a historic event, to symbolically turn from a divisive past toward a future whose hallmarks might be justice, social equity, and mutual respect among citizens. More than a century and a half after the end of the Civil War, more than 50 years after the flag had been raised to the staff on the state capitol dome as a symbol of resistance against the civil rights movement, and 15 years after a legislative compromise took it from the dome to place it at a different prominent position on the state house grounds, "the flag" would come down — and that mattered.
We write in the weeks just after joining that joyful crowd to witness the removal of the Confederate battle flag and the pole from which it flew. Newly laid sod has replaced the concrete slab that anchored that pole and the wrought iron fence that enclosed it. The moment has passed, but we are aware that its record lives on in hours of news footage, numerous newspaper articles, and myriad forms of social media. While the wave of interest in the flag's removal has subsided, racial tensions remain palpable across the country.[1] This historic moment, our present, provides a context for our collaborative efforts to make humanities software that matters at the University of South Carolina (USC). These efforts engage students and community members to develop software that presents routinely unacknowledged histories in order to cultivate a more sophisticated understanding of the various forces that have shaped and continue to shape the local landscape. In our efforts, we aspire to provoke reconsideration of the past in the present in hopes of transforming how a community — in this case, Columbia, South Carolina — imagines a shared future.[2]
For the past four years, we have been developing critical interactives that bring unacknowledged histories of social inequity to visibility. August 2014 saw the completion of the prototype Ghosts of the Horseshoe, a mobile application for the iPad that presents the history of slavery that made possible South Carolina College (established in 1801), now the heart of the University's Columbia campus.[3] Known as the historic Horseshoe, the old campus core is a "surprisingly intact and well-preserved 'landscape of slavery,'" according to our local public historians (Thomas Cooper Library). Slaves molded, transported, and laid the bricks that form the structures on the historic campus, and they maintained and served in those buildings in the years preceding the Civil War. Mobilizing the affordances of the geolocative touchscreen device and Augmented Reality (AR) functionality, Ghosts confronts its interactors with the fact that they walk unwittingly amidst ghosts, many of whom will forever remain unnamed even as their labor gave shape to the structures that populate the historic grounds.
Our current critical interactive project is a mobile application called Ward One (see Figure 33.1) that foregrounds the 1960s displacement of a predominantly African American community. Around the country, urban renewal programs empowered local officials to declare large swaths of land "blighted areas." Families were evicted and businesses closed — often to the benefit of universities and colleges eager to expand. The Ward One district, several of whose neighborhoods and businesses lay adjacent to USC, fell victim to this process.[4] The university took advantage of the opportunity, acquiring, for example, property upon which it constructed the enormous Coliseum in 1968. In 1974 USC took possession of Booker T. Washington High School, established in 1916 as one of the few schools in Columbia for African American students. While the main building of the former high school was recently renovated and currently houses USC's Department of Theater and Dance, the two brick wings of the old school were torn down. The bricks from those structures now pave one of two elliptical driveways that define the historic Horseshoe site.
Not surprisingly, very few visitors, students, staff, or faculty know this history. Nor do they realize that a group of former Ward One community members maintain an organization that refuses to forget the old neighborhood. These individuals grew up in shotgun houses lining streets and alleys where university structures (including the Koger Center of the USC music school) now stand; they attended Celia Dial Saxon School, now the site of USC's Strom Thurmond Wellness Center; they congregated at churches where the Coliseum and the just-completed building for the USC business school now stand; they graduated from Booker T. Washington High School. The "old Ward One" is alive, and the Ward One project encourages the University's current students to collaborate with former Ward One residents in presenting their stories, memories, and strength of spirit.
A proof of concept version of Ward One was produced during a 14-week, team-taught "Critical Interactives" course in spring 2015 that enrolled 19 undergraduate and graduate students from computer science, public history, media arts, film and media studies, and English. The class presented its work on April 21, 2015, in the Booker T. Washington Auditorium to an audience including members of the Ward One Organization, USC faculty, community members, and friends and family of the students. Dr. Bobby Donaldson, whose eight-year relationship with the Ward One community serves as the point of departure for this project, offered introductory remarks. The spring 2016 class developed Global Positioning System (GPS) functionality and the backend data architecture and conducted oral history interviews with former residents of Ward One.[5]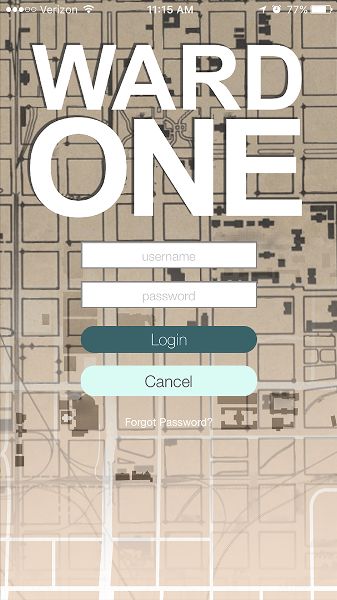 To present these personal narratives of hardship, perseverance, and accomplishment, as well as the local and national histories with which they are entwined, requires a combination of outreach, research, content development, and software development. Our collaboration conceives these activities to be mutually informing. How the software that "lies beneath" matters to this manifold effort, we discuss below.[6] We address three aspects of the backend that make the app an operationally and nontrivially critical interactive: the structural logic of the Content Management System (CMS)[7] and the micro-processes that "push" (not "pull") content to the touchscreen interface, how tracking location histories and dwell time affords personalization of experience at the machine level, and preference and "like" features that allow interactors to tailor their own experiences. We also discuss how guided and unguided learning software extracts particular features to create individualized experiences. Following Paul Dourish and Genevieve Bell (2011), we ultimately show how everyday technological processes that run unnoticed in the background, tracking and keeping track of us, might very well produce the conditions for meaningful sociocultural change in the present. Specifically, we point to how the affordances of mobile networked technologies might undo longstanding practices of historical erasure whereby newly erected structures serve as evidence of development, expansion, and progress, rather than social injustice and discrimination based on race.
Not a Pre-scripted Tour: Pushing Content and Dynamically Assembling Experiences of Place
Curating and publishing location-based content are increasingly prevalent in public history projects. Historypin and Curatescape provide typical examples in that both serve pre-scripted content. These applications afford few ways to navigate information because the data is fixed in relation to single points of interest. A guided tour, for example, displays a bouncing blue dot for the user's current GPS coordinates, and site pins on a map indicate the location of content points. As with the "canned" audio tours supplementing museum exhibitions, identical content is revealed to every user who opens the site pin's link. Such apps make the user responsible for "finding" the location and choosing to access its content, which may or may not succeed in anticipating their interest.
As we plan it, Ward One avoids "canned" information. Instead of merely presenting containers of static, non-relational content, it uses GPS functionality to "push" context-rich content to the networked touchscreen device in real time and according to "smart" processes (i.e., analytics, or the mathematical interpretations of how content is related in a particular instance) based on previous individual and collective transactions.[8] Ward One (see Figure 33.2) knows that an interactor is near a point of interest as indicated on screen by a pulsing navigation bead drawing closer to a content point icon; in response to her geo-position, it proactively pushes a notification that, when activated, opens onto relevant (e.g., site-specific, theme-oriented, and appropriately filtered) content. This action is a push and not a pull — the app does not wait for the interactor to notice that she happens to be close to a content point and to ask for that content. As an interactor traverses a physical space, the content pushed to the screen becomes part of the experience of that space. New spatially oriented relationships result as code and space become mutually constituted. The software, as Rob Kitchin and Martin Dodge (2011) describe, "modulates how space comes into being" (16); it shapes how space is practiced, how it acquires significance and meaning.[9] At the same time, space and an interactor's passage through (or use of) it give rise to a particular instantiation of software. The one-mile-square area of land once known as Ward One emerges anew and reorients one's relationship to sites she would have simply passed without notice or regard.[10]
For example, an interactor arrives at the corner of Assembly and College Streets. She might have just exited the CVS Pharmacy (northeast corner), she might be driving into the Shell station for gasoline (southeast corner), or she might be headed to class in the music school (southwest corner). Her proximity to the site of a content point, the Koger Center, registers on a touchscreen device: an opaque icon bearing the image of a house appears on Ward One's map interface, before opening onto an informational panel specifying that one is facing the structure now home to the School of Music. The voice of Mae Johnson Jenkins speaks: "I was born [at] 827 Assembly Street. That's where the Koger Center is now." A panorama of Assembly Street fills the screen. As the interactor pivots with a touchscreen device raised and camera facing forward, an archival photograph of a row of houses overlays the contemporary streetscape, and 827 Assembly Street stands insistently — in relation to what has supplanted it. Ms. Jenkins's words, "I was born [at] 827 . . . ," interrupt the everydayness of the street, its patterns of movement, and the rhythmic sounds of traffic. Her voice bridges past and present to confront the interactor with the fact that urban renewal displaced individual people, their families, and their ways of living in Columbia, South Carolina. What the Koger Center means has shifted.
On site, in real time, Ward One produces palpable effects in its interactors by pushing content effectively. To do so, several "hard" and "soft" components must collaborate. The software must register an interactor's geolocation and "talk" to the CMS. That system must make the content organizable according to various possible "narrational" paths an interactor might take. In addition to literal walkable paths, these narrational paths are modified by the interactor's preferences and directed by the information the application accumulates about all registered Ward One interactors. As discussed below, the software learns the interactor's particular interests as well as the tendencies or patterns of interest demonstrated by the community of interactors and selects content accordingly, altering in the process its initial ontology. In order for any of this geolocation, content management, and guided and unguided learning to function, the software must be compatible with a physical, technological infrastructure. All components must be conceived and, insofar as this is possible, designed together. The physical layer of a computer network, backend servers, phone connections, GPS coordinate sensing, and bandwidth, among other things, imposes constraints on when and how content can be pushed to an interactor's screen. Bandwidth issues, for example, require judicious use of video, which is bandwidth-heavy; GPS issues force decisions about how closely placed one's content points can be. The software layer comprises computational processes that impose their own different constraints; a clearly written and efficient program helps programmers to begin where previous programmers left off. Logging an interactor's progress, or an image or text commentary provided by interactors, requires balancing the initial local storage of data on the mobile device, sending this data to the backend server in larger blocks, merging new data into the database, and then updating for all interactors — perhaps including those who are simultaneously online — any new articulation of data.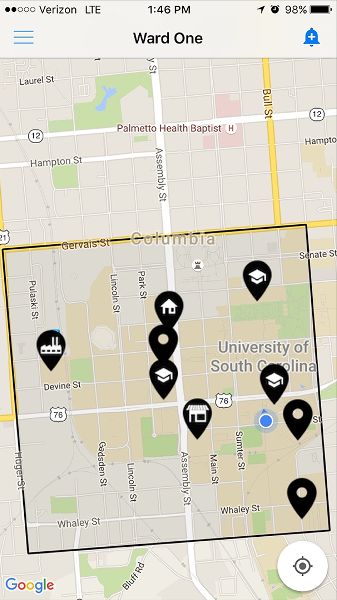 Ward One distinguishes itself from similar projects through its development of data structures enabling the complex collection and curation of stories that comprise, in the case of Ward One, a community and its history. Crisp imposition of structure on the content is the key to effective and efficient software. As Dourish and Bell explain, the structuring of assets into discrete spaces is part of what permits software processes to proceed along independent paths (98–100). But imposing a particular structure runs the risk of pigeonholing human activity and engagement. Computational processes must then run behind the scenes, often on the backend server, to reconstruct nuances and remove rigidity. What lies beneath the surface of the app, shaping an interactor's experiences, are infrastructures of content as well as database and software processes that assemble content dynamically and in relation to geolocation.
Curating content means organizing and understanding it algorithmically. Such organization and understanding require analyzing the general nature of asset types to specify the character and degree of interrelationships between and across them. Ward One takes advantage of the Django open source CMS to store and manage its content. A central table of the main content includes photographs, video, audio, scanned documents, and text. Each row provides the relevant information for one element of content: content type (and size), file type, content name (corresponding to its presentation in the app), description, and file name.[11] Two separate tables register individual persons and important places. The rows in the person table, for example, provide information specific to different individuals. Required fields for each person furnish a basic description (e.g., name and Ward One address, if available). Additional lists of pointers, essentially row numbers in other tables, complete the content for each person. These pointers might link to other persons (e.g., siblings), to photographs of the person or house in which they lived, to audio clips, and so forth. In response to a software query for "this person," the database software chases down the pointers and dynamically assembles the entire record for "this person," and then the app software decides which content to push to the screen in that instance.
Ultimately, the ontological structuring of Ward One content resembles a linked open data architecture familiar to semantic web application developers. As with a Resource Description Framework (RDF) approach to metadata, resources (including text, still and moving images, and audio files) are interrelated through a term describing their relation, establishing a network of connections across different topical categories (persons, places, narratives, and events). A "person" is connected to other people (family members and friends) in the "persons" category, to places (home, school, and church) in the "places" category, and so forth. From a person, we can link to places and then to other people connected with that place, creating a network of interrelationships. For example, Mattie Johnson Roberson-Anderson,[12] as one node in the cluster of Ward One community members, links to places, such as 827 Assembly Street (where she and her sisters, Mae and Janessa, were born), the Celia Dial Saxon school (where she went to elementary school), and Booker T. Washington High School (where she graduated). She also has varying degrees of connection to other people, such as her sisters, her aunt, and other members of the Ward One Organization, for which she serves as president. Similarly, each person and place listed in the CMS acquires a relational architecture whose connections map differently to each other and to various content types by degree of relevance (e.g., thematically: education, community, recreation, economics, and gender roles) and proximity (e.g., content similarity and physical location). All content, persons, and places cluster variously to populate content points particular to specific geo-coordinates.
Profiles and "Signatures": Designing Complex Interactions with Content
The initial organization of content (ontology) for Ward One provides a foundation for interactor experience. The real power of the underlying software processes comes from the ability to change dynamically the strength of connections linking from one content item to the next. This relation is not to imply sequentiality. Rather, we begin with static local links to nearest neighbors (e.g., Ms. Johnson to sister and Ms. Johnson to school). Additional links branch out from these first connections (e.g., Ms. Johnson's sister to school and Ms. Johnson's sister to Ms. Johnson's sister's friend). Connections and strengths of connection increase according to combinations of content items activated by an interactor's drawing near a content-point location. As an interactor explores the vicinity and acquires a signature (a digital inscription of her interactions with Ward One), new valences register across connections and clusters of connections. We can readily assign a connection strength from Mattie Johnson to her house, her siblings, and the schools she attended. Assigning connection strengths from Ms. Johnson to Booker T. Washington High School, then to her sister at the high school, then to her sister's friend at the high school and her sister's friend's narrative of shopping on Main Street, is more difficult. As discussed below, a priori connection strengths from the original ontology can be augmented or attenuated by the software depending on an interactor's location history, dwell time on content point sites, duration of interaction with kinds of content (e.g., individual persons, thematic threads, and media type), or explicit preferences and filter selections. The result is an app that adapts to an interactor and anticipates next possible points of interest or content types, doing so according to individual patterns of movement, activity, and access as well as aggregate patterns of the community of interactors.
Ward One has the potential to push a vast amount of content to touchscreen devices. Local archives supply photographs, television news footage, newspaper articles, and city council and related official documents to supplement the oral histories, family albums, and personal documents volunteered by Ward One community members. As we gather and add content to the backend database, new connections across content elements will cluster content into ever-evolving interaction vectors. These paths will be both adaptable and adaptive. Interactors may define (and refine) the nature of their experiences by developing a profile, using filters, and tagging and "liking" content — in keeping with social media conventions. For example, an interactor may wish to explore the Ward One vicinity by focusing on churches or schools. Ward One will permit the registered interactor to filter her experiences by selecting, for example, "Church" and/or "School," thereby raising the prominence of church- and/or school-related content and increasing the likelihood of having that content pushed to the screen. "Liking" and tagging content likewise affects how the software calculates relevancy of certain kinds of content.
Ward One will simultaneously and indirectly construct for each interactor a "signature" based on previous interactions. Similar to the "customers who bought . . . also looked at . . ." model that is common with e-commerce, Ward One quantifies an interactor's experience, calculating duration of stay at content point locations, dwell time on types of content, and patterns produced by paths taken through the app. These measures allow the app to adapt to an interactor's interests.[13] Moreover, an interactor can choose to augment or suppress the use of specific features used to make suggestions. An interactor could choose to suppress "School," if she felt she had missed other content by an overemphasis on school or having spent significant time on school content. Global a priori assignments of strengths of connection with which all interactors begin are modified by each interactor's expressions of interest indirectly inferred from her actual experience and directly by any changes she makes by updating preferences and/or "likes."
Historical Awareness on Site, in Real Time: Countermapping the Contemporary Landscape
Those of us who regularly consult or rely on our mobile connected devices for constantly refreshed information regarding our whereabouts (e.g., route status and weather updates) may — but probably do not — explicitly consider the micro-processes that work ceaselessly in the background. We simply expect the convenience such processes offer: estimated times of arrival at frequently visited destinations, notifications regarding detours or delays, auto-magically generated lists of nearby restaurants, retail outlets, service providers, and ATMs, along with best and alternate routes to sites likely of interest. As Mark B. N. Hansen (2015) explains, these micro-processes typically "disappear" into their surroundings; they are, as he describes, atmospheric (8, 25).[14] For Hansen, this means that we do not perceive the effects of such processes until after the fact; we do not experience them as having taken place until they have already influenced our relation to our surroundings. In this way, they "seep into the texture of experience . . . directly flavoring" our daily lives (187). They modulate our relationships to people, places, events, information, and more — often to the benefit of corporations and government. And they have the potential to — and frequently do — shape our actions before we think to enact them.[15]
Ward One initially addresses its interactors precisely at this level of (un)awareness. Sensing an interactor's geolocation coordinates, it pings her with site-specific notifications. If, for example, she is nearing Booker T. Washington Auditorium, a pushed alert prompts her to pause and consider that the brick structure is what remains of the high school that opened in 1916 and served African American students until it was desegregated in 1970. Should she continue to swipe through Page Views, she will encounter archival photographs and local television news footage of the school that invite acknowledgment of structural modifications. Two wings of the former high school no longer stand — what happened? Continued exploration might present her with audio content featuring the voices of Booker T. Washington High School alumni, including the voice of Betty Corbin, who in one particularly impassioned instance states, "I graduated from Booker T. Washington, and I have one thing to say: My heart has never left Ward One." Such moments demonstrate how Ward One revises an interactor's encounter with the physical campus in ways that take advantage of the atmospheric attributes of the mobile touchscreen device. The results are not simply a newly materialized understanding of urban space; rather, routinely accepted notions of history and progress are revised, made tangible and palpable.
If, as Wendy Chun (2012) argues, "race . . . was wielded — and is still wielded — as an invaluable mapping tool," then we propose that Ward One functions as a counter-mapping tool (40). With its capacity to map the contemporary landscape in ways that draw attention to (infra)structural absences and changes (e.g., homes, schools, and alleys), it creates opportunities for reconsidering the historical processes that were responsible for not only dislocating Ward One residents but also the subsequent reapportionment of properties comprising Ward One. Here, one faces the fact that racially motivated political decisions were legitimated by federally sanctioned policies, which promoted and supported urban renewal projects across the nation. Taking advantage of the Federal Housing Acts (1937, 1949, 1954), city planners in Columbia, South Carolina, sought to eliminate slums, as did city planners throughout the United States.[16] In the 1950s, Columbia's Urban Rehabilitation Commission adopted the term "blight" in order to broaden the reach of urban redevelopment policy to address instances of physical deterioration (broadly interpreted) as well as examples of offensive or inappropriate use of property and area-specific social problems (corresponding to the supposed lack of personal initiative and/or community responsibility). The focus of these efforts was the downtown district, specifically near where the state house and university stand, and where the university has built and continues to expand its Columbia campus.
Accounts by former Ward One residents complicate not only routine traversals of and interactions with the downtown vicinity and university grounds but also understandings of privilege and poverty. Paul R. Mullins and Lewis C. Jones (2011) have explained an analogous situation in Indianapolis, Indiana, where urban renewal similarly benefited Purdue. According to Mullins and Jones, the narratives shared by individuals who have suffered personal losses as a consequence of urban renewal frame poverty in ways that "reveal [poverty] to be an important but not deterministic backdrop to their lives" (35). While black-and-white photographs of dilapidated houses, which served as visible evidence of unsuitable living conditions, and the use of the term "blight" paint a grim picture, the individual stories underscore the community's strength of spirit in the face of "material scarcity" (35). "This position is less a refutation of poverty," Mullins and Jones argue, "than it is a rejection of ideologically loaded slum caricatures that present urban poverty as a reflection of essential African American attributes or a structural framework that determined the lives of African Americans" (35).
As a counter-mapping tool, Ward One challenges interactors to contend with a history that intrudes upon the contemporary landscape. It serves as an active response to the "enforced forgetting" (Nakamura and Chow-White 3) that past discriminatory policies instantiated in the name of civic good. The students, faculty, and community members who are collaborating on the development of Ward One belong to a tradition of "intelligence workers," who take up "the very instruments said to be responsible for mass ignorance and distraction" (Kahana 14) in order to trouble habits of thinking.[17] Geolocative functionality, typically put to uncritical uses such as restaurant recommendations and alternate route options, is "[adapted] . . . to socially and culturally productive ends" (15). The result is a software application that aims to intervene in how an interactor understands and subsequently moves through Columbia, South Carolina (see Figure 33.3).

In Designing Culture: The Technological Imagination at Work, Anne Balsamo (2011) advocates for the development of "critically important cultural technologies" that produce "cultural innovation" because they are designed for culture (15). Designers of such projects take culture seriously insofar as they acknowledge the fact that "new technologies, and new media experiences, do significant [cultural] work" (130) that have the potential to shape "[common] 'public culture' in the future" (132). As a consequence, they mobilize new technologies and interfaces to achieve "active reproduction of technocultural understandings, mythologies, values, and the circulation of new knowledges" (132, our emphasis). In this way, designers and contributors to digital humanities projects take responsibility for their participation in shaping culture.
Ward One, like the public interactives of which Balsamo speaks, endeavors to cultivate a new common public culture that acknowledges the past and takes responsibility for how it shapes the present to imagine a more equitable future. By means of geo-functionality and computational processes that dynamically push content to the networked touchscreen device, the app mobilizes the stories of people and the community of which they were a part. The "old Ward One" has been erased from the landscape. The physical neighborhoods are gone, the vacated houses long since bulldozed. Businesses, churches, and schools no longer stand, but memories of the former community remain vivid through not only the stories former residents share but also the Ward One Organization that gathers to remember life as it was — and to celebrate the spirit of community that once was and has not been forgotten. The stories they tell are stories of people, school, church, work, friendship, and congregation. They are stories of life before the civil rights movement changed at least the official rules by which we live in the United States.
Those who interact with Ward One are invited to experience these stories in situ to bear witness to the neighborhood that is no longer present. But they are also invited — or perhaps called upon — to cultivate an awareness of and appreciation for histories that have been suppressed, not just explicitly by institutions and government, but also conveniently by general habits of remembering. Perhaps interactors, in their exploration of the Ward One vicinity via Ward One, might be inspired to involve themselves more frequently in community concerns; perhaps they might decide to learn more about how national and local policies continue to shape the local present, including the very grounds upon which they stand. (After all, construction continues in Columbia, South Carolina, on the very grounds that used to be Ward One.) Perhaps they might be inclined to reflect upon the narratives they tell themselves and others about where they are and how place matters. And perhaps they might better understand how their mobile, networked devices participate in placing (and tracking) them, or how those devices might serve ends beyond routine wayfinding and communication. If Ward One is about not forgetting, then it is about not forgetting on all these levels — the social, political, institutional, and technological.
Notes
Bibliography
Balsamo, Anne. Designing Culture: The Technological Imagination at Work. Durham, N.C.: Duke University Press, 2011.
Bouknight, Ashley. "'Casualty of Progress': The Ward One Community and Urban Renewal, Columbia, South Carolina, 1964–1974." Master's thesis, University of South Carolina, 2010.
Chun, Wendy. "Race and/as Technology, or How to Do Things to Race." Race after the Internet, ed. Lisa Nakamura and Peter A. Chow-White, 38–60. New York: Routledge, 2012.
Curatescape. Cleveland: Cleveland State University. https://curatescape.org/.
Dourish, Paul, and Genevieve Bell. Divining a Digital Future: Mess and Mythology in Ubiquitous Computing. Cambridge, Mass.: MIT Press, 2011.
Hansen, Mark B. N. Feed-Forward: On the Future of Twenty-First-Century Media. Chicago, Ill.: University of Chicago Press, 2015.
Historypin. https://www.historypin.org/.
Kahana, Jonathan. Intelligence Work: The Politics of American Documentary. New York: Columbia University Press, 2008.
Kitchin, Rob, and Martin Dodge. Code/Space: Software and Everyday Life. Cambridge, Mass.: MIT Press, 2011.
Mullins, Paul R., and Lewis C. Jones. "Archaeologies of Race and Urban Poverty: The Politics of Slumming, Engagement, and the Color Line." Historical Archaeology 45, no. 1 (2011): 33–50.
Nakamura, Lisa, and Peter A. Chow-White. "Introduction — Race and Digital Technology: Code, the Color Line, and the Information Society." Race after the Internet, ed. Lisa Nakamura and Peter A. Chow-White, 1–18. New York: Routledge, 2012.
Richey, Staci. "Variation on a Theme: Planning for the Elimination of Black Neighborhoods in Downtown Columbia, South Carolina, 1905–1970." Master's thesis, University of South Carolina, 2004.
Thomas Cooper Library. "Slavery at South Carolina College, 1801–1865: The Foundations of the University of South Carolina." Last modified May 2011. http://library.sc.edu/digital/slaveryscc.
Walker, Richard L. "Ghosts of the Horseshoe: A Mobilization of a Critical Interactive." Ph.D. dissertation, University of South Carolina, 2014.
Ward One. Columbia, S.C.: University of South Carolina. http://calliope.cse.sc.edu/wardone/.