Minority Report
The Myth of Equality in the Digital Humanities
Barbara Bordalejo
I have serious reason to believe that the planet from which the little prince came is the asteroid known as B-612. This asteroid has only once been seen through the telescope. That was by a Turkish astronomer, in 1909. On making his discovery, the astronomer had presented it to the International Astronomical Congress, in a great demonstration. But he was in Turkish costume, and so nobody would believe what he said. Grown-ups are like that. . . . Fortunately, however, for the reputation of Asteroid B-612, a Turkish dictator made a law that his subjects, under pain of death, should change to European costume. So in 1920 the astronomer gave his demonstration all over again, dressed with impressive style and elegance. And this time everybody accepted his report.
—Antoine de Saint-Exupéry, The Little Prince
Digital humanities is a relatively new discipline; its practitioners are continually pushing against its boundaries and modifying its perspectives.[1] In the last years, the general perception that digital humanities, as a discipline, is balanced in terms of gender has spread to the mainstream press.[2] Moreover, articles produced within the DH frame have explained that "digital humanities is 'nice'" and have built specific arguments for a narrative of why it is so (Scheinfeldt). However, these perceptions are easily challenged. Even the simplest analysis—such as the ratio of first author gender for accepted papers in the principal annual DH conference—produces evidence undercutting any claims about equality and inclusiveness in the field.[3]
The pervasive belief in gender balance in digital humanities prompts the question of how the field might appear if it could be analyzed across a broader set of perspectives. This chapter considers data gathered through a survey of self-described "digital humanists" to understand the current situation of the field. It concludes with some suggestions that might improve the position of women and minorities within digital humanities.[4]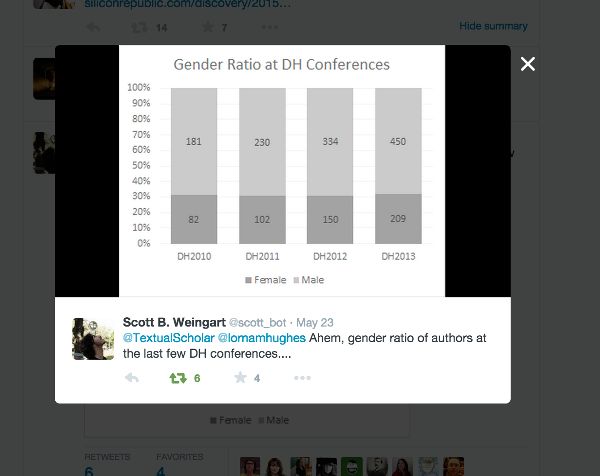 Background
On May 23, 2015, Lorna Hughes, then professor of digital humanities at the University of London, tweeted a link to an article by Gordon Hunt titled "There Is Certainly No Gender Imbalance in Digital Humanities!"[5] The tweet sparked a range of opinions concerning Hunt's article. Ben Brumfield, for example, pointed out that the situation in digital humanities was comparatively better than is the case in other fields, such as computer sciences.[6]
Within a few minutes of the start of the Twitter discussion, Scott Weingart presented the partial results of an analysis of the gender ratio of authors accepted for the Alliance of Digital Humanities Organizations conferences between 2010 and 2013, where women represent around 30 percent of authors (see Figure 18.1). Against this, Hughes argued that she was one of six female digital humanities professors in London alone. It appears that, at the time, Professor Hughes was referring to Melissa Terras (formerly at UCL, now at the University of Edinburgh), Claire Warwick (formerly at UCL, now at the University of Durham), Sheila Anderson (King's College), Marilyn Deegan (King's College), and Jane Winters (University of London).
There are other powerful women in digital humanities. The Alliance of Digital Humanities Organizations (ADHO) website shows that Sarah Kenderline, Elisabeth Burr, Karina van Dalen-Oskam, Susan Brown, Jennifer Giuliano, Laura Mandell, and Sara Sikes figure prominently. All of these women have had long and influential trajectories in digital humanities. However, this should not deceive us to into thinking that this is a particularly egalitarian field or that there is no need for advocacy. The six female professors in London in Lorna Hughes's original Twitter exchange were all English native speakers, while Karina van Dalen-Oskam (current chair of ADHO's steering committee), Elisabeth Burr, and myself (Burr and I serving as representatives of the European Association for Digital Humanities) are the only female members of the executive of ADHO who are not native English speakers. I am the only one of these women not to come from a country in the Global North. Moreover, at the time of writing, I am the only woman in the ADHO executive who is of mixed race. Tomoji Tabata, the representative of the Japanese Association for Digital Humanities, is the other non-Caucasian representative.[7]
The statistics presented by Weingart are clear-cut. Despite the prominence of some female scholars, women are underrepresented at the most important gatherings in the field. Scott Weingart and Nickoal Eichmann have analyzed the data, year after year starting in 2010, and have found the numbers remain stable. Weingart's concern with gender was intriguing, so I contacted him to find out how he had become interested in question. In private email correspondence, Weingart stated that he wanted to use digital humanities methods to investigate the field itself, a sort of meta–digital humanities research:
Essentially I've just wanted to turn DH methods on ourselves for a number of reasons. What's it like to be scrutinized the same way we scrutinize? What's our own history and contours? And (especially relevant in the context of this graph and these discussions) how can we become better scholarly citizens, and better global citizens?

We tend to inherit problems of representation and equality from academia & tech culture at large, but just because we're no worse than the rest of 'em doesn't mean we shouldn't try to be better. Recognizing problem areas is (I hope) a good start.[8]
Our private exchange prompted a self-reflective post titled "What's Counted Counts," in which Weingart acknowledges that other aspects of diversity are much more elusive than gender:
I'd attempted to explore racial and ethnic diversity as well, but it was simply more fraught, complicated, and less amenable to my methods than gender, so I started with gender and figured I'd work my way into the weeds from there.

I'll cut to the chase. My well-intentioned attempts at battling inequality suffer their own sort of bias: by focusing on measurements of inequality, I bias that which is easily measured. It's not that gender isn't complex (see Miriam Posner's wonderful recent keynote on these and related issues), but at least it's a little easier to measure than race & ethnicity, when all you have available to you is what you can look up on the Internet.[9]
Weingart's text suggested the idea of bringing to light those aspects that are not readily available for measurement. A survey would allow us to address directly those issues that Weingart had found elusive, such as race, nationality, or status. Moreover, it could provide the opportunity to include other layers of complexity if it could consider sexual orientation and ability. There were various problems with this, not least of them that a survey requires people's willingness to participate. It would have to be designed and to be tested. It would have to ask very personal questions, some of which might be potentially identifying. There were many instances in which it could fail and many reasons that might push it toward that failure. There is no doubt that this survey has many shortcomings. Some of those are the result of its origins, and the rest are likely to be the result of my ignorance and the learning process prompted by its creation.
Methodology
The Survey
Design and Questions
The survey was modeled on the diversity questionnaires often found as part of the hiring or acceptance process of higher education institutions.[10] There were twenty-eight biographical questions and a final one that allowed comments or suggestions.
The questions covered the following topics:[11]
1. age

2. education

3. formal education in DH

4. country of birth

5. gender

6. care-giving situation

7. sexual orientation

8. ethnic heritage

9. cultural background

10. native language

11. work language

13. existence of a DH center at work

14. attachment to a DH center

15. salary source (i.e., soft money, centrally funded)

16. length of employment

17. previous employment

18. details of previous employment

19. current title

20. permanence in current position

21. nature of the current position (tenure track or non–tenure track)

22. country of employment

23. visible disability

24. invisible disability

25. regularity of submission to the DH conference or similar

26. number of rejections from the DH conference

27. number of acceptances to the DH conference

28. perception of self within DH

29. additional comments
Questions 9, 10, 16, 18, and 29 requested a free text answer. For questions 9 and 10, for example, it would have been hard to use a template. Question 9, which refers to cultural background, is related to self-identification and self-definition. For this reason, it seemed that to provide a template might leave many people without an adequate response. For question 10, the number of possible languages is enormous, so free text seemed a better option. The downside of free text is that it is much more difficult to analyze and it does not provide immediately usable answers. Questions 2, 5, 7, 8, 12, 19, 25, and 26 allowed a free-text answer as an alternative to the given ones. Questions 3, 11, 23, 24, and 28 required further details for one of the possible answers.
The pilot of the survey went live on December 10, 2015. It was tested for five days before the survey was made public.
Gathering of Data
The survey went public on December 15, 2015, and was available for a month. There were 442 respondents in total. Two responses were omitted because the respondents stated specifically that they did not work within digital humanities. Another two responses were excluded because their answers and comments showed such a degree of hostility toward the survey that it appeared the respondents wished to invalidate it.[12] These suppressions left a total of 438 respondents.
Survey Results
Gender
Of the 438 respondents, 225 (51.36 percent) identified themselves as female, two as genderqueer or androgynous (0.45 percent), 203 as male (46.36 percent), one as transgender (0.22 percent), one as male-to-female (MTF; 0.22 percent), and five as other (1.14 percent). One person skipped this question. Of those who marked other, two presented alternative gender definitions, while three (0.68 percent) stated that they could not see the point of this question or stated, "I find this question intrusive: what has gender got to do with 'multiculturalism?'" One respondent skipped this question (see Figure 18.2).
It seemed clear from the gathered answers that the vast majority of the respondents identified with traditional binary gender labels.
Rejections from the Digital Humanities Conference
From Weingart and Eichmann's statistical analysis, we know that roughly 30 percent of the accepted presentations in the DH conference have a sole or a lead female author. It follows that some 70 percent of the presentations are by men or have a man as the lead author. Although they have had access to the data of rejected papers, they have not released statistics on rejection for ethical reasons. From those respondents who identified themselves as male (see Figure 18.3), 149 answered question 26 (If you submit to the DH conference, how many times have you been rejected?). Of those, ninety-four never had a paper rejected from the conference, thirty-two had a paper rejected once, twelve twice, and eleven more than three times.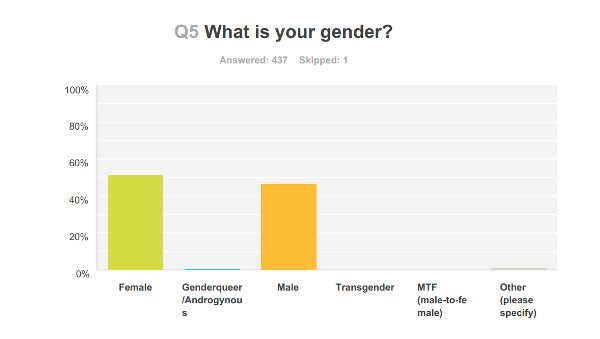 In contrast, of 141 female respondents, 104 never had a paper rejected, nineteen had one rejection, eleven had two rejections, and seven had more than three rejections (see Figure 18.4). These results seem surprising in light of the statistics that come directly from the accepted papers, which show that 70 percent of the papers have a male lead author. However, since the question did not specify the role of the author in the acceptance, it might be that the female respondents are counting those papers in which they are not the lead author. A future survey should reformulate the question to clarify the roles of the respondents in conference proposals. Alternatively, it is possible that regular rejections from the conference might alienate scholars who later decide not to present more submissions. In any case, the data obtained through the survey cannot meaningfully be directly compared with Weingart's data on equal terms. Here, the results are presented for reference purposes.
Question 27 of the survey (How many times more than one paper which lists you as the author or one of the authors has been accepted for the same DH conference?) was answered by 168 male respondents; seventy-two (42.86 percent) never had more than one paper accepted for the conference; that is, of the total, ninety-six (51.14 percent) respondents had two or more papers accepted for the same conference. For this same question, there were 161 female respondents, of whom eighty-six (53.42 percent) never had more than one paper accepted, while seventy-five (46.58 percent) had more than one paper accepted for the same conference.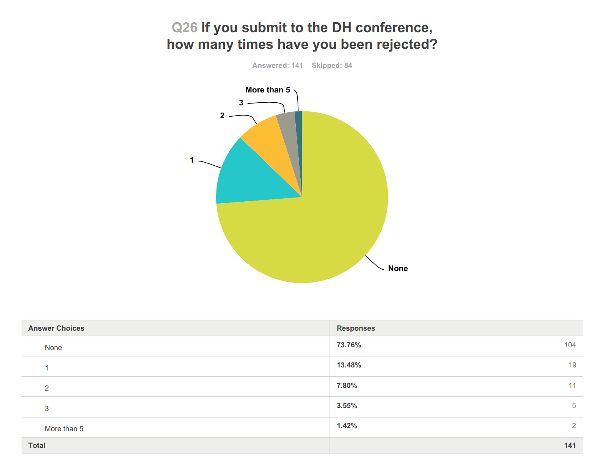 General Differences Based on Gender
In general, the differences when using gender to filter the survey's results are relatively small. For example, one might have expected a significant difference in question 6 (Are you the primary caregiver of a child, a disabled or elderly person?), where 36.61 percent of the female respondents answered "Yes," in contrast with 28.86 percent of the male respondents. The difference between these is smaller (although still important) than the expected results based on the perceived role of women as the providers of the bulk of the care for younger and older people. For gender-neutral questions, such as question 3 (Is any of your degrees in digital humanities?), 10.67 percent of the female respondents answered yes, while 7.43 percent of the male respondents answered in the affirmative.
Question 7, which dealt with sexual orientation, shows quite a difference between genders. Of the female respondents, 78.73 percent stated that they are heterosexual, 5.88 percent gay, and 11.31 percent bisexual, and 4.07 percent chose "Other" (for which the following were specified: asexual, pansexual, queer, heteroflexible, and human). By contrast, 87.13 percent of the male respondents identified as heterosexual, 5.94 percent as gay, and 4.46 percent as bisexual, and 2.48 percent chose "Other" (these were defined as queer, bisexual tendencies, and "Do not wish to answer").
Rank
Rank is one aspect in which we can see a concrete difference between male and female respondents (see Table 18.1).
Analysis of the replies under the category "Other" shows that some respondents found it difficult to place themselves into categories that present a different nomenclature in their own country. When possible, the responses were assimilated into categories (see the notes to this chapter for more details). The corrected results can be seen in Table 18.2.[13]
In Table 18.2, I have included all the data, including the answers by respondents that identified themselves as "genderqueer," "transgender," and "other." I include the data for Table 18.2, as rank is a factor that pertains to an individual and, for this reason, it is important to be able to see all the data. Because I have only included data (conflated) for the nonbinary gender option only in this section, this reduces the risk of potential identification in other parts of the survey.
Table 18.2 shows that the first three categories (Chair, Professor, and Associate Professor) are occupied by men in higher numbers. This is not particularly surprising, given the general bias in academia toward male scholars and the way in which women and minorities tend to experience university careers differently from their male colleagues (Johnsrud and Des Jarlais).
Fourteen respondents have a chair or named professorship. Five of those (35.71 percent) are female, one is genderqueer/transgender (7.14 percent), one chose "Other" (7.14 percent), and the rest (50 percent) are male. Nor is it surprising that all of the named professorships, including the ones that were outside the Global North, are held by respondents who described themselves as Caucasian/white in question 8.[14] When asked to specify their native language, twelve of the fourteen listed English as their first language. For more details about ethnic diversity, see the following section, "Ethnic Background and Other Factors." From a total of thirty-three full professors, only thirteen (39 percent) are female. Of the associate professors, twenty-six (41 percent) are female. But at the level of assistant professor, we see a sharp reversal in the numbers, where 62.5 percent are female. This could be explained in different ways. Perhaps the discipline is already changing: there are so many more women at the beginning of the tenure-track system that a more even distribution of gender ratio at higher levels in the future appears possible. If this is correct, it will be good news. It is conceivable that change might be coming to the field and that the superior number of female assistant professors will eventually translate into a higher number of female associate, full professors, and chairs. However, it is also entirely possible that these women have not yet been displaced by the system; that, being at the beginning of their careers, they might end up taking much longer to move from assistant to associate professor, or from associate to full professor (Townsend), or might not manage to rise within academia.
| | | | | |
| --- | --- | --- | --- | --- |
| Title | | Male % | | Female % |
| Chair or named professorship | | 2.48 | | 1.78 |
| Professor | | 8.42 | | 5.78 |
| Associate professor | | 14.36 | | 11.11 |
| Assistant professor | | 13.37 | | 21.78 |
| Adjunct professor | | 0.99 | | 2.67 |
| Seasonal lecturer | | 0.50 | | 0.89 |
| Teaching or research assistant | | 7.92 | | 4.89 |
| Head librarian | | 0.50 | | 1.33 |
| Subject librarian | | 1.49 | | 2.67 |
| Specialist librarian | | 2.97 | | 4.44 |
| Technical officer | | 2.97 | | 2.22 |
| Programmer | | 3.47 | | 0.44 |
| Student | | 8.42 | | 8.44 |
| Other | | 32.18 | | 31.56 |
| Total | | 100 | | 100 |
Title

Male

Female

Genderqueer /transgender

Other

Total

Chair or named professorship

7 (50%)

5 (35.7%)

1 (7.14%)

1 (7.14%)

14

Professor

i

20 (60%)

13 (39%)

33

Associate professor

ii

34 (55.73%)

26 (42.62%)

1 (1.63%)

61

Assistant professor

30 (37.5%)

50 (62.5%)

80

Adjunct professor

3 (23.07%)

8 (61.53)

2 (15.38%)

13

Seasonal lecturer

1 (25%)

3 (75%)

4

Teaching/ research assistant

16 (57.1 %)

11 (39%)

1 (3.57%)

28

Head librarian

1 (25%)

3 (75%)

4

Subject librarian

3 (33.3%)

6 (66.6%)

9

Specialist librarian

9 (33.3%)

17 (66.6%)

26

Technical officer

7 (58.33%)

5 (41.66%)

12

Programmer

10 (83.33%)

2 (16.66%)

12

Student

20 (44.44%)

25 (55.55%)

45

Postdoctoral researcher

iii

7 (50%)

6 (42.85%)

1 (7.14%)

14

Director

2 (22.22%)

7 (77.77%)

9

Associate director

2 (66.6%)

1 (33.3%)

3

Project manager

6 (54.54%)

5 (45.45%)

11

Coordinator

1 (14.28%)

6 (85.71%)

7

Researcher

6 (42.85%)

8 (57.14%)

14

Other

18

18iv

1

36

Total

203

225

4

5

436v
i. The UK rank "reader" is included here, as it is roughly equivalent to professor.
ii. Maitre de conférences was added to this category, as it is a permanent position with guaranteed tenure, so it is closer to associate than to assistant professor.
iii. This and the following categories were created based on multiple responses that were initially filed under "Other."
iv. For female respondents, this category included principal network security analyst, research data manager, research coordinator, communications officer, philologist, consultant, digital humanities research analyst, academic specialist, ingénieur d'études, external researcher, library staff (not librarian), historian, public historian, editor, digital humanities specialist, and instructional designer.
v. One respondent skipped this question.
Categories such as "adjunct professor" and "seasonal lecturer" received too few responses to produce significant results, although those categories, as was the case for "director" or "coordinator," present a much higher percentage of female respondents. The categories of jobs within libraries (head, subject, and specialist librarian) were selected by thirty-nine respondents. Women hold 66.66 percent of the library jobs. In a similar way to the "named chairs" and "professors," the head librarians self-identified as white, and all of them use their native language at work. Of the subject librarians, seven were white, while two were mixed. Only one of them uses a language different from his or her native language for work. Again, there are a higher number of respondents (twenty-six) who are specialist librarians; of those, twenty-four (92 percent) are white. Only three (11 percent) of them do not use their native language at work.
Ethnic Background and Other Factors
Of the 438 respondents, 342—that is, 79.35 percent—described themselves as white. There is no substantial difference between male (80.5 percent) and female (79.64 percent) respondents, and although one could have expected a high percentage of individuals who identify as white in the field, the particularly high number of respondents who chose this option might be related to the way in which the survey was distributed (through social media, like Twitter and Facebook, as well as via distribution lists, such as Humanist, RedHD, and GO::DH).[15] But it also reflects a homogeneity that characterizes the different digital humanities gatherings, notably the Digital Humanities conference (sponsored by the Alliance of Digital Humanities Organizations).
When these answers are viewed in combination with other factors, we see that of the thirty-three full professors, twenty-nine identified as white, while four (12 percent) described themselves as mixed. One person refused to respond, since "ethnicity is a trivial accident of birth and not connected to the truly great heritage I enjoy from the other earlier humans who were not my direct ancestors." This type of comment suggests a lack of awareness of the experience of minorities: ethnicity is only trivial for those who can pass as part of the majority group in which they move, that is, for those who are not part of a visible minority. Individuals of ethnic minorities know very well that it is nearly impossible to disconnect oneself from one's ethnicity (Essed, "Making and Breaking"). The same is often true of class and gender (Crenshaw).
Among the full professors, of the thirteen female respondents, two are of mixed race. Of the twenty-one male respondents, two are of mixed race, lowering the percentage of male, mixed-race full professors. Within the same group, one respondent is bisexual, and two are gay or lesbian. Again, at this level, the dominance of white heterosexuals is remarkable. Although a variety of languages were represented in this group, English was the dominant one (sixteen native speakers), followed by Spanish (five native speakers). For scholars at the professorial level, only 20 percent work in environments in which their native language is not the main working language.
At the level of associate professor, it is possible to start to see a glimpse of diversity. Although 78.68 percent of the associate professors are white, other ethnicities start to make an appearance: there are two African, two South Asian, one East Asian, one Native American, three mixed, and four who marked "Other."[16] The next highest category is "mixed," with 5.56 percent of the respondents belonging to it. Among associate professors there is one marked difference between male and female respondents: 60 percent of the female respondents are the primary caregivers of a child or a disabled or elderly person, while only 41.38 percent of the male respondents indicated the same. Only 9.09 percent of the respondents work in an environment in which their native language is not the main language.
Assistant professor is, by far, the largest category within the ranks. Accordingly, one would expect it to show the greatest variety within it. The majority of assistant professors (83.75 percent) identify as white, South Asians represent 3.75 percent, African and Middle Eastern each accounts for 2.5 percent, while East Asian and Aboriginal represent 1.25 percent each. Mixed stands at 3.75 percent for this category. Of this group, 17.5 percent do not use their native language for day-to-day activities at work.
Weingart suggested that "names foreign to the US are less likely than either men or women to be accepted to these conferences."[17] This is also backed up by Bertrand and Mullainathan, who showed that the same résumé might receive a much higher rate of interviews if it had a white-sounding name in it ("Are Emily and Greg"). The differential treatment exposed by this research might help explain the dominance of researchers from the Global North (particularly those originating from countries in which English is the dominant language) in the digital humanities and the fact that the majority of the practitioners work within their own language and their own culture. The lower number of minorities within this group is alarming. It places the future of the discipline in danger of continuing the sameness that currently characterizes it.
Analysis
Cultural Cloning
The previous sections evince a discouraging homogeneity within DH, currently dominated by white Anglophones. This may be explained by the concept of cultural cloning. Philomena Essed described cultural cloning in her 2002 article, "Cloning Cultural Homogeneity While Talking Diversity." In later work, Essed and David Theo Goldberg focused on how the normativity of cultural cloning excludes "deviants": "The notion of cultural cloning, initially used to problematize the systemic reproduction of white, masculine homogeneity in high status positions, brings into focus another side of exclusion. Yet, same-kind preference reproducing white (Euro) masculine privileges in terms of race, ethnicity, gender, or profession is not countered with the same force of indignation as we find in the case of the suggestion of biological cloning" (1068). Their denunciation of the complicity of a system that fails to react against this cultural cloning is paired with their statement that "the (culturally contextualized) privileging of white men and the social delimitation and denigration of women and people of colour in the world have not been erased. Furthermore, in spite of improvements of facilities for people with physical challenges, disabilities are generally perceived as indicative of a less than full human life" (1069). Sixteen years after the publication of the Essed and Goldberg essay, we find that the situation has only minimally improved. The findings of the survey, when viewed in light of other research about academic practices of tenure, suggest that the future is likely remain similar to the present. The cause of the stability of the situation in academia which Essed has so clearly described is the "positive prejudice in favor of specific individuals or group members based on a sense of closeness or familiarity" for which "certain values have been ingrained as more crucial, more human, and more valuable" (Essed, "Cloning amongst Professors"). We must worry about the fact that "cultural cloning is predicated on the taken-for-granted desirability of certain types to fit the often-unconscious tendency to comply with normative standards, and the subsequent rejection of those who are perceived as deviant" (121). This suggests that when white, heterosexual, Anglophone maleness is the norm, anything that departs from it becomes deviance. One can relate this to intersectionality, as described by Roopika Risam, going "beyond the race-class-gender triad described by Crenshaw to additional axes of difference including sexuality and ability" ("Beyond the Margins"), which by definition would add other layers of complexity to Essed's perception of deviance.
Politicization of DH
The complexity of relations of various groups in digital humanities and their different visions of how to tackle the problems around diversity and inclusion are likely to continue to generate debate within the field. As intellectuals, we cannot afford the luxury of ignoring these issues.
Already in 2012, Tara McPherson called for the politicization of the digital humanities, advocating for the inclusion of contextualized studies of race and gender within the field. She was asking that those be included as part of the field of study. Martha Nell Smith has voiced similar concerns, observing that "new media and digital humanities often remain fixed, bound by conventions of old paradigms" ("Human Touch Software"). The broadening of the field of study is, of course, a desirable objective. However, as scholars, we should also consider an intellectual reflection on the political aspects of the development of the digital humanities as a field of research. Despite what journalists like Gordon Hunt might think, there is a gender imbalance in digital humanities, as there is in the most of academia. Moreover, this imbalance is exacerbated when race, gender, sexuality, native language, and other factors are brought into consideration.
Analyzing the survey results from a racial perspective, it appears that the representation is even more homogeneous than when we look at it through the gender lens. This should prompt us to ask whether women from other racial or cultural backgrounds are even close to being a meaningful part of the Digital Humanities dialogue. The limitations of the survey do not allow certainty, but it might be that scholars from minority backgrounds might never make it to a level from which they could inspire others or be in the position to make the field more diverse by mentoring other minorities. This situation would perpetuate the cultural cloning described by Essed.
It has been shown that role models are determinant in the formative years of any human being and, although it is possible that particular individuals might choose role models who are very different from themselves, it is much more likely that they will identify with someone with whom they share common traits. Many universities today have international programs designed to attract students from all over the world, but the homogeneity of university staff prevents students from emulating role models who are like themselves.
Excluded Responses and Special Comments
The two excluded responses were by male respondents who did not consider that the survey or individual questions were relevant to the field. One of these excluded respondents gave his gender as "MCP (Male Chauvinistic Pig)" and listed, both under visible and invisible disability, "I am a man."
The level of aggression and vitriol in some of the answers was disturbing. For example, when asked about ethnicity, one respondent stated, "Why should I? I consider such questions racist," and, although he had answered no to the disability questions, he added as a comment, "Why is this important?" Another respondent, under invisible disability, contributed the following: "Being a stupid asshole." Yet another one felt compelled to state, "All in All, a pretty fucking stupid survey." Again, this occurred only with data provided by scholars who identified themselves as heterosexual men, which suggests that the main representatives of the heteronormative patriarchy are also the victims of the society that has created them and made them oblivious to the situation of others. The survey was not mandatory, it did not take an inordinate amount of time, and although a few of the questions were personal, these reactions to it were so disproportionate that they needed to be removed from the sample. The discovery that some colleagues relied on the anonymity of the survey to display aggression which appeared personally directed was shocking. However, in light of the online harassment suffered by women, particularly feminist writers, these behaviors, although unacceptable, can hardly be called unusual.[18]
One may wonder what reasons a small minority of respondents can have to make a joke about issues such as disability or sexuality, which so severely affect others. However, it appears that from a position of power, other humans' powerlessness is just laughable. The digital humanities community should be concerned that individuals with these attitudes might be in positions that would grant them power over scholars with less privileged backgrounds. These are prime candidates for cultural cloning as they are likely to give preference to individuals with whom they share common characteristics.
There were some fair questions, comments, and criticisms that arose from the survey, all of which can contribute to our understanding of how different cultures perceive this type of questionnaire. Moreover, they will serve to build better surveys in the future.
The survey results show that digital humanists are binary, white, affluent, and Anglophone. This is not a surprising discovery, given that academia tends to be conservative and to accept changes slowly and reluctantly. What the survey shows, however, is that there are many people sufficiently interested in diversity issues to take the time to answer these questions and that many of those are intensely aware of the field's shortcomings in reference to its potential for diversity and pluralism.
Because of the significant number of female assistant professors in this sample, one can speculate, as above, that it could be that the position of women is improving. However, if this is true, it is most likely to apply to white women from affluent countries in the Northern Hemisphere. The reason for this is that each deviation from what is considered the norm represents a new obstacle, a new degree of separation from a position of power, for someone who is not a white, heterosexual, affluent, Anglophone man.
The next question is, what can be done to improve this situation? One could start by following Rebecca Rosen's suggestion to phase out all-male panels: men must pledge not to take part in panels in which no women are present.[19] But one could go further than that. Scholars who work in countries with high-income economies could decline money toward their attendance so people from countries with low-income economies can be invited. In the same way, one can choose not to participate in all-white panels, Global North panels, native-Anglophone panels. Or even better, request that the all-white, Global North, native-Anglophone panels be transformed by suggesting speakers who do not fall into those categories. While collaborating with others on equal footing, authors should not be listed in alphabetical order. Instead, one should give the most vulnerable author the first place.[20]
Be aware of the role of implicit bias. Hiring committees or grant-giving committees should be aware of the existence of implicit bias and ensure that opportunities are not denied because of prejudices, implicit or explicit, against individuals. Be aware of your own privilege and work hard to understand that others might be in a different position and how they are affected by our current power structures.
One wonders about the distribution of the minorities within DH: do they mostly work in emerging areas or on fringe subjects that have not been studied by the old patriarchy? Or, as may be the case for myself, has their career progress been hindered because of the perceived clash between them as individuals from outside the white Anglophone orbit and their chosen field of study?
As researchers, teachers, and human beings, we are not, and cannot, be defined by the things we are not. Instead, our work should be evaluated (and for this, it must be allowed in those venues in which such things are assessed) and must be evaluated fairly, for its contribution to our field and to society, not by the sound of our last name, our gender, or the color of our skin.
Appendix: Survey
This survey is designed to gather data about Digital Humanists in order to achieve a better understanding of those working in the field. 
There has been a strong move towards a more plural and inclusive field and the data gathered here will be used to assess the current situation before making proposals aimed to promote a successful multicultural field.
The 29 questions should take around five minutes to complete, they were written by Barbara Bordalejo (http://kuleuven.academia.edu/BarbaraBordalejo) and will be used as part of her research on diversity in DH. 
If you have questions you can contact her at barbara.bordalejo@kuleuven.be.
Privacy statement: Responses are anonymous. No individual data will be redistributed. The data you provide will be used for the purposes of this research. The bulk data might be shared with other interested researchers. For SurveyMonkey's privacy statement go to https://www.surveymonkey.com/mp/policy/privacy-policy/.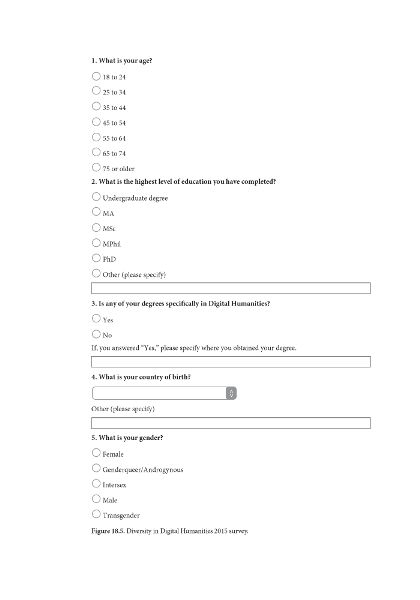 Notes
Bibliography
Bertrand, Marianne, and Sendhil Mullainathan. "Are Emily and Greg More Employable than Lakisha and Jamal? A Field Experiment on Labor Market Discrimination." American Economic Review 94, no. 4 (2004): 991–1013. https://www.povertyactionlab.org/sites/default/files/publications/3%20A%20Field%20Experiment%20on%20Labor%20Market%20Discrimination%20Sep%2004.pdf.
Crandall, Diana. "Feminist Columnist Jessica Valenti Quits Social Media after Trolls Threaten to Rape Her 5-Year-Old Daughter." New York Daily News, July 27, 2016. http://www.nydailynews.com/news/national/columnist-quits-social-media-threats-rape-5-year-old-article-1.2728374.
Crenshaw, Kimberlé. "Mapping the Margins: Intersectionality, Identity Politics, and Violence against Women of Color." Stanford Law Review 43, no. 6 (1991): 1241–99.
Diem, Keith. A Step-by-Step Guide to Developing Effective Questionnaires and Survey Procedures for Program Evaluation & Research. 2002. http://cahnrs.wsu.edu/fs/wp-content/uploads/sites/4/2015/09/A-Step-By-Step-Guide-to-Developing-Effective-Questionnaires.pdf.
Essed, Philomena. "Cloning amongst Professors: Normativities and Imagined Homogeneities." NORA—Nordic Journal of Feminist and Gender Research 12, no. 2 (2004): 113–22.
Essed, Philomena. "Dilemmas in Leadership: Women of Colour in the Academy." Ethnic and Racial Studies 23, no. 5 (2000): 888–904.
Essed, Philomena. "Making and Breaking Ethnic Boundaries: Women's Studies, Diversity, and Racism." Women's Studies Quarterly 22, nos. 3/4 (1994): 232–49.
Essed, Philomena, and David Theo Goldberg. "Cloning Cultures: The Social Injustices of Sameness." Ethnic and Racial Studies 25, no. 6 (2002): 1066–82.
Gold, Matthew. Debates in the Digital Humanities. Minneapolis: University of Minnesota Press, 2012.
Hunt, Gordon. "There's Certainly No Gender Imbalance in Digital Humanities!" Silicon Republic, May 20, 2015. https://www.siliconrepublic.com/discovery/2015/05/20/theres-certainly-no-gender-imbalance-in-digital-humanities.
Johnsrud, Linda, and Christine D. Des Jarlais. "Barriers to Tenures for Women and Minorities." Review of Higher Education 17, no. 4 (1994): 335–53.
Marcotte, Amanda. "Gaming Misogyny Gets Infinite Lives: Zoe Quinn, Virtual Rape and Sexism." Daily Beast, August 22, 2014. http://www.thedailybeast.com/articles/2014/08/22/gaming-misogyny-gets-infinite-lives-zoe-quinn-virtual-rape-and-sexism.html.
Misa, Thomas. Gender Codes: Why Women Are Leaving Computing. Hoboken, N.J.: Wiley, 2010.
Posner, Miriam. "What's Next: The Radical, Unrealized Potential of Digital Humanities." Miriam Posner's Blog, July 27, 2015. http://miriamposner.com/blog/whats-next-the-radical-unrealized-potential-of-digital-humanities/.
Risam, Roopika. "Beyond the Margins: Intersectionality and Digital Humanities." Digital Humanities Quarterly 9, no. 4 (2015). http://www.digitalhumanities.org/dhq/vol/9/2/000208/000208.html.
Rosen, Rebecca J. "A Simple Suggestion to Help Phase Out All-Male Panels at Tech Conferences." Atlantic, January 4, 2013. http://www.theatlantic.com/technology/archive/2013/01/a-simple-suggestion-to-help-phase-out-all-male-panels-at-tech-conferences/266837/.
Scheinfeldt, Tom. "Why Digital Humanities Is 'Nice.'" In Debates in the Digital Humanities, edited by M. K. Gold. Minneapolis: University of Minnesota Press, 2013. http://dhdebates.gc.cuny.edu/debates/text/36.
Smith, Martha Nell. "The Human Touch Software of the Highest Order: Revisiting Editing as Interpretation." Textual Cultures 2, no. 1 (2007): 1–15.
Stone, Jon. "Gamergate's Vicious Right-Wing Swell Means There Can Be No Neutral Stance." The Guardian, October 13, 2014. https://www.theguardian.com/technology/2014/oct/13/gamergate-right-wing-no-neutral-stance.
"Survey Questions: Survey Examples and Sample Survey Questions | QuestionPro." n.d. Accessed June 23, 2018. https://www.questionpro.com/article/survey-question-answer-type.html.
Townsend, R. B. "Gender and Success in Academia: More from the Historian's Career Path's Survey." In Perspectives in History, 2013. https://www.historians.org/publications-and-directories/perspectives-on-history/january-2013/gender-and-success-in-academia.
U.S. National Center for Education Statistics. Digest of Education Statistics, Table 349: "Degrees in computer and information sciences conferred by degree-granting institutions, by level of degree and sex of student: 1970–71 through 2010–11." https://nces.ed.gov/programs/digest/d12/tables/dt12_349.asp.
Weingart, Scott. "Acceptances to Digital Humanities 2015 (part 4)." ScottBot.net, June 28, 2015. http://www.scottbot.net/HIAL/?p=41375.
Weingart, Scott. "What's Counted Counts" (blog). ScottBot.net, July 31, 2015. http://www.scottbot.net/HIAL/?p=41425.
Weingart, Scott B., and Nickoal Eichmann-Kalwara. "What's under the Big Tent?: A Study of ADHO Conference Abstracts." @ Digital Studies / Le champ numérique 7, no. 1 (October 2017).
Weinman, Jaime. "How a Gamer's Fight Turned into an All-out Culture War." McLean's, December 8, 2014. http://www.macleans.ca/society/technology/gamergate-how-a-gamer-fight-turned-into-an-all-out-culture-war/.
Wolfers, Justin. "When Teamwork Doesn't Work for Women." New York Times, January 8, 2016. http://www.nytimes.com/2016/01/10/upshot/when-teamwork-doesnt-work-for-women.html?_r=0.