Ev-Ent-Anglement
A Script to Reflexively Extend Engagement by Way of Technologies
Brian Getnick, Alexandra Juhasz, and Laila Shereen Sakr (VJ Um Amel)
Asynchronous contributions by project participants and anthology editors. Reentry by Jih-Fei Cheng.
Alex Juhasz and Brian Getnick (Google docs—September 2017). To make the most of the expansive possibilities of writing asynchronously, collectively, and responsively, we include our editors' comments, our own growing and interactive dialogue, earlier fragments made by Ev-Ent-Anglement project participants, and the later words of scholar Jih-Fei Cheng about his experiences of the Ev-Ent-Anglement.
Kim Knight (peer reviewer, enters through WordPress peer-review blog). The essay does not have an argument but attempts to make an intervention. It asks us to think about how we define DH, how we capture or archive the ephemera of the rich collaboration that we so often emphasize, and what it means to perform scholarship. I think trying to sharpen things into a more essay-like manner would be antithetical to the goals of the piece.
Alex and Brian. Thanks Kim for that explication and many other helpful comments. We particularly liked how you aligned our project with "weird DH panels" held at recent MLAs. You're right, this is less an essay "about" Ev-Ent-Anglements and feminist DH and more a script toward another imagined re-staging that would best perform our stakes. We want our asynchronous dialogue to enact many of our commitments to feminist DH, including what you refer to as our "explicit articulation of the politics" of format, platform, and processes of production including ethical and self-reflexive collaborations that attend to power, place, training, method, and most critically, affect.
Brian (a little later). . . . and a burgeoning performance theory coming from observations of the performance practices fostered at PAM, the theater and residency space I direct (and within which the final Ev-Ent-Anglement was staged). Here's a trailer of PAM's first season to give you a sense of what we do there.[1]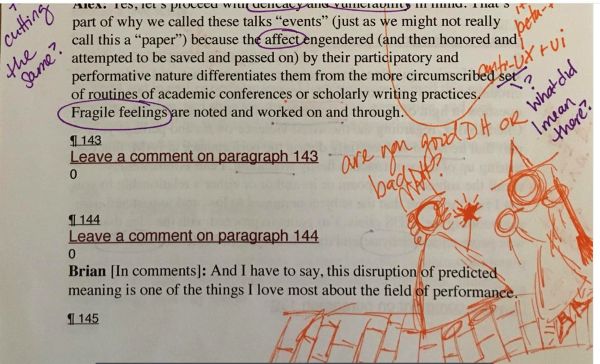 Alex (coming in just as we hit our first deadline for submission to our editors). I remembered as I was falling asleep last night, two previous feminist DH writing projects where editors' comments were included as a way to present, honor, and theorize the process of writing within activist communities and collaborative intellectual enterprises.[2] We bring to new projects our own histories of thinking and production, a learned and changing operational compass that centers us even when it goes unspoken or unremembered.
Brian We want to acknowledge that this "timeline" of interjections, collaborative theorizing, and transparent editorial comments are remixed and not chronological. We took in what made us speak back.
Laila Shereen Sakr (enters from off screen from Santa Barbara). I write asynchronously—like a glitch in an automated system, but that is the sort of freedom that this Google Doc enables, right?
Alex. Yes, Laila, a human glitch. A wrinkle in the system that adds your knowledge and feelings through time management regimes borne from a new job and three little kids.
Laila. As introduction, I am a person in real life. I have had many radical and different experiences that I slip in and out of quite naturally. Hyperconscious of this fluidity, ten year ago I created a moniker for my cyborg self as a conceptual art project. VJ Um Amel is an Arabic-speaking cyborg I perform online, on screens and stages, in art galleries and print—across digital media.[3] She is also the creator of the R-Shief media system, and she is my own art practice.
Among the interventions I make while performing VJ (video jockey) Um Amel (Arabic for "Mother of Hope") are these two: First, I resist normative identity formation. I would rather say, "I live in California," than "I am Californian"—thereby defining agency through one's actions (or their negation) rather than through signifier or label. The second intervention is the digital performance of an Arabic-speaking cyborg, a character defined by the actions it is programmed to take rather than the shade of its chrome. Cyborgs are intelligent machines who use digital logic in their robotics. And so in this document, I will speak in both voices—sometimes performing cyborg (VJ), other times performing myself (Laila).
Rebooting cyborg. . . .
Ev-Ent-Anglement Histories and Statements
VJ Um Amel. I would like to tell a bit of the history of the Ev-Ent-Anglement project as I know of it. My entrance into the script was in early 2015. I was engaged in an online praxis with Ricardo Dominguez categorizing a series of posts on Facebook using the hashtag "#Deeptagging" as a signal that data is excess, and in its excess data is porn. Ricardo and I started this online performance intervention in January 2015 with this Facebook post with an article from Salon, "Why Porn Is Exploding in the Middle East," where he wrote, "Data is porn! Porn is data! Nothing as erotic as burning access/excess data! And what would my big toes have to say about it? (They seem to be tapping away today) ;-)."[4] There began a long and rich dialogue between Ricardo and me in the comments.[5] This daily practice of posting and #Deeptagging continues through today and is in itself a theoretical conjecture, a praxis in the form of sharing, posting, and commenting. It was within this dialogue with Ricardo where I shared a link to Alex's Ev-Ent-Anglement project and an initial thread was thereby sewn in.
Laila. Not long after, in early 2015, Alex FB [Facebook] messaged me and invited me into the project in the most open and generous of ways.
Alex. We had never met. I thought I was writing to someone in the Middle East. When, after a brief exchange, I understood that VJ Um Amel was Laila Sakr, a doctoral student at USC, I asked her over for lunch.
Laila. We met for the first time in person in Pasadena. I would schedule doctor appointments before or after meeting with Alex—stitching in another locative experience. Feminist in approach, Alex offered a myriad of collaborative possibilities for us to work together in this affective feminist media praxis of cutting/pasting+bleeding.

Alex. The idea of cut/paste+bleed has been central to this project. At its most basic it signals that our engagements with digital material (cut/paste), hardwired into our machines, hands, and minds, carry hidden consequences (the bleed). This is what the Ev-Ent-Anglement attempts to see and feel. What is more, Laila was coming to my house after seeing her doctor after a surgical procedure. She was experiencing and then sharing with me her own cutting, bleeding, and healing. She was often sore and always tired and hungry when she arrived.
Laila. We would reach decisions about the shape and form and process of our collaboration after jaunty discussions accompanied by coffee, tea, salads, and cakes. We wanted to develop a methodological approach that would be at once becoming, affective, collaborative, performative, and real-time: a feminist media praxis approach to shared knowledge production.
Ev-Ent-Anglement had already occurred at international talks given by Alex in Utrecht, Delhi, Dublin, and would later happen in Montreal and Los Angeles, with my participation. At each location, she invited the audience to "cut/paste+bleed" themselves into the project about these themes and processes by way of social media posts that cut into the larger online project. So there were already many social media accounts for the project (a WordPress blog, and Instagram and Twitter accounts).
Alex. We were aware how these platforms and their formats were patriarchal neoliberal goldmines based on cut/paste aesthetics and formats that hide the bleed. Laila and I tried to think through and see past all this as she built new homes and methods for sharing and showing our data and processes.
Laila. I went on to build several more websites (eventanglement.com and cells.eventanglement.com).[6] My role was to understand the project's database and create a data visualization of the many gathered social media posts from previous Ev-Ent-Anglement performances, as well as images, quotes, and even performances related to Alex's research process, and then to prepare an online repository and enactment for future performances—both as lectures by Alex Juhasz (professor) and later still as a collaborative performance with VJ Um Amel (cyborg) and Brian Getnick (performer).
Alex (cuts into the Google doc to add more "DH thinking" on request of several reviewers 2:11 p.m. November 20). We spent a lot of time thinking about the (relatively small) scale of the database that I had created of digital fragments gifted to me by participants in the project. Laila came to the project as a scholar and artist who had worked on massive datasets (tweets from the Arab Spring). To her mind, there was a relative intimacy and cohesion to the Ev-Ent-Anglement's objects even as they were, in their volume and diversity, always skittering out of my control (as they and we do here).[7]
Jacqueline Wernimont (writes into the Google doc 11:38 p.m. May 17). I think you might productively situate this as not-DH but entangled with DH if that made sense. Alternatively, one approach might be to say a bit about why this makes sense as a final iteration—why does it make sense to the three of you to include this work in this way here? I find the provocations of performance here really useful and don't want to flatten the productive difference between what you're doing here.
Brian. This version of the ongoing google Doc is what in DH parlance? A hypertextual extension of the event and performance on that evening at PAM, November 8, 2015?
I also think it's important to note here that the process of generating the material of this text felt very alive at certain points. Now, in my final sweep of the doc (November 26, 2017, New York City), it feels like a surrendering of the liveness that we tried to represent in different ways graphically in earlier drafts of this doc to a cleaner, condensed (if you can believe it) format. I have to say that feels fine.
Kim Knight (in a print out of our essay that she scrawled comments and drawings on, scanned again and shared with us via Dropbox). Seems like more than an extension. A refiguring? amplification? re-situation?
Alex. It's a multitemporal, collaborative investigation of learning and making about the interpenetration of the lived and the digital, humans and machines, art and theory.
Laila. As with many DH projects, this Ev-Ent-Anglement is multimodal. It is interesting to consider the differences between Alex's participatory Ev-Ent-Anglement lectures, the online websites and databases of social media that underwrite them, my VJ performance at PAM in Highland Park, and this publication. In each iteration, we managed to trespass or challenge formal standards. Each of the productions has followed a similar methodological approach—one that is in the process of becoming, affective, collaborative, performative, and at least at outset in real-time.
I am reminded of a humanities publication project published by Duke University Press in 2013. Speculate This! was authored by an "uncertain commons, a group of scholars, mediaphiles, and activists who explore the possibilities of collaborative intellectual labor."[8] They remain anonymous as a challenge to the current norms of evaluating, commodifying, and institutionalizing intellectual labor.
In their collaborative discussion on the global practice of "affirmative speculation," this group of anonymous scholars drafted a manifesto. What are the affordances offered by stating manifestos and writing collaboratively in the context of imagining new theories around media praxis or theorizing about practice?
Jacque (Jacqueline Wernimont). Having now read through, I wonder if the authors/editors will want to put in a note at the beginning to orient readers—I've struggled with this in editing pieces in the past for DH audiences. The "artist statement" does a particular kind of translating/situating work and you all may or may not want that work done. Let's talk.
Laila and VJ. Yes, "let's talk!" That is the approach. :)
Alex. An "artist's statement" follows in the next paragraph, I hope that's okay, Jacque. The performance at PAM that we discuss soon, and then this iteration of the project, both ask, in form, what it feels like, and how things work, when experience, ideas, or the self is not delivered effortlessly, linearly, and steadily by way of mediating technologies.
Alex (delivers the Artist Statement [at last!]).
What is Ev-Ent-Anglement? We wonder how affective fragments move. An Ev-Ent-Anglement uses two hyphens as highly visible stitches suturing events with entanglements: Ev-Ent-Anglement. We use performance and technology to further entangle occasions and communities outside the logics of buying and selling. Together with technology we mix up our heres and theres, now and thens, mes and yous. We experiment in digital sometimes-embodied/sometimes-online/sometimes–on paper collective feminist media praxis. We want to show/feel/understand how these are linked but discrete ways of being and knowing rendered through and sometimes outside of digital technologies.
Using performance, technology, networks, cinema, tweets, photos, people, and their digital fragments we cut+paste evidence of past events into live ones and also into an ongoing digital record of some of what was entangled here and there. The bleed is what can't be contained. We try to see, know, show, and feel that with new formats based on other logics.
This iteration of Ev-Ent-Anglement cut/paste+bleeds fragments from five previous events that were experienced in 2014 and 2015, respectively, in Utrecht, Delhi, Dublin, Montreal, and Los Angeles (at the performance space, PAM, as an interactive, collaborative iteration staged by Brian, Alex, and VJ). Now we are in a computer, cutting+pasting collectively on a shared Google doc before dropping it all onto paper. Our attempts to know and love each other and then show this, our hope that the power of process and place can be articulated outside of its first lived iteration, is the bleed: our experiences, feelings, and ideas as useful surplus that we hope to see and share.
The first four events were billed as academic talks that anticipated and also generated the last event held in an art-space, PAM, billed as a performance.
Documenting the Ev-Ent-Anglement
Brian. This document is another reflection on the Ev-Ent-Anglement at PAM, the performance venue, and is also a continuation of the performance and the conversation that initiated and ends it.
Alex. PAM is a computer that stores and processes most of its data as embodied, interactive, and live exhibition. Brian runs the space with his own juice and also provides many of its design flourishes (he's an amazing seamstress), but if you get a residency there, as did Laila and I, part of your work in the space is to reprogram it anew, as you'd like to use it and configure it (you begin with an empty blue box, so to speak).
VJ. Are you saying that PAM is a computer and a space—is the leap to understand the formal principles of a venue as designed computation affecting the data bodies that traverse through it? Indeed PAM is a physical place, a magical place in Highland Park for "artists to research their performance practice." If PAM is a computer, then I suggest Brian is its cyborg—he flows like the tapestries and fabrics on set, weaving, stitching, ev-ent-angling.
Alex. Oh Laila. This is why I love collaborating with you . . .
Laila (sending kiss bitmoji). Is this publication we are collectively authoring really a performance script; or is it more like a GitHub repository; or a feminist manifesto? Whatever the answer, I suggest this method is a theoretical intervention.
Brian. I am starting to think that this document in its process is actually an extension of PAM space, or perhaps what we're doing now mirrors what I want to see happen at PAM: people working in different disciplines, converging, sharing practices, and naming the "what is" (that is to say, not postponing understanding to a "will be") that crops up in the process. And we have to name what happens when we work together, when we encounter difference, because so much gets lost in assuming people working in adjacent fields understand a common vocabulary. ("Affect" is a good example.)
Alex. As much as I "perform," I've never named my practice as such and am not particularly well schooled in performance history, theory, or studies. At PAM I was a nervous interloper worried I would be exposed as undertrained. I felt both humble and curious. Collaborative experiences with others can disalign power that more typically encrusts with age, rank, gender, training, practice, and vetting.
Brian. PAM is not a totalizing system within which this fluid conversation takes place. You two have a working relationship that precedes PAM (as do Alex and I), and collaborative writing happens across the spectrum of fields. But there might be a newness to considering a performance space like PAM—very grounded in providing space and time to bodies in physical proximity—as a theoretical space.
I'm glad to be a part of this Feminist DH Praxis at this exact stage of PAM's evolution coming between its first two years of residencies, space alterations, workshops and lectures and the current moment where I have to articulate a method, ethic and vision for PAM's future. Can we turn to the foundations of Ev-Ent-Anglement as part of our process?
Brian (cutting in November 13, 2017). Since writing the above bit, I've collectivized, inviting five other curators to take on programming starting in 2018. Our economic model is transparent and very "sweet" as PAM curator Tim Reid says. That is, because we are still technically a business, and are not reliant on grants, we can say to artists we work with, and to audiences who come through the door, that they are a foundational resource in supplying time and space to artists making new, long-form performance work.
Theoretical Foundations
Alex. Two divides—theory/practice and art/scholarship—have loomed large in my career, but mostly, or often, through my commitment to transcend their rather silly separations. Most humanities professors, and many of our students, think that they don't engage in "practice" because protocols of training, vetting, and professional output produce "scholars," those who are activated by others' practice, as if the accepted forms of our own output (talking, teaching, writing) aren't practice themselves, or as if "practitioners" too don't respond to, analyze, or build upon the work of those before them. Given that everyone practices, this stupid divide is essentially about material, methods, reception, and vetting.
This is to say that "theory"—the realm of philosophers and professors—is made with words through rigorous reflection and connection so as to be received by those already in the know. But of course, many people theorize and the form for this practice can be either prescribed by regimes of tradition or it can be creative, inventive, and well outside those traditions, thereby challenging protocols of knowledge and power.
Laila. This is one of the threads that draws us collaborators together—an engagement of media practice beyond, within, across and in the hyphens between academic categories of knowing. I am in emphatic agreement with you here, Alex. Most academic units devoted to the production and study of media observe fairly narrow definitions of theory and practice. Programs "on the practice side"—usually BFA and MFA—are typically devoted to pursuits such as film or video making, screenwriting, animation, and game design; while "on the theory side" we find more traditional academic programs—usually BA, MA, and PhD—devoted to Media Studies that are derived from methodologies in the Humanities. Good faith efforts are often made to encourage—or even compel—students on either side of this otherwise unforgiving divide to take classes outside their primary area of interest in order to gain familiarity with the activities and concerns of "the other side." Students specializing in theory or history may have the opportunity to make a film during their coursework, for example, while students who are makers will be encouraged to know something of the history and theoretical concerns of their chosen medium. As anyone teaching in these programs can attest, it is not uncommon for such attempts at cross-pollination to end up simply reinforcing traditional divides between scholarship and creative practice.
This project aims to disrupt this binary at the most basic level.
Alex. We reinforce connections over divides.
Dom Oliveri (assistant professor at the department of Media and Culture Studies at Utrecht University tweets from Montreal). Learning/practicing (2): suspension as a methodology // proximities
Alex. "Practice," by which I think we mean "art," or also sometimes "making things that you can hold or touch or see or feel that are not expressed in the format of scholarly writing," often does all these things. Thus its "unique" identity—its difference from theory or learning—also seems to reside in its material, method, reception, and vetting. Artists work with things, including the body, through a creative method for an audience who judges the work by affective/creative standards of "suspension" (of disbelief?). We strive for the art/scholarship divide to surrender through our methods, beliefs, and writing experiments in this "script" and in other hybrid teaching/writing/artistic/tech-nological spaces we have inhabited together.
Laila. This is a critical point. Is the idea of "practice" too broad? And where does creativity come into play? Where is the artfulness? And as some of my colleagues have expressed, how do we assess this "creative practice" for academic/professional review? Are the review standards the same for scholar-practitioners as for other artists? Or scholars? Or is the practice a research methodology? I ask these questions, rather than making statements because I think all are possible.
Dom Oliveri (tweets in Montreal). Learning/practicing (1): the difference between spontaneous emotions and educated feelings.
Alex. When I think and make and work like a "practitioner" (and artist! A performer!), I give myself permission to engage kinds of playfulness, looseness, and sociality—"spontaneous emotions and educated feelings"—that honor parts of my brain and body, and those of my interlocutors and audience, that are not as formal, prescriptive, or rational as those activated by my "academic" work.
Jacque (in Google comments). Thank you for a great articulation of the practice "problem"—I'm intrigued to see playfulness here given our convos about play at FemTechNet, but I'm also delighted.
Alex. I try to write and teach "artfully" even when I am being a "scholar." This can shake up things and people (students, readers, coauthors). I was drawn to both of you, Laila and Brian, as people and professionals, because I see this quaking transcendence as a central commitment within your work as well.
VJ. I like "agitational fashion" because in many ways that is my aesthetic as a digital art maker—a counterculture glitching the automated practice. To further transcend binaries, I can imagine designing a data visualization that would represent the order or timeline when each of us wrote into this collective piece. A digital media production or data visualization "practice" could provide this sort of creative agitation and disruption.
Alex. I would love to imagine a rendering of this Google doc as a video or a performance: thus pushed into time and space and allowing proximity to each other and our audience and participants. Ev-Ent-Anglement is always curious about the affective disturbance of digital corruptions of time and space, how time and place become fragile, unhinged, and active through our easy, rote actions and habits within the corporate-owned social networks we inhabit, as well as those we might engender in response. That's a mouthful! It's probably easier to understand through creative practices: like our websites or performances.
Brian. Within the field of contemporary performance, there does exist a difference, maybe not a binary, between performance work that fulfills concepts-theorized and performance work that postpones the annunciation of its concepts until after, and sometimes very long after, the initial ideas have been played out, or tested, in the crucible of live performance. In truth, I don't think there is ever a performance that perfectly fulfills the concepts it proposes. Performance is the only art form that is simultaneously co-created by performer and audience, the only one that relies on the physical presence of the audience in order to exist. It's cognitively anarchic.
Alex. In this respect, our writing here is more like a performance than most (scholarly) writing.
VJ (interjecting). Is the performance necessarily real-time?
Brian. No, or rather, this document is an artifact of another, very live textual exchange between the three of us vis-à-vis Skype and Google docs and largely this essay is a series of layered, delayed interjections, a very different temporal reality than speaking. The following remarks were written by me a week ago:
. . . Quoting Hans-Thies Lehman in the introduction to his seminal "Postdramatic Theater": "The emission and reception of signs and signals takes place simultaneously. The theater performance turns the behavior on stage and in the auditorium into a joint text, a 'text' even if there is no spoken dialogue on stage or between actors and audience." And later, bear with me and Hans for a moment longer ". . . in theater the text is subject to the same laws and dislocations as the visual, audible, gestic and architectonic theatrical signs."
Now, I know that an Ev-Ent-Anglement was staged in PAM, a performance art space, not the European theater that Lehman conjures in his model. But I think, in order to give you some context for why I value the dissonance between the ideas proposed by Alex in Ev-Ent-Anglement and the ideas and concepts that were produced by the event of (her) performativity, I have to situate the kind of performance art that is being made at PAM within the current context of Los Angeles, a city which does not have an intact tradition of experimental theater being staged within proscenium theater spaces.
I believe that the kind of work that is being enabled at PAM is connected to what Lehman maps out as the field of "postdramatic" (which does not mean without or beyond a connection to the history and uses of drama, and since drama, in Lehman's terms, refers to the primacy of the text, you can also think of drama as a container for theory) because each "sign"—the movement of the performer, the costume she wears, the way she sounds, her position in space, the installation of scenic elements (or projections) and of course the text she speaks—can be latched onto and interpreted in as many different ways as there are people in the audience.
I would say that a counterpoint to the kind of performance work I foster at PAM is a vein of performance that is mainly concerned with the maintenance of concepts at the expense of an awareness of the materiality of what makes live performance itself and how that materiality might productively disrupt or contradict initial concepts and theories. The performance of Ev-Ent-Anglement very effectively laid out the concepts that were at stake (cutting/pasting+bleeding), and even laid out a procedure for the maintaining of their primacy (the cutting of the words of earlier participants by PAM attendees, the reading of those cut-outs as scripts for the PAM performance, then discussion about this process as the performance and later in this document). But then, very quickly, as in two steps away from the podium, some of those initial concepts fell to the wayside. Affect—or a detailed physicality that negotiates feelings and thoughts—became, as hoped, the primary performative material for registering the dismantling of the ideas and scholarship laid out by Alex. These will emerge later in Part 2: Performing The Bleed in this conversation.
Alex. Yes, Brian, as a performer (and not as a typical writer, who does that work alone), one must read the affect in the room and use it as a medium that can be registered and then amplified by one's body. Working with you before the show, I realized that what I knew about performance, my "training," was as a teacher and lecturer who breaks script all the time to be present in the room with the people who are actually there. A more traditional understanding of our work—that the scholar acts and often suffers alone; that the scholar is a sort of succubus who takes from the work of others to promote herself or perhaps her ideas while "making" nothing new; that the scholar must be isolated from her world and others so as to acquire the rigor that she needs to differentiate her thinking from that which she studies so as to mark out her own intelligence; the scholar as detached, distant, and better-than—ignores teaching, or detaches it from the primary enterprise ("scholarship"), and also refuses attention to the social, ethical, bodily, emotional, and often even political nature of her many (related) activities.
VJ. Do we want to further unfold the metaphor of PAM as a computer?
Alex. This is something Brian and I have discussed over many dinners at my house. I started sharing these ideas after reading the provocative e-flux collection The Internet Does Not Exist (April 2015) and particularly Hito Steyerl's essay in it: "Too Much World: Is the Internet Dead?" There, internet artists and theorists consider the internet's ungainly spread into everything everywhere, via corporate control and ownership, and through governmental and institutional management and discipline. For the internet to live up to its foundational radical promise of creative, collective access to the world's others and knowledge, many are taking our work offline—into local knowable spaces like PAM—and there imagining, and using, new computers: machines that save, process, and share knowledge, feelings, and data in humble ways written through alternative registers of ownership and control produced by and for its users.
Liz Losh (in the Google Doc in May). Perhaps references to sources in digital humanities about collaboration and making might be helpful here (even though other entries in the volume have critiqued these notions in DH from a feminist perspective on labor and materiality).
Kim Knight. DH sacrilege or DH sacred rite?
Alex. In our last call (memorialized in the photos), we named Katherine Hayles's My Mother Was a Computer, Brenda Laurel's Computers as Theater, and Anne Balsamo's Designing Culture as our feminist foundations for this line of thinking. I am hoping that our editors will give us artists' license to write as we have been: in a manner where influences might be named, where they circulate, where they are bedrock, but where official protocols of citation are not required. That said, it is important to remember that this writing is for an academic publication. Do we need to cite through authorized formats to be properly academic?
And as importantly, perhaps you don't know (or even care) what DH is, Brian, as your work as a performer, writer, curator, and impresario is situated in spaces almost entirely untouched by DH, given that this new field is both primarily academic and committed to digital technology. But, given our interest in how the unplugged, live, local, small performance space could be the radical computer of our time, and given how so much of the art-making in LA is in conversation with the academy and academic theory, and how much of PAM's business, like all businesses, is now run through social networks, you're really not all that far from DH (the purposeful use of digital tools and/or questions about the digital for the research, making, writing, and sharing of humanities content within academia).
Brian. I do care! It's true that PAM is networked to audiences, other spaces, and artists through the digital. I rely on social media and email to get the word out about shows and to get bodies in the door. It's also true that I have neglected the digital as a realm of imaginative possibility for performance. This is why I invited you and Laila to do a residency in the first place. Here, I attempt to use DH as a way to expand the envelope of the kinds of performance practices that I give space to more regularly at PAM, and to ferret out positions I had (and prior to writing this with you both, wasn't necessarily aware I had) about a forming ideology (and prejudice) toward the kind of work I want to make and support in LA.
Alex. Given that DH prides itself on collective production, making the most of interdisciplinary expertise, and community-based scholarship that is usable for nonacademics, Ev-Ent-Anglement could be considered prime DH! We used a performance space to artfully cut together scholarly thinking, histories of art making, users' fragments (many of whom are academics!), and a room of interacting bodies as a way to theorize and at the same time enact feminist networks and affect in and out of the digital.
Performing the Bleed
Brian. Here's a question: does theory propose or enact and under what circumstances is one "action" felt more than the other? I bring up this question in light of the brief argument I had at PAM with Jih-Fei Cheng, your colleague, Alex, regarding the theorized violence on his and perhaps your part that he noted so forcefully during the performance: that the tearing up of a poem enacts a fleshy wounding. I can't immediately recall the subject of the poem or its author or either's relationship to you but I had the sense that the subject pertained to loss. I'm going to proceed with the idea that it was personal and delicate.
Alex. Yes, let's proceed with delicacy and vulnerability in mind. That's part of why we called these talks "events" (just as we call this a script and not a "paper") because the affect engendered (and then honored and attempted to be saved and passed on) by their participatory and performative nature differentiates them from the more circumscribed set of routines of academic conferences or scholarly writing practices where this should stay hidden or private. In Ev-Ent-Anglements, fragile feelings are noted and worked on and through.
Instead of merely lecturing or even performing, I asked the audience in the many Ev-Ent-Anglement spaces to participate, to cut and also to paste fragments of themselves and their constitutive feelings about the event, and its commitments to cutting/pasting+bleeding, into a digital record of the ever-growing and always-changing ev-ent-anglement.com and cells.Ev-Ent-Anglement.org. In the Highland Park iteration, I printed onto paper some of the fragments that had previously been cut/paste+bled into the project. I invited the audience members at PAM to cut these up with scissors that I also provided, and then to hand their newly constructed object back to me. These cut-ups became that performance's live script.
Liz. Nice example that might seem to many the opposite of DH (performative, material, affective, occluded, unstable, unpredictable, unnavigatable, etc.). Can you make it clearer what the tearing up of the poem can contribute to DH discourses?
Alex. At PAM and in earlier performances I had been sure to read this quote: "Cutting, pasting, and showing the seams is fun, generative, and just plain easy to do," by William S. Burroughs, who continues: "Cut ups are for everyone. Anybody can make cut ups. It is experimental in the sense of being something to do."
Liz. There are other references to cut ups in DH discourses (Winder in The Companion to Digital Humanities and Steven E. Jones in The Emergence of the Digital Humanities).
Jacque. Perhaps also the discourse of mashup and remix as more familiar territory and which shows up in VJ's section below?
Alex. Cut-ups are different from mashups and remix, and I'm glad your interjections allow me to see and name that here. Cut-ups demand a machine logic, not simply the machine as a tool to (more easily) render montage practices or thinking. By machine logic I mean one that is cool, detached, uncaring, disconnected. An arbitrary or inhuman cut carries the particular violence or jolt of thoughtlessness, contextlessness, and the inability to differentiate what is precious and tender from that which is not.
Kim Knight (in orange). Can we imagine warm machines?
Brian. Cutting while knowing that the pieces will be reassembled, and held by persons, such as Alex, myself and Jih-Fei, who deeply care about community is not a cold cut.
Alex. So much of social media now functions with this cold sense of cut-up. Algorithms cut+paste once precious things paying no attention to human feeling while maintaining maximum interest on corporate greed. Of course, humans receive said cut-ups and reengender meaning through reception or remix. The cut-poem that you produced in Highland Park, Brian, your cuts that activated more feelings and words and affect at PAM, was originally cut/paste+bled in as a complete poem by trans-feminist DH media theorist KJ Sturken. I'm now cut/paste+bleeding it here (whole), after I realized that you wrote about it (below), which helps to change this conversation (as all cuts do) by pointing to the disorientations in time, space, ownership, meaning, causality and more enabled by the cut/paste+bleed:
KF Sturken.
I have recently made a rather large cut
to myself
or rather a surgeon made it for me
out of great necessity
(It was a kind of a "do or die" situation)
This edit to my physical body invites interpretations,
many times by strangers
People whom I don't know
and who don't know me.
I don't mean to be mysterious
but
it's complicated.
Online I am a composite of many identities
gendered this way or that
and strangely
I find myself entangled in fragments of former selves
which are constantly colliding
shattering the illusion of the seamless narratives
about gender identity
about cancer
often required for the comfort of others.
#eventanglement
Liz. A lovely intervention in the text by Surkan—can you unpack it for readers so they have some ideas for how to apply it to the digital humanities? How is his Ev-Ent-Anglement identity related to his DH identity? How can feminist DH acknowledge "fragments of former selves" and the Kim/Karl personae?
Alex. I know Karl (KJ) through FemTechNet. He follows me on Facebook and elsewhere as I do him. He was watching the Ev-Ent-Anglement online (as had Laila previously) and responded to my invitation to cut in on the project's blog his own interpretation, addition, and fragment about the project's core ideas, as they moved him as a person, as someone whose body had been recently cut, and as a theorist and an artist. Many of the fragments in the project entered offscreen from internet participants who never saw or participated in a live event.
Brian. I cut up this poem, printed out on paper at PAM, with scissors in deference to the Burroughs quote that you had read and my memory of previously reading Burroughs where he encourages the cutting up of text as a form of writing and a method. Is this quote/idea a theory? It's only a couple of lines. "To cut is to . . ." So if it is a theory, it is in itself just a snippet of one.
Alex. Indeed, as is true of so much we read today, I cut one great line from a much longer piece of writing.[9]
Brian. That makes it a cutting theory that can only be encountered through the fragments cut from it. A theory that disintegrates and rearranges as it is enacted. This is not erasure, provided that the pieces made are also collected and not disposed of. In practice it's not really writing in that the procedure is of finding, cutting, and grafting. That's collage. Writing is the generating and piling up of glyphs on a ground, usually white. It's funny that I feel the need to name the materiality of these analog procedures but these differences are compelling in that their materiality guides a kind of theorizing that I expect is quite differently felt about their digital counterparts. Had I posted on Facebook a cut-up version of someone else's poem, what could be theorized about that procedure and its attending feelings?
Alex. Why don't we see the willy-nilly flow of others' fragments on Facebook or Instagram or Twitter as an immoral Wild West? Jodi Dean is really useful on the taming logics of Facebook, as is Geert Lovink on what is actually "social" in social networks.[10]
Brian. When I cut that poem not making use of the line you had delineated (which separated the poem, in toto, from other fragments on the printed page that I held in my hand at PAM), I was removing the part of it that I wanted you to expand. I had in mind that the procedure was more like grafting limbs from tree to tree than it was like human surgery. I gave you a piece back, and hoped you'd grow that piece in the direction you chose. This metaphor could be grown into a theory, no? But it would have to be rooted in you, Alex, and Laila, in your performance, as well as in paper and scissors, and the people that watched, cut, and talked.
Alex. When you handed back to me the poem in its new, radical, cut form, I was forced to improvise. I was taken aback. You had broken from my expectation of procedures and methods (good for you!). So, given what had been rendered onto it, your cutting, I stopped and explained where it had first come from (honoring the bleed), how your cuts into it made me feel (bad and thrilled and curious). Only then did I read it in its new form, and there it was: beautiful and strange and new.
Brian. Jih-Fei's contribution at PAM speaking after your explication and reading was that he thought to cut this particular poem was enacting a kind of violence against the author, and the delicate subject of bodily cutting that he wrote about within the poem. Jih-Fei felt like cutting that poem about skin was itself akin to hurting human flesh (newly, again). I still don't see how that is true, given the circumstances. It's not transubstantiation, is it? Is it a kind of voudou? Will the author ever know?
Alex. Well, he does now, given that we're performing here the violence of cutting first felt by Karl and expressed in his poem, felt again at PAM newly, and now felt here in a publication that Karl can certainly see!
Jih-Fei (writing much later, on the invitation of the authors once our conversation about the potential felt violence of the incident seemed to call forth his opinions and reactions). I'll "cut-in" here to try, again, to flesh out my embodied experiences with #eventanglement. First, I must say that this is very difficult for me. My body trembles as I rethink these experiences and attempt to distill these past and present sensations into text. I should also say that I'm arriving to this conversation late. Alex contacted me and graciously invited me to join. I've tried to catch up as quickly as possible to what seems a dynamic conversation among others that unfolded over time.
Although I had encountered #eventanglement several times, my first simultaneous, collectively embodied experience of it was actually at the first event in New Delhi where Alex also performed. We were among people of varying racial/ethnic, gender, and national affiliations. I felt Alex prompted us to respond by "cutting-in" with our thoughts, feelings, and embodied experiences using her hashtag. We seemed encouraged to imbue virtual space (her website) with text (such as a tweet or a post with the hashtag #eventanglement) that represented and, once again, collectivized our felt experiences—text and affect that might move beyond the specific time and place in New Delhi where we had first gathered.
I experienced something radically different at PAM more than a year later in a section just north of downtown Los Angeles that is rapidly undergoing gentrification. I arrived late and knew no one except Alex and our colleague at the Claremont Colleges, Ruti Talmor. Brian (whom I became acquainted with at PAM during the above referenced and rather heated encounter) seemed to be the host. He waved me to take a seat up front, on the floor. I sandwiched myself between strangers, some who seemed to know one another, including an ostensibly white, heterosexual couple who continuously and intimately touched each other as if to ensure each other comfort and safety through their corporeal co-presence. There, among a crowd of what seemed like mostly white people, I felt the usual unusual vulnerability—an immediate alienation—that someone who is not white (in this case East Asian) often feels. I listened to Alex's performance while trying to fight the dissonance I experienced as a result of having arrived tardy and to a familiarly unfamiliar space. I adjusted my eyes to the wall of projected images and attempted to distinguish the brief bouts of sound and silence. I tried to focus on Alex, her performance, and her words. I could not/did not hear Burroughs. I recall how she positioned herself and moved in the space. I remember her boots. I liked them a lot. When asked to cut words printed onto paper, I was careful to cut along the breaks that seemed intended by the author and by Alex—for instance, after a stanza or at the end of a section of a poem—so that the separated parts could be traced back to their whole(s).
Alex. I had actually printed little cut lines with a scissor emblem to indicate where I wanted people to cut.
Jih-Fei. For those of us who experience this kind of vulnerability, and sometimes offer understanding of it through words on paper that trace the fault lines of pain and loss, it matters where the reader/listener/viewer draws their attention. It matters how we are marked, how we remark, and how that remarking and re-making is acknowledged.
To remain vulnerable in your fleshly existence means that you care, observe, and enact the body as part of a collective; that you take the time to trace the contours of pain in this collective body; that you carefully and consciously choose to make new or additional cuts because you know they might cause further hurt.
I did not hear Alex ask us to only make cuts. I heard her ask us to make cuts, to watch those cuts bleed, and to be accountable for where and how we make those cuts. I shivered in fear and then anger when I heard Brian suggest that he might apply cuts with the mere curiosity of an objective and uninvested observer, as if one could so emotionally distance themselves from feeling the fleshly, dissembling experience expressed by the poem's author. Some people do hold the authority to be able to create such social and spatial distance from the site of ritualized and systematic violence. To vehemently defend their "objectivity"—to protect the privilege to remain cold and distant—is an act of violence itself. Now, I'm learning after reading this transcript that my resistance to this cut was seen as "forceful" and "personal"—in other words, I'm being accused of speaking out of turn and acting self-indulgent.
Alex. Some of the words Jih-Fei is quoting here were cut from this version of our script to shorten it and also in response to comments of peer-evaluators. We've chosen to leave in Jih-Fei's reference to them to acknowledge these cuts and make clear the strong affect that continues to adhere to the political, theoretical, embodied, social, word-based interaction at PAM.
Jih-Fei. Thank you for the clarification and for holding space, Alex. My sense is that Brian indicated that I behaved emotionally, aggressively, and uncivically rather than reasonably and calmly, as somehow modeled by his presumably unaffected, cool, and objective practice of cutting. In other words, my reaction didn't belong in that community and in that space that Brian occupied with authority.
Alex. But of course it did (and does), Jih-Fei! We all invited you here, and deeply respected you there because your responses, and attempts to share them, embody the bleed.
Jih-Fei. Thank you, Alex. I did and do feel welcomed by you. Yet, I'm compelled to ask, what violence does this distanciation do to Brian? To not recognize the cuts made to his body; to unrecognize his experience and investment in fracturing of the collective body; to insist on his individual autonomy, wholeness, and rationalism, which made his decision and actions to apply cuts like a surgeon unaccountable?
Alex. I thank you for your passion, force, and dialogue, as ever, and for these questions for Brian, and really for us all. Given their tenderness and bite, given how real and personal they are, I'm glad we took the time to speak about our many encounters with the Ev-Ent-Anglement occurring and represented here (and others, including our work together on our AIDS book, AIDS and the Distribution of Crises), offline and over tea in Little Tokyo.
Brian (cutting in after a talk with Alex November 15, 2017). Jih-Fei, I need to address the affect you are ascribing to my action of cutting; that of distance, coolness, and detachment. From my perspective, my cutting was participatory within the cutting, pasting, bleeding praxis within the community that gathered to take back, into shared space, the daily cuts we make in our affects and give away without much care through social media. How different it is and feels to do so relationally as opposed to virtually relationally. Also in that moment, I was more engaged in the procedure of the whole of the performance; watching Alex and VJ Um Amel, watching others cut and arrange an assortment of willingly donated texts, than in the content of the poem I had in my hands. Had I thoroughly grasped the content of that particular poem, I doubt I would have so readily cut in, but I can't be sure. The precise moment of confrontation between us blurs in my memory and it gets less and less clear the more writing we pile up on top of it here. I can say for sure, that I in no way meant to evoke a detachment from people who are cut-into corporeally by society, who make cuts to themselves, or undergo surgical cuts to transform. I think some of the cognitive dissonance that I'm (maybe we?) experiencing stems from another point in this long-unfolding textual extension of Ev-Ent-Anglement. This is the fact that I initially brought your name into this paper without your consent and as if you were an illustration of a point I was trying to make about the centering of either signifiers or signified subjects within our respective fields. I would feel outraged too if my name were invoked and I had no recourse to answer back. My sincere apologies.
Below: my earlier nonresponse to your cut-in that comes across sadly (for me) as a perfect illustration of that detached caricature that carelessly cuts.
—I see this particular cut-in (Jih-Fei's) as participating in the same conceit as the other, briefer, quotations, editorial comments, and quotes that we have included throughout but flowing from a participant inside the event rather than from the three of us. It makes me wonder if the Ev-Ent-Anglement process were to continue if there was some kind of offering up-front so that all participants could rejoin the conversation, through ongoing opportunities for participation, like our work in this collaborative document making.
Jih-Fei (addition on December 2, 2017). Recently, Brian invited me to speak off-line and in-person. I accept. So, I will end with this final response. Community is not a given. Space is not always equally embodied or shared. Collectivity is always in the making. In being called to cut, I believe our subject positions—our varying and uneven experiences with histories and structures of domination—were revealed. Access and power matter and those with it—usually white cisgender men—rarely call their privilege to cut-in into question. What I recall is Brian's immediate refusal of my experience and my attempt to remark upon the power dynamics in the room. That is why I reacted, and still react, as such. It reminds me of the access and power white men maintain in spaces of supposed creativity and collectivity. I think of director David France, who vigorously defends his privilege to excise people of color in his re-making of AIDS, queer, and trans histories in films such as How to Survive a Plague (2014) and The Death and Life of Marsha P. Johnson (2017). In doing so, he continues to cut out from popular memory the antiracist, feminist, trans, and queer lives, labor, and politics involved in the making, preserving, and remembering of these histories. However, with each cut, there are those of us who will re-member the length and direction of each incision and the clefts carved into the skins of histories.
Jacque. There's a piece in a forthcoming DH volume edited by Jentery Sayers and written by my collaborator Jessica Rajko that might help bring in "DH" if that's what you'd like to do. She is herself a dancer and somatic practitioner and writes about the troubles between theory and practice and how they make it hard to bring her kind of practice/performance into the theorizing spaces of DH. Let me know if you'd like to take a look at it.
Alex. The troubles between theory and practice are particularly live here: I wonder how or even if a quick turn to theory helps.
Archive as Space; Cyborg as Artist
VJ. To amass an archive is a leap of faith, not in the function of preserving data, but in the belief that there will be someone to use it, that the accumulation of these histories will continue to live, and that they will have listeners and readers. In the contemporary world, there is an archival impulse at work that represents something palpable—an opportunity to provide a countercollection standing against the monumental history of the state. Such an impulse has resulted in new public archives, individual projects, digital archives (including digitization of old manuscripts as well as collecting digitally born information), fictional archival projects, and collections of urban histories that were entangled by Ev-Ent-Anglement, such as Richard Fung's interviews for his 1985 Asian lesbian and gay documentary film.
Alex. Richard Fung got cut/paste in at the same time and place as did Jih-Fei: in New Delhi during the Visible Evidence conference we all attended.
Liz. This section also seems ripe for signposting for those with DH concerns.
VJ. What is the logic behind creating an independent, open source, digital archive?
Alex. This is a feminist, anticapitalist, collectivist logic that strives to make and use the archives we need.
VJ. How might archives engage with the public and public institutions? Or how might research that draws from media ephemera, rather than state documents and "official" archives, tell a slightly different version of the story of modernism in twentieth-century Egypt? Take, for example, Joy Garnet's Bee Kingdom archive of the works by Egyptian poet Ahmed Zaki Abu Shadi, or Hana Sleiman's archives of the Palestinian National Movement collected through informal networks. How do these appropriations of "the archive" serve as a transformative site of knowledge production?
Can we identify a set of research practices that emerge at the intersection of both cultural and technical analytics in the fields of new media studies?[11] This analytic approach is born out of the contemporary sociohistorical moment as we face new scales of information that demand machinated computation and political influences on our cultural practices that are systematic, transnational, and mobile. Similar to the nonlinear narrative form of a NoSQL database, data-driven narratives are also mapped relationally and within larger systems and orders.
Liz. You might want to explain how the VJ identity differs from that of the traditional principle investigator in DH.
VJ. That is an interesting point, Liz. If we continue with the metaphor as archive or place as computer, then it follows that the computer's API [Application Program Interface] would be a cyborg computational logics that can artfully manipulate data between SQL and NoSQL databases within the venue, place, archive.
In the context of global uprising and using the moniker VJ Um Amel, I extend the archive to create 3-D games, generative art, remix video, data visualizations, and digital performances that have shown internationally. These media productions aim to build worlds in which the audience coauthors stories by extending networked narratives onto cinematic screens. These interactive experiences also demonstrate how a database narrative might express meaning through recombinant and indexical instantiations of this project through Delhi, Dublin, Utrecht, Montreal, Highland Park, and always online.
Alex. Let's imagine that "scholarship," one of the categories we've been trying to cut open, shake, or transcend, means a careful, connected inquiry that results in a careful, connected sharing of one's findings. For old-fashioned academics—your white guy with a pipe who reads Shakespeare—that care is understood as "rigor" which registers both as painstaking research and its legitimizing citations, and also as intelligence which is marked by language use and complexity of argument and evidence; connection typically means the citational practices I've mentioned already (and begged permission to alter) which serve to mark a father-to-son understanding of his labor that becomes part of a historical, communal effort to make, share, and improve knowledge or understanding.
Dom Oliveri (tweets from Montreal). fragilization // politics of care // movements // temporalities
Alex. My feminist interpretation of and approach to scholarship, like Domi's cut/paste above, wouldn't lose the pipe guy's tried-and-true understandings of care and connection, but would expand this to also include care for self, others, place, and knowledge itself, and connection to nonacademic people, places, and projects like politics and art. While my definition of "scholarship" therefore attests to its communal nature—in that it has always been built from earlier work, connected to present conversation, and offered in hopes of future use—this condition of the work has been traditionally effaced in a definitive and gross gesture of anticare and anticommunity. That is to say that the gesture of a citation was the (only) mark of connection but any other form of or format for connection was deemed irrelevant (including those that mark pain, unwillingness to share, or misaligned power relations as well as those that honor the meat and mayhem of collaborative production, say, indicating that there was a meal together, a shorthand for hours of conversation, bodily connection, pleasure, thinking, altering of opinions, flirting, chatting, gossiping, and learning).
Pato Hebert (artist, educator, and cultural worker based in Los Angeles and New York, writes this comment digitally into the comments of the Ev-Ent-Anglement). "Thanks for #Cutting/Pasting+Bleeding open a space with and for so many of us, Alex. I'm wondering how our incision sutures relate to revisiting as a way to reassemble anew. I'm thinking about what it meant to post on FB [Facebook] from the International AIDS Conference last month, trying to hold the spin of real bodies in mobilizing motion in relationship to the stasis of health bureaucracies, the connective tissue of fellowship and the encouragement of folks far in body but close in struggle and heart. Cleaving, clotting, accompanying . . ."
Liz. Could we provide some connections to DH projects done on HIV/AIDS?
Alex. Interestingly, Anne Balsamo and I met when I asked her to lunch to talk about her Digital AIDS quilt. Jih-Fei and I met after he gave a scintillating talk about his doctoral research on HIV/AIDS media at SCMS and then we went for coffee. Brian and I met first at dinner parties at my house and went on to collaborate on a video about intergenerational conversation about AIDS history that featured our voices as a soundtrack to a dance he shot with a group of gay male performers whose heads he removed with editing software!
From my initial lunch with Anne, FemTechNet was born (and that's where a good deal of my work with both of you, Jacque and Liz, has taken place)! Anne and I bemoaned a lack of feminist community where we might situate conversation about our recent digital renderings of scholarly/political projects occurring about and in digital technologies. We wanted a nurturing and intelligent community in which we could better understand our new large-scale feminist DH practices (I had just finished Learning from YouTube and she was completing the digital sections of Designing Culture). We had both experienced a kind of gutting out during the reception of this DH work by most audiences whereby its political core, founding communities and commitments, and activist goals were tactfully ignored in favor of responses that made more technical and technological connections. Most DH readers and participants were viewing through or past the feminist implications and orientations of the work to get as quickly as possible to more familiar and comfortable DH goals, methods, and concerns. We sought a community for feminist DH scholarship that would ask how a work attends to others, and the places and things that she needs and loves and loses and uses to do her work as her/his/their self. Of course s/he is working with others: but how do they feel? Are they doing what they want? All they can? Do they make the place they live and work better? Do they hurt other people or places or things in the process?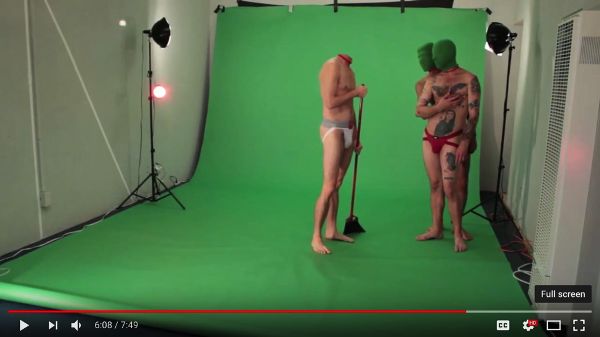 The performance of Ev-Ent-Anglement at PAM (like much of the work of FemTechNet) made visible these care and connection questions, usually obscured, at the heart of research and art and DH practice (and computers), so that the use and abuse of others' thoughts and things and feelings became the (shared?) responsibility of the performers and our audience.
Jacque. Really happy to see this here—it's such an important set of considerations. Thank you.
VJ. As cyborg, I would add that through this practice devoted to data, we have performed capturing, analyzing, and visualizing of algorithmic culture as a mediation of civic life. This approach to understanding the algorithmic culture of social media and a trends analysis of internet data as cultural objects draws from the histories of critical cartography, indigenous mapping, and feminist critique. We went further, not stopping at critique, but actually moving toward operationalizing critiques of power and feminist ethics into design principles for how to make things more just, more fair, and more representative . . .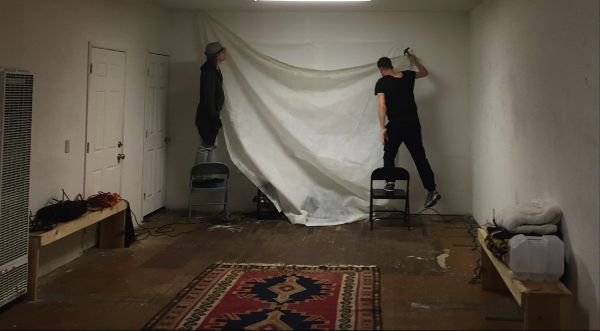 Alex. While ever attending to the bleed: where it hurt, where we helped, how we felt and knew and learned together—or did or could not—in space and time.
Technology and Affect in Digital Humanities
Alex. One of the Ev-Ent-Anglement's central concerns remains the question of how and if affect moves in places and networks particularly those deemed as feminist. Objects can be easily digitized and shared and reshown online, but feelings and sentiments and bodies not so much.
Jenny Burman (feminist theorist and associate professor in Communication Studies, McGill, tweets from Montreal). "I remember the wildness of fifteen from the inside. I could do anything fucking anything."
Liz. Good. Readers not familiar with affect theory may need some background (for example, how affect is different from emotion and thus is mobile and part of the environment rather than just the subject).
Alex. The event's generous participants gifted me their digital fragments as I requested, and this was, as the event and its infrastructure required, necessarily quick, fleeting, a flip of the hand, a click of the camera. It's so easy to "share" with a cut/paste online. Some of the meat of our encounter was entangled in those techie gestures too, showing up as care, as fragility, proximity, shadow, and touch.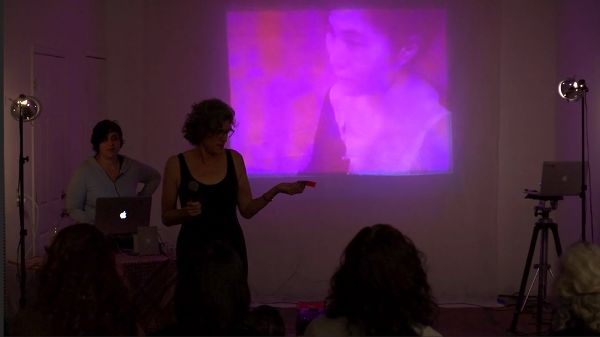 TL Cowan (feminist cabaret theorist, tweets from Montreal). "Feminist collectivity as the shadow archive of contemporary academic culture."
Alex. In the final iteration of the Ev-Ent-Anglement at PAM we chose to materialize several of the processes that had been digital and therefore invisible in earlier versions. Although contributions began digitally as tweets, blog comments, and links, they rematerialized at PAM on paper as something the audience could hold and reexperience and even change. They had a weight, and their quantity was legible. At the same time, VJ Um Amel was re-presenting images that previous participants had shared with the project on the wall through live-mixing: not something one could hold but other things that jumped past their initial host platforms—like computers or iPhones—to become part of the shared, lived, and live space of the performance at PAM. The fragments that make up our digital lives became manifest and part of our tangible world for that moment together.
Liz. Interesting point about digital/nondigital and invisible/visible.
VJ. I think a lot of this comes down to intention and methodology. In working collectively, there can be some ambiguity between collaboration and appropriation. And sometimes appropriation is intentional and meant to be subversive. This is clear for me when work is remixed with the intention to be in conversation with the appropriated object, sort of how we write papers and cite other texts within them. And this may be because I think of VJing as a critical research methodology. An interdisciplinary approach that incorporates an art and design research methodology, offers a transformative practice to understanding the nature blogs, social networking sites, Twitter feeds, YouTube, etc., and how these new media platforms engage with and affect us.
There are several stages to the art of VJing, and therefore there are a variety of practices I am continually developing. The first is making my own animations, motion graphics, sound, or shooting footage for the poetic backbone of any particular remix. Here I carry out more traditional roles in filmmaking. The second step is one of hunting and gathering—this role is more like a curator, editor, or set theorist—bringing together a number of additional mixed media and trans-narratives that interact and converse with each other. The third step is to build the database with a vision such that it will be able to scale up as data continually aggregates. And design interactive interfaces. Once all of that is in place, I build "patches" that use algorithms to make the visuals move to the audio, or pull live data streams to inform the visuals, or alter live video input in real time, just for example. And the final step is where the VJing art of performing all these videos, patches, animations, sounds, and graphic images from the database comes to play into one set of synchronized, multimedia recombinant narratives. Depending on whether the remix occurs as a performance, game, or installation, the elements from the database are reassembled into various programmatic interfaces.
Alex. At PAM, the practice of cutting+pasting—which defines a huge portion of our internet activity, and this project about that, our network actions and interactions—became tactile, visible, and communal.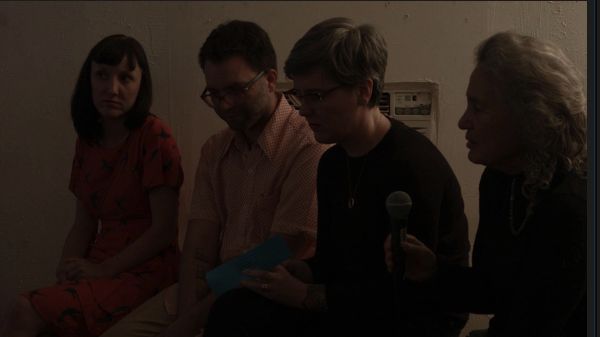 Brian. I'm inspired to jump in here to ask how does theory behave as an activated element in a performance? I can say that some of the ideas about theory we're discussing here were a texture of what you presented at PAM, but to me the primary, meaning-producing material of that night was you, Alex, followed by the ideas you presented first physically and then verbally, followed by the audience's reactions, participation, and self-recognition, then followed by the digital projections and digital environment/installation in the room.
Alex (typing in live during our final Skype conversation). We take a pause here; this is not a conclusion. Maybe there will be another performance. Could this be its script?
With Support From
Jenny Burman

Jih-Fei Cheng

TL Cowan

Richard Fung

Pato Hebert

DH@CCKim Knight

Elizabeth Losh

Domi Oliveri

Roopika Risam

AJ Strout

KJ Sturken

Jacque Wernimont
Notes
Thanks to the Foundational Thinking Found Within by
Ahmed, Sara. Queer Phenomenology: Orientations, Objects, Others. Duke University Press, 2006.
Balsamo, Anne. Designing Culture: The Technological Imagination at Work. Duke University Press, 2011.
Barad, Karen. Meeting the Universe Halfway: Quantum Physics and the Entanglement of Matter and Meaning. Duke University Press, 2007.
Bennett, Jane. Vibrant Matter: A Political Ecology of Things. Duke University Press, 2010.
Berardi, Franco Bifo. The Uprising: On Poetry and Finance. Semiotext(e), 2012.
Braidoti, Rosi. "Cyberfeminism with a Difference": http://www.let.uu.nl/womens_studies/rosi/cyberfem.htm.
Burch, Noël. Theory of Film Practice. Praeger, 1973.
Burroughs, William S. "The Cut Up Method," 1963: http://www.writing.upenn.edu/~afilreis/88v/burroughs-cutup.html.
Coole, Diana, and Samantha Frost, eds. New Materialisms: Ontology, Agency and Politics. Duke University Press, 2010.
Dancyger, Ken. The Technique of Film and Video Editing: History, Theory, and Practice. Focal Press, 1997.
Haraway, Donna. "A Cyborg Manifesto," 1984: http://faculty.georgetown.edu/irvinem/theory/Haraway-CyborgManifesto-1.pdf.
Hayles, N. Katherine. How We Became Posthuman: Virtual Bodies in Cybernetics, Literature, and Informatics. University of Chicago Press, 1999.
Hayles, N. Katherine. My Mother Was a Computer: Digital Subjects and Literary Texts. University of Chicago Press, 2005.
Jones, Stephen. The Emergence of the Digital Humanities. Routledge, 2013.
Juhasz, Alexandra. Learning from YouTube. MIT Press, 2012.
Kember, Sarah, and Joanna Zylinska, Life after New Media: Mediation as a Vital Process. MIT Press, 2012.
Laurel, Brenda. Computers as Theatre. Addison-Wesley, 1991
Manovich, Lev. The Language of New Media. MIT Press, 2001.
Ono, Yoko. "Cut Piece." 1964.
Orpen, Valerie. Film Editing: The Art of the Expressive. Wallflower 2003.
Reisz, Karel, and Gavin Millar, The Technique of Film Editing. Focal Press, 1968.
Schreibman, Susan, Ray Siemans, John Unsworth, eds., A Companion to Digital Humanities. Blackwell, 2008.
Schulman, Sarah. Conflict Is Not Abuse: Overstating Harm, Community Responsibility, and the Duty of Repair. Arsenal Pulp Press, 2016.
Steyerl, Hito. "Too Much World: Is the Internet Dead?" In The Internet Does Not Exist (April 2015).
Thies-Lehmann, Hans. Post Dramatic Theater. Routledge, 2006.
Wardrip-Fruin, Noah, and Nick Montfort, eds., The New Media Reader. MIT Press, 2003.