Can We Trust the University?
Digital Humanities Collaborations with Historically Exploited Cultural Communities
Amy E. Earhart
Social justice digital humanities work is increasingly outward facing and community and activist oriented.[1] However, historical abuses of communities and systemic inequities present formidable challenges for those who seek to develop partnerships with vulnerable populations. Excellent work in negotiating this long-standing problem is occurring in pockets of digital humanities work, with scholars working in indigenous studies leading the way. However, we must develop a set of best practices for all of us who are working with historically marginalized communities, recognizing that an understanding of individual and group situatedness is crucial to digital humanities practices. Such an approach involves both introspection and a historical understanding of the power dynamics within institutions and communities. In this chapter I would like to think through how we might, as a matter of best practices, begin to address such an issue. First, we must understand the relationship between our localized environment and the community with which we would like to partner. Second, we must interrogate issues of ownership and control. Careful attention to both must occur, for without such introspection, we will end up exploiting communities with which we engage. Further, social justice digital humanities practitioners must begin the difficult task of articulating best practices that account for such issues, including the development of safeguards for communities. A baseline concern needs to be that we might think about our materials as data, but that the data are not a free-floating signifier; instead, that data are always a part of a community or individual.
Here I want to turn away from thinking about this as an inclusion issue or an issue about the ideas or texts that we study. There has been ample, important work documenting such issues.[2] What has received less attention as a practice in digital humanities is how we understand our work in relationship to ownership or to knowledge practices in the service of social justice. As I was researching current digital humanities work in preparation for this chapter, I found that there is a revealing and disturbing use of the term "exploitation" by scholars in their understanding of digital data. One might exploit "diverse digital media and strategies while maintaining the scholarly apparatus of a research paper" (Johanson et al., 132); we might find funded digital humanities projects such as Alan Smeaton's "The Digital Humanities (DigHum): The Formation of a National Working Group on the Exploitation of Data in the Humanities" or the report "Exploitation of Cultural Content and Licensing Models," which discusses rights of cultural institutions, such as museums, but never mentions the thorny issues of ownership of, say, indigenous artifacts.[3] The blithe way that one might consider how to exploit data points to the underlying assumption that data are without value, that items have no cultural connection to those who produced the knowledge, is a sleight-of-hand move that provides a dual exploitation as value is removed and, at the same time, the value of the cultural knowledge is displaced and even consumed. Alexander R. Galloway and Eugene Thacker in The Exploit: A Theory of Networks emphasize the complications of network culture, where "what is at stake in any discussion of the political dimensions of networks is, at bottom, the experience of living within networks, forms of control, and the multiple protocols that inform them."[4] Networks are contingent upon "technological, biological, social, and political" forces and, as such, need to be analyzed within such complicated webs, effectively a similar argument to how intersectional feminism understands power relations. This is not an issue with our field per se, but about how the methodological approaches of turning lived experience and cultural expression into digital data for computer manipulation, the way that we gather data, is disconnected from the recognition that data are always connected to people and to lived experience. It is a humanities problem that centers the humanities within technological questions, the heart of digital humanities. It is the center of how we must think about the digital content that we produce, for to lose sight of the layers of issues of human "ownership" and "exploitation" does a disservice not only to those communities that are re-exploited but to our ability to produce scholarly knowledge and advance digital humanities.
Intersectional feminism provides the greatest guidance to ethical approaches to digital humanities and has been taken up by digital humanities scholars across a range of disciplines, offering, according to Roopika Risam, "a viable approach to cultural criticism in the digital humanities."[5] Enacted intersectionality in "existing digital humanities projects," notes Risam, "provide examples of how, in small and large ways, theory and method can be combined to address recurring questions of the role of race, class, gender, ability, sexuality, nationality, and other categories of difference within the field," crucial connections central to addressing the way that scholars engage with the cultural production and knowledge of marginalized groups. Other scholars, including Moya Bailey, Alexis Lothian, Amanda Phillips, Anne Cong-Huyen, F. M. Ettarh, and Anna Everett, also view intersectionality as a means to ethically engage in digital humanities work, particularly in their representations of situated standpoints and resistance to essentialist definitions, as theorized by Patricia Hill Collins.[6] Intersectionality helps us to unpack multiple layers of exploitation, such as the tensions involved with labor and digital projects, as discussed in T. L. Cowan and Jasmine Rault's "The Labour of Being Studied in a Free Love Economy," which makes clear the ways that volunteer labor, even that born of love, might exploit.[7] As such, the positionality of the scholar engaged in the digital humanities project necessarily shifts the way that she interacts with the project. For example, scholars embedded in the project's represented community have an opportunity to shift narratives and to tell their own stories.[8] The recognition of one's own experience in relationship to complex positionality is crucial to understanding how we, as digital humanities scholars, might work in ethical, nonexploitive ways, attending to what might be missteps due to lack of consideration.
We are at a moment where we need to think about how the exploitation of data is related to historical exploitation of people(s), to reconnect the digital with embodied experience. Mark Turin notes, "Archives become more complex when the 'documents' in question are representations of human 'subjects'" (Turin, 453).[9] Documents are never devoid of embodiment, as we might never use the term "exploitation of data" without understanding that, eventually, exploitation of data has real impact on individuals and communities. A division of human subjects and documents leads to problematic interactions with those with whom we are working to digitize. We need to think about how our data embody experience. One of the most interesting projects to wrestle with the disconnect is Jacqueline Wernimont's "Safe Harbor: Hosting California's Eugenics Data."[10] Wernimont and her collaborator Alexandra Minna Stern are working with a compiled dataset of California eugenic sterilization records, and are using both sensory and audio representations to show the numbers of sterilizations conducted over time. Wernimont notes, "There is no data without people. . . . Exploring the vulnerabilities of quantifying and archiving the human experience, we ask, 'How can we better care for people by caring for their data?'"[11] Contending that a central concern of digital humanities is the conflict between open access and privacy, or individuals' "right to be forgotten," the project forces us to consider how the haptic and sonification approaches dislocate from the lived experiences while, at the same time, sensory and auditory feedback recenters our bodies, recenters the person. No longer can we displace the human, as we are engaged with the person who is the data experienced through our own body.
Another way to view the centeredness of the human body is to recognize the way that bodies have been used or exploited and how such exploitations are related to cultural knowledge exploitation. In the "Safe Harbor" project there is a desire to represent the impact of racist ideologies that disproportionately impact Latinx and African Americans, while at the same time avoid reproducing historic exploitation. Similar questions arise in my work "Millican Race 'Riot': 1868," where a leader of the freedman's community, Pastor George Brooks, was lynched and disfigured. How does an archive represent the horror of the lynching without revictimizing Brooks? Such questions have become even more central in the midst of the numerous videos documenting the deaths of black men in America, from Tamir Rice to Philando Castile to Terence Crutcher, all of whose deaths were played and replayed as viral videos spread across the internet. While some view such videos as proof of police brutality, there remains an element of spectatorship similar to the gaze applied to lynching victims, a reexploitation that turns the individual death into a spectacle for consumption. Those of us working with such sensitive materials, materials intimately connected to an often violent embodied experience, need to carefully consider how the intersections of race, gender, class, and disability work in tandem to create a particular power expression.
To center the human experience, to rethink our working partnerships with historically marginalized communities, necessitates the development of best practices, but we have not yet, collectively, considered how we might articulate a framework for research. We might look to indigenous studies and museum studies communities for guidance in developing best practices. Kimberly Christen Withey, a digital humanities and indigenous studies scholar, has a long history of scholarship and digital project production that is careful to consider ownership and concepts of openness, including the idea that "information wants to be free."[12] Kimberly Christen Whithey's Mukurtu is a "community archive platform . . . adaptable to the local cultural protocols and intellectual property rights systems of Indigenous communities."[13] Interrogating ideas of ownership, recognizing historical abuses of colonization, Christen Withey's projects reject a fully open access approach, instead recognizing that working with particular groups and ideas requires "us to look differently or not look at all."[14] Such work is built on relationships of trust and a clear understanding of how the academic's relationship to the project must be shaped not by his or her own goals but by the partner communities' knowledge, practices, and beliefs. Academics working on projects must be willing to cede control from the individual and the academic institution and position the project within a community or activist site.
What I am suggesting is that every project must attend to the specificity of the cultural context in which the project is being produced. The most obvious, but not only, issue of specificity is the cultural context of the materials under study. The long-standing Tibetan and Himalayan Library (THL) provides one example of how we might think through issues not only of ownership but of the specificity of the materials within cultural contexts. The THL emphasizes "technology, knowledge, and community" and demonstrates a commitment to the community that it is studying, prioritizing "social networking facilities, as well as the means to facilitate scholarship to have socially productive impact in Tibetan and Himalayan Communities."[15] Scholars have a responsibility to address the ways that technological specifications might force Western representations of knowledge onto materials that do not use such systems. Linda E. Patrik cautions, in a discussion of Tibetan texts, that "it is important to respect the control that indigenous scholars have over their own textual heritage," and that "the model of broad 'access' that often motivates western digitization efforts does not apply universally, and may in some cases go directly against the indigenous textual tradition."[16] Central to the work with any historically marginalized group is an understanding of the cultural construction of ownership, leading to an equitable partnership that positions the control of materials within the community, rather than within the academy.
In addition to careful attention to ownership, we must consider how our digital representation and manipulations impact knowledge production itself. When we think about digital humanities projects, we need to recognize that there is more than a set of technological specifications that represent best practices. For example, the University of Nebraska has released "Best Practices for Digital Humanities Projects," a document focused on technical issues related to interoperability and preservation including the use of XML, EAC, METS and other such standards.[17] The problem with such a narrow focus, however, is that such metadata standards may run counter to certain marginalized communities' understanding of preservation or knowledge. For digital humanists, best practices might be better understood as ethical guidelines of practice. Tibetan texts, for example, require technological functions that are aware of the cultural specificity of the materials. TEI-XML is normally applied to textual materials to ensure preservation and interoperability, yet in the case of Tibetan texts "the challenge" is how to represent what "escapes this kind of basic encoding."[18] Patrik describes her team's response to the cultural encodings surrounding the text, encodings that include the readers' bodily movements, hand movements, chanting, and visualizations, none accounted for by TEI yet "integral parts of the text and its meaning, without which it cannot be said to be truly preserved." We see this same issue in the Modern Language Association's (MLA's) "Guidelines for Authors of Digital Resources," where the focus of the guidelines privileges an academic, Western understanding of knowledge and ownership. The "Authorship and Credit" statement doesn't represent how a community might own knowledge. How, for example, does one extend credit to oral histories? What responsibilities does a digital scholar have to the individual who recounts a story and also to the community that has, over years, built a particular oral narrative?
On the topic of "Authorship and Credit," the MLA "Guidelines for Authors of Digital Resources" direct authors to
identify all individuals and groups responsible for the creation and maintenance of the resource. Include individuals' institutional affiliations when relevant. Information to be given might include the following:

Authors and Researchers

Editors

Designers

Software developers and other collaborators

Funders

Contact information

[19]
The same issue appears in the statements in "Citations and Reuse," which suggest that one should "offer appropriate citations for content quoted or republished in the resource."[20] If one would like to include oral histories of historically marginalized communities, a mere citation may be another form of exploitation and a misuse of materials. As indigenous scholars have demonstrated, some stories are not for public consumption. Guidelines must consider this within an ethical framework of cultural context, rather than presuppose a linear and individual understanding of ownership.
We need to develop an ethics of practice that account for what Martha Nell Smith, digital humanities scholar and executive editor of the Dickinson Electronic Archives, has called the "Human Touch," where Smith situates issues of identity as central and inextricable from the formation and use of technologies.[21] We have outstanding feminist digital humanities projects, such as Women Writers Online or Orlando, in which we might imagine "the tools and technologies of the digital archive are themselves feminist," yet, as outlined by Jacqueline Wernimont in her analysis of Orlando, such structures are complicated and are in danger of cooptation through their very structures.[22] Twitter has become a site in which tensions between feminist use and platform/technology have clashed. As Dorothy Kim and Eunsong Kim lament, "We enter Twitter because we believe it's a medium that's not hostile to women of color writers, thinkers, and conversations—but perhaps we should reconsider."[23] While Kim and Kim recognize that the work occurring within Twitter's space may be liberatory, the platform itself is closed and hostile, resisting the anticolonialist work that is underway. Further concerning, and key to this discussion, is the recent move by the Library of Congress to archive all public tweets, a move that "follows an ancient model of provenance/collecting: the objects belong to the purchaser, The Man With The Papers."[24] Reminiscent of the treatment of indigenous artifacts by libraries and museums, we now see another questionable archiving practice, with the added layer of potential exploitation by those who will treat the Twitter collection as a mineable dataset. Certainly copyright law is fuzzy on the use of proprietary individual knowledge when converted into such large datasets, and ethically this is even murkier as individual knowledge producers lose control of their materials and have no say in how such materials might be used. However, data mining of tweets is not necessarily exploitive and depends on who is utilizing the tweets and how such a dataset is constructed. Central to ethical engagement with large datasets that contain individual identifiers, such as is the case with tweets, is careful consideration of the positionality of the researcher and the development of a methodology that protects the privacy of individuals. Though the tweets are public, the shift in their intended use, from individual expression to algorithmic manipulation, and the rearticulation of the data within a new medium, such as a database or digital humanities tool, require new practices. While it is crucial that we continue to work for technological standardizations and the lure of big data is exciting, we must be aware that individuals might not be best served by rigid standardizations that presuppose particular knowledge or ownership structures. Instead, we must develop an ethics of practice that put technological standardization in dialogue with individual and community specificities.
Digital humanists have begun to develop best practices for certain forms of collaboration, providing models that we might use to articulate how we would like our field to interact with historically marginalized communities. The 2010 workshop "Off the Tracks: Laying New Lines for Digital Humanities Scholars" produced the "Collaborator's Bill of Rights," which made important steps toward defining ethical practices as about alternative academic (alt-ac) individuals involved in projects.[25] The more recent "A Student Collaborators' Bill of Rights" has refocused our attention on undergraduate students involved in projects.[26] What remains missing from these standards, though, are the collaborations with those connected to the subjects that we are studying and an ethics that focuses on collaborations that occur outside of academic structures. For example, the New York University "Digital Humanities Best Practices: Engaging a Collaborator" document provides important guidelines for managing collaborations, but it assumes a certain type of collaborator, "individuals/institutions."[27] Such an assumption supposes that the primary collaborator will be an individual in academia or a related field, such as museum studies or a library. We who work with communities in collaborative partnerships and who understand that objects of study are not neutral but intimately connected to individuals must work to articulate a statement of ethics of practice.
To meet such a goal, we need to shift our understanding of digital humanities projects away from the academic, the principal investigator (PI), the project team, and to a more holistic representation of the participant. In our current publish-or-perish, highly competitive academic environment, we are driven to seize credit, ownership, of projects to survive. However, this narrative also contributes to exploitation and abuses of the communities that are connected to the materials we would like to digitize. We need to develop a model of collaboration that positions the academic as an equal, even lesser, partner in the relationship, which is the only model that will begin to balance inequity. Moya Z. Bailey's rearticulation of Mark Sample's collaborative construction centers a community-driven feminist approach that practices what she calls digital alchemy, "the ways that women of color, Black women in particular, transform everyday digital media into valuable social justice media magic that recodes failed dominant scripts," and provides a model for how we might articulate ethical practices.[28] Bailey argues that ongoing collaborative consent places authority and control in the hands of the knowledge producer rather than the scholar. To best achieve this, we must be clear about our specific position. For all the concerns regarding the diminishing position of the academy and academics, we remain in a very privileged and powerful position. We must remember this when we interact with historically marginalized communities, which have been stripped of control of their own materials over centuries, sometimes by the very institutions that are our employers. Traditional markers of ownership might be redefined in our projects. Timothy B. Powell and Larry P. Aitken model authorship attribution that is community oriented and recenters cultural ownership in their article "Encoding Culture: Building a Digital Archive Based on Traditional Ojibwe Teachings."[29] Powell, senior research scientist at the University of Pennsylvania Museum of Archaeology and Anthropology at the time of publication, cedes authority to Aitken, tribal historian at Leech Lake Ojibwe reservation, throughout the essay, often commenting on his lack of "adequate training" to properly interpret the materials, a role that may be filled only by the tribal historian; hence the shared authorship of the article (261). When working with historically marginalized groups, we must give up the central position of the academic in projects, and by doing so we have much to gain.
Each digital humanist practices within a localized environment that presents different challenges for working with historically exploited cultural communities, and we must interrogate our own position, both individually and within our institutional structures. This has proved particularly important to the work I have undertaken. I work at Texas A&M University (TAMU), a land grant university that began in 1871 as Agricultural and Mechanical College of Texas. For most of its existence TAMU was military, all male and all white, admitting women in 1963 and ending segregation in 1964. TAMU likes to think of itself as unique, but an institutional history of racism and sexism is not uncommon. Brown University, for example, in 2005 launched an investigation of the university's connection to the practice of enslavement and other schools, including Emory University, the University of North Carolina at Chapel Hill, and the University of Virginia, followed Brown's lead. Some schools, such as Georgetown and William and Mary, are launching digital projects that document their connection to slavery.[30] Recognizing the structural legacy of the exploitation of enslaved peoples, the institutions have made a variety of important recommendations including more realistic representations of university histories, targeted endowments, public outreach, and scholarly ventures. Brown also recommends that "the University's Corporation, administration, and faculty will undertake a major research and teaching initiative on slavery and justice."[31] Such responses to historical abuses are to be commended, yet such histories provide a challenge for scholars who are interested in developing partnerships with historically marginalized communities. To assume that such histories have no impact on partnership efforts or to assume that a scholar is not seen as intimately affiliated with his or her institution, and his or her institution's past, will stymie the ability of digital scholars to develop the types of digital projects that benefit scholarship and the larger public. We digital scholars must always situate ourselves in relationship to our institutional pasts if we want to ethically work with groups who have every reason to be suspicious of our institutions. For example, the segregated past of my home institution, while long ago, continues to impact the way that our local African American community understands those associated with the university. Efforts to build partnerships to explore race-related histories of our communities, including the ongoing project "The Millican 'Riot,' 1868," are necessarily inflected by past and present events. To ignore the past is to miss a chance to begin to have the difficult conversations necessary to have a positive, collaborator-focused project.
"The Millican 'Riot,' 1868" archives materials related to the 1868 event that occurred in Millican, Texas, a small town located fifteen miles from Texas A&M University, that may well have been the largest so-called race riot in Texas. Details remain unclear, but we believe that during the first KKK rally in Millican, armed freedmen fired on the rally, driving the Klan out of town. After the rally, George Brooks, a local Methodist preacher, former Union soldier, and Union League organizer, began a black militia. Several confrontations occurred, including an attempted lynching of the brother of a former slave owner, a march on the county seat of Bryan by a large group of armed blacks, and the demand for payment for work by Miles Brown, a local black contractor, all of which ended in an assault on the local black community and deaths of numerous black women, children, and men. Working with undergraduate students, "The Millican 'Riot,' 1868" project is an Omeka-installed digital archive that houses primary materials related to the event. What is clear from our initial work is that there are conflicting reports on the cause of the riot and of the numbers of dead, which newspapers report as being from five to one hundred, and the local black community suggests that there is an unmarked mass grave. As we might expect, the white-owned newspapers and government records tell the story from one perspective, that of the white community and political structure. There are few print records of the black communities' responses to the event. If I wanted to develop a project that tried to speak to other narratives of what the Daily Austin Republican labeled in its reporting on the event a "massacre," then I would need to work with local community members to see if oral histories provided additional details about the event. Yet how does a white professor who is employed by an institution with a well-known segregationist past develop a partnership with a local community to explore such a painful event?
As a white scholar who has worked in African American literature since the 1990s, I have spent a good amount of time thinking through the ways that my experience and position might impact my scholarship and how others view my intervention into such work. What I hadn't considered within the context of scholarship was what my institutional employment and my local community might mean to the work I undertake. I interpret literature. I work with texts, often texts that have nothing to do with what occurred within my local community. Beyond recognizing that working at an R1 (Research 1) institution gives me more funding and time for research than other schools, my thoughts about past and current climate issues were confined to how my colleagues and students might experience their time at Texas A&M. None of this, however, carried weight with my potential collaborators. I might say that Texas A&M is an R1, public, land grant institution. The words that the local African American community that I hoped to work with associate with my institution are "exclusion," "white," and "racism." To create a partnership that is based on the nonexploitive principles I have outlined at the beginning of this essay would involve serious consideration of my institution's past and present.
A few years ago Texas A&M University decided to digitize old yearbooks, a typical activity that many colleges and universities undertake. However, examination of our (and it is important that scholars own the history of the institution in which they work, for good or bad) yearbooks is more than a bit disturbing. Early clubs include the Kala Kinasis German Dancing Club, the Swastikas Dancing Club, and the Kream and Kow Klub, all student groups affiliated with white nationalism and the KKK.[32] Pictures of student organizations include the K.K.K.'s, wearing their Klan robes, with typical cross insignia, hoods, and brandishing swords. Even more telling is that while the Klan often wore the uniform to remain anonymous, so entrenched and normalized was this K.K.K group that the hooded members and their leadership are named in the yearbook. When the university took on the yearbook project, discussions occurred regarding how to treat this material. The library rightfully decided to be transparent about the images in the yearbook (see Figure 20.1). At the same time, they added a statement to the online collection that made clear that the images were problematic: "Cushing Memorial Library and Archives strives to make our digital collection resources available and useful to our faculty, staff, students, alumni, researchers and the general public. Through our web site, the Libraries offers public access to a wide range of information, including historical materials that may contain offensive language or negative stereotypes. Such materials must be viewed in the context of the relevant time period. Texas A&M does not endorse the views expressed in such materials."[33] Some may view the statement as an artful political move, but such statements are crucial interventions in the digitization of historical materials. Given Texas A&M University's segregated past, the materials need to be glossed against current university values. Like all digital humanities projects, the situatedness of the institution and of the content is crucial.
The Klan student groups are not the only marker of the racism of the institution.[34] If you had any doubt about the position of African Americans, the images of the "Negro janitors," and the ode to "Uncle Dan"—who "does the work of ten young niggers"—would assure you that African Americans were welcome in the university community only if they occupied subservient positions (see Figures 20.2 and 20.3).[35]
To develop collaborative partnerships with historically marginalized communities, we must, once again, recognize that the individual, in this case the academic, is situated within the context in which he or she works. The structures of academia are built on exploitation of particular groups, whether exploitation through land seizure from indigenous peoples or enslaved labor, as is the documented case with numerous universities. Other exploitations are built into our structures, such as is the case with the long-standing racism that delineates the culture of Texas A&M, which creates a conundrum when we return to the same groups and ask them to work with us to preserve and collect their cultural heritage and knowledge. Why would an African American community group want to work with an individual in an institution that institutionalized the Klan, an organization known for brutal attacks and murders? Why would an African American community group trust that their truth, their knowledge would be told accurately? For digital projects, an examination of such structures must be the center of the collaboration, rather than an afterthought. As we build partnerships for digital projects looking outward, we have a responsibility to plumb the depths of our institutions and our adopted communities. We cannot see ourselves as separate from these entities, as our partners rightly see that our work is constrained by such structures.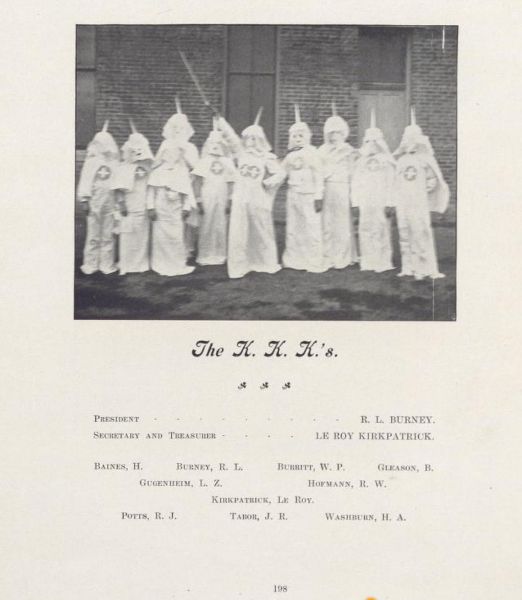 In 2014 I received an email from Charles Swenson, an amateur historian who was part of the Camptown Texas Ten Counties Historical Explorers. Swenson had located the Millican "Riot" project website and wanted to discuss possible collaboration. The Camptown Texas group, formed of community activists and church leaders, has a history of exemplary work in documenting African American experiences in Texas, successfully renovating the Camptown Cemetery in Brenham, Texas, an important African American cemetery, and obtaining historical markers to commemorate black history events. The knowledge possessed by individuals who participate in the group is rich and often underestimated by scholars. The group members have historical knowledge that is often undocumented and unappreciated, and our initial conversations have suggested that group members have heard family stories about the events that shift the official narrative of the events. To build a partnership with community groups is a slow process. Trust needs to be built through continual meetings and discussions, with frank admission about the context in which the partnership will occur. Through a number of meetings and email discussions, through fits and starts, we are moving closer to developing shared goals. Crucial to developing trust is to give the community group full veto power on the way that information is used. The development of shared projects that reveal the scholar's investment in the concerns of the community group is also crucial. The Camptown Texas group has researched the individuals buried in the Camptown Cemetery, compiling life histories of black citizens who have received little scholarly attention. Early in our collaboration, one of the participants asked if I might do a bit of genealogical research for him. I agreed and completed family history research that added to his family history, an important moment where the community member set the research agenda and the scholar used proprietary, paywalled research tools and shared skills and knowledge. In fact, many of the community group members are interested in personal family stories and want to position such narratives in the center of digital projects. To develop trust is to listen to the community's central interest and concerns, in this case individual histories and personal narratives, rather than to see such a focus as peripheral to the project. Instead of viewing such approaches as nonscholarly, we might turn back to intersectional feminism which situates the personal in direct relation to the scholarly and which recognizes how powerful a personal story might indeed prove. What would happen, for example, if Texas A&M University researched and told Uncle Dan's story? Or the black janitors' story? Such an approach re-centers the individual and rejects a narrative of history that devalues the experience of African Americans.
Crucial to developing shared goals and an equitable partnership is recognizing that a partnership does not only exist between individual scholars and community groups. Instead, our home institution is a partner, and we must consider if our institutional structures will allow us to build protective barriers between the community partners and the institution. Partners from historically marginalized groups rightly distrust powerful organizations with problematic pasts, such as Texas A&M University. When I began to discuss a partnership with local African American community groups, the first question that arose was, "Can we trust someone from TAMU?" For those of us who are interested in building partnerships, we must ask the same question of our institutions and our funding agencies. Will our institution and/or funding agency allow us to build a project that treats our partners in equitable manners, and will our institution and/or funding agency allow us to develop projects that cede control of materials to historically marginal groups? While we might exist in institutions that stress academic freedom, researchers must be aware of how university rules might impact our ability to develop such partnerships. Further, if we understand that open access is not appropriate for all partnerships, will our institution and/or funding agency support a tiered system of openness? Do we have the infrastructure to build such a project? And even more important to equitable partnerships, will our university attempt to claim ownership of the materials that are digitized? Will a funding agency force materials to be deposited in an archive without consent of individual knowledge producers? Ultimately, we must build trust and protection into digital projects, which is a decision that must include an assurance that our partners have complete control over their cultural heritage materials and knowledge.
Several strategies might be used to develop equitable partnerships with community members. One effective mechanism is the development of a contract of partnership. When I was working with the Concord Public Library to build "The 19th-Century Concord Digital Archive," a legal contract, drawn between lawyers at Texas A&M University and the Concord Public Library, was a necessity. Some community organizations might want a similar mechanism. If the community organization is not interested in a legal contract, it remains useful to both parties to work together to produce a document of understanding, delineating all issues of collaboration, including control of materials and agreements regarding open access. The development of such a document is crucial to a sustained partnership, as many potential problems might be averted. Careful attention to the digital platform and server on which the digital materials reside is also crucial. Some groups might trust business sites more than they trust the university, leaving a commercial server the only place on which to reposit digital surrogates of knowledge. Reclaim Hosting, for example, offers hosting specifically designed for educators who are interested in using a variety of platforms including Omeka, Mukurtu, WordPress, Drupal, and other related products. In our development of the White Violence, Black Resistance Project, Toniesha Taylor and I were well aware of the past history of cooptation and removal of materials from the Prairie View A&M, the Historical Black University where Taylor works, to Texas A&M University, the predominantly white institution where I work. Given this history, we decided to create our project information page in Google Sites and to avoid any institutional labels.[36] The selection of a platform also ensures that collaborators control the materials. Mukurtu CMS is a platform that allows control over levels of access. The Mukurtu Wumpurrarni-kari Archive, built on the platform, designates differential access based on cultural protocols: "When content is uploaded a specific set of criteria must be considered: which families can see the image (a pull down menu allows families to be added); is the content restricted to men only or women only; is the image restricted only to those related to specific countries (a pull down menu allows countries to be checked); is the image sacred and thus restricted to elders only; is anyone in the photo or video deceased; or, finally is this content 'open' to everyone (no restrictions to access it)?"[37] One might extend this platform to account for in-community knowledge, such as oral history stories that are not to be shared with the general public because doing so includes identifying names of individuals, and out of community knowledge, perhaps an oral history story that removes names of individual participants. Another useful mechanism to ensure that historically marginalized community groups control their information is copyright. The Traditional Knowledge (TK) Labels (http://www.localcontexts.org) were designed to ensure protection of vulnerable populations, though it might be extended to other groups to ensure control of knowledge.
Crucial as well is the recognition that situatedness means that a collaborative team should include individuals who are viewed as stewards of the cultural knowledge. Without such individuals, trust is far less easily developed. The USC Annenberg Innovation Lab ignored this central tenet of ethical collaboration when it announced the Black Twitter project (see Figure 20.4) and was faced with an outcry of anger based on fear about the treatment of the vibrant and central Black Twitter community's intellectual product.[38] The initial website announced the DSAIL Black Twitter project run by "Project Owners" Alex Gold and Francois Bar with "Lead researchers: Prof. François Bar, Dayna Chatman, Kevin Driscoll, Alex Leavitt."[39]
Not surprisingly, Black Twitter responded by asking why its work was being studied by two white men who would not, in their perception, understand the complexities and nuances of the community. Other community members feared that the study would commoditize their intellectual property, providing market research to businesses. After a very public outcry, Dayna Chatman, an African American graduate student who was initially listed as second researcher, stated, "The project is lead [sic] by me, was devised by me, and contributes to my dissertation" and that she "did not approve the description of the project that was on the Annenberg Innovation Lab website. It does not fully encapsulate the scale, methods, or full reasoning behind the project."[40] Chatman's image shows up in newer versions of the website, as shown in Figure 20.5.
The concerns that were expressed by Black Twitter were founded. Clearly the originator of the study, Dayna Chatman, had not been given full intellectual credit for her launch of the study and Black Twitter understood that black cultural knowledge has historically been exploited by the larger white society without fair recompense. To launch equitable collaborations, a collaborative team must think carefully about situatedness and the historical legacies of past exploitation.

The Black Twitter tension also reminds us that communities are often divided, presenting additional challenges to a scholar interested in ethically engaging in project partnerships. My experience with various community organizations during the development of the "Millican Race 'Riot': 1868" project has revealed such tensions between individuals regarding the way their community is portrayed and about how much information they will reveal through the project. As scholars work with communities it is important to remember that no community will be monolithically in agreement. Knowing that disagreements are likely to occur, a scholar interested in partnership must be prepared to work with multiple perspectives and to spend time listening to community members.
Ultimately, it is our responsibility to navigate the complexities of structures in which we develop partnerships. As we reach out to community partners, we must turn inward as well, examining the places in which we reside, looking to understand how our institutions have interacted with the communities with which we hope to partner. For historically marginalized communities, institutions have, with some rare exceptions, been exploitive. This legacy will alter the way we structure partnerships and should make us think carefully about ownership, control, and openness. As digital humanities engages with large corpora projects, we cannot forget the individual, for a data point is not neutral. A data point is, instead, representative of an individual, a culture, a knowledge system—and to treat data as exempt from the structures in which they are situated is to erase individuals. To "exploit" data is to exploit individuals. The development of an ethics of practice should be developed to guide us through data selection and use. Such practices are predicated on community control. Ultimately, the community must maintain control over its knowledge and to ask that we "not look" at data. Through open dialogue and careful attention to technological structures, we might begin to find ways to develop rich and equitable partnerships.
Notes
Bibliography
Bailey, Moya. "#transform(ing)DH Writing and Research: An Ethnography of Digital Humanities and Feminist Ethics." Digital Humanities Quarterly 9, no. 2 (2015). http://www.digitalhumanities.org/dhq/vol/9/2/000208/000208.html.
"Best Practices for Digital Humanities Projects." University of Nebraska Center for Digital Research in the Humanities. http://cdrh.unl.edu/articles/best_practices.
Bianco, Jamie "Skye." "This Digital Humanities Which Is Not One." In Debates in the Digital Humanities, edited by Matthew K. Gold, 96–112. Minneapolis: University of Minnesota Press, 2012.
Buhe, Elizabeth. "Digital Humanities Best Practices: Engaging a Collaborator." New York University Institute of Fine Arts. Last updated June 10, 2015. https://www.nyu.edu/gsas/dept/fineart/pdfs/digital/Digital-Humanities-Best-Practices.pdf.
Chatman, Dayna E. "In Reply: My Reflections on Comments about Our Research on Black Twitter." Dayna E. Chatman, PhD. https://dchatman3.wordpress.com.
Christen, Kimberly A. "Does Information Really Want to Be Free? Indigenous Knowledge Systems and the Question of Openness." International Journal of Communication 6 (2012): 2870–93.
Christen, Kimberly A. "Mukurtu." http://www.kimchristen.com/project/mukurtu-cms/.
Christen, Kimberly A. "On Not Looking: Economies of Visuality in Digital Museums." In The International Handbooks of Museum Studies: Museum Transformations, vol. 4, Museum Transformations, 1st ed., edited by Annie E. Coombes and Ruth B. Phillips, 365–86. Oxford: John Wiley & Sons, 2015.
Collins, Patricia Hill. "Some Group Matters: Intersectionality, Situated Standpoints, and Black Feminist Thought." In A Companion to African-American Philosophy, edited by Tommy L. Lott and John P. Pittman, 205–29. Malden, Mass.: John Wiley and Sons, 2003.
Cowan, T. L., and Jasmine Rault. "The Labour of Being Studied in a Free Love Economy." ephemera: theory & politics in organization 14, no. 3 (2014): 471–88.
Crenshaw, Kimberle. "Mapping the Margins: Intersectionality, Identity Politics, and Violence against Women of Color." Stanford Law Review 43, no. 6 (July 1991): 1241–99.
Delgado, Richard, and Jean Stefancic. Critical Race Theory: An Introduction. New York: New York University Press, 2001.
DiPressi, Haley, et al. "A Student Collaborators' Bill of Rights." June 8, 2015. http://www.cdh.ucla.edu/news-events/a-student-collaborators-bill-of-rights/.
Earhart, Amy E. "Can Information Be Unfettered? Race and the New Digital Humanities Canon." In Debates in the Digital Humanities, edited by Matthew K. Gold, 309–18. Minneapolis: University of Minnesota Press, 2012.
Earhart, Amy E. "What's In and What's Out? Digital Canon Cautions." In Traces of the Old, Uses of the New: The Emergence of Digital Literary Studies, 11–37. Ann Arbor: University of Michigan Press, 2015.
Earhart, Amy E., and Toniesha L. Taylor. "Pedagogies of Race: Digital Humanities in the Age of Ferguson." In Debates in Digital Humanities 2016. Minneapolis: University of Minnesota Press, 2016. http://dhdebates.gc.cuny.edu/debates/text/72.
Flanders, Julia. "The Body Encoded: Questions of Gender and the Electronic Text." In Electronic Text: Investigations in Method and Theory, edited by Kathryn Sutherland, 127–43. Oxford: Clarendon, 1997.
Galloway, Alexander R., and Eugene Thacker. The Exploit: A Theory of Networks. Electronic Mediations, Vol. 21. Minneapolis: University of Minnesota Press, 2007.
Global Outlook::Digital Humanities. http://www.globaloutlookdh.org.
"Guidelines for Authors of Digital Resources." Modern Language Association, 2013. https://www.mla.org/About-Us/Governance/Committees/Committee-Listings/Professional-Issues/Committee-on-Information-Technology/Guidelines-for-Authors-of-Digital-Resources.
Johanson, Chris, and Elaine Sullivan, with Janice Reiff, Diane Favro, Todd Presner and WIlleke Wendrich. "Teaching Digital Humanities through Digital Cultural Mapping." In Digital Humanities Pedagogy: Practices, Principles and Politics, edited by Brett D. Hirsch, 121–49. Cambridge: OpenBook Publishers.
Kim, Dorothy, and Eunsong Kim. "The #TwitterEthics Manifesto: You Don't Need to Speak for Us—We Are Talking." Model View Culture, April 7, 2014. https://modelviewculture.com/pieces/the-twitterethics-manifesto.
McPherson, Tara. "Why Are the Digital Humanities So White? Or Thinking of the Histories of Race and Computation." In Debates in the Digital Humanities, edited by Matthew K. Gold, 139–60. Minneapolis: University of Minnesota Press, 2012.
Nichols, Garrett. "Rural Drag: Settler Colonialism and the Queer Rhetorics of Rurality." Texas A&M University Libraries, OAKTrust, July 16, 2013. http://hdl.handle.net/1969.1/151102.
Off the Tracks: Laying New Lines for Digital Humanities Scholars. "Event Details." Maryland Institute for Technology in the Humanities. http://mith.umd.edu/offthetracks/.
"Overview." Tibetan and Himalayan Library. http://www.thlib.org/about/wiki/THDL%20Home%20Overview.html.
Patrik, Linda E. "Encoding for Endangered Tibetan Texts." Digital Humanities Quarterly 1, no.1 (2007). http://www.digitalhumanities.org/dhq/vol/1/1/000004/000004.html.
Powell, Timothy B., and Larry P. Aitken. "Encoding Culture: Building a Digital Archive Based on Traditional Ojibwe Teachings." In The American Literature Scholar in the Digital Age, edited by Amy E. Earhart and Andrew Jewell, 250–74. Ann Arbor: University of Michigan Press, 2011.
Risam, Roopika. "Beyond the Margins: Intersectionality and the Digital Humanities." Digital Humanities Quarterly 9, no. 2 (2015). http://www.digitalhumanities.org/dhq/vol/9/2/000208/000208.html.
Rosati, Eleonora. "Exploitation of Cultural Content and Licensing Models." University of Cambridge, Cambridge Digital Humanities, 2013.
Schilperoot, Hannah M. "Feminist Markup and Meaningful Text Analysis in Digital Literary Archives." Library Philosophy and Practice (e-journal), Paper 1228, 2015. http://digitalcommons.unl.edu/libphilprac/1228.
Smeaton, Alan. "The Digital Humanities (DigHum): The Formation of a National Working Group on the Exploitation of Data in the Humanities." Insight Centre for Data Analytics. https://www.insight-centre.org/content/digital-humanities-dighum-formation-national-working-group-exploitation-data-humanities-0.
Smith, Martha Nell. "The Human Touch Software of the Highest Order: Revisiting Editing as Interpretation." Textual Cultures: Texts, Contexts, Interpretation 2, no.1 (2007): 1–15.
Steering Committee on Slavery and Justice. "Brown University's Response to the Report of the Steering Committee on Slavery and Justice." Brown University, February 2007. http://www.brown.edu/Research/Slavery_Justice/about/response.html.
Texas A&M University Yearbook Collection. Texas A&M University Libraries. http://library.tamu.edu/yearbooks/.
Turin, Mark. "Born Archival: The Ebb and Flow of Digital Documents from the Field." History and Anthropology 22, no. 4 (2011): 445–60.
Wernimont, Jacqueline. "Safe Harbor: Hosting California's Eugenics Data." Knight Foundation, Knight News Challenge. https://www.newschallenge.org/challenge/data/entries/safe-harbor-hosting-california-s-eugenics-data.
Wernimont, Jacqueline. "Whence Feminism? Assessing Feminist Interventions in Digital Literary Archives." Digital Humanities Quarterly 7, no.1 (2013). http://www.digitalhumanities.org/dhq/vol/7/1/000156/000156.html.
Wernimont, Jacqueline, and Julia Flanders. "Feminism in the Age of Digital Archives: The Women Writer's Project." Tulsa Studies in Women's Literature 29, no. 2 (2010): 425–35.
Withey, Kimberly Christen. "Archival Challenges and Digital Solutions in Aboriginal Australia." SAA Archaeological Record, March 2008, 21–24.