"Danger, Jane Roe!"
Material Data Visualization as Feminist Praxis
Kim Brillante Knight
It was 2009 at the Modern Language Association (MLA). The air in Philadelphia was cool and crisp and there were sparse patches of seasoned snow on the ground. It was the last year that the MLA convention would be held during the week between the Christmas and New Year holidays. It was the year that William Pannapacker famously declared digital humanities "the first 'next big thing' in a long time." It was also my first year on the academic job market and I was at the conference for the sole purpose of interviewing. . . . It was a strange year. I was anxious at the thought of seeing people who might be interviewing me, or against whom I might be competing for jobs, or who were even affiliated with departments where I had applied. In truth, I was strange. I had intended to mostly avoid the conference itself. However, all of this strangeness brought along with it a tenacious case of insomnia. Early one morning, I found myself wide awake. My roommates were sleeping peacefully. My interviews were over. There was nothing left for which to prepare. So it was that despite my intention of staying away, I found myself at an early digital humanities session at the conference. As I sat at the back of the room, curled around a disposable coffee cup, listening to a roster of panelists with whose work I was familiar, one phrase sliced through the haze. One of the speakers exhorted the digital humanities audience to "do science better." I woke right up. The speaker made a compelling argument for why a better understanding of scientific methods was needed in certain kinds of digital humanities work, particularly for those in partnership with scientists or seeking funding from the National Science Foundation. And though I understood the logic of this, I bristled a bit at the idea.
The passage of time alone would be enough to make me doubt the fidelity of my memory. But when you add in the strangeness of that year, I feel compelled to clarify that this may not be an exact quote. Regardless, it has stuck with me. Perhaps if I had gotten a job in a more traditional English or Literature department, I might have quickly forgotten the speaker's exhortation. Instead, I got a job in a program where my immediate colleagues include scientists (as well as artists, philosophers, literary scholars, and so forth); where the call to engage interdisciplinary methods and collaboration is heard often; and where projects may be funded by the National Science Foundation, various industries, or the military. Given the promises and challenges of interdisciplinary scholarship and praxis, I have often thought about what it would mean to do science better, as a feminist and a digital humanist. As someone who recognizes the gendered and racialized violence that has been inflicted in the name of science. As someone who initially gravitated toward the humanities because I believe without question in the value of cultural work and the importance of foregrounding humanist perspectives. I have wondered, in those intervening years, whether aligning my work with the digital humanities meant that I was beholden in any way, obligated to do science at all, let alone to "do science better."
In an overview of feminist approaches to the study of science and technology, Judy Wajcman explains that radical feminist studies of science think that "western technology, like science, is deeply implicated in this masculine project of the domination and control of women and nature" (146). When we consider this as well as the racist, colonialist, and ableist practices of science and medicine, we might revise this slightly to include the domination and control of a range of embattled subjects. The theories of those early radical feminist approaches that Wajcman outlines are based on essentialist ideas about the differing values and strategies of women and men, which are problematic in the way that they constrain all gender identities. Feminist studies of science since have generated more social constructionist approaches that acknowledge a tendency toward an ethos of control and domination in science without ascribing this as an inherent characteristic of either science or masculinity. Still, we are left with the question: does doing science better mean being better at control and domination?
Perhaps, instead of being better at these things, doing science better in DH might mean being better about these things. Wajcman writes, "The materiality of technology affords or inhibits the doing of particular gender power relations" (150). Perhaps doing science better as digital humanists requires examining the untapped affordances of our digital humanities tools and projects, and making explicit the subtle inhibitions in scientific practice and technological development as they are deployed in humanities contexts. Perhaps it is an opportunity to test McLuhan's assertions about amateurism versus professionalism:
Professionalism is environmental. Amateurism is anti-environmental. Professionalism merges the individual into patterns of total environment. Amateurism seeks the development of total awareness of the individual and the critical awareness of the groundrules of society. The amateur can afford to lose. The professional tends to classify and specialize, to accept uncritically the groundrules of the environment. The groundrules provided by the mass response of his colleagues serve as a pervasive environment of which he is contentedly and [sic] unaware. The "expert" is the man who stays put. (McLuhan and Fiore, 93)
What could happen if, instead of allowing ourselves to be absorbed into total environment, we feminist digital humanists bring our antienvironmental practices to the table? Perhaps, unburdened by the ground rules, "doing science better" means a willingness to détourn and deform. Détournement, a strategy first employed by the Situationists, uses the preexisting elements of art and culture to critique art and culture themselves; it is a turning in and on (Internationale Situationniste). In this context, it would be to use the preexisting elements of science and technology in the process of critique. Deformance, as defined by Jerome McGann and Lisa Samuels, is a playful mode of engaging with a literary text that makes explicit the subjective and transformative nature of all interpretive practices. In the case of doing science better, to deform would be to foreground the subjective in opposition to empirical logics of objectivity.
Détourning and Deforming Science in "Danger, Jane Roe!"
There are many ways in which détournement and deformance might be conceptualized in this context. Fashioning Circuits, the public humanities project that I organize, joins together scholarship, university teaching, and work in the community, and challenges the environmental norms of science and technology by foregrounding humanist perspectives on the development of wearable technology. Discussion of innovation and Silicon Valley–style "disruption" are tempered with a focus on the social and cultural contexts out of which innovation arises, and the possible downsides to disrupting. Techniques of coding and electronics, familiar in engineering contexts, are defamiliarized when placed in humanities contexts and paired with sewing and other craft methods.
As the instructor of undergraduate and graduate Fashioning Circuits courses, I ask students to produce a wearable object that is theoretically informed or that makes a social statement. In 2013, while the classes were still small enough to be orchestrated through coordinated sections of independent study, I began "Danger, Jane Roe!" as a project on which I could work alongside my students. In that year, U.S. lawmakers enacted 141 pieces of legislation on reproductive health, including seventy that restricted abortion access (Guttmacher Institute).
Like many around the United States, in June of 2013 I sat glued to the livestream broadcast of Texas state senator Wendy Davis engaged in her epic eleven-hour filibuster, an attempt to block legislation that would close most of the abortion providers in the state. As a recent transplant to the Lone Star State, I had a particularly personal investment in this series of events. However, I know that I was not alone in my absolute bewilderment and frustration with ill-informed legislators attempting to institute restrictions on reproductive health, against the will of those whose bodies were being legislated, against the advice of medical professionals, and against the U.S. Constitution. In commentary on this recent uptick in legislation, Rebecca Traister notes that much of the discourse around abortion sets up a false dichotomy and an adversarial relationship between pregnant person and fetus in which the pregnant individual always ends up as secondary (par. 15). The desires and rights of the individual are diminished in favor of a pro-life stance in which the only life considered to matter is that of the fetus.
So I conceptualized "Danger, Jane Roe!" as a response to the systematic erasure of the voices of those most directly affected by the legislation. The subject of the project title is, of course, Jane Roe of the Roe v. Wade Supreme Court ruling. Jane Roe was from Texas, which layers the situatedness of the project as a response to legislation in Texas. The title also makes reference to the catchphrase "Danger, Will Robinson!" from the American television series Lost in Space. On the show, a robot would sound its alarm by repeating this phrase whenever the character Will had unknowingly placed himself in harm's way. The reference is meant to be playful but also to evoke the gender politics of the mid-twentieth century, pre-Roe United States in which the show's mother character is a doctor (of biochemistry) whose story lines, infuriatingly, hardly deviate from the gender roles ascribed to other 1960s television mothers. In addition, the reference evokes the automated state of constant surveillance of the robot, drawing parallels to contemporary practices of big data mining and algorithmic profiling. After all, "Danger, Jane Roe!" is wearable data visualization.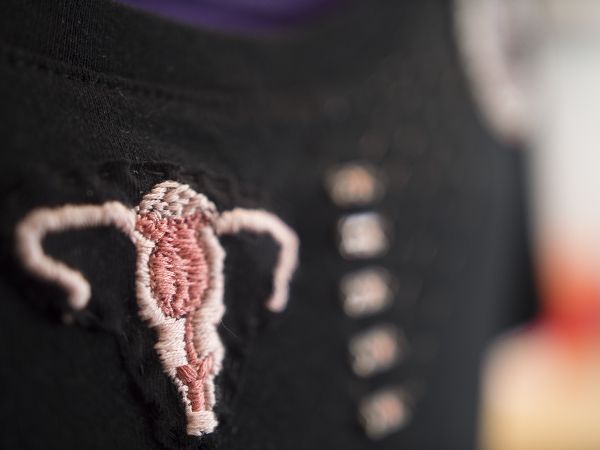 Embroidery as Off-Centering and Creating Disjunction
The medium for the visualization is a black t-shirt, onto which I have hand embroidered reproductive organs: a uterus, fallopian tubes, cervix, and part of a vagina (Figure 1.1). Five pink LEDs are placed on the shirt, below the embroidery. The LEDs are controlled by a small microcontroller, also sewn onto the shirt. The lights act as a meter of sorts; the number lit at a given time is based on the number of results from a Twitter search for "#prolife." I spent two months collecting tweets using a TAGS spreadsheet to get a baseline of how many tweets with the hashtag are sent on an average day. If the number of tweets is around average, three of the five lights are lit. The number of lights is higher or lower in response to heavier or lighter tweeting days. The lights evoke systems to signify threat level, such as that used by the National Terrorism Advisory Status. The lights also reference the popular signifying strategies of fitness trackers and other commercial wearable technologies.
"Danger, Jane Roe!" is a data visualization project that, referring back to McLuhan, contests the ground rules. In "When Is Information Visualization Art?," Andrés Ramírez Gaviria troubles the aesthetic/functional binary that is often applied to information visualization, suggesting that even functional visualization generally employs an aesthetic strategy. He further elaborates a distinction between aesthetic and artistic, drilling down to separate genre art (that which fits easily into the art market of institutions such as museums and galleries) from research art (that which emphasizes innovation and experimentation and refuses incorporation). At the heart of these distinctions is a difference in the organizing logic of functional versus artistic research data visualization. Functional visualization tends to have the goal of frictionless transmission of information-at-a-glance. In contrast, artistic data visualizations, according to Gaviria, "reframe canonized structures by off-centering consensus" as they work "not to resolve but to question or restructure issues" through strategies that are neither "easily decipherable nor aesthetically pleasing so long as they are reflectively interesting" (482). An artistic data visualization, in its refusal of understanding, calls into question the very notion of an objective and efficient transmission of information. From a feminist standpoint, it does science better. While I make no claims about the project's status as art or its success in reframing, I do suggest that "Danger, Jane Roe!" is left of the functional center. It aspires toward Gaviria's suggestion that artistic data visualization does not employ clarity or transmissibility as a mode but rather provokes a visceral or emotive response from the viewer, foregrounding subjectivity in contrast to the aims of science.[1] One of the ways this is accomplished is through the shirt's visual strategies.
The embroidery of reproductive anatomy is prominently featured on the shirt, demanding notice. The amateur quality of the embroidery gives the project a feel that is a reference to the DIY ethos of punk and zine culture. My intention is to call to mind groups such as riot grrls, Pussy Riot, and the GynePunk collective in order to invoke a rawness that challenges the machinic perfection of data collection and functional visualization. There is a second kind of stitching in "Danger, Jane Roe!," that of the conductive thread that connects the LEDs to the microcontroller, and the microcontroller to the battery holder (Figure 1.2). I've purposefully left the stitches visible. In their visibility the gray stitches of the conductive thread act as embellishment in concert with the various pink stitches of the reproductive organs, but they also serve a performative function. Yasmin B. Kafai and Kylie A. Peppler argue that the visible stitching of e-textiles can make explicit the workings of a circuit (specifically, polarity, connectivity, and flow) in ways that are obscured by other types of electronics kits (184). Thus the multiple modes of needlework in "Danger, Jane Roe!" operate together to lend the work a raw, exposed feel.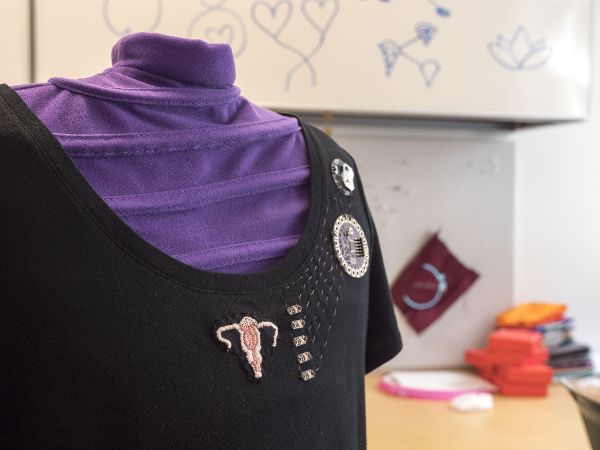 Rozsika Parker notes that in Western culture, embroidery was originally done by men, but since the sixteenth century it has been associated with femininity and domesticity (60). As a domestic technology, or if not precisely a technology then a medium, embroidery typically brings to mind notions such as intricacy, delicacy, and ornament. The genteel and feminine associations with embroidery form a disjunction when it is used to depict reproductive organs, that is, body parts often associated with abjection, menstruation, and the emotions that result from hormonal fluctuation. These are body parts that are often considered unmentionable in polite company, or even in some legislative spaces.[2] There is a further disjunction when the embroidery is the technological mechanism. The embroidery is thus multivalent and disjunctive: at one and the same time it references traditional notions of feminine domesticity, while also invoking DIY subversion, messiness, and imperfection. It also challenges the legacy of associations between technology and normative masculinity, expanding the technological foundations of the electronics project to include a genealogy of craft and gendered domestic technologies.
LilyPad and Counterdiscourse
Furthering the associative disjunction is the microcontroller that is controlling the LEDs. Arduino is an open-source amateur electronics platform that is widely used in DIY projects, including quite a few robotics applications. The LilyPad, an Arduino intended for wearable applications, was developed by Dr. Leah Buechley, founder of the High-Low Tech group at MIT. Lacking the sharp edges of a standard microcontroller, the LilyPad is flat, round, and purple, featuring silver "petals" instead of the typical black plastic square pins found on an Arduino board. Though connections to the LilyPad can be soldered, the petals are designed specifically for sewing connections with conductive thread. Given the departure in both terminology and material form from the typical Arduino board, we must consider what "particular gender power relations" (Wajcman, 150) are enabled by the LilyPad.
Buechley has been critiqued for her assertion that the LilyPad may bring colorful, soft, and beautiful applications to the world of engineering (Buechley and Hill, 206). For instance, Susan Ryan writes that Buechley and Benjamin Mako Hill's characterization of the LilyPad "hints at enclosing female techno-crafters in nostalgic but preposterous stereotypes." I want to push back a bit on the suggestion that the LilyPad constrains users according to essentialist gender stereotypes. It is certainly true that there exist a number of clumsy attempts to attract women to tech culture. I have critiqued more than one on my blog.[3] Elizabeth Losh has coined a delightful turn of phrase to describe them as a whole: the "ridiculous, pink, sparkly techno-princess land" (quoted in Brown, "How Not to Attract Women"). However, I am not sure that is what is going on with the LilyPad.
In the same paper in which they call for an infusion of softness, Buechley and Hill engage with the work of Jane Margolis and Allan Fisher in Unlocking the Clubhouse, an oft-cited work on how to make the boy's "clubhouse" of computing culture more accessible to women. Buechley and Hill suggest a slightly different approach. Keeping the clubhouse metaphor, they advocate for building new clubhouses instead of trying to fit the needs and perspectives of women into existing clubhouses. In outlining the benefits of this approach, they write that existing spaces are "limited in breadth—both intellectually and culturally" and that new clubhouses "question traditional disciplinary boundaries" and "expand disciplines to make room for more diverse interests and passions" (206). The problem with the "pink, sparkly, techno-princess land" (Losh, quoted in Brown, "How Not to Attract Women") is that all of that sparkle is only surface deep. There is nothing inherently wrong with sparkle or pink. But when it is slapped on otherwise normative tech, in response to the assumption that it is the aesthetics of technology that discourages diverse participation, it is pandering. However, Buechley is describing a more foundational shift. It is one that we might read in light of Wacjman's paraphrase of Harding's question, "how a science apparently so deeply involved in distinctively masculine projects can possibly be used for emancipatory ends" (Buechley and Hill, 146). It is antienvironmental, to refer back to McLuhan.
Buechley and Hill may not say so explicitly, but they are describing counterpublic formation. Nancy Fraser defines subaltern counterpublics as "parallel discursive arenas where members of subordinated social groups invent and circulate counter discourses, which in turn permit them to formulate oppositional interpretations of their identities, interests, and needs" (67). Buechley and Hill have found evidence that the LilyPad is successful in attracting members of subordinated social groups: the percentage of women who purchase and use LilyPad Arduinos is higher than the percentage of women who use the other types of Arduinos, and interviewees credit the LilyPad with helping them to overcome cultural barriers to electronics and coding (Buechley and Hill, 202–3).[4] As with any Arduino, working with the LilyPad requires an understanding of electrical principles and a willingness to engage with code. I mentioned earlier that Kafai and Peppler found that the LilyPad fosters even greater understanding of these concepts because the material construction of the circuit is tangible in its visibility. Elsewhere, Kylie Peppler and Diane Glosson suggest that the LilyPad explicitly refuses the competitive ethos of other electronics kits that are used primarily in robotics, and that the increased time it takes one to work with e-textiles, including the time to stitch a circuit, results in more sustained and enriched reflection on the part of participants (82). The counterpublic developed through Buechley and Hill's alternate clubhouse is not a mere compartmentalizing of dominant spaces in order to mark off safe terrain. Buechley and Hill's clubhouse might actually be better. At the very least, it is a space in which a different set of power relations emerges from the affordances of the technology.
I acknowledge that there is a danger here of creating spaces that are dismissed as being of secondary importance in relation to more mainstream computing publics. This is a tension that many who are women, trans, gender nonconforming, people of color, queer, and/or crip in academia face in our decisions about whether to devote our time to interactions with small groups of allies or focus our energies on the sometimes exhausting or demoralizing interactions with the wider institution. Fortunately, this is not an either/or proposition. Fraser theorizes this tension as being the source of the emancipatory potential of counterpublics: the relatively safe space of communing within a counterpublic supports members in their efforts to engage with wider publics (68). The work done in Buechley's alternate clubhouse may enable participants to engage with and challenge dominant publics. Further, we must consider the extent to which the "danger" of creating a devalued space is due to an actual qualitative deficit, as opposed to its failure to align with cultures of patriarchy that devalue craft, sewing, and other work typically associated with femininity and domesticity. Therefore, I suggest a reading of Buechley's aims not as pandering, but as an attempt to do science better. As an associate professor of computer science and founder and former director of MIT's High-Low computing group, Buechley is undoubtedly familiar with what authors such as Wajcman, Janet Abbate, and Ruth Oldenziel describe as the masculinist world of engineering. Her call for an infusion of the soft and the beautiful into engineering contexts is not an attempt to water down engineering, but rather an attempt to resituate the ground rules. My use of the LilyPad as a feminist and a digital humanist is informed by the material differences and the possible counterdiscourses that arise from power relations enabled by the LilyPad.
The LilyPad layers the associations between the embroidery and stitching of "Danger, Jane Roe!" and a gendered history of domestic and craftwork. The gendered implications are extended when we consider the LilyPad as an electronic device. Recently, there have been well-publicized issues around the ethics of global manufacturing, with particular attention paid to labor practices in factories contracted by Apple and other hardware producers. Any microcontroller would raise this issue, but the gendered associations with the LilyPad make even more explicit the issues around electronics manufacture and a global labor force that consists largely of women of color.[5] As Lisa Nakamura suggests, "The women of color workers who create the material circuits and other digital components that allow content to be created are all integrated within the 'circuit' of technoculture. Their bodies become part of digital platforms by providing the human labor needed to make them" (920). Thus the visibility of the LilyPad is a reminder not just of the gendered implications of the embroidery and the tech but also of the gendered and racialized economic and labor practices that undergird electronics manufacturing.[6] When read in this way, the hand stitching, which Peppler and Glosson suggest adds reflective depth, also calls to mind the context of garment manufacturing, another arena in which women of color are heavily employed.[7]
While the use of the LilyPad is as much a functional choice as a signifying strategy, I suggest that it contributes to the project's status as data visualization that off-centers consensus (Gaviria). The LilyPad is at once a reclamation of slow, domestic work; a stand-in for alternative models of computing publics; and an electronics device that arises out of a context of gendered and racialized labor. The embroidery of the uterus and the hand-stitching simultaneously evoke the aforementioned DIY punk ethos, as well as the domestic and gendered history of embroidery and labor practices in the garment industry. The hardware and literal soft-wear of the thread and garment combine to create a DH (Donna Haraway|Digital Humanities) fem-techno-assemblage that invites the viewer to contemplate the embodied effects of discourses around reproductive justice.
Embodiment as Refusing Transmissibility
The project's stable visual strategies include the embroidered anatomy, the LilyPad, and the pink LEDs. However, there is a way in which the project is more mutable. By removing data visualization from the screen or page and placing it on a body, "Danger, Jane Roe!" relocates discourse around reproductive justice onto the site of legislative inscription—the body that may be affected by pregnancy. Elizabeth Grosz writes, "The inscription of the social surface of the body is the tracing of pedagogical, juridical, medical, and economic texts, laws, and practices onto the flesh to carve out a social subject as such" (117). In this case, the body is inscribed by increasingly restrictive legislation on reproductive choice. For Grosz, the socially inscribed body is one that is subject to being deciphered and understood (117). The body inscribed by laws that limit abortion is understood as one in which situated knowledge is denigrated and agency is restricted. "Danger, Jane Roe!" is a garment with its own inscriptive functions. The voluntary donning of the data visualization that refuses easy interpretation is an act of agency that seeks to confound the legibility of the body that has been marked by recent legislation.
I write of "the body" as an abstracted concept, but this is not just any body. "Danger, Jane Roe!" must be worn on a material body with a specific history and that carries with it its own set of social and cultural inscriptions. It could be worn on a wide variety of bodies, including those that do not have or never had the reproductive organs depicted in the embroidery. So far it has only been worn on my body, one that is deciphered as curvy, overworked, middle-aged, formerly homeless, first to go to college, upwardly mobile, heterosexual, nonreproductive, multiply tattooed, frequently flying, bilocated, white. In other words, a body inscribed as normative and privileged in some ways, and transgressive or othered in other ways. In the past, I have debated quite a bit about whether to actually wear the shirt during conference presentations. My sense is that in doing so, I am arranging a certain encounter with my body in what is supposed to be a disembodied zone of intellect, an idea that carries its own set of oppressions. The only body that can be transcended in such a way is the dominant, normative body. Othered bodies are always inscribed as such through the social and psychical processes described by Grosz. So I wear it. By donning the shirt, not only is my body implicated, but so are the bodies of the audience—those who might also wear the shirt or who are forced to encounter its illegibility, or even just those who are standing by. Once the shirt is on a body, due to its deformative nature, it reminds us that the bodies of others also bear the inscriptive marks of discourse around reproductive health.
"Danger, Jane Roe!" refuses the functionality of certain forms of data visualization, signifying through an assemblage of technical and craft components on a garment that would fit a wide variety of bodies in an attempt to subvert processes of straightforward inscription. As such, it is a project of deformance. Jerome McGann and Lisa Samuels write of deformance, "Not the least significant consequence, as will be seen, is the dramatic exposure of subjectivity as a live and highly informative option of interpretive commentary, if not indeed one of its essential features, however neglected in neo-classical models of criticism that search imaginative works for their 'objective' and general qualities" (116). Deformance is an explicit acknowledgment of the role of subjectivity in interpretation. One might reframe it as the valorization of situated knowledge in literary studies. The project of deformance in "Danger, Jane Roe!" addresses the issue of legislation and discourse about reproductive health but also the format of data visualization itself.
In "What Would Feminist Data Visualization Look Like?" Catherine D'Ignazio, drawing on Donna Haraway, critiques the tendency for data visualization to take a "whole world" approach, with its claim to completeness and objectivity. By deforming the science of data visualization, bringing a literary and cultural studies perspective to it, approaching it from outside the realm of the professional, I am able to assert the importance of the subject and the role of the subjective. By tying data visualization to the material specificities of embodiment, I refuse the tendency noted by Haraway for the eyes to "distance the knowing subject" by insisting on an encounter grounded in proximity. "Danger, Jane Roe!" is purposefully devoid of any interpretive key so that any attempt to interpret is left incomplete without a social exchange with the wearer. The knowing eyes must at some point move from the embroidery and the LEDs to consider the eyes of the wearer, which return the gaze and implicate the viewer in the structures that would restrict reproductive freedom.
Indeed, the implications and questions raised by the project will shift depending on the body on which it is worn. Not all bodies are affected in the same way by increasing restrictions on access to reproductive health care and the material specificity of the body on which "Danger, Jane Roe!" is worn must be considered. As I argue elsewhere, in "Networked Bodies, Wearable Interfaces, and Feminist Sleeper Agents," the dress-body-technology assemblage of wearable technology functions as a fertile nexus not just between user and computing device, but between the fashioned, technological, and embodied subject.[8] The project's instability, shifting at a moment's notice as the garment is transferred to another, is an additional way in which functional data visualization's claim to objectivity is challenged. As just one shirt, it foregrounds subjective experience and situated knowledge in the face of big data. As a wearable data visualization that attempts neither efficiency nor transmissibility, "Danger, Jane Roe!" détourns practices of information visualization and challenges the total environment of professionalized data science.
Feminist Data Visualization in DH
"Danger, Jane Roe!" is situated among other feminist digital humanities, or DH-adjacent, projects that also do science poorly by détourning and deforming both data and visualization. Molly Morin's digital fabrication series Training Days mirrors the strategies of fitness trackers in extracting data from the body and its movements. In this case I will focus on a particular piece, "Training Day: Audrey, 21 Years, 75 Kilos; Back Squats, Snatches, Clean and Jerks; 2,790 Kilos Lifted" in which the data are based on visual analysis of a weight lifter's movement as captured by the app "Bar Sense."[9] The terminology, "snatches, clean and jerks," does not capture the beauty of the sweeping, sometimes stumbling movements as the transgressive body of a woman moves 165 pounds of iron through the air and above her head. The data generated, in this case from a competitive lifter named Audrey, are turned into lace pieces that are laser-cut from thin sheets of Mylar (Morin, "Strong Correlations Paper").[10]
Morin's work evokes the history of women's work in lace production, including the increasing mechanization of manufacturing (Burnette, 45). In particular, the juxtaposition of weight lifting and lace-making challenges essentialist assumptions about gender and strength. Despite its delicate appearance, lace is often stronger than expected. It subverts expectation in a way that parallels women body builders, who despite surface-level acceptance still face marginalization within lifting communities (Morin, "Strong Correlations Paper"). This deforms the science of data visualization through an infusion of the soft and beautiful into engineering contexts (Buechley and Hill). Morin's work makes explicit the palpable effects of data in the large lace forms, the scale of which are in blatant excess of the size of the typical lace sample found in museums and archives (Morin, "Strong Correlations Paper"). Like a science experiment run amok, the data have engorged the lace, feeding its growth so that it exceeds norms in its material form. From its unwieldy title to the excessive forms of the lace sculpture, "Training Day: Audrey, 21 Years, 75 Kilos; Back Squats, Snatches, Clean and Jerks; 2,790 Kilos Lifted" evokes the sublime of aesthetic data visualization as theorized by Warren Sack (125). The lace sculptures are monstrous, yet beautiful; tangible, yet sublime.
Data are also made tangible in the work of Vibrant Lives, a collective founded by Jessica Rajko and Jacqueline Wernimont.[11] "Living Net," a performance installation piece, makes data material and haptic, while emphasizing their ephemerality. A large, crocheted net stretches across a wall, inviting touch. Small subwoofer speakers embedded in the net are activated by a packet-sniffing app that monitors exchanges of data in the room and converts them into sonic form (Wernimont, "Vibrant Lives"). The net trembles, seemingly alive in response to the bits of data moving through the network. During a 2016 performance at the Digital Humanities Summer Institute at the University of Victoria, Wernimont stood and crocheted during the event, weaving in material objects collected from the contacts in her digital networks. People sent her a variety of objects, ranging from prayer cards to one lone mitten. The join of the systematic, though sometimes nonuniform, crocheted loops with the irregular, material objects does science poorly by making visible the types of data (e.g., the labor of motherhood embodied in the lone found mitten) and subjective experiences that are often absent from the cleaned-up data that are required of typical information visualization (D'Ignazio and Klein, 3). Wernimont's act of crocheting in the installation space, while she talks to those passing by, makes visible the labor behind the project and also calls to mind the social functions of sewing circles, knitting clubs, and other spaces of feminized domestic work. Her body as an active creator in the space foregrounds the embodiment and subjectivity of the project, right down to the mint-green toe polish that is visible in video of the installation.
As Wernimont writes, because "Living Net" is a performance installation, the Digital Humanities Summer Institute event "activated multiple, intersecting networks for an evening and then we deactivated them as those same bodies and devices dispersed" ("Vibrant Lives"). The items collected and strands of crochet woven during the session will be displayed in future events, but the particular vibrations of the net, its life for that evening, is lost. Wernimont's labor, and that of the other creators, recedes into the background. The strategy of ephemerality, which results in an incomplete record, does science poorly in its refusal of the impulse of big data to create ever more comprehensive archives. It makes explicit, referring back to D'Ignazio's use of Haraway, the failures of big data's claim to the "God trick."
The prior three projects do work that infuses data visualization with a different kind of materiality and tactility. It is necessary to pause for a moment and address the issue of data itself, the gender implications of which and status as a scientific object of inquiry should not go unexamined. Bethany Nowviskie, in her now anthologized blog post "What Do Girls Dig?," raises the question of whether humanities data mining is a "gentleman's sport." She identifies a plurality of reasons that may lead to women being underrepresented as principal investigators in large, grant-funded data mining projects. These range from the commonly acknowledged general issues around women in science, technology, engineering, and math (STEM) to the more uncomfortable possibility that the career stages and various outside obligations of women in academia may indirectly lead to their exclusion. In "Whence Feminism? Assessing Feminist Interventions in Digital Literary Archives," Wernimont prompts us to consider the ways in which the logics that organize literary archives may include patriarchal values of mastery and completeness. However, she also identifies ways in which tools and methods developed in feminist literary archives have become fundamental to humanities archiving projects on a wider scale. She argues that archives are "complex negotiations of the spaces between 'thing and theory'" and calls for a feminist strategy of attending to interactions as a way of examining the complex technosocial scene of digital humanities work. Feminist critiques of data also come from within information science. In writing of the data of care-taking, Amelia Abreu calls on the Quantified Self movement to account for who is being measured and to what end. She positions the work of care-giving, largely neglected in Quantified Self movements, as performing as a human data tracker: evaluating comfort levels, calorie intake, appointments, and the like. She wonders what other types of data and people are swept aside in the need to produce "the perfect measurement for an object and its functions" and questions whether the dream of a feminist data future, "where sensor technology and data-mining can be accessible and successful, flexible enough to be genuinely empowering, allowing users to control their own narratives is even possible." These issues are exacerbated when we consider whose lives outside of the United States and other industrialized nations are left out. According to Mayra Buvinic of the Center for Global Development, most countries collect data about employment and other aspects of labor, but the types of questions and strategies of collection privilege "formal sector employment," which leaves many women outside the scope of collection (quoted in McDonald). Beyond these kinds of implicit biases, David McNair of the One Campaign suggests that many governments do not make extensive efforts to collect data on the lives of women and children because the data may be used as a tool to hold them accountable (quoted in McDonald). The visualizations discussed in previous sections address issues of bias, inconsistency, and misogyny, but it seemed worth pausing for a moment to think about data as an imperfect object before moving into my discussion of a few final visualizations.
If we are willing to stretch the parameters of what is typically considered "visualization," it perhaps also becomes necessary to trouble conventional notions of "data." As mentioned earlier in this chapter, there are many kinds of data that end up marginalized or not collected, in part because there is ideological work happening in what is considered "data." To illuminate that work, I turn now to a few projects that engage in material visualization, which might not typically be counted as data visualization but that can help us stretch those parameters. First among them is by the artist Maria Magdalena Campos-Pons. The Seven Powers by the Sea (1992) consists of seven wooden boards, each inscribed with a diagram showing different plans for transporting slaves, similar to the well-known Brookes ship diagram.[12] Each of the boards also features the name of an orisha, a Yoruba spirit, inscribed along the bottom. Viewed horizontally, the shapes of the boards reference slave ships. However, the boards are always installed vertically, which also evokes ironing boards (gesturing toward the domestic labor of slavery) and tombstones (signifying ritual, memorializing, and the necropolitics of the transatlantic slave trade). Archived images show that installations of the work vary. The simplest installation features the seven boards placed side-by-side, leaning against a wall. More elaborate installations feature silhouettes of the orishas interspersed between the boards and an arrangement of framed family photos and the phrases "Let Us Never Forget" and "Prohibido Olvidar."[13]
Though Campos-Pons's work is not a digital humanities project, there is much to learn by placing it in conversation with the earlier projects I discuss and framing it as a work of feminist data visualization. As the catalog for the Liverpool Biennial notes, the figures on Campos-Pons's boards convey "the conjunction of mathematical efficiency and brutality." The historical slave ship diagrams are an extreme example of the potential for dehumanizing when individual lives are reduced to data points and of the nuance that is suppressed in the name of efficient transmission of information. In the work of Campos-Pons, they are used to détourn and to call forth the entire system of oppressions. In Counting Bodies, Molly Farrell notes that early practices of human accounting around sugar plantations in the Caribbean brought together aesthetics and counting to frame the plantation as "a transportable system, both economically and socially" (88). The efficiency by which Campos-Pons's boards transmit information is thus superficial; it unfolds and extends to include the entire economic, cultural, and social system of the transatlantic slave trade. At the same time, particularly in the more altar-like installations that feature photos of the artist's family and friends, the brutality of the historical practices that continue to shape social relations is placed in tension with the local, the personal. This work is not a digital humanities project. Nor does it employ digital technologies among its strategies. Science is never invoked. But Campos-Pons's feminist visualization connects the local to the transatlantic and systemic, and connects the present to the past in a way that challenges the constraints and expands the possibilities of data visualization.
Leaving the gallery setting and moving into the community, S.T.I.T.C.H.E.D. (Stories, Testimonies, Intentions, Truths, Confessions, Healing, Expression, and Dreams) is a project that visualizes the construction of a collective. S.T.I.T.C.H.E.D. is an initiative of Climbing PoeTree, the poets and performance artists Alixa Garcia and Naima Penniman. The project began in 2005, after Hurricane Katrina, when Garcia and Penniman would leave fabric squares on the chairs in their performances and invite the audience to write something on the squares (Prain, 91). Twelve years later, they have over 10,000 squares (Climbing PoeTree) that they hang in trees, hang against walls, or otherwise display during events. Penniman suggests that the fabric squares are a folk media project that constitutes living history (Prain, 91). Garcia and Penniman identify patterns in the kinds of stories people choose to record on fabric: there are many stories of assault, abuse, incarceration, and trauma but also messages of assurance and kinship. Garcia relates her favorite moment with the quilt where the color and softness performed a spatial intervention when they hung it in a workshop at a juvenile detention center, disarming participants and setting the tone for a transformative event (Prain, 93).
Though visualization is not Climbing PoeTree's primary objective, I place S.T.I.T.C.H.E.D. in conversation with the other feminist data visualization projects here because the strips of fabric visually convey meaning in their accumulation. Garcia and Penniman construct the quilt by matching squares according to size and positioning them so as to alternate colors (Prain, 92). Quilting as visual communication has a long history in the tradition of story quilts, particularly within black communities. And quilts as visualization have a history in The Names Project, colloquially known as "the AIDS quilt." In The Names Project, and those it influenced, such as The Monument Project, individual squares may be personally meaningful, but it is in excess, in the joining of massive numbers of squares, that the quilt becomes a material visualization of the amount of data points in this cultural database. Like Morin's lace sculptures, this is a visualization that conveys the sublime of data visualization (Sack) in its excess. However, in S.T.I.T.C.H.E.D., the legibility of patterns is suppressed and variation is foregrounded in the visual strategies of the textiles. The quilt's refusal of efficiency becomes a visualization of collective experience and connection across difference. Penniman and Garcia suggest that it could be the new American flag (Prain, 92). The erratic nature of S.T.I.T.C.H.E.D., as opposed to those quilts that employ precise angles and neatly joined sections, speaks to the raucous voices of the community whose experiences it conveys. Like The Seven Powers by the Sea, this is not a digital humanities project. However, quilting has long been a site of domestic and feminine inventiveness (Oldenziel, 42). As a quilting project, S.T.I.T.C.H.E.D. performs the feminist work of constructing collectivity, and in its embrace of disunity and excess it employs feminist strategies of visualization from which we might learn.
The projects highlighted here combine material forms of data visualization in ways that refuse many of the foundational logics of functional information visualization. In a recent presentation to the IEEE Visualization Conference, Catherine D'Ignazio and Lauren Klein outlined six key principles of feminist data visualization: "Rethink Binaries, Embrace Pluralism, Examine Power and Aspire to Empowerment, Consider Context, Legitimize Embodiment and Affect, and Make Labor Visible" (3–4). These practices build upon the call of authors such as Gaviria to attend to the experimental and boundary-pushing possibilities of artistic data visualization. The call to examine power and make labor visible echo Sack's argument that all data visualizations are built upon some form of governance that is made to seem natural in the act of visualization (132). However, D'Ignazio and Klein call for a move beyond experimentation or awareness toward practices that are fundamentally informed by an intersectional feminist ethics of data visualization.[14]
They note that much of the kinds of digital humanities work that embraces these principles is done "in isolation from the visualization community" (2). Perhaps this is because of the tendency of these feminist visualization projects to challenge, refuse, or outright disavow the ground rules of information science and data visualization (McLuhan), the professional environments of which require an aesthetics of bureaucracy (Sack). To return to Buechley and Hill, perhaps feminist data visualization as performed in the digital humanities constitutes an alternative clubhouse, one in which feminist and humanist values are foregrounded and the participants "formulate oppositional interpretations of their identities, interests, and needs" (Fraser, 67) in order to then perform emancipatory work in conversation with the visualization community.
To me, this is doing science better. I do not wish to be dismissive of projects or digital humanists whose desired outcomes might require a fidelity to methods considered scientifically valid. And certainly, there is important feminist work to be done by foregrounding these kinds of questions within the professional environments of the sciences. I only mean to suggest that our status as outsiders, as scientific amateurs, as digital humanists, allows us the flexibility to occasionally engage in the antienvironmental; to détourn the tenets of scientific validity and use them against themselves to achieve awareness of the subjectivity and question the ground rules of objectivity and replicability, as well as their gendered associations. In short, to deploy feminist praxis to do science poorly.
Notes
Bibliography
Abbate, Janet. Recoding Gender: Women's Changing Participation in Computing. Cambridge, Mass.: MIT Press, 2012.
Abreu, Amelia. "Quantify Everything: A Dream of a Feminist Data Future." Model View Culture, February 24, 2014, modelviewculture.com/pieces/quantify-everything-a-dream-of-a-feminist-data-future.
Basseches, Joshua. "Leaving Cuba for the North." Alchemy of the Soul: Maria Magdalena Campos-Pons, pt. 3. Peabody Essex Museum, n.d., http://alchemy.pem.org/leaving_cuba/.
Brown, Kristen V. "How Not to Attract Women to Coding: Make Tech Pink." SFGate, July 8, 2014, www.sfgate.com/news/article/How-not-to-attract-women-to-coding-Make-tech-pink-5602104.php.
Brown, Lisa. "Lisa Brown: Silenced for Saying (Shock!) 'Vagina.'" CNN, June 21, 2012, https://www.cnn.com/2012/06/21/opinion/brown-kicked-out-for-saying-vagina/index.html.
Buechley, Leah, and Benjamin Mako Hill. "LilyPad in the Wild: How Hardware's Long Tail Is Supporting New Engineering and Design Communities." Proceedings of the 8th ACM Conference on Designing Interactive Systems, Association of Computing Machinery, 2010, 199–207. ACM Digital Library, doi:10.1145/1858171.1858206.
Burnette, Joyce. Gender, Work and Wages in Industrial Revolution Britain. Cambridge: Cambridge University Press, 2008.
Celock, John. "David Albo, Virginia Lawmaker, Says Wife Wouldn't Have Sex Because of Transvaginal Ultrasound Bill." Huffington Post, February 24, 2012, https://www.huffingtonpost.com/2012/02/24/david-albo-virginia-lawmaker-no-sex-transvaginal-ultrasound_n_1300404.html.
Climbing PoeTree. "S.T.I.T.C.H.E.D." ClimbingPoeTree.com, 2015, www.climbingpoetree.com/experience/projects/stitched/.
D'Ignazio, Catherine. "What Would Feminist Data Visualization Look Like?" MIT Center for Civic Media, December 20, 2015, civic.mit.edu/feminist-data-visualization.
D'Ignazio, Catherine, and Lauren Klein. "Feminist Data Visualization." Workshop on Visualization for the Digital Humanities. IEEE VIS Conference, October 24, 2016, Hilton Hotel, Baltimore. www.kanarinka.com/writing/.
Drashkov, Martin. "Bar Sense Weight Lifting Log." Google Play app. Google.com, https://play.google.com/store/apps/details?id=com.barsense.main.
Farrell, Molly. Counting Bodies: Population in Colonial American Writing. New York: Oxford University Press, 2016.
Ferus-Comelo, Anibel. "Double Jeopardy: Gender and Migration in Electronics Manufacturing." In Challenging the Chip: Labor, Rights, and Environmental Justice in the Global Electronics Industry, edited by David Pellow, David Sonnenfeld, and Ted Smith, 43–54. Philadelphia: Temple University Press, 2008. ProQuest Ebrary, www.ebookcentral.proquest.com/lib/utd/detail.action?docID=298854.
Fraser, Nancy. "Rethinking the Public Sphere: A Contribution to the Critique of Actually Existing Democracy." Social Text 25/26 (1990): 56–80. JSTOR.
Gaviria, Andrés Ramírez. "When Is Information Visualization Art? Determining the Critical Criteria." Leonardo 41, no. 5 (2008): 479–82.
Grosz, Elizabeth. Volatile Bodies: Toward a Corporeal Feminism. Bloomington: Indiana University Press, 1994.
Guttmacher Institute. "More State Abortion Restrictions Were Enacted in 2011–2013 than in the Entire Previous Decade." News in Context, Guttmacher Institute, January 2, 2014, www.guttmacher.org/article/2014/01/more-state-abortion-restrictions-were-enacted-2011-2013-entire-previous-decade.
Haraway, Donna. "A Cyborg Manifesto: Science, Technology, and Socialist-Feminism in the Late Twentieth Century." In Simians, Cyborgs and Women: The Reinvention of Nature, 149–81. New York: Routledge, 1991.
Hossfeld, Karen. "'Their Logic against Them': Contradictions in Sex, Race, and Class in Silicon Valley." In Technicolor: Race, Technology, and Everyday Life, edited by Alondra Nelson and Thuy Linh N. Tu, 34–63. New York: New York University Press, 2001.
Internationale Situationniste. "Definitions." Internationale Situationniste, no. 1, translated by Ken Knabb, June 1958. Situationist International Online, www.cddc.vt.edu/sionline///si/definitions.html.
Kafai, Yasmin B., and Kylie A. Peppler. "Transparency Reconsidered: Creative, Critical, and Connected Making with E-textiles." In DIY Citizenship: Critical Making and Social Media, edited by Matt Ratto, Megan Boler, and Ronald Deibert, 179–88. Cambridge, Mass.: MIT Press, 2014. Kindle Edition.
Knight, Kim A. "Networked Bodies, Wearable Interfaces, and Feminist Sleeper Agents." In The Routledge Companion to Media Studies and Digital Humanities, edited by Jentery Sayers, 204–13. New York: Routledge, Taylor & Francis Group, 2018.
Knight, Kim A. The Spiral Dance (blog). thespiraldance.wordpress.com/?s=pink.
Kucera, David, and Sheba Tejani. "Feminization, Defeminization, and Structural Change in Manufacturing." World Development 64 (2014): 569–82. Science Direct, doi:10.1016/j.worlddev.2014.06.033.
Linkins, Jason. "Scott Randolph, Lawmaker, Reprimanded for Using the Word 'Uterus.'" Huffington Post, March 31, 2011, https://www.huffingtonpost.com/2011/03/31/florida-lawmaker-repriman_n_843259.html.
Liverpool Biennial. "Maria Magdalena Campos Pons." Liverpool Biennial, n.d., www.biennial.com/1999/exhibition/artists/maria-magdalena-campos-pons.
Liverpool Biennial. "The Seven Powers Came by the Sea." Liverpool Biennial, 1999, http://www.biennial.com/events/-the-seven-powers-came-by-the-sea-.
Margolis, Jane, and Allan Fisher. Unlocking the Clubhouse: Women in Computing. Cambridge, Mass.: MIT Press, 2002.
McDonald, Charlotte. "Is There a Sexist Data Crisis?" Magazine, BBC News, May 18, 2016, www.bbc.com/news/magazine-36314061.
McGann, Jerome, and Lisa Samuels. "Deformance and Interpretation." In Jerome McGann, Radiant Textuality, 105–36. New York: Palgrave MacMillan, 2001.
McLuhan, Marshall, and Quentin Fiore. The Medium Is the Massage: An Inventory of Effect. Berkeley, CA: Gingko, 2001.
Morin, Molly. "Last Progress Pic for @audreykohlts Training Day. #weightlifting #art #laser." Instagram, August 28, 2016, www.instagram.com/p/BJrQACWAzgv/.
Morin, Molly. "Strong Correlations Paper." Received by Kim Knight, October 28, 2016.
Morin, Molly. "Training Day: Audrey, 21 Years, 75 Kilos; Back Squats, Snatches, Clean and Jerks; 2,790 Kilos Lifted." Training Days, 2016-18. 3-d printed sculpture. www.mollycmorin.com/portfolio/141/.
Nakamura, Lisa. "Indigenous Circuits: Navajo Women and the Racialization of Early Electronic Manufacture." American Quarterly 66, no. 4 (December 2014): 919–41. Johns Hopkins University Press, doi:10.1353/aq.2014.0070.
National Science Foundation. "Women, Minorities, and Persons with Disabilities in Engineering." National Science Foundation, www.nsf.gov/statistics/2015/nsf15311/start.cfm.
Nowviskie, Bethany. "What Do Girls Dig?" Nowviskie.org, April 7, 2011, http://nowviskie.org/2011/what-do-girls-dig/.
Oldenziel, Ruth. Making Technology Masculine: Men, Women, and Modern Machines in America 1870–1945. Amsterdam: Amsterdam University Press, 1999.
Pannapacker, William. "The MLA and the Digital Humanities." Chronicle of Higher Education, December 2009. Reblogged by Nancy Holliman, HASTAC, December 30, 2009, www.hastac.org/blogs/nancyholliman/2009/12/30/mla-and-digital-humanities.
Parker, Rozsika. The Subversive Stitch: Embroidery and the Making of the Feminine. New York: I. B. Tauris, 2010.
Peppler, Kylie, and Diane Glosson. "Learning about Circuitry with E-Textiles in After-School Settings." In Textile Messages: Dispatches from the World of E-Textiles and Education, edited by Leah Buechley, Kylie Peppler, Michael Eisenberg, and Yasmin Kafai, 71–83. New York: Peter Lang, 2013.
Prain, Leanne. Strange Material: Storytelling through Textiles. Vancouver: Arsenal Pulp, 2014.
Ryan, Susan Elizabeth. Garments of Paradise: Wearable Discourse in the Digital Age. Cambridge, Mass.: MIT Press, 2014. Kindle Edition.
Sack, Warren. "Aesthetics of Information Visualization." In Context Providers: Conditions of Meaning in Media Arts, edited by Margot Lovejoy, Christiane Paul, and Victoria Vesna, 123–49. Chicago: Intellect, 2011.
Traister, Rebecca. "Let's Just Say It: Women Matter More than Fetuses Do." New Republic, November 11, 2014, newrepublic.com/article/120167/womens-abortion-rights-trump-fetuses-rights.
Vibrant Lives (blog). https://vibrantlives.live/.
Wajcman, Judy. "Feminist Theories of Technology." Cambridge Journal of Economics 34 (2010): 143–52.
Wernimont, Jacqueline. "Vibrant Lives Presents: The Living Net." Jacqueline Wernimont: Network Weaver, Scholar, Digitrix, June 11, 2016, jwernimont.com/2016/06/11/vibrant-lives-presents-the-living-net/.
Wernimont, Jacqueline. "Whence Feminism? Assessing Feminist Interventions in Digital Literary Archives." Digital Humanities Quarterly 7, no. 1 (2013), www.digitalhumanities.org/dhq/vol/7/1/000156/000156.html.
Youds, Mike. "Winter Show at Kamloops Art Gallery Offers Long Lens on Social, Political Conflict." Kamloops Daily News, January 13, 2012, http://www.kamloopsnews.ca/arts-entertainment/local-a-e/winter-show-at-kamloops-art-gallery-offers-long-lens-on-social-political-conflict-1.1248532.